The Riads of Morocco are definitely taken from the pages of a fairytale. Enjoy this guide to the Best Riads of Marrakesh everybody!
What is riad? A riad is a traditional Moroccan palace with an interior courtyard.
Normally reserved for Islamic royalty and nobles, today people like you and I can stay in these impressive buildings since a great number of them have been restored as hotels in cities such as Fez, Marrakesh and Essaouira.
Here's a brief overview of the main characteristics of the riads and my recommendations for the best ones to stay at in Marrakesh.
Enjoy this piece of paradise and let me know what you think of it!
What is Riad and Why Should You Care
Riad comes from the arabic word ryad, meaning garden. In ancient times, the sole purpose of the architectural design of the riads was to shelter noblewomen from the outside looks of the common folk, effectively creating an inside-garden for them.
The best part? The inward focus architecture creates a natural cooling effect that will protect you from the heat of Morocco, especially in cities such as Marrakesh where it is not uncommon to see people fainting in the streets because of overheating.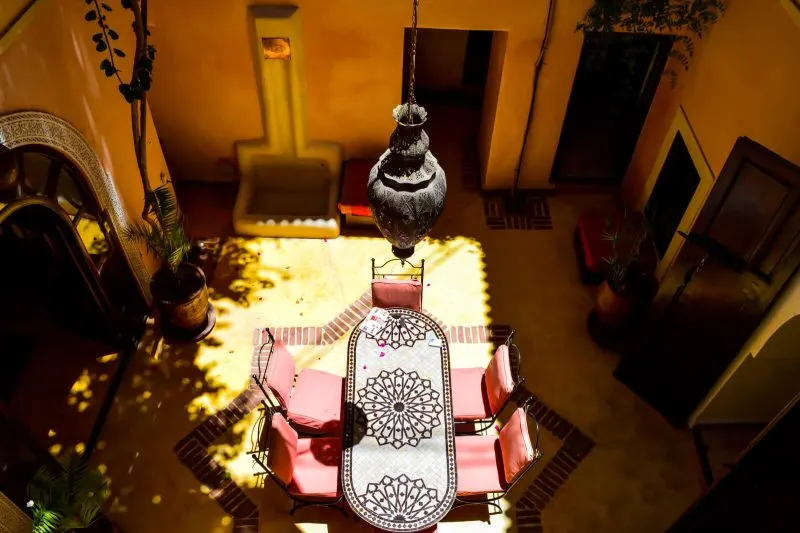 Riads normally have two to three floors plus a terrace, all creating an interesting ensemble of Islamic art and architecture that co-exists in harmony with the natural flow of the palace.
Having visited the Alhambra in Granada before, the riads definitely follow the same thematic of being a piece of paradise on Earth!
The walls of the riads are traditionally decorated with mosaics and Arabic inscriptions taken from the Quran, so if you know the language you will appreciate even more the beauty of this luxurious Moroccan palaces.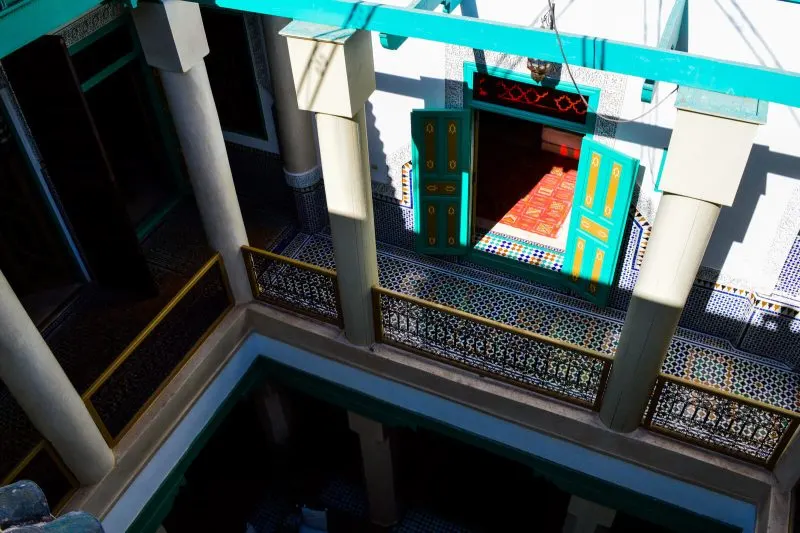 Introducing the Best Luxury Riads of Marrakesh
Throughout Morocco, there are many different types of riad that cater to all sort of tastes. While normally they are reserved for the luxury traveler, some riads are open to backpackers who can stay in a shared dorm in an average riad for as little as 10 euros per night.
However, if you want to have an authentic Moroccan experience in Marrakesh, there's nothing like having a complete riad for you and your loved ones without any other guests disturbing your inner peace with their loud talking and excessive partying. Trust me, staying in a private riad will change the way you think about hotels.
For my stay in Marrakesh, I was invited by Aleksander, a Swiss entrepreneur, to stay at his Riads in order to live and experience a true Moroccan tradition.
When my media assistant and I first arrived at the Riad Lak Lak we couldn't believe that we had the six bedrooms to ourselves!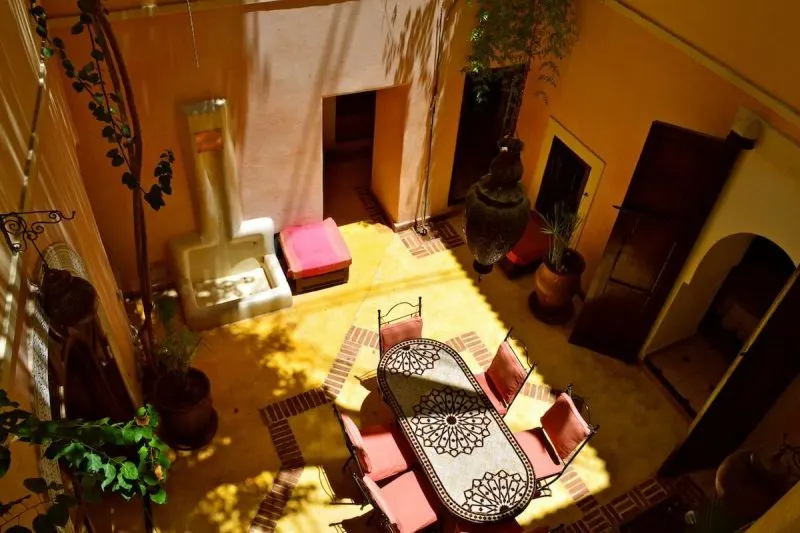 True, I have been invited to stay at hotels before in my career as a travel writer but this was the first time that I was invited to stay in a palace. And I loved every second of it. Our favorite part of the riad? The amazing terrace from where you could appreciate incredible views of Marrakesh during the night.
The main difference between private riads and the rest of the hotel/hostel in Marrakesh is the fact that you will never see any outside sign that could indicate that behind this wooden old door lies a piece of paradise. This is done mostly to protect the guests against scammers and touts since they would never imagine that you're staying in a luxury property.
However, you should try to memorize exactly the turns of the souks (and to always have the phone number of the guardian/caretaker in hand) because otherwise you will end up getting lost and unable to return to your wonderful riad!
And while there's nobody to make breakfast for you, all private riads come with a fully equipped kitchen that will help you survive the hunger of Ramadan and yes, of course that you can bring your own alcohol and store it in the freezer. A few days after leaving the riad I attempted to do the same in a hostel and the manager got so mad at me!
You really cannot put price on freedom and that's why I believe that renting a whole riad for yourself and your companions is one of the best ideas when traveling to a conservative country such as Morocco.
Plus, you always have the freedom of inviting new friends to your riad since there's no one there to tell you that it isn't allowed. However, bear in mind that it is against Moroccan Islamic law to invite locals to your house. Yes, I know that Moroccan women are beautiful but trust me, you don't want to break the laws in a country like this one.
That specific rule is a real shame because the bedrooms at the riads are so nice! They even come with a bathtub! You'll definitely feel like a sultan after spending one night in Riad Naila, the second riad that my media assistant and I visited.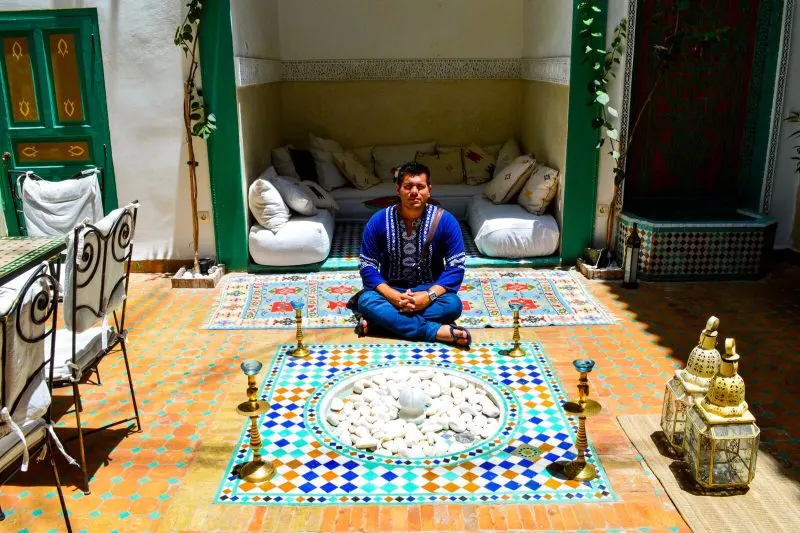 How to Book the Best Riads in Marrakesh, Morocco
As I said before, most of the best riads are private and you'll be unable to just walk in and book it. What I recommend you to do is to book it directly via e-mail and arrange payment beforehand.
While riads tend to be on the expensive side (100 to 180 euros per night), they are actually the best value for your money as long as you have a party of 2 or more people since the cost is per riad, not per person.
You can make a booking for this and more properties via our Booking.com Affiliate Link of Wonders!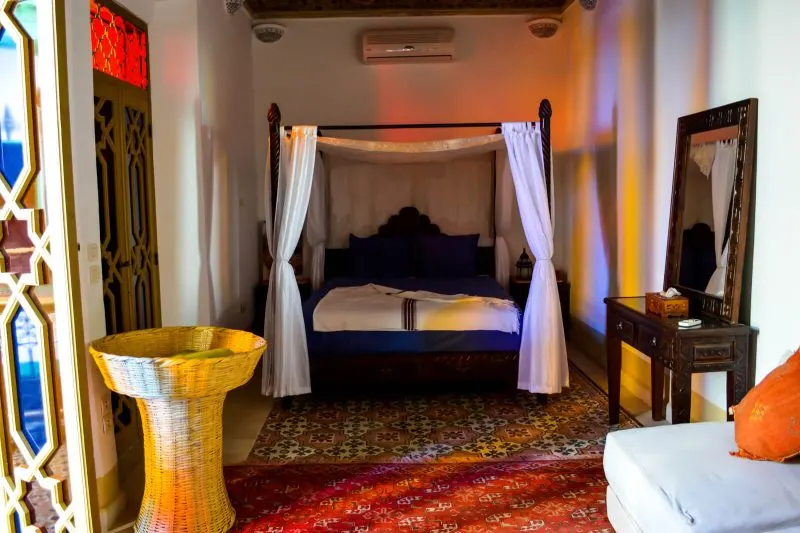 I hope you have enjoyed this article about the Best Riads of Marrakesh and more. Don't forget to subscribe in order to get more awesome updates and tips straight to your e-mail!
Have you ever been to Marrakesh? Would you like to experience life in a riad? What other luxury properties do you recommend? Share your thoughts and let me know what you think!
Until next time, my wonder friends!