If you're looking for an alternative Mediterranean experience, a cruise around Fethiye's 12 Islands of Turkey is your best choice for unlimited fun!!! Read all you need to know about sailing in Fethiye here!
"Come on, it's going to be fun!" my friend told me. "I don't know…a cruise? Isn't that a little bit too touristy?" I asked, my head filled with doubts and images about overweight people drinking cocktails and smoking while trying to contemplate the majestic view of the ocean.
In the end, I decided to give it a go. I mean, 35 Turkish Liras (about 12 euros) for a complete day of sailing around Fethiye's 12 Islands with lunch included? That's probably one of the best bargains ever!
Little did I know that in said cruise I would be contemplating some of the things that I have been looking forwards for years now.
This is the story of how a cruise to Fethiye's 12 islands made me the happiest man on Earth.
How to choose the best Fethiye's 12 Islands cruise
Most hotels and guest houses in Fethiye sell tickets for the 12 Islands cruise at 50 TL so your best choice is to go directly to the Marina (ships depart between 9:30 and 10:30 am) and buy the 35 TL ticket with the boat staff. Choosing the right company can be a difficult task so there's three things that you have to consider before buying a ticket:
#01 Music or not music. This is the game breaker aspect for most. Do you want to relax or do you want to party? Normally there is loud party music at the top deck so if you're looking for something calmer, you might as well go with one of the boats that don't have it.
#02 Fun people or boring people. Just by taking a quick glance at the people of the cruise can give you a big insight about what to expect. My friend and I decided to go for the one that had lots of backpackers since we wanted to have a good party time. If you're looking for something more relaxed, you can go for the one without music.
#03: If they visit the Donut island or not. The donut island (image seen below) is the most amazing of all Fethiye's 12 Islands. As of 2014, the cruise ships visit only 4 to 6 islands on any given day so make sure that yours is going to visit this one. Trust me, it's epic.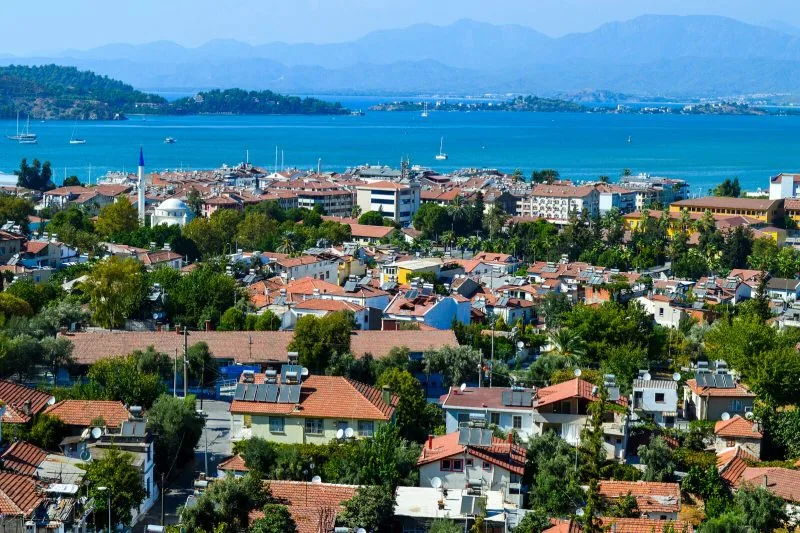 Activities at the Fethiye's 12 Islands cruise
The average tour includes a stop in 4 to 6 islands where you can swim and snorkel. Some islands (such as the Donut Island and the Rabbit Island) can also be explored on foot, after the second stop you will also have a lunch of either chicken or fish.
If you don't have your own snorkeling gear you can ask for one before departure and they'll give it to you free of charge.
Fethiye is known mostly for its scuba diving activities that revolve around finding shipwrecks although during certain months (including September which is where I visited), it is common to find sea turtles if you're lucky. And yes, for some reason I'm very lucky.
But the sea turtle wasn't the second of my three surprises of the day. The second surprise? I finally saw the legendary Burquini in action!
Wait, what? What is a Burqini?
A Burqini is a recent invention of Lebanese clothing designer Aheda Zanetti that has the purpose of allowing conservative Muslim women to swim at the beach/pool without violating Islam's rules about modesty and the covering of certain body parts. It's basically a full length swim suit with a hood.
It is a very controversial clothing item since some pools in France and Morocco has banned it for hygienic reasons.
I first learned about it back in 2012 when a Moroccan friend of mine told me about it (I had to Google it to make sure she wasn't making it up!) so I'm finally glad to seen one in action.
And yes, I agree with her: it looks extremely uncomfortable.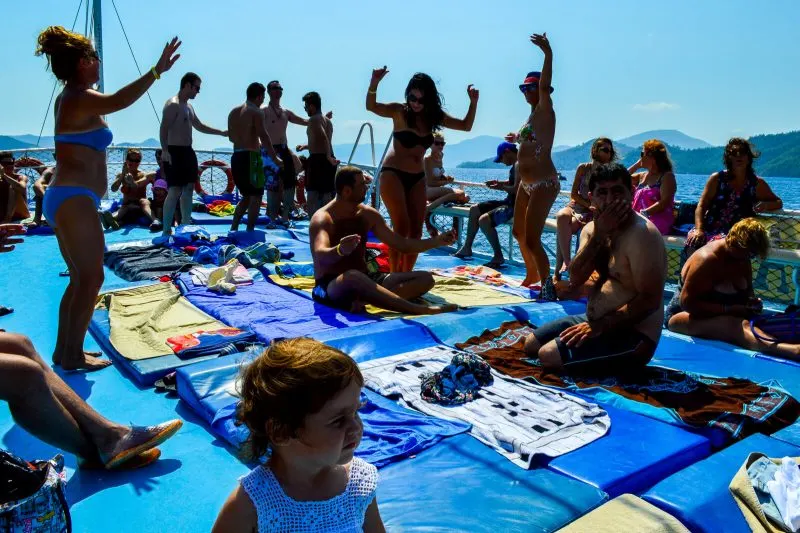 So how about the party?
After the third stop, the music stopped as the party experts arrived to the upper deck.
With a signal of their hand, the music re-started louder and better than ever.
It was party time.
From YMCA to Turkish folkloric dances, the music selection had a little bit of everything for everyone.
The third surprise of the day? I finally got to see an authentic Turkish belly-dancer. Free of charge!
How amazing is that? Who needs an expensive and overly touristy Bosphorus cruise in Istanbul when you can watch the real deal here at Fethiye?
But wait, doesn't it get repetitive after a while?
Truth be told? Yes. And that's one of the main reasons why I didn't take the 5 day Blue Cruise from Fethiye to Olympus.
You see, I'm a very hyper-active type of person and I cannot just stay still which is why I went to explore the islands instead of swimming around the cruise ship every single time we stopped.
One day is more than enough to enjoy the best that Fethiye's 12 Islands have to offer and yes, I'm sure you'll have lots of fun. Specially if you stop at the legendary Bunny Island.
Yes, I know: I'm such a big child that still gets excited over the thought of seeing domestic animals. But come on, an island filled with bunnies? Count me in!
Would I do it again? Yes. Hell yes!
The Fethiye's 12 Islands cruise was one of my favorite parts of my Turkish journey of wonders and while I wouldn't do it every single day, I will definitely do it again to explore the rest of the 12 islands the next time I'm at Fethiye.
And speaking about Fethiye, I recommend you to stay at least one week in the region to explore the 2500 years old Lycean tombs and hike the Lycean Way.
Fethiye can be easily reached from Pamukkale (4 hours), Selçuk (6 hours), Olympos (7 hours) and Cappadocia (12 hours).
Where to stay in Fethiye, Turkey
Accommodation in Fethiye is mostly focused on the Yatch Marina area so you'll have to take a taxi or public bus to go to and from the main city centre.
Here's a list of my recommendations for all types of budget: Alesta Yatch Hotel, Yatch Classic Hotel, El Camino Hostel & Pub and Pinara Pension.
You can make a booking for this and more properties via our Booking.com Affiliate Link of Wonders!
Same price for you and a small pocket money commission for this website of yours.
Sweet deal, uh?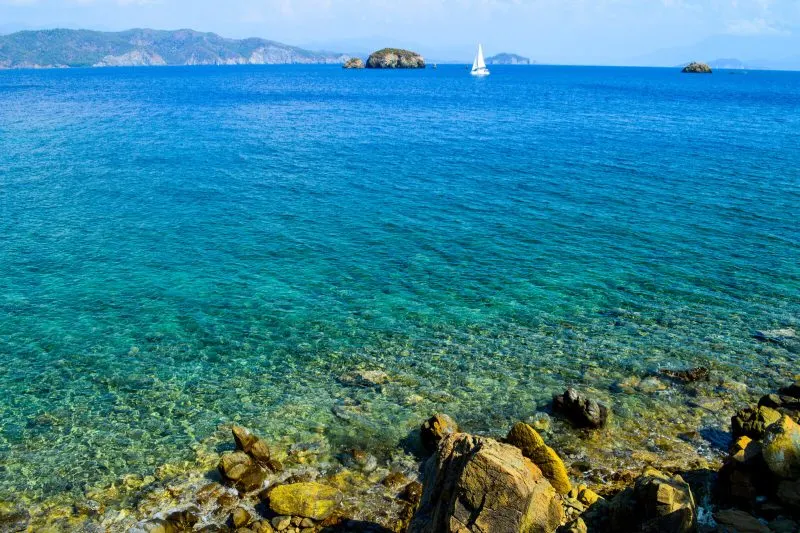 I hope you have enjoyed this travel guide to Fethiye's top attractions. Don't forget to subscribe in order to get more awesome updates and tips straight to your e-mail!
Have you ever been part of an interactive cruise trip such as this one? Would you like to? Come to Fethiye and enjoy its pristine blue waters!
Until next time, my friends!