Le Morne Brabant is Mauritius' most emblematic mountain and one of the best places to visit in Mauritius. Here's all you need to know to hike this UNESCO Heritage Site.
When you think of Mauritius you probably imagine white sand beaches surrounded by the beautiful colors of the Indian Ocean's waters but hey, did you know that there's some EPIC mountains you can hike just a few minutes away from the beach?
In this article you will read all you need to know about hiking Le Morne Brabant, a majestic mountain of wonders located in the southernmost part of Mauritius from which you can appreciate an unique underwater waterfall.
Underwater waterfall? Say what? Enjoy this article and I hope you have a very wonderful week my friends!!!
Why Is Le Morne Brabant an UNESCO Heritage Site? A Brief History of Le Morne Brabant
It might surprise you to know that Le Morne Brabant is one of the two UNESCO World Heritage Sites of Mauritius. "A mountain? Really? I know the views look supercool but why?". Well, the reason lies in Mauritius' bloody colonial past.
You see, during the 19th Century, Mauritius was a British Colony (they took it away from French hands in 1810) and both during the French and British colonization, runaway slaves used Le Morne Brabant as a refuge to escape their masters.
Legend has it that when Britain abolished slavery in 1835, a group of policemen were sent to Le Morne Brabant to break the news to the, now legally free, former slaves.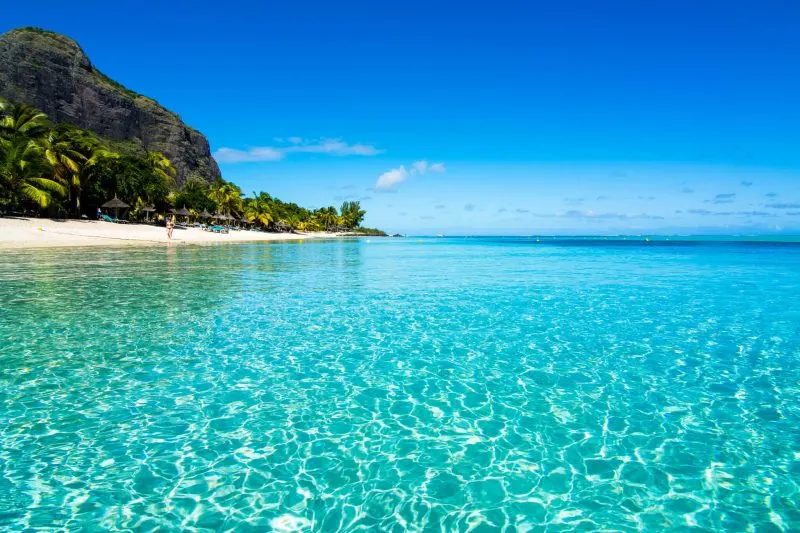 The catch? Because Social Media didn't exist yet, the slaves rightfully assumed that the police were sent to arrest them and so they climbed to the top of the mountain and jumped to their death.
Ever since, Le Morne Brabant is seen as a silent witness to one of the world's darkest practices and today is a symbol of freedom and hope. It became an UNESCO World Heritage Site in 2008 and today it is visited by thousands of hikers for its impressive view of the entire island.
Quite a gloomy start, uh?
How to Get to the Base of Le Morne Brabant's Hiking Trail in Mauritus
"So first things first, how do I get to Le Morne Brabant, Raphael? It looks quite isolated!!!"
Navigating the island of Mauritius is fairly easy since it's a quite small island in terms of distances. From North to South it is less than 90 KM in length and getting to Le Morne Town, one of the best places to visit in Mauritius, from any point in Mauritius will take you less than two hours in normal traffic.
However, one important thing to bear in mind is that public transportation to Le Morne Town is quite bad since you would have to take a public bus from the capital, Port Louis (and trust me, nobody wants to spend more than 10 minutes in Port Louis), to Tamarin and then another one to Le Morne Town.
Tamarin Beach is a really cool beach for surfing so this is ideal if you want to spend longer in the South, however, it makes a day trip to Le Morne very impractical for obvious reasons.
Departures of public buses for the Port Louis-Tamarin-Le Morne route aren't frequent at all so my best suggestion is to get together with a group of like minded travelers and either rent a car or hire a private driver in order to get to Le Morne Town. Bonus point if you bring some Dodo Beers with you.
Once you're in the town, continue driving south and using the Dinarobin Hotel Golf & Spa (more on that later) as a reference, turn left on the dirt road following the sign that says "Haras du Morne".
Soon you'll find the start of one of Mauritius' best hiking trails my friends. Time to conquer Le Morne Brabant without going extinct like the Dodo!!!
Hiking Le Morne Brabant: All You Need to Know
"Gotcha!!! So how hard is to hike Le Morne Brabant, Raphael? Do I need previous hiking experience? Is it like a tropical Mt. Everest?"
Before you attempt to hike Le Morne Brabant you should be aware that it isn't a very easy hike although it is far from being the most challenging one I've ever done (read here about the Best Hikes from Interlaken, Switzerland). And no, Le Morne is DEFINITELY NOT the tropical equivalent of Mt. Everest.
Here's some hard facts about Le Morne:
The total length of the hike (roundtrip) is 7KM (4.34 miles) half of which takes place on a even surface and the second half on a very steep one.
The maximum altitude over sea level at the highest reachable point is about 500 meters (1640 feet)
The average duration of the hike is 3 to 4 hours give or take.
The weather can change at ANY point of the hike since Le Morne Brabant has an unique micro-climate.
If it starts to rain, DO NOT turn back. Just wait it out. Mauritius is super small and because of the strong winds, it is VERY likely that it will get sunny in a few more minutes.
When my Rebels of Wonders and I visited Le Morne Brabant (June 2016), the entry itself was free of charge but it was mandatory to hire a guide in order to hike the mountain.
However, we were with a local friend who knew an alternative way to enter without going trough the main gate. Cheeky rebels uh?
That being said, I wouldn't recommend attempting this hike without at least one companion since the second half is VERY steep and you're going to need not only to use both of your hands to climb the rocks but also to have someone with you in case there's any problem.
The second half of the hike might be treacherous and yes, some of our group members gave up but when those of us who continued were awarded wonderful views like this one, all the sweat, blood, and scratches became just a very small price to pay.
Two hours after we started this very straight forward hike (seriously, finding the way to the top is extremely easy; getting to the top is not !!!) we made it to the highest reachable point of Le Morne Brabant: the cross that symbolizes the sacrifice of the slaves who died here.
We took out our snacks for a quick picnic of wonders and drank our Dodo Beers while we appreciated a brief glimpse of Mauritius' world famous underwater waterfall.
We've made it. We conquered Le Morne Brabant without dying in the process (and without paying for it).
And now it was time to go down and finally relax at the beach. We've earned it. We sure did. Another day, another wonder, just my type of vacation uh?
Note: The "Underwater Waterfall" is an optical illusion that is created by the unique geology of the Indian Ocean and can be best appreciated by helicopter or drone. Go ahead and Google it, it is REALLY cool.
Where to Stay in Le Morne, Mauritius
During my most recent stay in Mauritius, I was kindly hosted by the Dinarobin Hotel Golf & Spa. This property is one of the few ones in Le Morne area that has access to a wonderful white sand private beach plus tons of free water activities that are included in the price of the room.
Want to snorkel in the search for Nemo and Dory ? How about doing some sunrise kayaking? Fancy sailing? The possibilities are endless!!! Even just chilling in your own luxurious villa after a long hike will make you the happiest person on all of Mauritius.
You can make a booking for this and more properties via our Booking.com Affiliate Link of Wonders!
Same price for you and a small pocket money commission for this website of yours.
Sweet deal, uh?
I hope you have enjoyed this article about how to hike Le Morne Brabant in Mauritius. Don't forget to subscribe in order to get more awesome updates and tips straight to your e-mail!
Have you ever been to Mauritius? Would you like to hike Le Morne Brabant? What other hikes of wonders do you recommend? Share your thoughts and let me know what you think!
Until next time, my friends!