El Tatio Geysers is one of Chile's best attractions. Here's an article with all you need to know to plan your visit and experience sunrise at El Tatio Geysers of the Atacama Desert.
When it comes to unique experiences, seeing a magical sunrise at at El Tatio Geysers in the Atacama Desert of Chile is definitely one of my favorite ones.
However, you should be warned that said journey isn't an easy one so here's all you need to know in order to experience a glorious sunrise at El Tatio Geysers my wonder friends.
Enjoy!!!
El Tatio Geysers: Why Do I Need to Wake Up Early for a Sunrise Tour?
Yes, I know. Waking up at 4am and then embarking on a bumpy ride to an altitude of 4200 meters over sea level is actually the opposite of fun. But hey, it all makes sense once you start to investigate how Geysers actually work.
You see, Geysers usually have the highest level of activity the colder that the outside temperature is. So at sunrise, the weather outside the Geysers is EXTREMELY cold while the heat rising from the Geysers themselves reaches an extremely hot boiling point creating tall and picturesque fumaroles.
SCIENCE FOR THE WIN!!!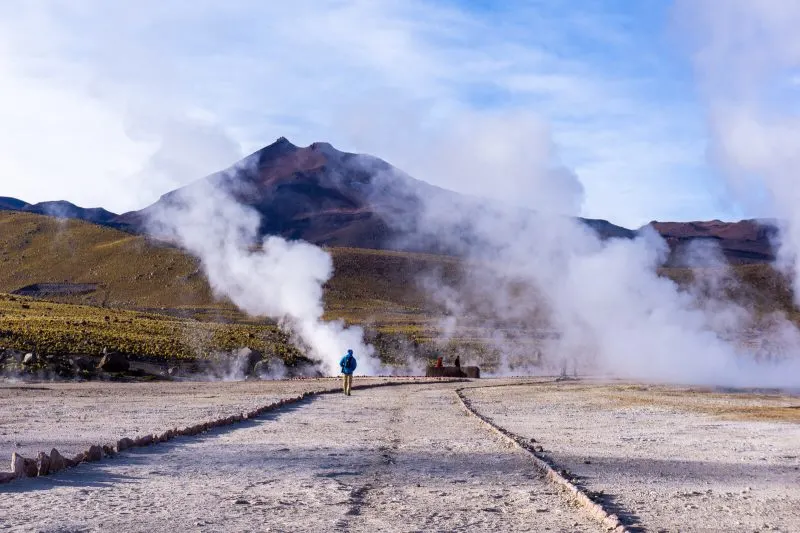 So yes, be ready for a 2 hour drive from San Pedro de Atacama to El Tatio Geysers. Luckily, you could always sleep it off if you don't mind curves (I certainly don't mind curves at all if you ask me!) and bumps on the road.
Experiencing sunrise El Tatio Geysers is a once in a lifetime experience so trust me when I say that everything (the lack of sleep, the 2 hour drive, the extreme cold, the risk of death) is going to be totally worth it in the end my friends.
Wait what? Risk of death? Well, there's been reports of clueless tourists getting way too close to the geysers and falling into the boiling water. However, trails are extremely well marked and there's warning signs all over so they only had themselves to blame if you ask me.
No selfie is worth your life my friends!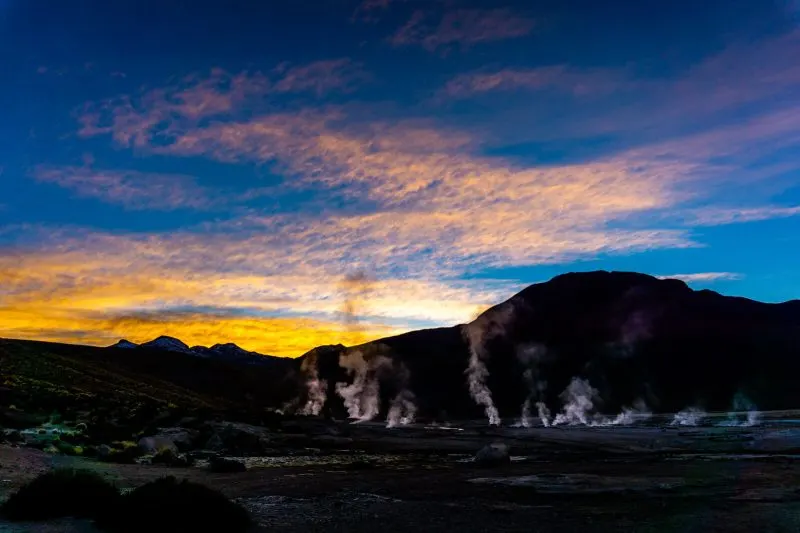 All You Need to Know About Sunrise at El Tatio Geysers
As I mentioned before, sunrise at El Tatio Geysers is an extremely cold experience (even COLDER than the Torres del Paine W Trek I did) so bring ALL of your thermal clothes and more. When you finally arrive it will be close to minus 10 degrees Celsius (if not colder depending on the season).
Sunrise itself will take place a few minutes (or even one hour) after you arrive depending on the tour company you chose, how fast the driver was, the number of people that had to be picked up and many other factors.
However, be sure to take a short walk to the El Tatio Geysers before the sunrise itself. The best colors can usually be appreciated a few minute before the sun actually appears if you ask me.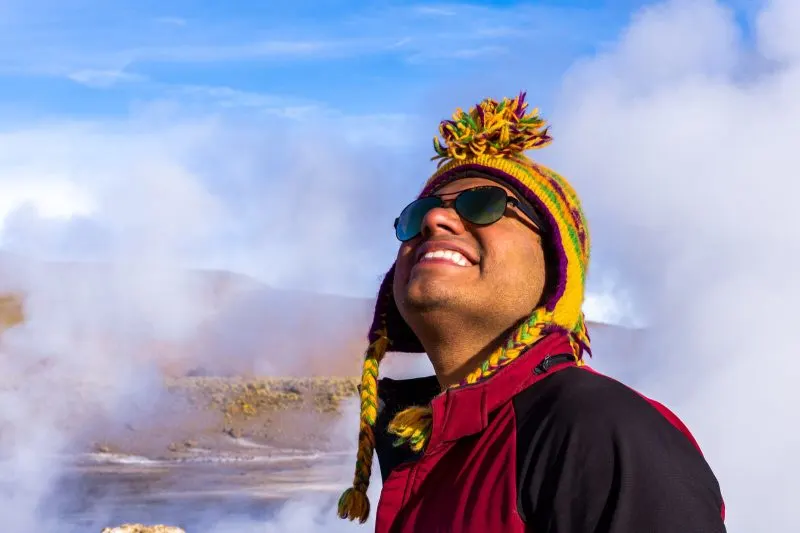 When I visited El Tatio Geysers for sunrise (April 2018), we arrived with plenty of time in advance before the sunrise so the tour leader started to prepare breakfast (more on that later).
My best recommendation? Grab a quick bite to go, take a photo of the van (including license plates in case it is not branded with the tour company's name) and notify him that you will be exploring El Tatio Geysers on your own.
Sure, you'll skip the lengthy explanation (but hey, you could always take screen caps of this article!) but the advantage is that you'll be able to take photos of the fumaroles without anyone else in the background!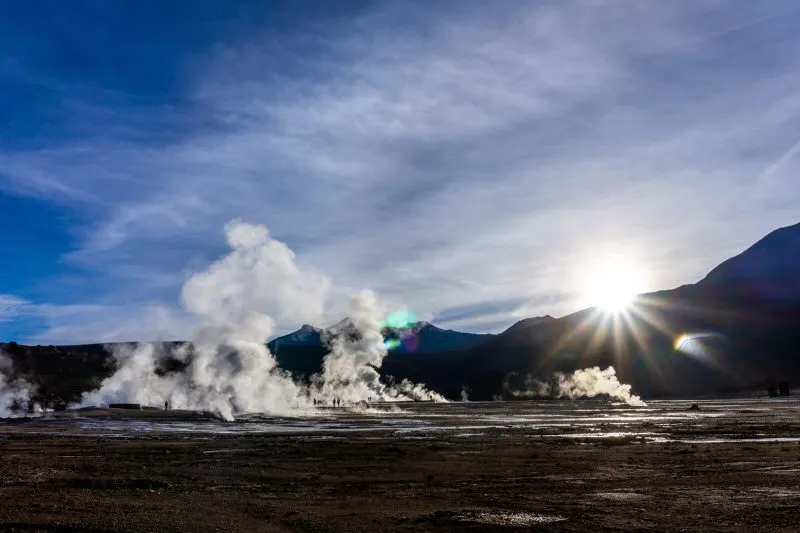 Exploring El Tatio Geysers: Thermal Waters and a Breakfast of Wonders
El Tatio Geysers (a name meaning oven or grandfather) are the world's third largest geyser field in the world after Yellowstone (USA) and Kronotsky (Russia). It has over 80 individual geysers making up for over 8% of the world's total geysers.
It also features some thermal waters where you can swim after enjoying an unforgettable sunrise at El Tatio Geysers. Be warned that they're more warm than hot and that you WILL feel the cold after exiting them.
Instead, how about just walking alongside the trail and explore all of the Geysers' fields? If you're lucky you might even spot a vicuña!
As I mentioned before, some tour companies arrive just a few minutes before sunrise so they usually have breakfast after exploring El Tatio Geysers while other tour companies offer it before the sunrise itself.
Some companies offer a super basic breakfast (coffee, tea and bread) while others go all the way to fill your belly. During my most recent visit I went with Denomades.com and their breakfast was beyond amazing!!! Cheese and ham sandwich for the win!
On the way back to San Pedro de Atacama (arrival time is around noon so you can take an additional half-day tour the very same day), you will stop at the village of Machuca where they sell souvenirs and…llama skewers. Pass!!!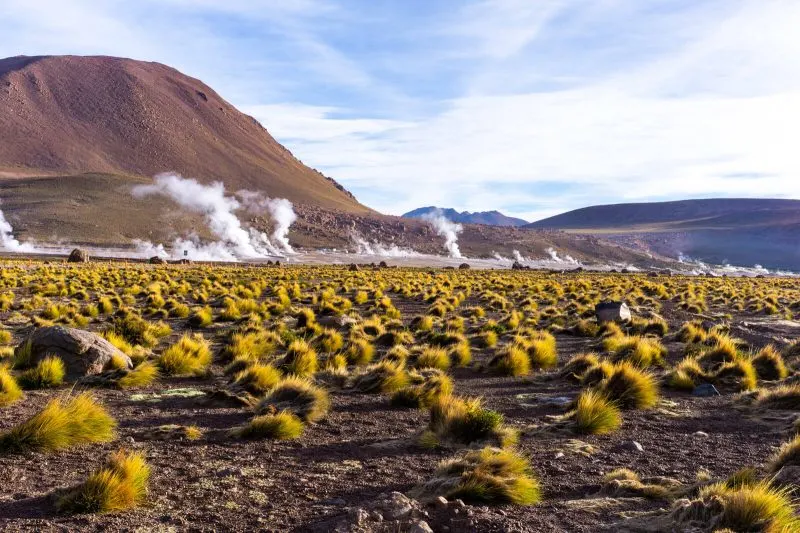 Where to Stay in San Pedro de Atacama, Chile
San Pedro de Atacama is THE perfect hub to explore all of the natural attractions of the Atacama Desert since there's a wide variety of tours departing from there (I did about 7 tours during my week there and it wasn't nearly enough!!!).
The town is fairly small although it has some unique boutique properties such as the Tierra Atacama Hotel & Spa as well as funky hostels such as the Desert Hotel where you can meet other like-minded travelers.
You can make a booking for this and more properties via our Booking.com Affiliate Link of Wonders! Same price for you and a small pocket money commission for this website of yours. Sweet deal, uh?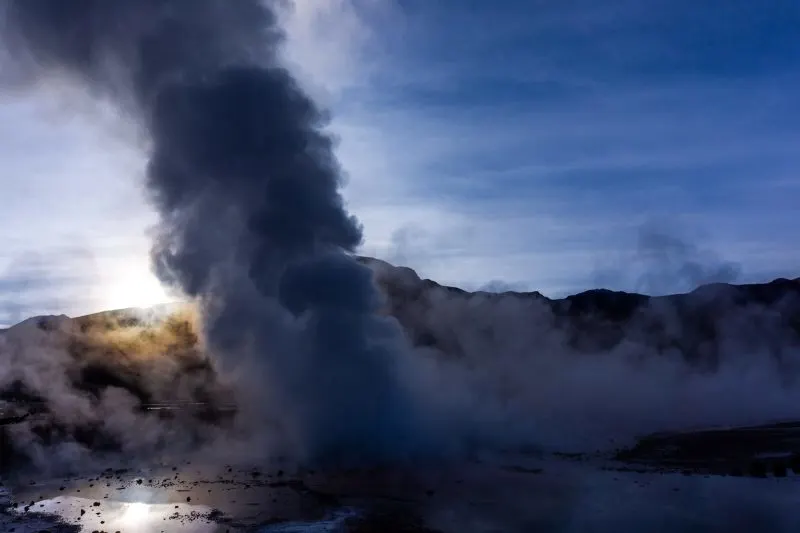 I hope you have enjoyed this article about tips for experiencing sunrise at El Tatio Geysers in Atacama, Chile. Don't forget to subscribe in order to get more awesome updates and tips straight to your e-mail!
Have you ever seen the sunrise at El Tatio Geysers? Would you like to? What were some of your favorite things to do and see in the Atacama Desert? Share your thoughts and let me know what you think!
Until next time, my friends!