An article about the Best Things to Do and See in Madrid including the best plazas, tapas, museums, and much more.
In 2012 I visited Madrid for the first time and I wasn't impressed at all since by then I had already visited most European capitals. It was only during my most recent visit that I started to truly appreciate the wonders of this amazing city!
Today, I cannot get enough of Madrid and I'm already looking forwards to being back here. I hope you enjoy this article about the 9 Best Things to Do and See in Madrid my friends!
The 9 Best Things to Do and See in Madrid
Explore the Narrow

Streets of Madrid
The downtown area of Madrid is very unique in the sense that it has a great variety of narrow alleyways, each with different types of restaurants and decorations. And yes, in some (most?) restaurants you can ask the owner to give you free samples of his product.
There's one called Museo del Jamon (literally, the museum of ham) where you can try many types of Iberic ham for free!
Admire the Spanish Architecture
Admiring the architectural wonders of Spain's capital is one of my favorite things to do and see in Madrid.
You can take a nice one-hour walking tour from El Retiro Park all the way to the Royal Palace and be marveled at the style and charm of Madrid's buildings.
My favorite one is definitely the one of the Archangel on top of the Metropolis building! You can read more about Spain's landmarks here my friends!
Relax at the Retiro Park
El Retiro (The Retreat) is Madrid's biggest and most beautiful park. Inside you can enjoy majestic sculptures, unique threes and a big lake where you can walk to enjoy a nice evening. Just walk, relax and enjoy life.
The park is open from 06:00 to 22:00 so you can even organize picnics for breakfast, lunch and diner here!
Even if you visit Spain in the winter, Retiro Park will always be your best choice for having a wonderful day.
Watch the Royal Guards' Parade
Next to the royal guards of Buckingham Palace in London, the ones of the Palacio Real de Madrid are definitely the most fancy and impressive ones of all western Europe.
On certain days you can watch the changing of the guard just like the one of London too! The day I visited Madrid there was even a special ceremony with horses and carriages. It was truly lovely!
Changing of the guard takes place every Wednesday from 11:00 to 14:00 (every 30 minutes) in front of the Royal Palace at the Puerta Principe. Check more interesting facts about Spain here.
Befriend the Madrid Street Performers
I don't know if it's because I visited during the highest season but I was truly shocked to encounter so many street performers in each of the many plazas of Madrid. From goat dancers to matadores, there's no limit to the creativity of the characters you can find in this city.
The best part comes when they remove their masks and you see who's really underneath. This angry Minnie Mouse woman probably earns the award for the best one so far!
Visit the Prado and Reina Sofia Museums
If you're like me, then you love visiting museums for free. While the entrance fee for the Prado museum is quite high (14 euros normal, 7 euros reduced), there are certain time frames when you can actually enter the museum for free! From Monday to Saturday you can enter for free from 18:00 to 20:00, Sundays from 17:00 to 20:00.
You can also enter the Reina Sofia Museum for free from 19:00 to 21:00. Unfortunately no photos are allowed in the main exhibitions of the Prado except for the cloister where you can admire the permanent royal collection of Carlos V statues.
If you're interested in learning more about Spain's rich history, I recommend a trip to the South of Spain as well. Check out this 10-Day Southern Spain Roadtrip! And if you have extra time and want to visit Portugal as well, this Spain and Portugal Itinerary including a visit to Portugal's Algarve region is for you.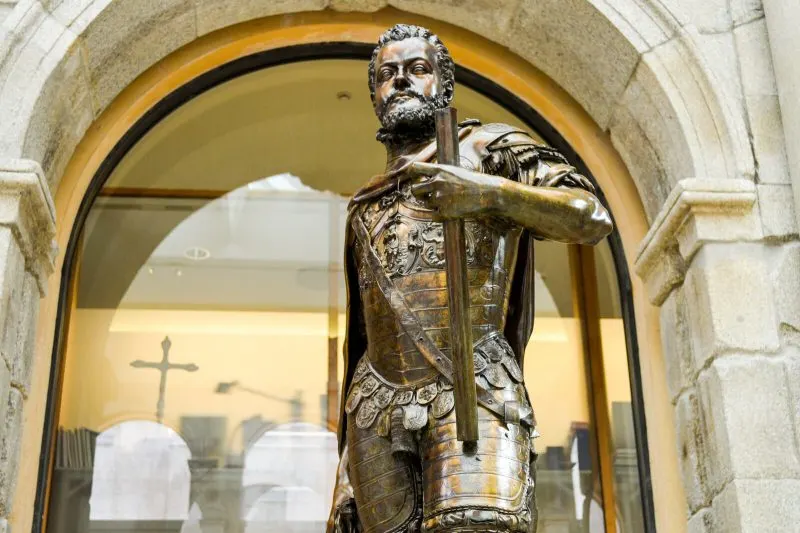 Enjoy the Buzz at the Puerta del Sol
The Puerta del Sol is the most popular plaza for people to meet up. Around it you'll find many shops, including big department stores that always seem to have good sales. Of course, looking around is always free!
You can always enjoy watching people go on with their daily lives and yes, if you stay in one spot for more than 10 minutes I ensure you'll see at least one big fight! I seriously wonder why some couples cannot just take life easy.
Take Photos of Madrid's Many Statues
Madrid is famous for having statues of every day people in the plazas. Sometimes it's hard to distinguish them from the street performers. I was once taking a photo of a statue that suddenly jumped at me asking for money!
Of course, once you find the real statues you can always have fun with them and dress them up with crazy accessories for the ultimate travel selfie.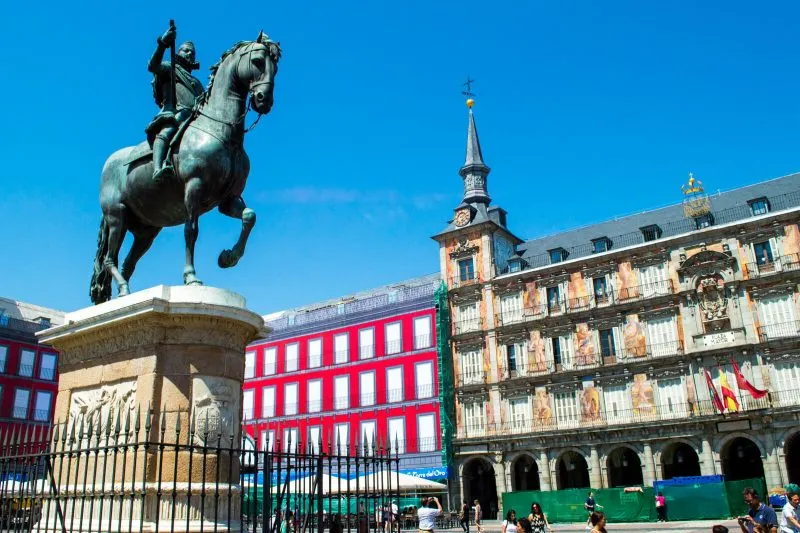 Eat Spanish Tapas. For Free!
Yes, what you've been waiting for is finally here. The secret to obtaining free tapas!
You see, local tradition has it that workers ordered a lot of alcohol during their lunch break and were unable to perform afterward so a decree was made that patrons had the obligation of serving small snacks with each alcoholic drink in order to cover its effect (tapas comes from tapar, which is to cover).
I'm not sure if said folk tale is true or not but you can still visit a Spanish bar, order a 1 euro beer and enjoy a free snack with it. Pretty awesome, uh?
Where to stay in Madrid, Spain
Accommodation in Madrid is very affordable (even in the Historical Center of Madrid) although in all cases, you will get what you pay for.
Here's a list of my recommendations for all types of budgets: for luxury and boutique hotels, my best suggestions are Only You Hotel & Lounge Madrid and the Hotel Preciados.
When it comes to budget hostels and guesthouses by best choices are the Sungate Hostel and Equity Point Madrid.
I hope you have enjoyed this article about the best things to do and see in Madrid. Don't forget to subscribe in order to get more awesome updates and tips straight to your e-mail.
Have you ever been to Madrid? Would you like to? What were some of your favorite things to do and see in Madrid? Share your thoughts and let me know what you think.
Until next time!