Planning a visit to the Pearl of the Indian Ocean? Here are the 7 Best Things to Do and See in Sri Lanka including beaches, safaris, and more.
Sri Lanka, one of the most wonderful countries of Asia, offers many wonders despite its relatively small size. In fact, a few weeks are not even enough to experience all of them.
Interested in knowing what to see and do in Sri Lanka? Here's my best suggestions for spending a couple of weeks in this small pearl of Asia.
Enjoy my wonder friends!
The 7 Best Things to Do and See in Sri Lanka
Immerse yourself in a full Jungle Book mood and go on a safari
Think that going on a big game safari is exclusive to Africa? You better think twice my wonder friends!!!
Did you know that Sri Lanka is one of the few places in the world where you can see wild Asian Elephants?
That's right!!! Forget about the captive elephants found in SE Asia and come and see the real deal at the Minneriya National Park located in North-Central Province of Sri Lanka my friends!
Alternatively, you can see wild elephants in the south of Sri Lanka in the Yalla National Park and also see rescued elephants at the Pinnawala orphanage where they freely roam the fields and any sort of riding or animal entertainment is not allowed.
Note: During my visit to the Pinnawala orphanage I didn't witness any animal abuse firsthand although there's been a few reports of that happening behind closed doors.
The choice, as always, is up to you.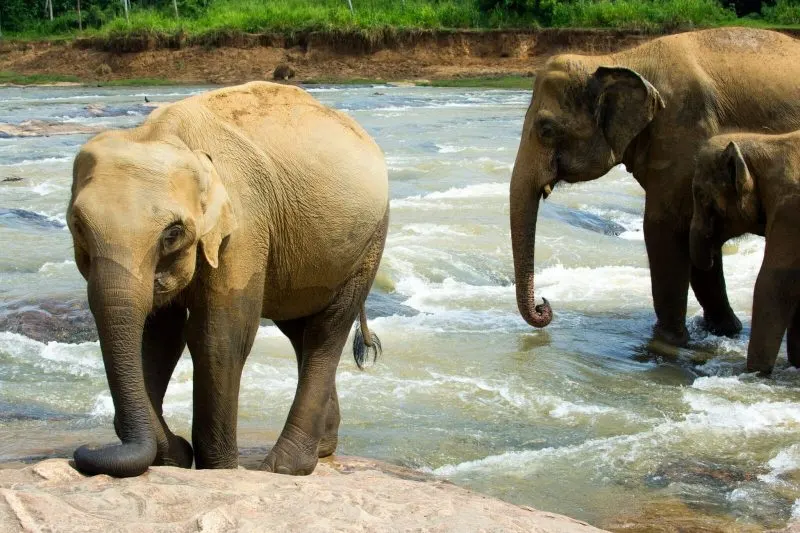 Take a Swim in the Untouched Beaches of East Sri Lanka
The South of Sri Lanka is where most of the touristy beaches are located so a trip to East Sri Lanka is your best choice if you're looking for some untouched nature and a few hippies here and there.
Your first stop should be Arugam Bay which is one of the best places for surfing in East Sri Lanka and overall a very chill place where you can just let time pass you by.
Further ahead you shall find Trincomalee, one of the least touristy beaches of the island and an excellent place for dolphin and whale watching (just remember to wake up super early for the dolphins!).
It is also the home to Pigeon Island, an amazing place for snorkel and for having a picnic lunch in the company of your friends.
What's not to love?
Ride the Local Trains Like a Total BOSS (Warning: Don't Fall!!!)
The local trains in Sri Lanka might be over crowded and quite slow but that's actually an advantage instead of a hinderance.
The reason? You can act like a total BOSS and hang from the door while you feel the fresh breeze of the air splashing your face.
Just be careful not to fall or hit any objects yo!
The local trains are also perfect for people watching as well as for trying some street food since vendors will board the train and go selling from wagon to wagon.
Most trains have 3 classes although the difference between quality is minimal. My best suggestion? Choose 2nd class and just hang by the door in case you overheat instead of choosing the crammed up 3rd class or the A/C 1st class.
All aboard!
Hike a Mountain (or two or three…) and Feel the Breath of Nature
Sri Lanka might not have extremely tall snow caped mountains but it sure has many medium size mountains and small hills from where you can see the entire jungle and spots some unique wildlife.
Even better, there's many religious peaks where you can find Buddhist temples (did you know that 70% of Sri Lanka is Buddhist?) of which Adam's Peak is the most famous one for religious pilgrimages.
Sure, hiking in the humid heat of Sri Lanka might seem like a big challenge but the view you shall get from there will make it really worth your time.
Just remember to bring a towel and a extra change of clothes in case you're heading to a fancy dinner afterwards!!!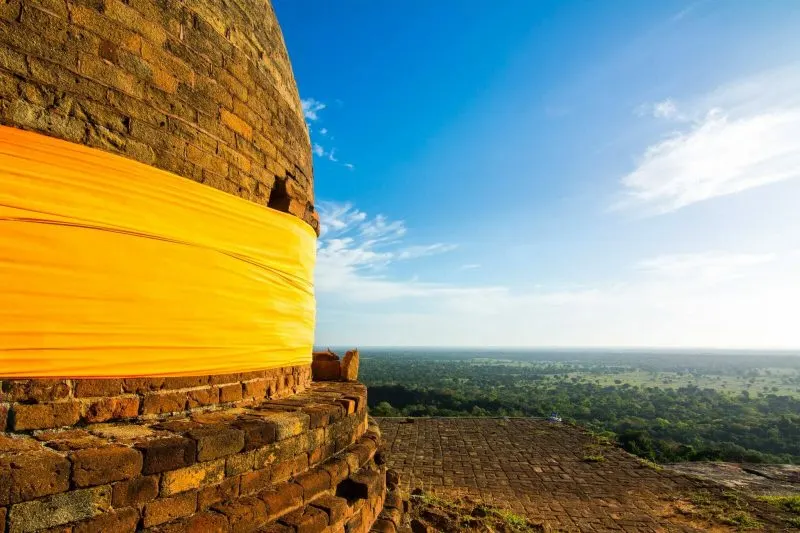 Experience Buddhism and Go see Buddha's Tooth in Kandy
Kandy is probably the number one religious site of Sri Lanka and the reason for that is because there you can find Buddha's tooth (allegedly of course).
Wait what ? Yeah, you better believe it my friends!!!! Tradition has it that upon Buddha's death, one of his tooth made his way to one of Sri Lanka's ancient monarchs.
Today, the tooth rests in the aptly named Temple of the Tooth in Kandy and even though the average visitors won't see the relic (it is stored in a room behind a curtain), you can still feel the holiness of this place.
My second best recommendation for temples is the unique Dambulla Cave Temple which is a system of caves dating back almost 2000 years ago where you can find many murals and sculptures of Buddhism.
No matter where you go in Sri Lanka, you can learn a lot about Buddhism and the unique way of life of the people that live in this wonderful island.
Learn How to Surf in Some of the Best Beaches of South Sri Lanka
Before we proceed I have a confession to make: surfing kind of scared me up until last year.
Being born and raised in a beach town, I have come to understand and respect the dangers of the ocean and even though most wildlife is harmless, the waves and currents can definitely kill even experts.
Last year, however, I had my first surfing lesson in Sri Lanka and now I'm proud to say that I found surfing to be a new hobby of mine in part thanks to my awesome instructor of the Ebb Jungalows Team.
The South of Sri Lanka is where you can find most hostels and luxury accommodations since it is without a doubt the most famous spot for relaxation and party in the entire island.
Plus, being on the west coast, those sunsets will definitely blow your mind my wonder friends!
How's this for an after-surf sunset of wonders?
Make Local Friends and Listen to Their Interesting Way of Life
When it comes to countries with a culture very different than my own, I would say that the highlight of my travel experiences is definitely meeting the locals and learning about their unique way of life.
From the boy selling fruit on the street to help his family to the tour guide that uses his similarity to American rapper Flo Rida to hit on girls at the beach. Every person is a different story and listening to them all is simply amazing.
Next time you're in Sri Lanka, take a few minutes of your time to meet someone new, someone local, someone who can probably teach you more than what you can teach them.
Sri Lanka is known as the Pearl of the Indian Ocean and one could say that the Sri Lankans are the clams in which that pearl can thrive. Or something like that. Granted, I was never really good at poetry my wonder friends.
Enjoy Sri Lanka!!!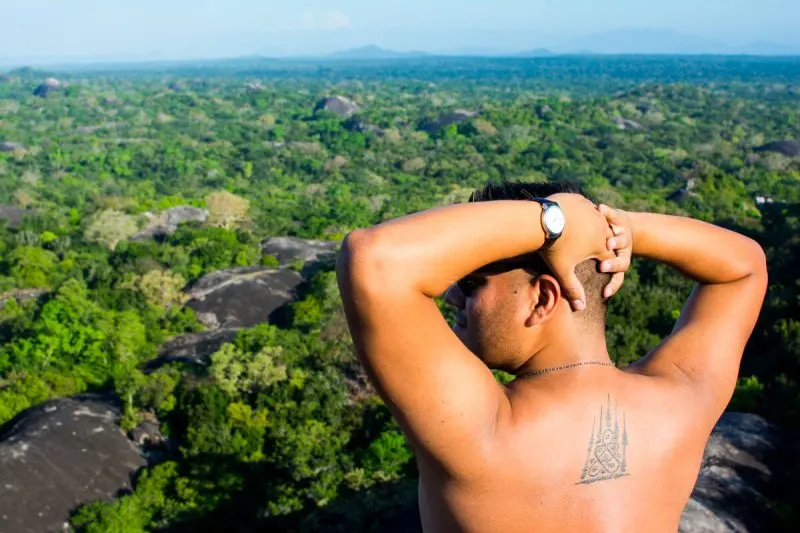 Where to stay in Sri Lanka? Are there Hostels in Sri Lanka? How about Luxury Hotels?
Accommodation options for Sri Lanka are mostly aimed for luxury travelers although there are many budget hotels and a few but very cool hostels.
Some of my recommendations for places to stay includes Cinnamon Hotels (properties all around the island), Ebbs & Flow Jungalows (Midigama), Evergreen Hostel (Colombo) and 2 Villas Sri Lanka (Dikwella).
You can make a booking for this and more properties via our Booking.com Affiliate Link of Wonders!
Same price for you and a small pocket money commission for this website of yours.
Sweet deal, uh?
I hope you have enjoyed this article about the best things to do and see in Sri Lanka. Don't forget to subscribe in order to get more awesome updates and tips straight to your e-mail!
Have you ever been to Sri Lanka? Would you like to? What were some of your favorite things to do and see in Sri Lanka? Share your thoughts and let me know what you think!
Until next time, my friends!