Would you like to learn more about Buddhism in Sri Lanka? Here's what a visit to the Dambulla Cave Temple taught me about enjoying life to the fullest.
Can you imagine the peacefulness of being alone in a sacred cave that many centuries ago was decorated with the teachings of Siddhartha Gautama?
Here's the story of the Dambulla Cave Temple, a true hidden wonder of Sri Lanka that you can easily visit free of charge next time you're in the Center-North region of the country.
Enjoy my wonder friends!
All you need to know about religion in Sri Lanka
"So what's the plan for today?" my friendly Sri Lankan driver asked me. "
Well, I've already seen many of the natural wonders that Sri Lanka has to offer and yet, I feel that I'm missing out on the cultural part of the country. I mean, I know what Sri Lankans do but I would like to know the why" I told him.
"You want to learn about religion in Sri Lanka then?". "I do. I really do".
Unlike its closest neighbor India, Sri Lanka is mostly a Buddhist country with a tradition dating back more than 2000 years.
Today, about 70% of the population of Sri Lanka identify as Buddhist with the rest identifying as Muslim, Hindu and Christian.
Throughout its rich history, many Buddhist Kingdoms have risen and fallen in Sri Lanka and yet, the cultural vestiges of their greatness still remain to this day.
If you're a history buff like me, the Center-North region of Sri Lanka will amaze you every single day with the impressive drawings at Sirgiya Rock, the vastness of the Polonnaruwa archaeological complex and yes, the peacefulness of the Dambulla Cave Temple.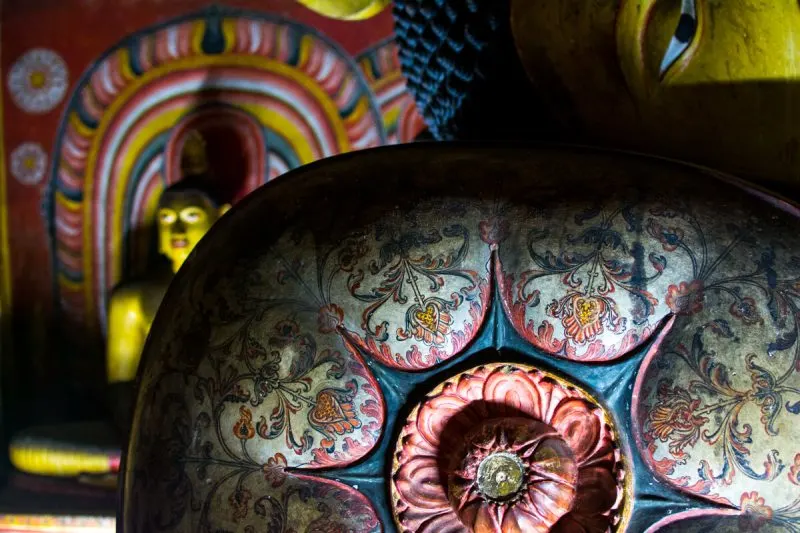 The Dambulla Cave Temple, a wonderful day trip in the Center-North area of Sri Lanka
"Really? This is the entrance? Don't get me wrong, it does look cool but at the same time a little bit tacky don't you think?" I whined to my insanely tall ginger friend Dave from Jones Around the World.
Luckily for us, the building with the Golden Buddha statue and the weird animal at his feet (lion? tiger? chupacabra?) is only the entrance to a museum about Buddhism while the real Dambulla Cave Temple is actually located in a hill above this fairly new building.
Be warned, the hike to the main entrance will take you close to 15 to 20 minutes depending on your physical condition but trust me, the views are going to make it worth it!
The hike to the entrance is very pleasant and there's no need to rush at all: just enjoy the scenery and before you know it you will be at the main entrance.
Besides out-of-breath-tourists, you will find devout Sri Lankans making a pilgrimage to the Dambulla Cave Temple. Plus, monkeys. Tons of cheeky monkeys.
Contrary to the monkeys found in countries such as Thailand and Indonesia, the monkeys of Sri Lanka are as honest as they are cute so you don't need to worry about being pick pocketed by them.
You can even score a free cuddle from them if you play your cards right! Ain't he a cute fellow?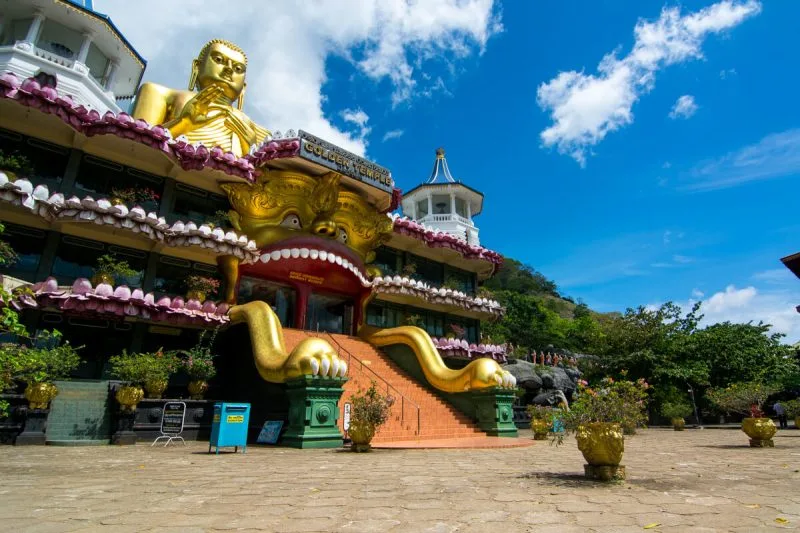 The Five Shrines of the Dambulla Cave Temple
After taking off my shoes, I proceeded to the main entrance (free of charge) of this wonderful Buddhist sanctuary.
I visited late in the afternoon and I was blessed to have some of the caves all to myself since most visitors arrive during the early morning.
"The air inside feels different. A strong spiritual presence is all around us. Can't you sense it too?" I asked my friend Dave before realizing that I was all alone.
No…I was not alone. I was in the presence of something beyond rational comprehension.
Before my eyes I found the Path of Wonders.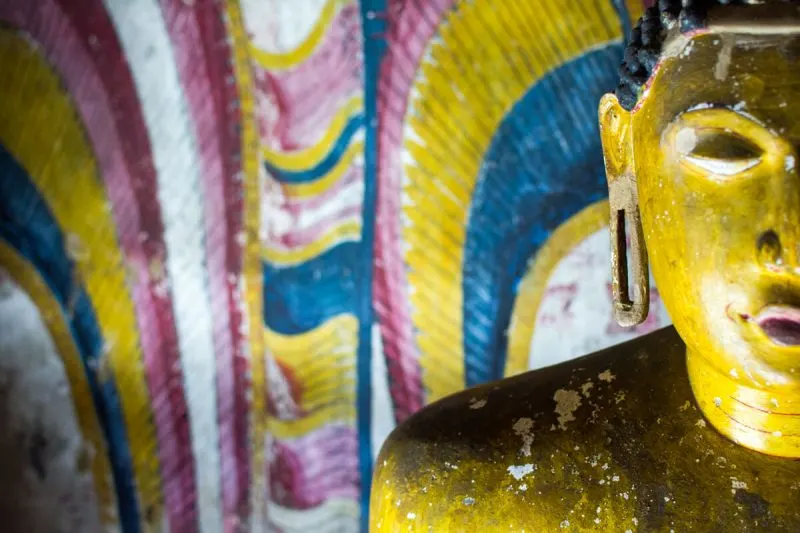 Of all the main religious movements found in this World, Buddhism is one of the less dogmatic ones in the sense that it encourages the free thinking of the mind and soul instead of blind obedience and submission to rules.
Nothing represents Buddhism more than the philosophy of the Middle Way: at the crossroads of life sometimes you might be given the option to go left or right; Buddhism is about helping you find your own way, your own Path of Wonders.
A few days before my visit to Sri Lanka I had gotten my Sak Yant tattoo in Bangkok and I couldn't help but feel how we are equal in the constants of life and death: we all go through the same cycle and the only difference is how we chose to spend the years of our lives that we are blessed with.
Some people choose their own path while others let their path be chosen for them. And trust me, nothing is sadder than being towards the end of the cycle of life and only then realizing how none of your life choices were actually yours to begin with.
As I stared into the eyes of the Buddha statue I wondered if, during his mortal life, Siddhartha was aware of the reach that his spiritual movement would have.
I wondered if he knew how his teachings would change and shape the life of millions of souls all around the world.
Then, I sat down and I wondered how different my life would be if instead of being raised Catholic I was raised Buddhist.
I wondered how different the values of my fellow country men would be if they were raised as Buddhist.
I stood up and I kept wondering.
Wondering about life.
Wondering about death. Wondering about why we do the things we do.
Wondering about why Sri Lankans do the things they do.
Each thought led to many more and at the end of the day I realized how all of us enlighten souls are all Buddhists even if we were raised differently.
Years ago, I chose my own Path of Wonders, my own way of living that makes happy even though I live outside of what society might consider as normal or expected…and I haven't looked back ever since.
Are you ready to take the leap and do the same?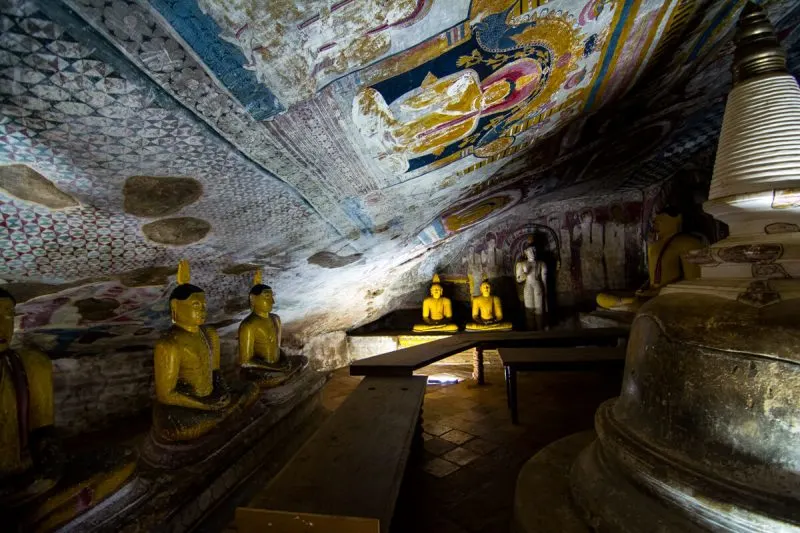 How to get to the Dambulla Cave Temple from Colombo, Sri Lanka
From Colombo there are loads of daily trains going North to the city of Kandy (2nd Class, 2.5 Hours, 1.5 USD).
Once you're in Kandy you can visit the Tempe of the Golden Tooth or just continue your journey to Dambulla by bus (2.5 Hours, 1 USD).
Alternatively, you can either take a 5 hour bus to Dambulla direct from Colombo Fort or a private taxi but the combination of train + bus changing in Kandy is the best one in my opinion.
However, if you're short on time, you can always hire a private taxi for the day and visit Sigiriya Rock too although this is too rushed if you ask me.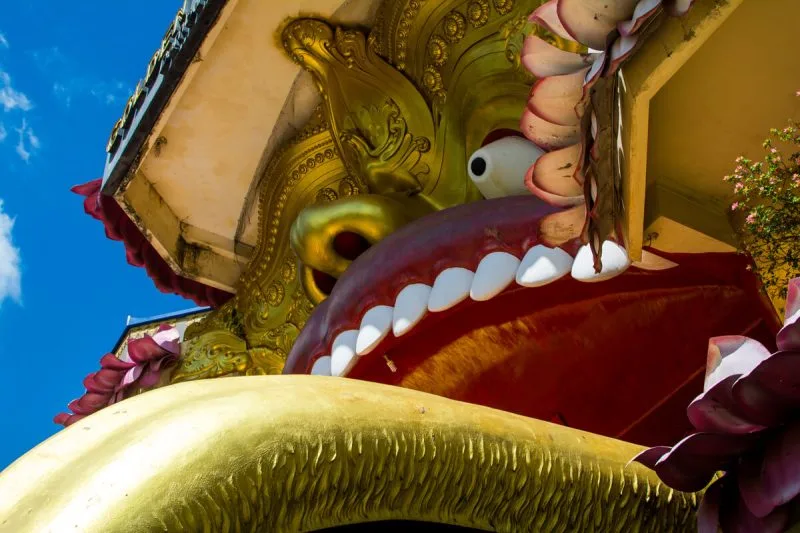 Where to stay in Dambulla, Sri Lanka
If your plan is to explore all of the cultural and natural wonders of the Center-North region of Sri Lanka, I recommend you to stay in the strategically located Cinnamon Lodge Habarana.
From this hotel, which is considered one of the best eco hotels of Sri Lanka, you can easily reach Dambulla, Sigiriya and Anuradhapura (plus the Minneriya Wild Elephant Park) since they all are within a reasonable driving distance.
Plus, did I mention that you can find many cute wild monkeys in the grounds of this hotel?
Keep your windows closed and enjoy their cuteness without having them crash into your room of wonders my friends!!!
You can make a booking for this and more properties via our Booking.com Affiliate Link of Wonders!
Same price for you and a small pocket money commission for this website of yours.
Sweet deal, uh?
I hope you have enjoyed this article about exploring the Dambulla Cave Temple of Sri Lanka.
Don't forget to subscribe in order to get more awesome updates and tips straight to your e-mail!
Have you ever experienced the religious side of Sri Lanka? Would you like to? How was your experience like? Share your thoughts and let me know what you think! Until next time, my friends!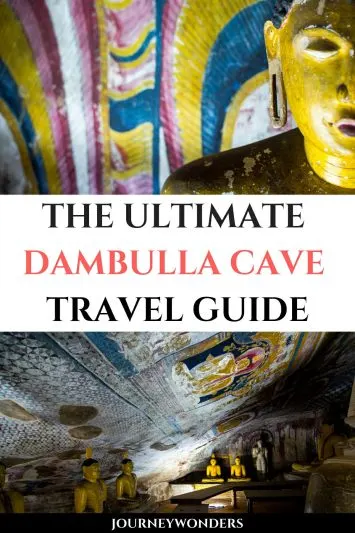 Disclaimer: This article was brought to you in collaboration with Cinnamon Hotels and TBC Asia 2016. All opinions are my own.