Read all about the best things to do and see in Siquijor Island including witch doctors, marine sanctuaries, tropical beaches, and much more!
Siquijor Island is an up and coming tropical destination in the Philippines known mostly for its witch doctors. However, there's much more to that in this island of wonders and I can't wait to share it all with you.
Are you ready to explore some of the best things to do and see in Siquijor Island with me? I hope you enjoy this article about the best things to do and see in Siquijor Island my friends!
Let's start this new journey of wonders my friends!
The 13 Best Things to Do and See in Siquijor Island
Visit the Witch Doctors of Siquijor Island
The first reason why many people are drawn to Siquijor Island is because of its reputation as a dark tourism destination because of the witch doctors (although they prefer to be called healers) that inhabit the island.
Truth be told, there's nothing truly dark about them and they can even help you find love, yes, love. Read more about the mysterious witch doctors of Siquijor Island here.
Love (and chicken joy) is all you need yo!
Snorkel at the Tulapos Marine Sanctuary
Snorkeling and Diving in Siquijor is filled with surprises. When my buddy Ian and I reached the Tulapos Marine Sanctuary, we didn't know what to expect since, as usual, we didn't do any research beforehand.
As you can imagine, my mouth dropped when we encounter a school of barracudas circling us! Sea turtles and white tip reef sharks rounded up a really cool underwater day.
Be sure to bring your GoPro or underwater camera with you to take some great shots my friends!
Swing like Tarzan at the Cambugahay Falls
When it comes to waterfalls, the Philippines have a lot of really cool ones but my favorite one were the Cambugahay Falls in Siquijor Island.
The main reason? If you wake up early enough on a weekday, you can have the entire place for yourself AND you can also swing like Tarzan from a rope in order to dive into its crystal clear waters.
Not bad for an early morning swim uh? Definitely one of my favorite things to do and see in Siquijor Island.
Go Cliff Jumping at Salagdoong Beach. No fear allowed!
Saladoong Beach might seem like a tourist trap (and that's because it actually is) filled with loud people, overpriced bad food and more but one cannot deny that the cliff jumping you can enjoy here is really cool.
Conquer your fears, take the plunge, relax at the beach for a while and get ready to jump off to our next destination of wonders my friends!
Also, see that pink flamingo floaty in the background? If you're an IG Queen you can rent one here for your beach photos.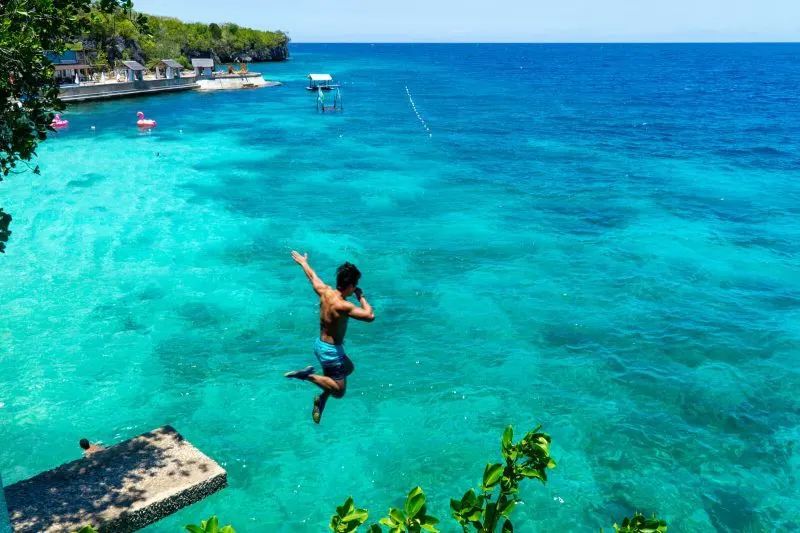 Find a Bolo Bolo Healer and Expel Your Inner Demons
The Bolo Bolo healing is an ancestral method that the Witch Doctors of Siquijor use to expel all evil from within your body by blowing into the water with a bamboo straw.
I'm not personally sure if it actually works (after all, I'm still a very bad hombre) but it is still a very cool cultural experience so be sure to try it out next time you're in Siquijor Island.
You can find the Bolo Bolo healer as part of a cultural immersion tour with Where Sidewalks End or go on your own with the help of a rickshaw driver. The healing is tip based but if you give less than 10 USD prepare to be cursed!
Make Your Own Love Potion, for Real
Love Potions are the speciality of Siquijor's Witch Doctors and thanks to Where Sidewalks Ends, you can now create your own by gathering the secret ingredients and taking it to a Witch Doctor for him to bless it.
This is one of the best cultural and natural experiences you'll ever have as you travel across the entire island Amazing Race-style gathering ingredients and learning some of Siquijor Island's best kept secrets.
Feel free to book this tour here at Where Sidewalks Ends my friends!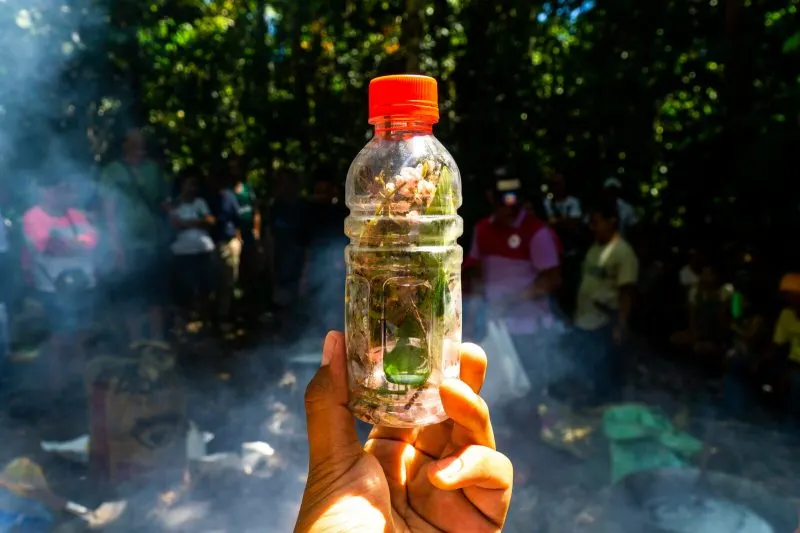 Get a Coffee with a View at Larena Triad Coffee Shop
Located on a high hill between Larena Town and Siquijor Town, this emblematic coffee shop boasts the best view of Siquijor that you can possibly get without a drone.
Larena Town is the departure/arrival pier for all ferries heading to Bohol and Cebu City so grabbing a cup of coffee here is a really cool way to kill some time before the next adventure.
Be sure to get a reliable GPS or a rickshaw tho, the way to get here is kind of confusing!
Eat Some Traditional Filipino Food…or just go to Jollibee
The Philippines in general is not really well known for the quality of its food (other than the amazing home cooked meals that aren't really sold to the masses) so most of the time, the food is going to be more of a miss than a hit.
However, one thing is certain: Filipinos have really mastered the art of fast food and Jollibee, their national answer to KFC, is actually quite addictive with their spicy fried chicken.
There is only one Jollibee in all of Siquijor Island and the lines are endless so yes, trust me when I say the wait is gonna be worth it. Eating Jollibee was one of my favorite things to do and see in Siquijor Island for sure.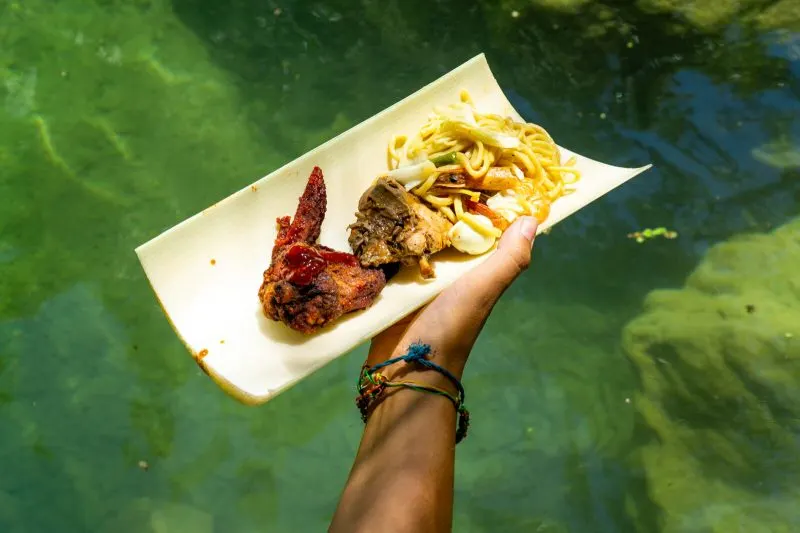 Do an Eco Tour of the Island's Off the Beaten Path Spots
While Siquijor isn't that big of an island, all accommodation options are located in Siquijor Town and San Juan in the North-West so if you want to fully explore it you might need to either rent a scooter or hire a rickshaw for a day.
One of the best options is to hire a tour that will take you to the best highlights of Siquijor such as the Cambugahay Falls, Paliton Sunset Beach, San Isidor Church and the Tulapos Marine Sanctuary.
You can book an Eco Tour of Siquijor Island here with Where Sidewalks End.
Enjoy a Sunset of Wonders in Paliton Beach
Siquijor has many beaches and Paliton Beach is the best place in all of Siquijor to enjoy a truly epic sunset of wonders because of its strategic location in the west of the island.
Bring a snack and some drinks (or just buy them here from the friendly vendors) and see how the sky turns orange, red and pink my wonder friends.
Just remember to make sure that your scooter has lights on since you'll have to drive back in the dark!
Take a Day Trip to Apo Island from Coco Grove Resort
Apo Island in Negros (yes, that's actually the name of a province in the Philippines) is the best place in the entire country to swim ethically with sea turtles.
If you're short on time, you can take a daytrip from Siquijor Island directly to Apo Island without having to transfer at Dumaguete. As of October 2019, the Coco Grove Resort is the only operator that sells the Apo Island tour from Siquijor Island.
They depart three times a week so book well in advance to ensure your spot.
Attend the Healers' Festival during Holy Week Each Year
Every year during Easter, Siquijor Island witness the Healers' Festival in which the Witch Doctors from all over the island gather to offer their services to locals and tourists alike as well as to brew potions together.
Holy Week (Semana Santa) is the busiest time of the year when it comes to traveling in the Philippines and prices really hike up in places with cultural festivals such as Siquijor Island.
Culture, nature and adventure, this island surely has it all. The Healer Festival sure is one of the best things to do and see in Siquijor Island!
Relax at the Beach. Sometimes the Best Thing to Do is to Do Nothing
Siquijor Island has a vast array of beautiful beaches and many properties have their own private access to them. And while Siquijor's beaches aren't as breath-taking as the ones in El Nido, the sure are more relaxing.
After spending one entire week up and down discovering all of the natural and cultural wonders of Siquijor, my last day I became a total beach bum and relaxed in a hammock as I heard the sound of waves clashing.
Even a perpetual wanderer needs a vacation day after traveling exhaustively!
How to Get to Siquijor from Cebu City and Bohol
Unfortunately, there are no direct ferries from Cebu City to Siquijor Island so your best option is to transfer at Tagbilaran Pier in Bohol (2 hours estimated time). There's multiple daily departures from Cebu City starting at 32 USD and it is recommended for you to book in advance.
If you're already in Bohol, the price of the ferry from Tagbilaran Pier to Larena Pier in Siquijor Island (1 hour and 20 minutes estimated time) is 18 USD. You can book your ferry ticket here at 12 Go Asia.
Alternatively, you can fly into Siquijor but I wouldn't recommend it because of how high the price is when compared to the ferry.
How to Get to Siquijor from Oslob and Moalboal
If you're planning on visiting Oslob to swim with the whale sharks (no judging!!! well, at least not in this article) or Moalboal for the sardine run, you can actually head to the port of Liloan and take the daily local ferry to Siquijor.
Unlike the Cebu/Bohol to Siquijor ferry, this is actually a very outdated vehicle but the journey time is really short (one hour and a half) so the chances of it sinking are really low.
The price is 5 USD and you can buy a ticket on the very same day, just be sure to ask your hotel/hostel for the updated departure times.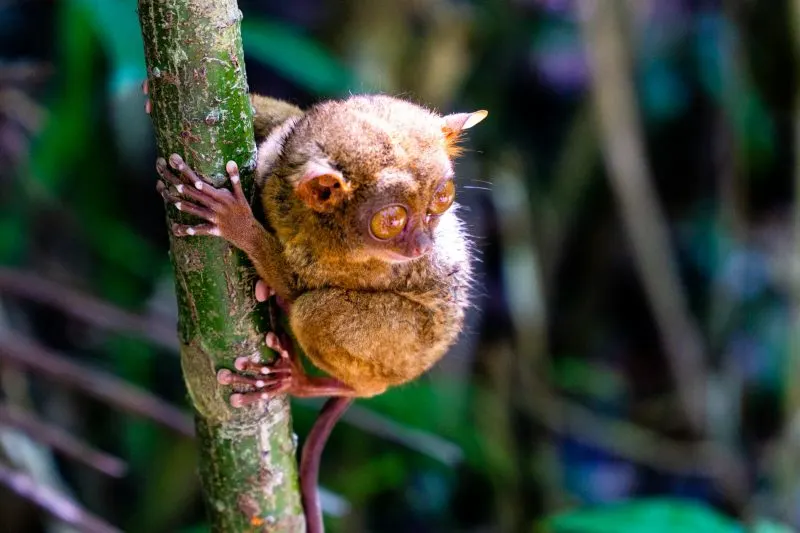 Where to Stay in Siquijor Island, Philippines
Surprisingly, accommodation options in Siquijor Island are very limited at the moment and all of them are in the San Juan province in the North-West thanks to its nearby location to both Siquijor Town and Larena Pier.
When it comes to luxury hotels, Coco Grove Resort is the clear winner of the bunch thanks to its private beach access and many facilities such as restaurant and pools. For hostels, my recommendation of wonders is the Charisma Beach Resort for its cleanliness and amazing sunset beach view.
I hope you have enjoyed this article about the Best Things to Do and See in Siquijor Island, Philippines. Don't forget to subscribe in order to get more awesome updates and tips straight to your e-mail!
Have you ever visited Siquijor Island, Philippines? Would you like to? What are some of your favorite things to do and see in Siquijor Island, Philippines? Share your thoughts and let me know what you think!
Until next time, my friends!