An article about the best things to do and see in Wanaka, New Zealand including Roy's Peak, Mount Iron, Lake Hawea, and more.
Finding words that do justice to Wanaka is no mean feat.
This tiny town, tucked away on New Zealand's infamous South Island, is one of my favourite places in the whole world! Sitting on the shoreline of a pristine glacial lake, with towering mountains on all sides, Wanaka's the epitome of picture-perfect.
It's like stepping into a postcard and guaranteed to put a smile on your face!
Combine that indescribable natural beauty with its laid-back, friendly, backpacker vibes, though, and Wanaka's exceptionally hard to fault.
Having been lucky enough to spend 4 months living and working there over two separate trips (I'd go back in a heartbeat if I had the chance!), I've come to know it fairly well.
So, in a bid to put that experience to use, I thought I'd dive into the memory bank and offer some Wanaka itinerary suggestions for anyone who's going there in the not-so-distant future! Sound good?
Keep reading to discover the best things to do and see in Wanaka, New Zealand.
Wanaka's one of those places that's downright saturated with unmissable things to see and do. Seriously, you could spend months here and never run out of activities to keep you entertained!
With that said, here are 10 of my favorite things to do and see in Wanaka that I wholeheartedly recommend you include on your itinerary too.
The 10 Best Things to Do and See in Wanaka
Hang out at the Lake
One of the best things to do and see in Wanaka is also the simplest, cheapest, and most accessible: spend time at the glacial lake that gives the town its name!
Breathtakingly beautiful, Lake Wanaka's a central attraction here and the go-to spot for tourists and locals alike to relax, hang out and let their worries drift away.
Swim in the crystal clear water, sunbathe on the stony shoreline, walk/run/cycle around its perimeter, or grab a beer with friends to watch the sunset at the end of the day.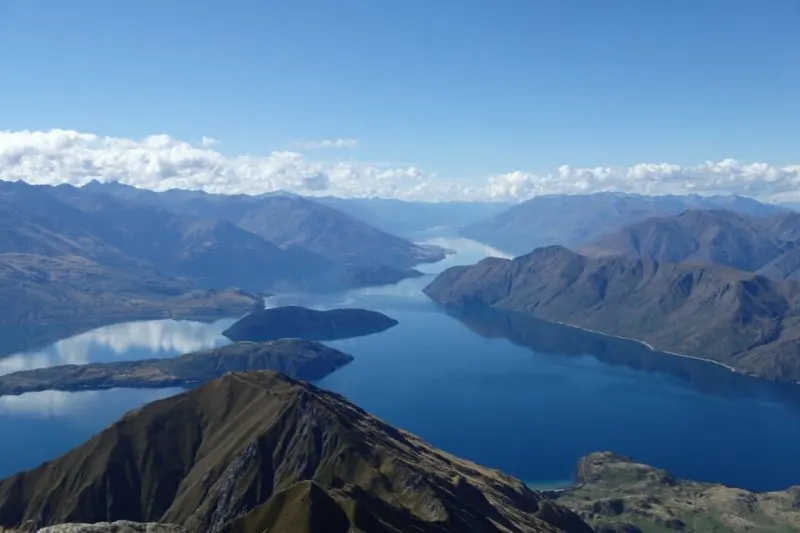 Hang out on the lake
There are all sorts of fun-filled water sports on offer at Lake Wanaka too. Paddle-boarding, kayaking, jet-skiing…You name it and you can do it!
Of all the options, though, I definitely recommend renting a kayak for the afternoon and paddling out to Ruby Island.
A small dot of land in the middle of this giant Lake, you can step out, walk around, and enjoy the quiet while seeing Wanaka from a whole new perspective.
Climb Roys Peak
As I mentioned in the intro, Wanaka's surrounded by mountains, which makes it a perfect place for hiking (not to mention skiing and snowboarding when winter comes around).
Of all the trails in the area, though, none are better-known than Roy's Peak.
A tall and striking summit with a challenging zig-zagging track to the top, countless people walk it every year. Many even go up in the early hours to catch the sunrise!
You need to be relatively fit to attempt the Roys Peak Track (expect a steep ascent from the get-go), but the panoramic views at the top are well worth the hours of effort it takes to complete!
Hike the Rob Roy Glacier Track
If you have access to a car, then be sure to take the hour-long drive to Mount Aspiring National Park and the Rob Roy Glacier Track that runs through it.
Another epic trail, this one's easier on the legs than Roys Peak yet no less beautiful. Glaciers like the ones at Torres del Paine are definitely a wonder of nature and the ones at Roy Peak are beautiful as well.
You'll walk past glacial rivers, through mystical forests, and eventually to a natural amphitheatre of cliffs and waterfalls that are home to the glacier itself. No car? No worries.
A bus service runs from Wanaka town centre to take you there and back.
Go up Mount Iron for Sunset
Looking for a shorter hiking track that's closer to town? Try the Mount Iron Loop Walk.
Located a couple of kilometers outside the center, Mount Iron's another iconic landmark in the area that boasts an awesome trail to the top.
Popular with local runners and dog-walkers alike, the walk's suitable for almost any fitness level and offers spine-tingling views over Wanaka and the surrounding area.
Grab some beers and go up for sunset for an unforgettable way to end the day!
Watch a Movie at Cinema Paradiso
Cinema Paradiso is undoubtedly one of the coolest places in town.
An independent cinema that shows a great range of movies, it has a laid-back retro vibe, comfy couches to sit on in each theatre, and fresh cookies to eat in the intermission.
All told, chilling out and watching a movie at the Paradiso's another essential thing to do in Wanaka- especially on a rainy day (or if your legs are tired after all the hiking!).
Go to the Lavender Farm
Situated a short drive outside town, the Wanaka Lavender Farm's a unique tourist attraction that's ideal for a fun family day out. It's also one of the best-smelling places you'll visit on your trip!
Among other things, you'll find a lovely little walk through the lavender fields, various garden games to play, farm animals to say hello to, and a great café and gift shop (selling all sorts of lavender-themed products) to boot.
Heads up, the farm's not far from Mount Iron, so you could combine your visit here with the sunset walk I suggested in the previous point!
Eat, Drink, and Party!
The main Wanaka strip is positioned right next to the lake and presents visitors with a big bunch of inviting bars, cafes, restaurants and clubs.
If you fancy a drink, coffee, or quick bite to eat, then I recommend Kai Whaka Pai on the corner. If you fancy ice cream, then Patagonia's the place to go. If you're just after a drink, then Speight's Bar, Lake Bar, or Bar Number 8 won't let you down.
And for live music and a killer atmosphere?
Walk up the road, away from the lake, until you see the infamous Fitzpatrick's. This all-popular Irish Pub's always full of lively vibes and fun-loving people.
Visit Lake Hawea
A victim of its own awesomeness, Lake Wanaka's getting bigger, busier, and more popular every year. It's no Queenstown (yet), but it can still feel a bit hectic every now and again- particularly in peak season.
If you ever want to escape the hustle and find somewhere quieter, then head out of town to Lake Hawea. It's only a 15-minute drive from town and offers similarly outlandish levels of natural beauty without the bars, cafes, and restaurants. It's quaint, less populated, and the perfect place to chill.
Drive to the Blue Pools
Fancy venturing even further afield? Go to the Blue Pools! This jaw-dropping spot's just under an hour's drive from Wanaka, but it's definitely worth the effort.
Expect deep, crystal clear pools and rivers of turquoise, glacial-fed water, with valleys and mountains on all sides. Oh, and for any adrenaline-junkies out there, you'll find a swing bridge to jump from!
30-ft or so in the air, it's sure to get the heart pumping as you climb over the railing and plunge into the icy waters below.
Bonus: Visit the World Famous Wanaka Tree
No article on the best things to do and see in Wanaka would be complete without mentioning the famous "Wanaka Tree". It's one of the most photographed trees in the world (and on Instagram), and it's easy to understand why…
This iconic willow tree rises out of the lake on the far side of town, with the shimmering water and soaring mountains providing an epic backdrop.
Now, I'm not sure the Wanaka tree quite deserves the crazy amount of attention it receives, but it's definitely worth seeing if you have a spare moment on your trip!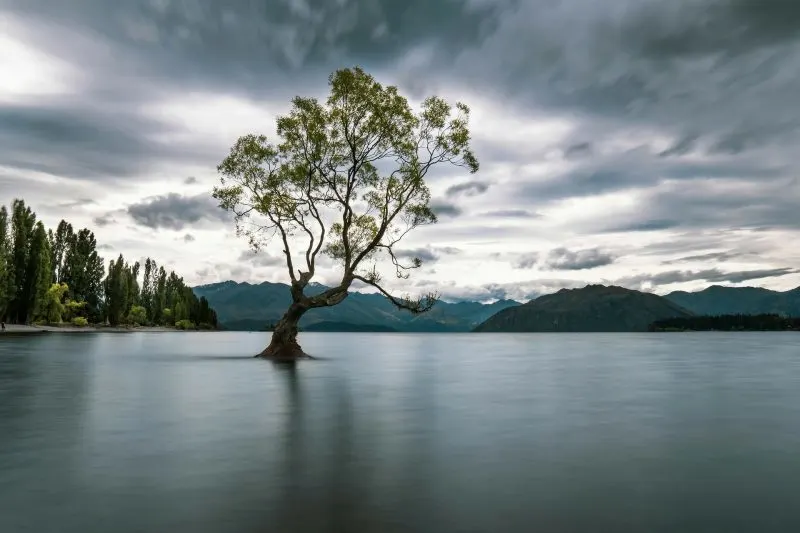 There you have it then: 10 essential things to do and see in Wanaka!
As you can probably tell, I'm head over heels about this picturesque part of New Zealand, and can't recommend it highly enough. If you want outdoor endless opportunities, relaxed vibes, and friendly people, then this is the place to go.
Packed to the rafters with extraordinary sights and activities, though, Wanaka's also somewhere that makes planning an itinerary a challenge! I hope this guide will help in that regard.
With any luck, the ideas and insights in it will help you choose how to spend and make the most of your time there.
Got any questions, thoughts, or concerns about the trip? Drop a comment below to let us know and we'll do our best to address them.
Bio: Danny Newman is currently writing and traveling his way around the world in a bid to figure out exactly what he's doing with his life. He'd love you to follow along with his journey over at What's Danny Doing. Social Media: Facebook.