Dia de los Muertos or "Day of the Dead" is celebrated across Central and South America at the start of November. It's an opportunity for communities to honor and celebrate their lost loved ones, and meet at cemeteries to remember the lives they lead.
While the essence of Dia de los Muertos is rooted in similar traditions, the day is celebrated in lots of different ways across various locations. If you're looking to celebrate this colorful event in all its glory, here are some places that will definitely interest you.
Check them out below!
1. Merida, Mexico
If you're looking to go all out this year, Merida is the place for you. Their Day of the Dead celebrations lasts an entire week! From festivals to parades, they've got it all.
During the "Legends of Mexico" skeleton parade, enthusiasts don exciting dresses and costumes, paint black and white bones on their faces, and parade the streets all night. Spectators are encouraged to join in the celebrations, and many tourists even find their way onto the floats.
Not to mention the beautiful altars you will find at the Merida Municipal Graveyard. You can even try visiting Chichen Itza during these days to watch how Mayans celebrated the Day of the Dead back then. Definitely a must-see!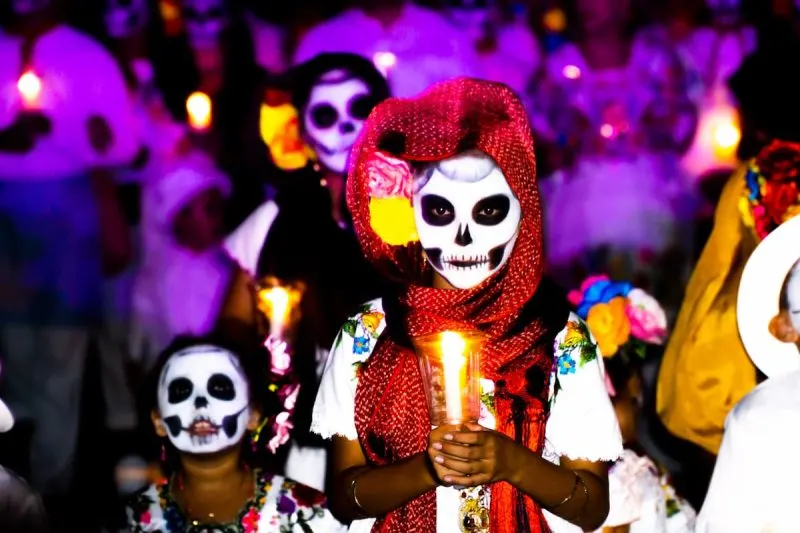 2. Tonacatepeque, El Salvador
The Calabiuza Festival, which takes place here on the night of 1 November, has a very similar vibe to the Western world's Halloween. People dress up in scary costumes, play music, dance, and have lots of great food.
But while Halloween is more about candy and costumes, the essence of the Calabiuza Festival is rooted in the celebration of the dead.
The Festival is a rejection of Halloween's commercialism and is all about culture, tradition, and ritual. If you're looking for an authentic Dia de los Muertos experience this year, Tonacatepeque is the place to be.
3. Mexico City, Mexico
If there's one place that knows how to get into the spirit of Dia de los Muertos, it's Mexico City. In 2016, the city threw its first-ever Day of the Dead parade, and it was quite a spectacle.
And believe it or not, we have James Bond's Skyfall to thank for that since the fictional parade seen in that film was so well done that the Mexico City Government decided to make it a reality.
Hundreds of thousands of excited participants gathered at Estela de Luz or "Pillar of Light" to honor their departed friends and relatives in a fun and unique way. People dressed up in elaborate costumes and gorgeous skeleton make-up to march down Estela de Luz all the way to the city's main square. There were floats, kites, balloons, and everything in between.
The parade on its own makes Mexico City a must-try destination for anyone looking to celebrate Dia de los Muertos in style.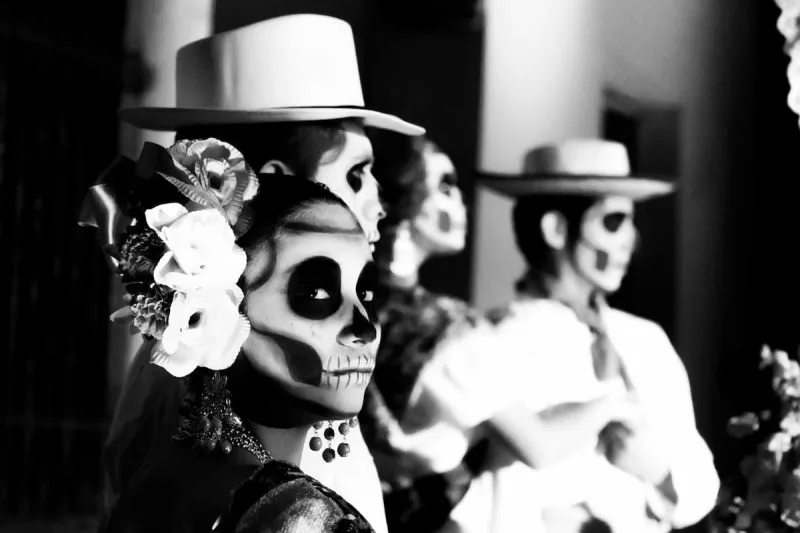 4. Haiti
Haiti is home to the infamous Fet Gede celebration, which is an extension of Dia de los Muertos and falls around the same dates. Fet Gede is organized to honor and pay tribute to Gede, which according to Haitian local tradition is the patron family of the dead.
The Haitians believe that the celebration allows for the dead to cross over to the realm of the living, just for one night. They partake in ritualistic drum beating and dancing that brings the dead into our world.
The night is marked by decorating altars, eating delicious home-cooked meals, and remembering dead relatives and friends.
5. Guanajuato, Mexico
Guanajuato City is ideal for people who are looking for an insightful and educational experience this Dia de los Muertos. The University of Guanajuato has a giant altar that holds great significance during the days leading up to Dia de los Muertos.
At the start of November, students of the university come together and decorate the altar with lights and pictures. Locals and sometimes tourists are also invited to participate. The altar is used to honor and commemorate dead academics who have contributed to the art and culture of Mexico.
Finally, don't forget to visit the Museum of the Mummies of Guanajuato to complete your spooky cultural tour of wonders my friends!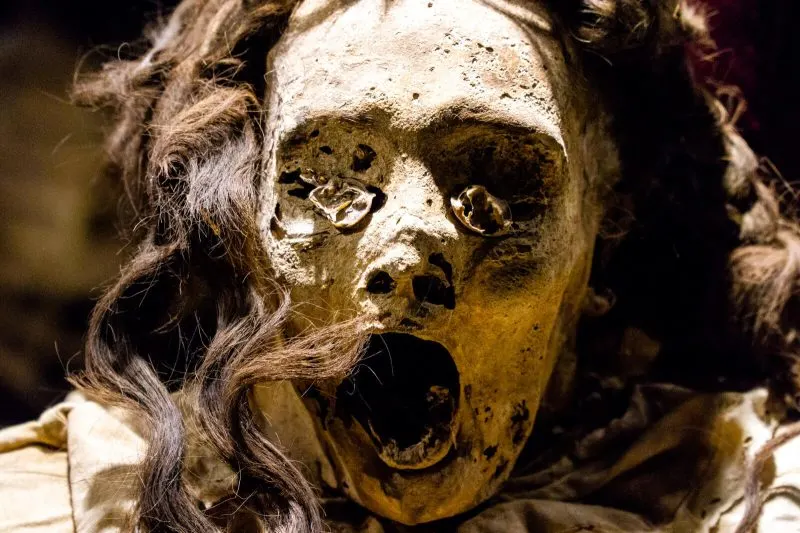 6. Los Angeles, California
Believe it or not, Olvera Street in Los Angeles is one of the most exciting places to be on Dia de los Muertos. The area is home to one of the largest Mexican marketplaces, and on the day of the festival, the whole neighborhood is lit up beautifully.
Residents of the street partake in all Dia de los Muertos traditions, and celebrate the day in thrilling ways, from jaw-dropping theatrical performances to nightly candlelit processions and everything in between.
7. Oaxaca, Mexico
And saving the best for last, Oaxaca City is my all-time favorite place in all of Mexico to celebrate Day of the Dead. The city has a centuries-old tradition of putting altars for the departed as well as adorning the colorful streets with vibrant decorations to commemorate this Mexican cultural event.
The altar is a great opportunity to learn about the contributions in academia made by Mexican academics. At night time, it lights up and makes for a beautiful display that is perfect for pictures.
All in all, it's a beautiful celebration of national heroes who have done so much for the country.
Final Thoughts of Wonders
People all across Central and South America celebrate Dia de los Muertos in unique and exciting ways. This year, join in the celebrations and learn more about the history and rituals behind the day.
Another great way to celebrate Dia de los Muertos is to take inspiration from all the different ways people celebrate the day and use that information to plan your own event or celebration. Cook some delicious food, invite your friends and family members, put on some music and costumes, and have a party.
You can create party or festival flyers in minutes through online sites like PosterMyWall. Simply pick a Dia de los Muertos template, customize it, and send it out to all your friends.