The Mummies of Guanajuato are some of the spookiest attractions of this beautiful Mexican city. Come and visit the spooky Momias de Guanajuato with me!
When I was a little kid, I always pestered my mother about visiting Guanajuato (check out the best things to do and see in Guanajuato here!) for a holiday in order to visit the Mummies of Guanajuato and experience firsthand the legends of horror that made Guanajuato a very infamous city in terms of local folktales and stories from colonial times.
Many decades later, I finally managed to visit this magical city and immersed myself in a quest of discerning the myths from the facts. Trust me, it wasn't easy and yes, it was a very scary experience.
Are you ready? If you are, then proceed with caution, for we are about to explore stories about love, betrayal and death, lots of death.
*Insert evil laugh here*
The Mummies of Guanajuato AKA Las Momias de Guanajuato
Ever since their discovery between 1865 and 1958, the Mummies of Guanajuato have been the city's most important tourist attraction and part of the Mexican folklore, starring in iconic horror B-movies such as "El Santo contra las Momias de Guanajuato".
However, contrary to what the name might suggest, these aren't actually mummies in the strict ceremonial sense of the word, rather, the mummification process of these corpses was a natural one, product of the salt levels and unique minerals found at Guanajuato.
If you ask me, witchcraft and the Santa Muerte had something to do with it too but don't say it out loud!!!
Contrary to the mummies found in Egypt (check out my best Giza Pyramids anti-scam tips here!) or in Peru, these corpses do not belong to ancient warriors or kings, rather, they are the bodies of normal people like you and I.
These unfortunate victims died of a cholera outbreak (which makes them even more frightening in my opinion!) and ended up being buried at the graveyard located above the Museum. The worst part? Decades later they ended up becoming a tourist attraction and were exhumed from their not-so-eternal resting place.
Only in Mexico uh?
Should You Visit the Mummies of Guanajuato?
Why do they all have scary expressions? Because many of these people were actually buried alive!!! (although the majority of them were modified post-mortem in order to attract more visitors…).
And yes, this amazing finding was entirely done by accident after the Government decided to create more space for new graves after the relatives of the deceased failed to pay the imposed local tax.
I can only imagine the expression of terror of the gravediggers. Legend has it that some of them became mummies themselves after un-earthing this type of horrors!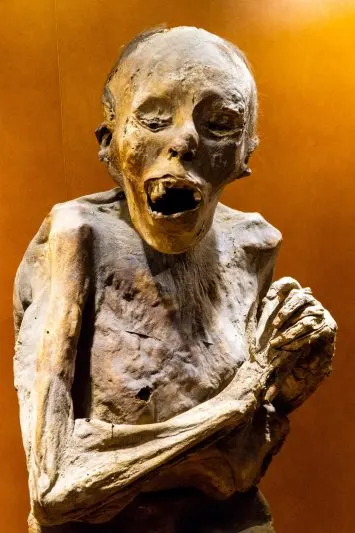 So wait, the Government literally dug up people's relatives and showcased them in the Museum of the Momias of Guanajuato?
Ethical or not, the displays are very interesting since they reveal a very important aspect of life in the 19th century and serves as a timeless evidence of Mexico's culture and folklore.
Today, only about 40% of the collection is displayed since the remaining 60% was on a world-wide tour (guides often joke that the dead have been to more countries that the living) and now that the collection has finally returned, there's simply not enough space to showcase it all at once.
If you're traveling with kids, then I definitely suggest you to skip this, mainly because some of the corpses displayed are extremely scary (even for grown-ups!). You don't really want to give mental scars to your kids for life, do you?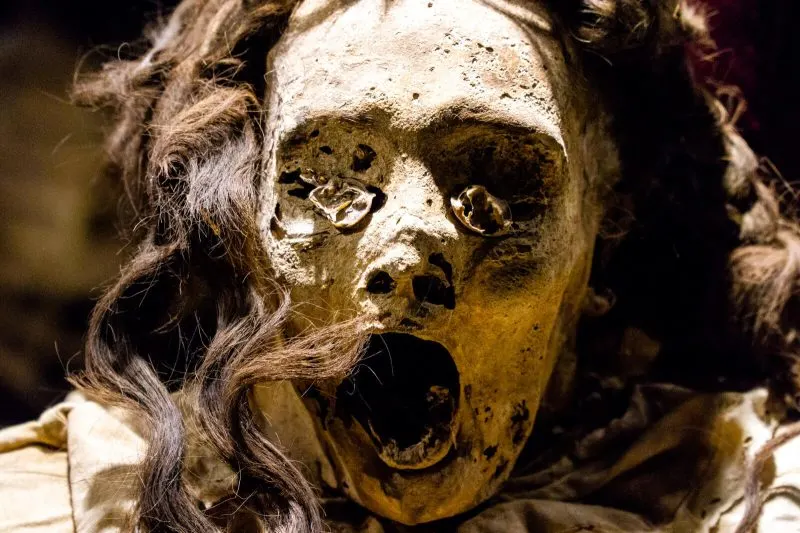 Where to stay in Guanajuato, Mexico
When it comes to accommodation, Guanajuato has plenty of awesome choices located within the historical centre of the city. Here's a list of my recommendations for all types of budgets.
If you're looking for Luxury Hotels in Guanajuato, look no further than Hotel Boutique 1850 and Villa Maria Christina Hotel for some colonial era charm. When it comes to budget hotels and hostels in Guanajuato, your best options are La Casa de Dante and Hostal La Casa del Tio.
You can make a booking for this and more properties via our Booking.com Affiliate Link of Wonders ! Same price for you and a small commission for this website of yours. Sweet deal, right?
I hope you have enjoyed this brief introduction to the Mummies of Guanajuato and other spooky legends. Don't forget to subscribe in order to get more awesome updates and tips straight to your e-mail!
Have you ever visited the Mummies of Guanajuato? Would you like to? Share your thoughts and let me know what you think!
Until next time, my friends!