An article about the best things to do and see in Interlaken, Switzerland including paragliding, the best hikes, and more.
Close your eyes for a moment and imagine the perfect fairytale setting. Does it have impressive castles surrounded by mountains? Does it have colorful lakes where magic is real and romance blooms? Does it have cute talking animals and pretty flowers drenched with the smell of nature?
Open your eyes now and see what's in front of you: this fairytale place is real and its name it's Interlaken.
Here's the history of how I fell in love with the nature of this magical place. Are you ready for reading all about this magical area of the Swiss Alps?
I hope you're ready for the best things to do and see in Interlaken, Switzerland my wonder friends!
Interlaken, that Magical Place Between Lakes
When I first arrived to Interlaken, I couldn't help but pinch my arm as I noticed how close to the mountains the city was built and it only took a small breath of fresh air for me to fall hopelessly in love with the nature of this magical corner of the world.
What started as a short trip of a few days soon became something else entirely and as of today, I have been at Interlaken for over three weeks as I'm exploring more and more the region with the help of a local who has become something more than just a friend to me.
Before I knew it, Interlaken became now my second home: my little land of wonders. And the reason why Interlaken feels like a second home to me? Because it looks exactly nothing like home.
Growing up at a beach town, I never really had the chance to experience the fresh air of the mountains and the feeling of a new adventure each day in the wilderness of Mother Nature.
In fact, one could even say that Interlaken is a constant reminder of how much I've grown ever since I left my old life back home.
You see, when I was a little boy I was diagnosed with asthma and I was constantly told by my family about the things I shouldn't do: "don't exhaust yourself while running", "don't forget to pack your inhalator", "don't go with the school excursion to the capital, the air's too polluted for you".
As you can imagine, I had a very sheltered childhood and it was only during my early adulthood that I managed to overcome my illness using the power of positive thinking (read more about my transformation from ordinary to extraordinary here).
Soon, there were no longer any limits to what I could do and ever since, each time I see an imposing tall place, I look at it with a big smile in my face as I say: challenge accepted.
And well, with its many mountains, excursions and treks, Interlaken has enough adventures to keep me entertained for a very long time, don't you agree?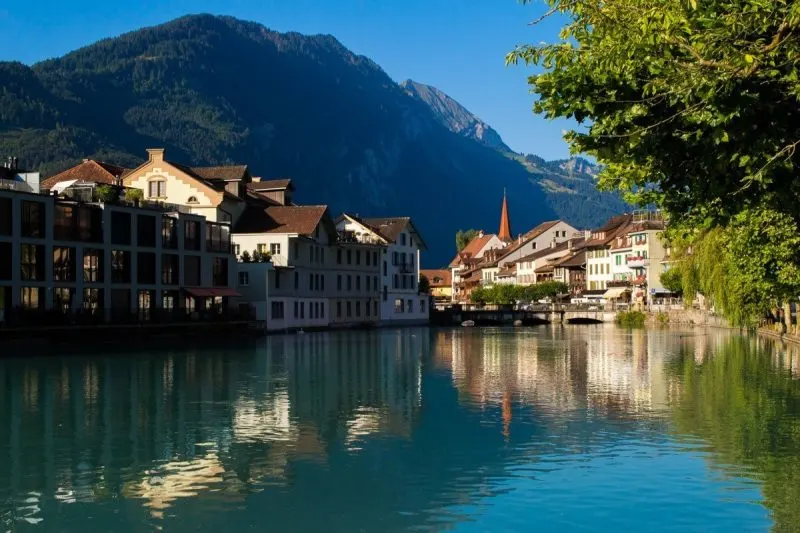 There are many more things I could tell you about Interlaken and its wonderful beauty but there are times where Mother Nature just leaves me speechless with its many splendors and I'm unable to fully process what's happening before my eyes.
Deep down, I would like to believe that I'm still that same little boy who dreamed about a life in the mountains and even though I know it's a little bit odd to get so excited about seeing domestic animals, I couldn't help but jump with joy once I saw the beautiful cows that live in the surrounding areas of Interlaken! (it almost made me feel guilty about eating a beef steak later that same day…almost).
I hope that one day you will also visit Interlaken and who knows, maybe you'll find more than one reason to stick around for a long time just like me. Whatever the case, I promise you that you'll have the time of your life in this land of wonders that I know call my own.
Searching for some inspiring ideas about what to do and see in Interlaken? Enjoy the following 7 reasons to fall in love with Interlaken and book those tickets now!
The 7 Best Things to Do and See in Interlaken
Feel the Adrenaline Rush of Paragliding in Interlaken
Interlaken is well-known for being the outdoor sports' capital of all of Europe and a visit to Interlaken is not complete without trying at least one of its many emblematic activities: canyoning, skydiving, rafting, hang gliding and my personal favourite: paragliding in Interlaken.
Seeing the city from above the mountains as you fly is one of my best experiences to this day! Be sure to ask your paragliding instructor (this time I went with Alpin Air) to do the "rollercoaster" move as you approach the ground.
Trust me when I say that the adrenaline rush will make your day, my dear friends!
Explore the Charming Alpine Villages of Lake Thun and Lake Brienz
There's nothing more charming than the small town vibe of the villages of the two lakes that surround Interlaken and while you can easily reach all of them by either train or bus, the best way to enjoy them is on board the panoramic boats that operate frequently throughout the day (see the timetable here).
The sapphire blue Lake Thun is famous for its romantic castles and impressive caves (see number #05) while the emerald blue Lake Brienz is famous for its wood-carving villages, the Ballenberg Open Air Museum and the majestic Giessbach waterfalls.
Plus, both lakes are surrounded by the impressive Swiss Alps so you'll always be witness to postcard views such as this one!
Taste the Culinary Delights of Switzerland (Even if You're Vegan)
Switzerland's food is like poetry to my senses and some of the world's most popular cheeses are produced in this country (such as emmental). However, the highlight of the country lies in the quality of their beef meat.
Swiss cows are impressive to photograph and even more impressive to eat! A perfect sample of Swiss culinary delights should include a fine cut of beef, fondue cheese and a portion of rosti (hash brown potato) accompanied by a strong red wine.
Plus, you can always pretend you're accompanied by a kid and order desserts as beautiful as this one below. Yes, I got to keep the baby cow afterward!!!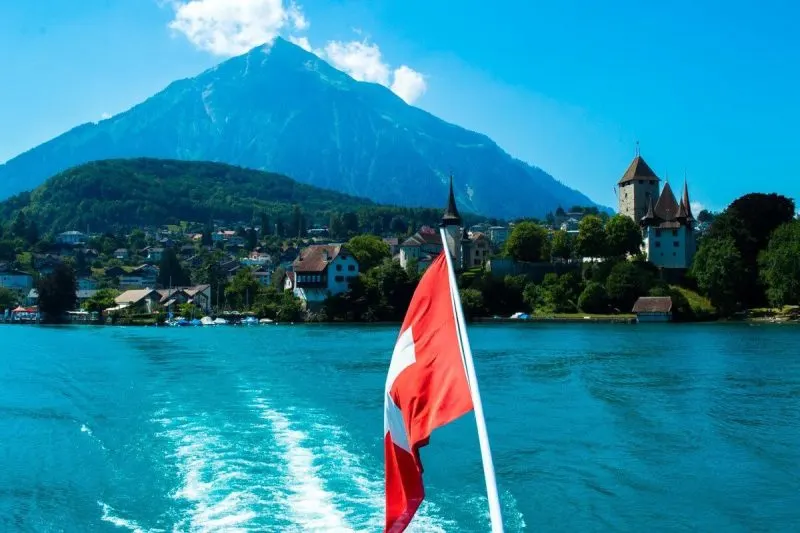 Experience the Top of Swissness at Schynige Platte
The late 1800's are part of an era best known in Europe as the "Belle Époque" where fanciness was around the corner as fine gents and beautiful ladies gathered to enjoy the most exclusive delights of life such as the scenic cogwheel train to the mountain known as the Schynige Platte.
Operating ever since 1893, this panoramic train journey will take you to one of the best viewing spots of the Bernese Alps (altitude 1,967 metres or 6,453 ft) from where you can overlook Interlaken, Lake Thun, Lake Brienz, the Jungfrau and much more.
Plus, every afternoon from 11:00 to 14:00 you can enjoy a traditional performance of the Alphorn players at the restaurant. Are these guys fancy or what?
Visit the St. Beatus Caves and Waterfalls
12 minutes away from Interlaken West by bus #21 direction Thun (or one hour by foot) you shall find the St. Beatus Caves where local legend says that the titular St. Beatus kicked out the dragon that used to live here.
Whether that's true or not, today you can explore the inside of the cave after a small hike to the restaurant located above the waterfalls. This cave is part of the traditional Christian pilgrimage to the "Camino de Santiago" so don't be surprised to see believers praying around it.
If you ask me, this place looks like something out of the Hobbit universe and that's why it's one of my favorite places of them all.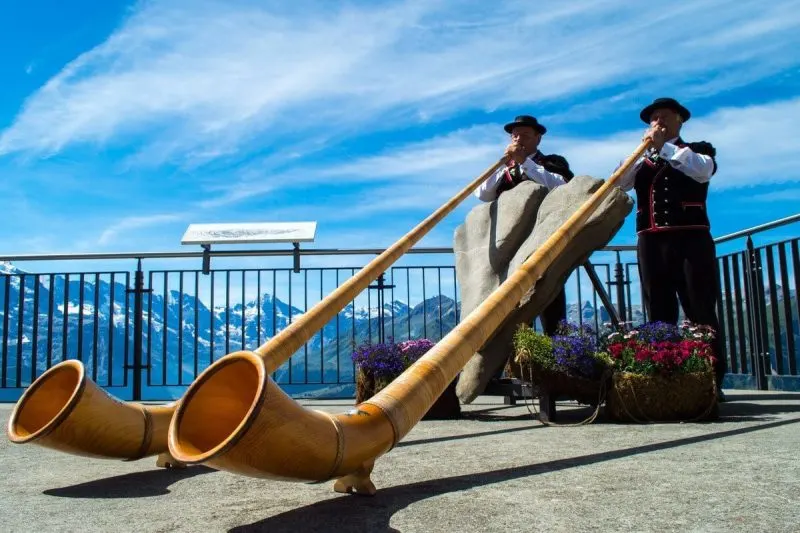 Hike the Harder Kulm and Enjoy the Panoramic View of Interlaken
Of all the mountains surrounding Interlaken, the Harder Kulm is the nearest one and the easiest one to hike (roughly 2 hours and a half one-way). At the top, you shall find a restaurant and a viewing platform from where you can see both lakes and the city itself.
The hike from Interlaken to the Harder Kulm is a very beautiful one as you can immerse yourself in the nature of your surroundings and if you're lucky, you might even be able to spot some wildlife such as deers and groundhogs.
Alternatively, you can skip the hike and take the funicular to the top of the Harder Kulm from the station near Interlaken Ost and get there in less than 10 minutes.
Take a Day-Trip to the Jungfrau Region and see the Mountains Up-Close
Last but certainly not least, you can take a day trip (or two, three, four…) to the Jungfrau region in order to get closer and closer to the three most famous snowy peaks of the Bernese Alps: the Eiger (Ogre), the Monch (Monk) and the Jungfrau (Maiden).
Today, you can take a panoramic train to the tallest train station of all of Europe: the Jungfraujoch, located at 3,454 meters (11,332 ft) above sea level and from where you can see fresh snow even in the summer.
The many possibilities for hiking and adventure that you can experience at the Jungfrau region are endless and you'll need at least one month to see half of them!
Stay tuned next week here at Journey Wonders for an in-depth article about the many wonders of the Jungfrau region my friends!
How to Get Arround Interlaken
Interlaken has a very convenient location right in the middle of Switzerland and you can easily reach it by train from all nearby European countries (if you're flying, you'll have to travel to Bern or Zurich first).
When it comes to transportation within Interlaken, make sure to ask your hotel/hostel for your Guest Card. This document is free of charge and allows you to use the public buses within Interlaken and some of its surrounding villages plus it gives you a 50% discount on the Harder Kulm funicular (normal price 30 CHF return).
Not bad at all, right?
As I mentioned before, you have many day-trip opportunities to the two lakes and to the many mountains that surround this charming place (see the map below to get a rough idea).
If you're planning on staying more than a few days in the region, you might consider purchasing one of the many rail passes available in Switzerland (but more on that next time).
You can read all about the Jungfrau Region in this article at Journey Wonders where I explore the best hikes and day trips in this magical area of the world.
Where to Stay in Interlaken, Switzerland
Accommodation in Interlaken can be (surprisingly) more affordable than what you think although you can always find luxurious hotel where you can recreate the glamour of the Belle Epoque. Here's a list of my recommendations for all types of budgets:
For luxury and boutique hotels, I recommend the Landhotel Golf & Salazano Spa and the Victoria Jungfrau Grand Hotel. When it comes to hostel, my best choices are the Balmer's Heberge and the Youth Hostel Interlaken.
You can make a booking for this and more properties via our Booking.com Affiliate Link of Wonders!
Same price for you and a small pocket money commission for this website of yours.
Sweet deal, uh?
I hope you have enjoyed this travel guide to Interlaken's top attractions. Don't forget to subscribe in order to get more awesome updates and tips straight to your e-mail!
Have you ever been to Switzerland? Would you like to do paragliding in Interlaken? What were some of your best memories of this place? Share your thoughts and let me know what you think!!!
Disclaimer: This article was brought to you in collaboration with the Interlaken Tourism Board. Next time you visit Interlaken, be sure to stop by at the Tourist Information office to know all about the current cultural events that you can enjoy in this wonderful city.
Until next time, my friends!