Stockholm is a city where perfection is normal and where nothing can ever go wrong. It is a city where shopping for luxury is seen as an everyday activity and where giving money to charity is encouraged.
But beyond this absolute aesthetic and social perfection, there is a different side of Stockholm once you go into the deep tunnels of the underground.
In the underground, you shall find a place where alternative street artists decided to express their soul.
This is the story of Stockholm and the unique underground metro art you shall find here.
Are you ready?
Stoked by Stockholm: Winter in the Scandinavian Capital
When I arrived to Stockholm, one of the most beautiful Scandinavian cities, at the end of January, the snow was slowly melting away and yet, it was still possible to enjoy some its white awesomeness as it covered the roof of some of the city's most known landmarks.
The sheer perfection of Stockholm captivated all of my senses since this is a place where the only real danger is getting hit by accident by one of its many cyclists.
Yes, it's THAT safe.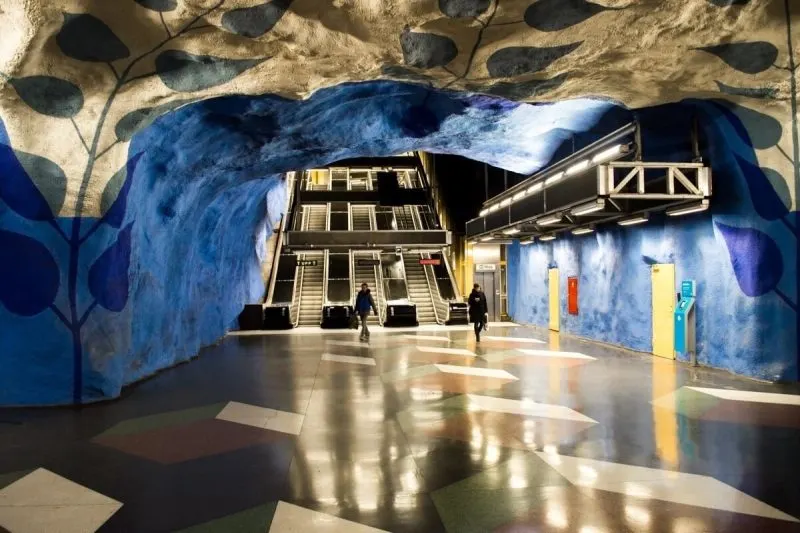 Stockholm also has many green areas (well, white now that is snowy) from where you can enjoy a nice view of the river and reminiscence times of old when Vikings roamed these waters.
And yes, I totally watched the new Vikings Tv Show before visiting Sweden. I mean, of course I HAD to!
Did you know that Vikings were actually civilized folks who specialized in trading goods? They didn't even wear those horned helmets!
Can you imagine how impractical they would be in a real battle? You just need to hold the horns of your enemy and that would be pretty much the end of it.
But hey, at least the Thor movie revitalized people's interest in Scandinavian culture and the Norse religion although you probably won't find anyone in Sweden that actually practices it.
At least not yet.
And well, what can I say about the Viking ladies of Sweden? Tall, blonde, beautiful and yes, eager to learn salsa from a Latin Lover like me. Trust me when I say that if it wasn't for the extremely high cost of living, Stockholm is one of the places where I wouldn't mind settling down for good.
Plus, did I mention that they have not one but TWO chains of Mexican food? I tried them both (Zócalo and La Neta) and I was pleasantly surprised to find out that the chefs are actually Mexicans!
Can someone pinch me now?
The Underground Metro Art of Stockholm
So how about the underground? You see, Stockholm doesn't really has many street art spots located above in the Old Town so the best way for artists to express their creativity is down below.
Fiery volcanoes, mysterious grottos, futuristic caves, an 8-bit homage to Nintendo, pseudo-archaeological ruins, LSD infused double rainbows, gardens and much more awaits you underneath your feet.
In my opinion, the eccentricity and soul of the Stockholm underground art is a nice contrast to the over the top luxury and glamour of the Moscow underground art.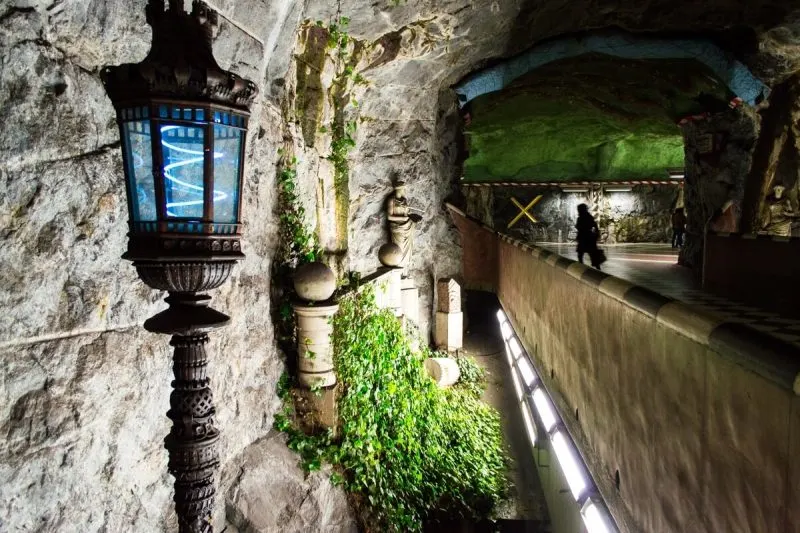 Even better is the random conversations that you'll find in the underground of Stockholm, can you believe I spent three stops discussing the realpolitiks of A Game of Thrones with a 70-year old Swedish man?
Stockholm is home to more than 40 underground stops and more than a half of them include unique underground art.
What's best is that you basically only need a single ticket to see them all as long as you don't step outside of the metro itself.
It's really hard to believe that the best underground art museum in the world costs only the price of a single underground ticket, right?
Things you should know before traveling to Stockholm, Sweden
The Old Town of Stockholm is fairly small and accessible by foot but the museums found there are kind of expensive so I definitely recommend you to purchase the Stockholm Card, which includes unlimited transportation (so you can see every single Metro station) plus entrance to most museums.
Places I recommend include the Skansen Open Air Museum for a display of traditional Swedish life, the Vasa Museum which is home to Sweden's biggest wooden ship, the National Palace where you can find displays of the Swedish Royal Family and the Cathedral of Stockholm for some incredible art and architecture.
Also, make sure to visit at least one IKEA shop in Sweden because why not?
Where to stay in Stockholm, Sweden
The best accommodation in Stockholm can be found near the train station from which you can explore most of the historical sites.
Here's a list of my recommendations for all types of budgets: for luxury and boutique hotels, I recommend the Grand Hotel Stockholm and the Hotel Skeppsholmen. When it comes to budget hostels and guest houses my best choices are the City Backpackers Hostel and the Hostel Dalagatan.
You can make a booking for this and more properties via our Booking.com Affiliate Link of Wonders!
Same price for you and a small pocket money commission for this website of yours.
Sweet deal, uh?
Inside of the Royal Palace of StockholmI hope you have enjoyed this travel guide to Stockholm's top attractions. Don't forget to subscribe in order to get more awesome updates and tips straight to your e-mail!
Have you ever visited Stockholm? Would you like to? Share your thoughts and let me know what you think!
Disclaimer: This article was brought to you in collaboration with Visit Stockholm. Next time you visit Stockholm, be sure to stop by at the Tourist Information office to know all about the current cultural events that you can enjoy in this wonderful city.