An article about the 7 Best Places to Visit in Rajasthan India including Jaipur, Jodhpur, Udaipur, and much more.
Rajasthan is a stunning region with a rich history of dynasties and kingdoms. Its rich heritage is on full display as you visit its well-known tourist sites, such as the majestic forts and palaces that dot its skyline. Legends of bravery, passion, and free-spiritedness are still told and celebrated around bonfires in towns almost as ancient as their people.
However, aside from the rich history and strong local culture, there is a lot more Rajasthan can offer. Because of this, not only do local tourists visit the dynamic state, but so do tourists from all over the globe. There might be a lot of factors, but visitors to this state can't help but be captivated by its perfection.
Here are 7 places in Rajasthan that have become particularly meaningful to these local and foreign travelers.
The 7 Best Places to Visit in Rajasthan #01: Lake Pichola, Rajasthan's Most Stunning Attraction
Located in the heart of Udaipur, Pichola Lake is one of the most popular tourist spots in all of Rajasthan. It was constructed by Pichhu Banjara during the reign of Maharana Lakha (1312–1362). This lake was expanded over time by Maharana Udai Singh.
A trip to Udaipur would be incomplete without taking a boat out on the city's beautiful lake. A boat ride on Udaipur's gorgeous Pichola Lake, one of the city's oldest and largest lakes, is a must!
This lake has several islets. Udaipur's most popular attractions are the two islands inside the Lake—Jag Niwas and Jag Mandir—which provide breathtaking lake vistas. The clear, blue waters of the lake have a calming effect on visitors. A boat trip on this lake at sunset is enough to captivate even the most jaded of travelers.
The 7 Best Places to Visit in Rajasthan #02: Ranakpur Jain Temple, Rajasthan's Most Beautiful Jain Temple
The Ranakpur Jain Temple, spanning over 29 rooms and 4,500 square yards, is one of the five greatest locations among all of Jainism. The Ranakpur Temple is one of the 77 wonders of the world because of its magnificent architecture.
The complex of four shrines was constructed during the reign of the Rajput king Rana Kumbha in the 15th century. Dhanna Shah, a prosperous Jain merchant in the area, decided to build the temple after having a vision. The old Mirpur Jain Temple in Rajasthan served as inspiration for the design and craftsmanship of the Ranakpur Temple.
The 'chaumukha' architecture of the temple gives it four distinct facades. Its magnificent construction has made this stone building famous throughout India.
The temple's distinctive feature is its morphing column colors. Every hour of the day causes them to shift from a bright yellow to a bluish-gray. Each of these pillars has been carved with great attention to detail, and no two are identical. For this reason, you won't find any matching designs among the temple's columns. When moved, the two big bells in the prayer hall create a melodious tone that is like music to the ears of the faithful.
The 7 Best Places to Visit in Rajasthan #03: Jagatpita Brahma Temple, Rajasthan's Most Sacred Hindu Temple
The Jagatpita Brahma temple is devoted to Lord Brahma and is located near the sacred Pushkar Lake. It is said to be a 2000-year-old temple and is considered holy by Hindus.
Devotees come from all over the nation to take a sacred plunge in Pushkar Lake before praying at the temple. This temple is constructed from marble and stone slabs.
Try to visit this temple during Kartika Poornima. It is a big occasion celebrated with great zeal in honor of Lord Brahma.
There are also many yoga ashrams in this area. A large number of international tourists visit this temple all year round.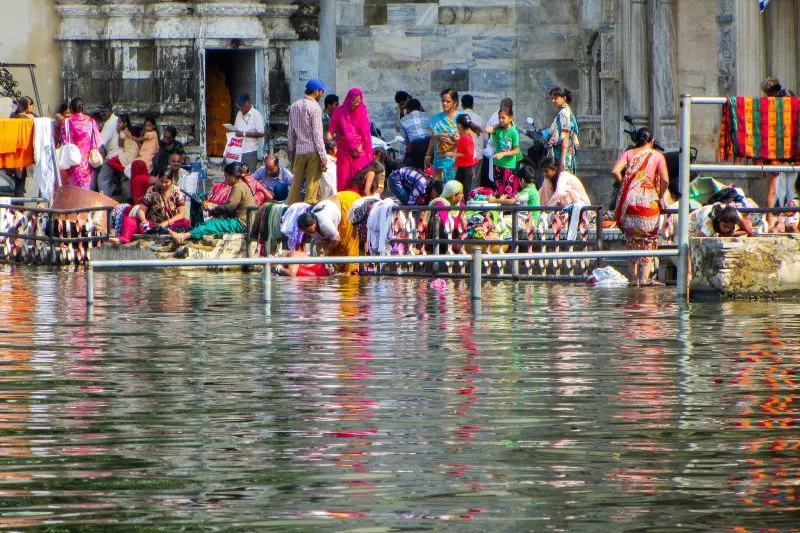 The 7 Best Places to Visit in Rajasthan #04: Jaipur, Rajasthan's Pink City
Jaipur, often known as the "Pink City," is Rajasthan's historical and cultural hub. It is an ideal escape from the mundane, where you may immerse yourself in a storied past that will leave you spellbound.
The bright pink of the city's homes is immediately recognizable to visitors to Jaipur. There's a lovely tale behind why the town is painted pink throughout. Once upon a time, when the Maharajas ruled, the color pink signified welcome. To show his extreme hospitality to Queen Victoria's husband, Prince Albert, the Maharaja of Jaipur painted the whole city of Jaipur pink.
As one of the wealthiest cities in India, Jaipur allures both affluent locals and foreigners in search of casinos that cater to worldwide players. These casinos offer a chance to test one's luck and indulge in exciting gaming adventures. Whether you're a seasoned gambler or a novice looking for some high-stakes excitement, Jaipur has casinos that will captivate your senses and provide an unforgettable gaming experience.
Some tourist attractions in Jaipur worth visiting are the Amber Palace, Albert Hall Museum, Jaipur Zoo, Elephant Joy, Dolls Museum, and the City Palace.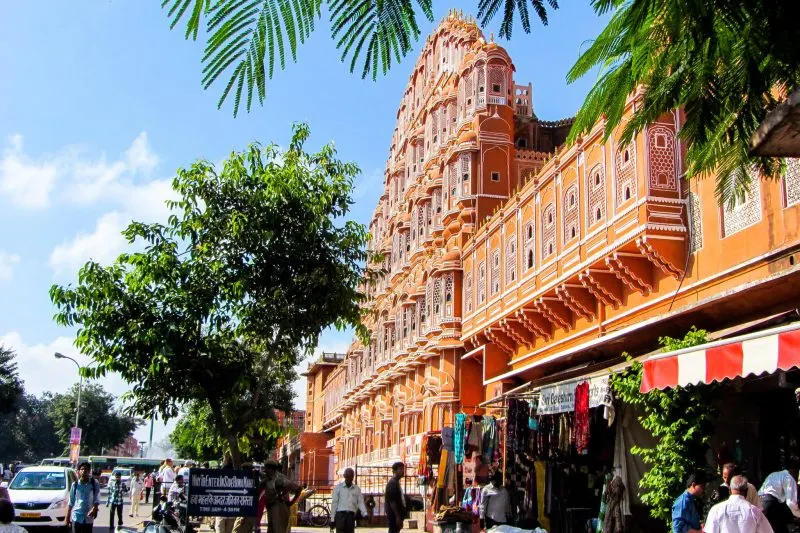 The 7 Best Places to Visit in Rajasthan #05: Chittorgarh Fort, Rajasthan's Largest Fort
The biggest fort complex may be found at this location, which is why it has been named a UNESCO World Heritage Site. Explore the city with your loved ones and hear the legacy of the Rajputs' courage and valor echo through the streets.
The fort of Chittorgarh symbolizes the Rajputs' noble character, passion, and pride. The chilling Chittorgarh fort still holds artifacts from its bloody past, attesting to the city's reputation as a place of courage and sacrifice. In addition to being one of the most visited landmarks in Rajasthan, this old fort is often regarded as one of the most impressive forts in all of India.
The fort was built by the Mauryans in the seventh century on the edge of a hill that is more than 180 meters high and occupies more than 700 acres of vast territory. However, following Mewar rulers built additional features to it.
The 7 Best Places to Visit in Rajasthan #06: Mount Abu, Rajasthan's Paradise for Nature Lovers
Mount Abu is a charming hill station away from Rajasthan's towering forts and holy temples. Because of its position in the heart of the Aravalli Mountains, Mount Abu is a popular destination for hikers, campers, and outdoor lovers.
Families may spend precious time together at Mount Abu by enjoying outdoor activities like hiking, biking, boating, birding, or exploring the place.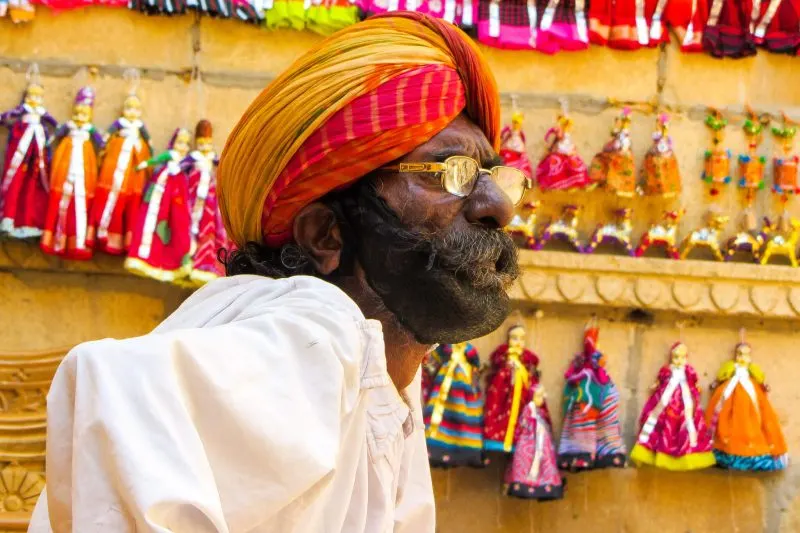 The 7 Best Places to Visit in Rajasthan #07: Ranthambore National Park, Rajasthan's Most Famous Wildlife Sanctuary
Ranthambore National Park is renowned for its abundance of animals and location between the Aravali Mountains and the Vindhya plains. The park is 1,334 square kilometers in size and is well-known for its population of Royal Bengal tigers.
Tourists often see the Royal Bengal Tiger among the lakes and fens, even during the day. Maharajas of Jaipur used the park as a hunting preserve till the 1970s. By the end of 1980, it had become a tiger reserve and national park. The park is a well-known historical landmark because of the many preserved fortifications that can be seen inside its borders.
Final Word About Visiting Rajasthan
Rajasthan offers unique, once-in-a-lifetime experiences for all kinds of travelers. From famous historical forts and magnificent palaces to colorful, busy towns and indigenous rural hamlets, Rajasthan has it all.
I hope you found my article about the Best Places to Visit in Rajasthan India useful. Don't forget to subscribe to get more amazing updates and tips straight to your email!
Have you ever visited Rajasthan? Do you want to? What were some of your favorite spots in Rajasthan? Please express your thoughts with me and let me know what you think!
Until next time, my friends!