Interested in knowing how to turn the tables on the the infamous Tuk-Tuk Scam? Here's how to score a Free Tuk-Tuk Ride in Bangkok!
The infamous Tuk-Tuk scam is so common in Bangkok that it seems rather pointless to write about it and yet, hundreds of first time visitors fall for the same old trick again and again every single day (check out the Top 5 Travel Scams of South-East Asia for more).
But hey, did you know that there's a way to turn that very same scam artist into your ally in order to actually have a free Tuk-Tuk ride for an entire day?
Believe it or not here's the story of how I managed to turn the tables on the dreaded free Tuk-Tuk scam my dear wonder friends!
Behind the scenes of the infamous Free Tuk-Tuk Scam of Bangkok
This story, like many other before it, starts one faithful morning in Khason Road, the Mecca of all backpackers that visit Thailand.
This street, know for its many bars and shops, is the doom of many backpackers that find themselves trapped in the commodity and convenience that the area provides which leads to the impression that Bangkok is only a place for drinking.
After all, it's no surprise that 6 out of 10 backpackers cannot even name one single Bangkok temple they've visited during their time in Bangkok!
Luckily, one morning I decided to venture outside of Khaosan Road to explore some of the best temples with my friend Kirstie of Venga, Vale, Vamos (don't be fooled by the name, her blog is 100% in English).
"Wanna go on one of those 10 Baht Tuk Tuk rides?" I asked (note: 1 USD = 35 Baht).
"Wait…isn't that a world famous travel scam in Asia?" she replied.
"Of course it is…but remember that I'm the Man of Wonders. I can make miracles happen" I said with an air of confidence that would make even Queen Elizabeth blush.
"Fine…" Kirstie said as she rolled her eyes. It wouldn't be the first time she did so. And it most certainly wouldn't be the last one.
Swagger in hand, I approached a Tuk Tuk driver that was resting in the shade of the backseat of his own vehicle.
In his eyes I could see the money sign rolling. In his smile I could feel a sense of warmness plus the side effects of a life of tobacco.
"Tuk-Tuk yes?" he asked with the biggest enthusiasm you've ever seen in your life.
"Tuk-Tuk indeed my brother. Listen…I know everything about the mythical 10 Baht rides and the commission shops so let's cut straight to business and create a win-win situation, alright?" I said as I placed my right hand on his shoulder and winked at him doing my best ladyboy impression.
"Ok. Ok. Smart boy, yes. Two shops. 15 minutes each one. In exchange for one hour ride, yes?" he said while he was doing numbers using both his head and hands.
"Brother, we're gonna get along just fine" I replied. It was the beginning of a beautiful friendship indeed.
And yes, I know what you're asking: "so how exactly does the free Tuk-Tuk scam works? Do you have to buy something in each shop and the driver gets a commission?".
Well, worry not since things are actually extremely simple and no, you don't NEED to buy anything at all. Here's a rundown of the situation:
The Tuk-Tuk driver takes you to a tailor, souvenir or jewellery shop.
You pretend to be interested for at least 15 minutes and leave with the promise of coming back another day.
The Tuk-Tuk driver receives a gasoline voucher from the owner/manager/staff of the shop.
The value of the voucher is greater than the gas + time that the driver has invested (stopping in 2 shops for every full hour of sightseeing is a fair deal) so he brings home a net profit.
Your net profit is having scored a free Tuk-Tuk ride without getting scammed or pressured into buying anything. The average price of a one hour Tuk-Tuk ride is roughly 400 Baht and you got it for only 10 Baht.
The only ones that lose in this situation are the tailor, souvenir and jewellery shops but since many tourists actually end up buying something, everything evens out in the end even if YOU don't make any purchase.
Easy as pie, right? A Tuk-Tuk driver can be either your worst enemy or your best ally and it's up to you to decide which one he'll be today my dear wonder friends.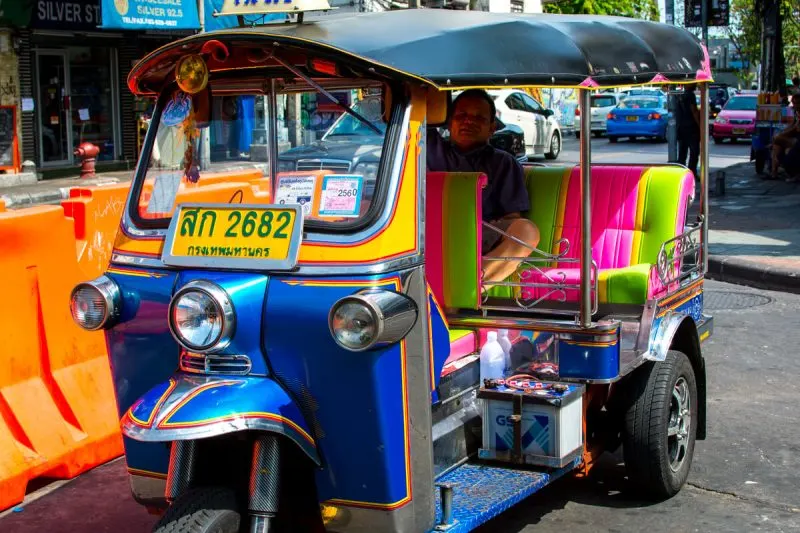 Bangkok beyond Khaosan Road: exploring the cultural side of Thailand's capital city
"So what are some of your best suggestions for temples in Bangkok, Raphael?" you might be asking and well, with over one hundred Buddhist temples to choose from, this is kind of a tricky question.
And well, if you're short on time (and resources) then I definitely recommend you to visit Wat Pho for the massive reclining Buddha (be in awe with the carvings on his feet), Wat Arun for the beautiful decoration (even if the main tower it's still covered in scaffold) and the Golden Mount for its impressive views of Bangkok's skylines (plus the fastest Wi-Fi I've ever found in a temple).
Most temples require a small and symbolic entrance fee with the exception of Wat Pho (200 Baht) and the Grand Palace (500 Baht) which in my opinion is extremely crowded and over-rated. Want to know more? Here are some additional Bangkok solo travel tips my friends. Enjoy!
Last but not least, I definitely recommend you to immerse yourself in the teachings of Buddha to fully understand the important role that Buddhism has in the life of the Thai people. Did you know that it is perfectly common for every male Thai to become a monk for at least a few weeks of their lives?
Some of these monks (and former monks) have mastered the art of the Sak Yant tattoo in order to give blessings to those brave enough to endure the pain of a bamboo needle burning their backs with ink.
Read all about my Sak Yant experience here and feel free to book a Sak Yant tattoo now if you're up for it! Awesomesauce, uh?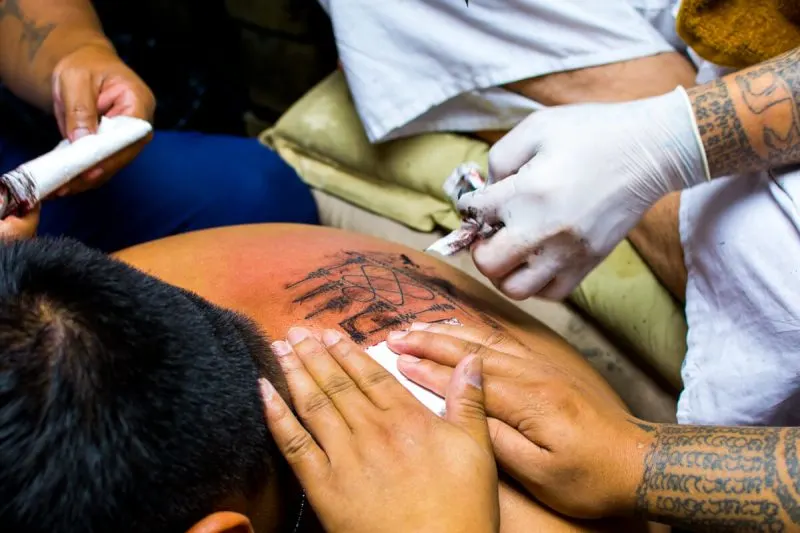 Where to stay in Bangkok, Thailand
Accommodation in Bangkok is evenly spread out in the many different areas of the city. From luxury sky-scrapers in the middle of the city to party hostels in the legendary Khaosan Road.
Here's a list of my recommendations for all types of budget: Amari Watergate, Movenpick Bangkok Sukhumvit and Ramada Plaza Menam Riverside for the Luxury Hotel Range while Lub D Bangkok Siam Square and Cubic Bangkok are perfect for those seeking Budget and Boutique Hostels.
You can make a booking for this and more properties via our Booking.com Affiliate Link of Wonders!
Same price for you and a small pocket money commission for this website of yours.
Sweet deal, uh?
I hope you have enjoyed this article about turning the tables on the Free Tuk-Tuk Scam of Bangkok. Don't forget to subscribe in order to get more awesome updates and tips straight to your e-mail!
Have you ever been victim to a Tuk-Tuk scam in Bangkok? How was your experience like? Share your thoughts and let me know what you think!
Until next time, my friends!