Honda Bay is a very beautiful yet massively overlooked wonder in Palawan. Read all about the Honda Bay Island Hopping Tour from Puerto Princesa here.
99% of Travelers that visit Puerto Princesa only do so to explore the Puerto Princesa Underground River and then hop into the next available van towards El Nido.
But did you know that there's a picture perfect bay located just 30 minutes away from Puerto Princesa? And yes, you can even do some epic island hopping here to see starfish, corals and white sand islands.
Are you ready to read all about the Honda Bay Island Hopping? Here we go!!!
How to Get to Honda Bay from Puerto Princesa
If you're traveling in a group of at least 4 people, your best option is to take a shared tricycle (500 PHP total) to Honda Bay early in the morning and negotiate a price with a boat captain to do an Island Hopping Tour in Honda Bay.
As of February 2019, the recommended price for an entire boat is of 2000 PHP excluding the entrance fee of the island (approximately 200 PHP per island per person) and lunch (you can have a buffet lunch in one of the islands for 250 PHP or you could just bring your own food).
If you're traveling alone (like I am) and couldn't find anyone else to share the costs with, on the other hand, your best cost effective option is to hire a shared tour for Island Hopping in Honda Bay.
The price is a fixed rate of 1200 PHP including transportation from/to Puerto Princesa to/from Honda Bay, buffet lunch and the island entrance fees. Be warned that snorkeling equipment is excluded so you have to hire it for 150 PHP.
Ready to set sail? Here we go!!!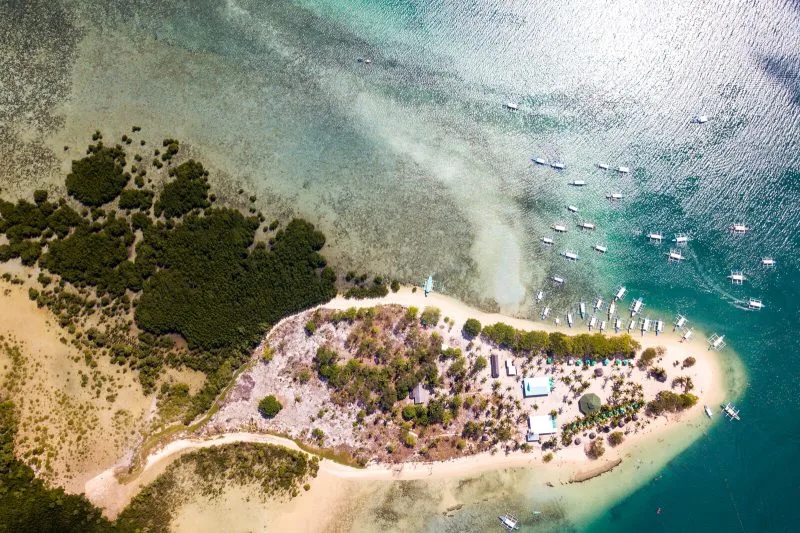 Snorkeling at Starfish Island
Your first stop of the day is going to be the most memorable one of the trip: the Starfish island where you can spot…you guess it, starfish!!! Many many many Starfish of Wonders spread all around the island.
This is also the only spot of the tour where you can snorkel and actually see some interesting marine life and corals.
Our tour guide warned us about sea urchins but luckily I didn't see any. Can you imagine accidentally stepping on one of those spiky dudes?
Tip of Wonders #01: If you see anyone trying to grab the Starfish for a tacky touristy photo, tell them to put them back into the water right away. Marine life isn't for anyone's entertainment!!!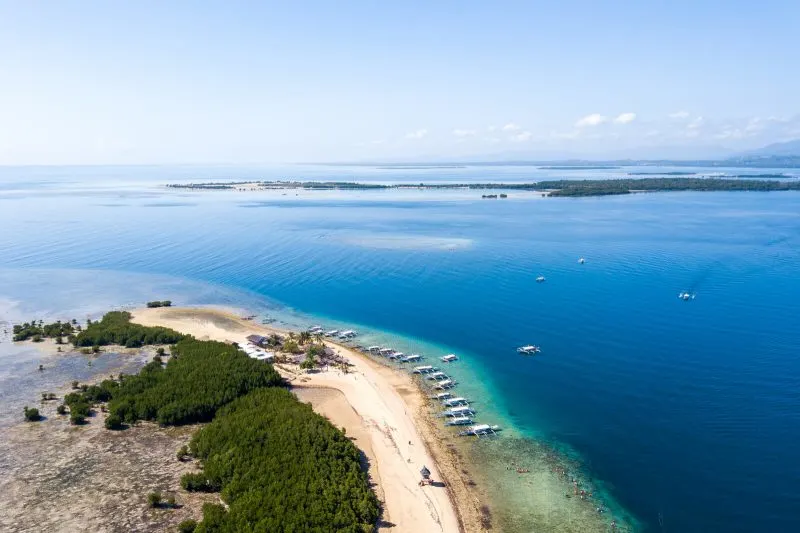 Buffet Lunch at Luli Island
This is by far the strangest of the islands you will visit in your trip and talking with my local tour guide, she told me that even she doesn't understand why some people try to snorkel in what clearly is a pool with no marine life in it.
In any case, this is the island where you will have a delicious buffet lunch of Philippine food (definitely try out the pork adobo, it's epic!!!) and where you can refill your water bottle for free.
There's also a small bar with surprisingly good Latin music but sadly no one was interested in dancing. Oh well…
Tip of Wonders #02: If you have a drone, make sure to fly it further away in order to see some of the private islands of Honda Bay. Some of them are only 10 meters long and barely have one house on them!!!
Water Activities at Cowrie Island
The third and last island is a very interesting stop in the sense that you can either party and drink to your heart's content or you can rent a kayak and row around the fairly small yet beautiful white sand island.
Me? I stayed sober enough to fly the Drone of Wonders and get an aerial view of the entire island (luckily, in the Philippines you can fly up to 500 meters without any issues) and then I just sat down to contemplate the beautiful and interesting sights in front of me.
My most memorable moment? Contemplating Chinese tourists in a life jacket completely freak out when the water starts to touch their knees. Oh man…
Tip of Wonders #03: The bar in this island has some outrageous prices (for Philippine standards), however, I saw many tourists pouring alcohol from their flasks so I guess it is allowed to bring your own booze to this Honda Bay Island Hopping Tour.
Honda Bay Island Hopping: Is It Worth It?
If your budget is super tight and you're already planning on going Island Hopping in either Port Barton, El Nido and/or Coron, then the short answer is a rotund no.
Of all those places, the Island Hopping of Honda Bay is the least attractive one by far. However, if you have the time and money, I definitely recommend you to do it (after all, it is fairly cheap by all world standards) just to see a different side of Palawan.
In the end, I'm glad that my luggage ended up being delayed and I was forced to spend some extra nights in Puerto Princesa since otherwise I would have totally skipped Honda Bay and well, the pictures of the white sand banks I took that day remain some of my favorites from my Palawan trip.
Not bad at all for something that wasn't even on my radar, uh?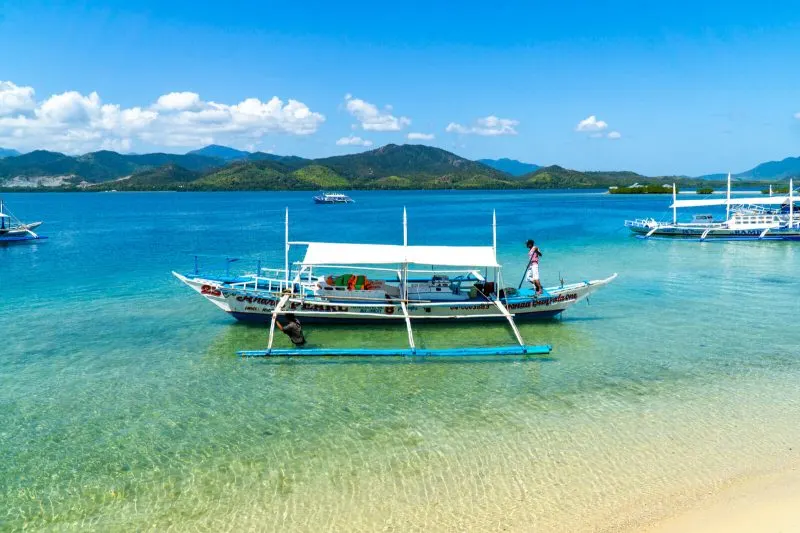 Where to Stay in Puerto Princesa, Philippines
Puerto Princesa has its fair share of budget hotels, party hostels and luxury hotels so there's a little bit of everything for everyone.
Personally, I can recommend Shebang Hostel, a boutique hostel located a few minutes away from the airport, the customer service was amazing and they were very helpful in booking tours and transfers for me. Be sure to check them out!
You can make a booking for this and more properties via our Booking.com Affiliate Link of Wonders! Same price for you and a small pocket money commission for this website of yours.
Sweet deal, uh?
I hope you have enjoyed this article about the Honda Bay Island Hopping Tour. Don't forget to subscribe in order to get more awesome updates and tips straight to your e-mail!
Have you ever visited Honda Bay in Palawan? Would you like to? What is your favorite island hopping tour in the Philippines? Share your thoughts and let me know what you think!
Until next time, my friends!