Planning a trip to the Salar de Uyuni in Bolivia? Here are some amazing travel tips to select the best day tour and enjoy the Salt Desert to the fullest!
Bolivia's Salar de Uyini (Uyuni's Salt Desert) is the world's greatest salt flat and one of my favorite places to photograph in South America due to its unique landscapes.
And yes, getting there is a REAL hassle since it involves an overnight bus journey from La Paz that can take from 9 to 12 hours but trust me, once you're there, the views will amaze you and stay with you forever.
Here's some of my best survival trips for how to plan a trip to Bolivia's Salar de Uyuni. Are you ready?
Hire a Tour in Uyuni Directly, not in La Paz
When you're in La Paz, Bolivia's capital, your hotel/hostel will most likely try to convince you to book a tour with them in advance. My best advice? Don't (although be sure to hire a one day tour to Tiwanaku departing and returning to La Paz)
The best way to get a good price and to avoid nasty last minute surprises (such as unscrupulous companies deciding to skip certain destinations and/or charging you extra for food), I recommend you to book directly at Uyuni Town the very same day.
Overnight buses from La Paz to Uyuni arrive super early in the morning and most one-day tours begin at 9:00 am giving you more than enough time to negotiate prices.
Make sure to have everything confirmed in written and you're all set to have the trip of your lifetime. Usually, tour companies include lunch and guide/driver but you'll have to pay the entrance fee to the Incahuasi (Cactus) Island which is 30 Bolivianos (5 USD give or take).
There will ALWAYS be room for you my friends so don't despair and just chill!
Hike to the Top of Cactus Island
The Cactus Island (official name Incahuasi) is the place where all tours end up eating breakfast or lunch (which surprisingly enough, will be quite bland when it comes to taste so be sure to add some salt from the ground).
Near the lunch area, you will find a toilet stop (with local paper which is a rare commodity) as well as local people selling snacks and souvenirs.
Don't waste your time and instead go ahead on a small hike to the top of the island (it shouldn't take you more than 20 minutes) to take some panoramic shots of the place!!!
The hike MIGHT be hard for those who aren't used to high altitude hikes (like the one in Isla del Sol in the Titicaca Lake) but if you're already used to the altitude it will be like a walk in the park.
On the way up you can appreciate the vastness of the Salar de Uyuni as it stretches and seems to never end plus you will get a glimpse of how small the minivans look from the top. It's quite surreal to see them navigate in an empty white space!!!
Have you ever imagined a landscape like this one?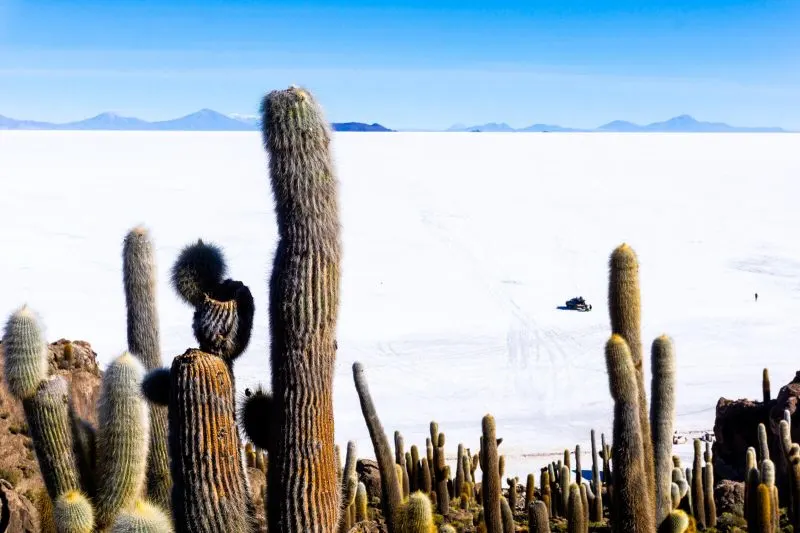 Increase the F Value in Your Camera
When it comes to photography (read some of my best Travel Photography Tips here), one of the highlights of salt flats is that if you set your camera focus to infinity, you can create forced perspective photos in which all objects in the frame appear as if they were in the same dimension.
As you can imagine, bringing props such as plastic dinosaurs, hand-crafted toy llamas, trucks and other objects is a very funny way to have a crazy photo-op.
And yes, this photo is definitely from the sequel to Jurassic World, no photoshop needed!!!
Tricking smartphones into forced perspective photos is super easy BUT if you have a DRSL or a Mirrorless you NEED to use either Manual or Aperture mode with a high F-value (I used F 20 and upwards).
Failure to do so will cause the camera to focus on either the object in the foreground or the person in the background. Tricky and frustrating but the results are totally worth it.
Practice makes master my wonder friends!
Go on a Multi-Day Tour from Bolivia to Chile
The biggest mistake I did when traveling in South America was to only hire a one day tour to Uyuni instead of the more interesting 2 and 3 day tours in which you see some spectacular sights such as the pink lake, more mountains and yes, flamingos.
In fact, the most popular tour in Uyuni is the one that takes 3 days and 2 nights and ends in the Chilean border (or vice versa) from where you can continue onwards to the Atacama Desert, one of the best natural wonders of the world (be sure to visit El Tatio Geysers when you're there!!!).
When I first visited the Salar de Uyuni in 2012 I didn't have enough time to do the multi-day trip but this 2018 I did it from San Pedro de Atacama to Uyuni with the tour company Denomades, stay tuned for an upcoming article detailing the entire journey.
One thing to take in consideration is that during the journey from Atacama to Uyuni you will see the sunrise at the Salar de Uyuni BUT on the journey from Uyuni to Atacama you will see the sunset at the Salar de Uyuni. Hard choice uh?
Can you believe I got THIS close to the flamingos? I bet my pink shirt sure fooled them into thinking I was one of them, uh?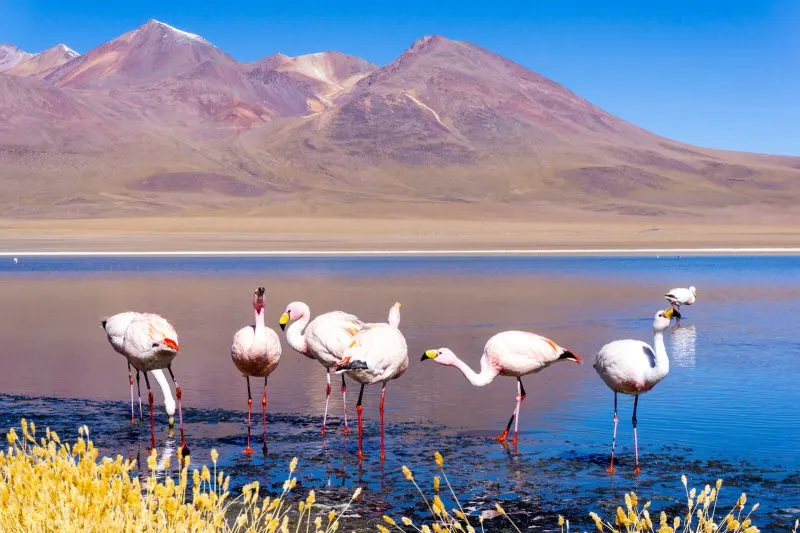 Drink Tons and Tons of Water
Even though it looks like a wintery landscape, the salt desert is really HOT and not only that: it is also super dry AND you can get a really bad sunburn thanks to the reflection of the sun rays in the floor.
Drink a lot of water to avoid dehydration, use sunblock for your skin and lip balm for…well, your lips and you'll be fine. You don't want to be unable to kiss those ladies of wonders right? Right?
Finally, the most important tip of them all: have fun!!! Internet is REALLY limited in Uyuni so be sure to pick a nice group of people to have the best of times. If you're doing a multi-day trip, I recommend you to buy snacks and wine (or beer or tequila…) at either Uyuni Town or at San Pedro de Atacama.
Prices at the middle of nowhere are unsurprisingly super expensive and at some point, it is better to have booze and not drinking it than to want booze and not having it my wonder friends (and yes, you can quote me on that).
I wish you a wonderful Salar de Uyuni Trip yo!!!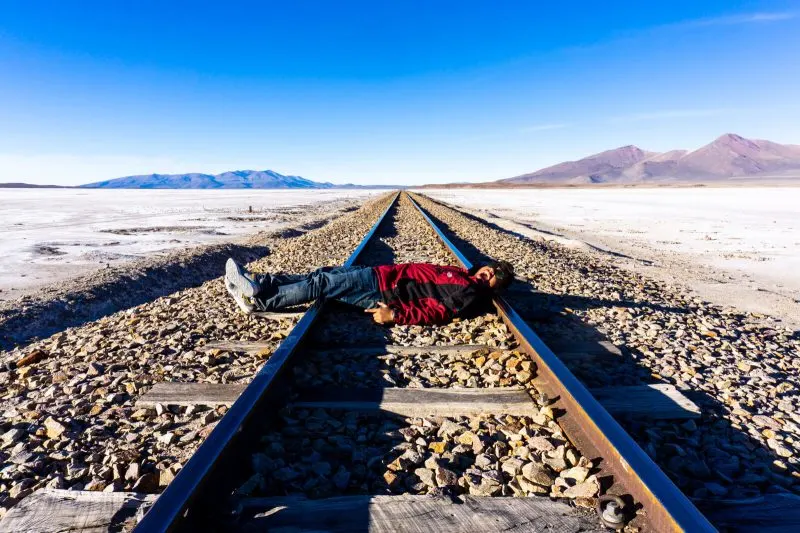 Where to stay in La Paz, Bolivia
Accommodation in La Paz is focused mostly in the historical centre of the city where you can find interesting colonial boutique mansions and a great diversity of backpacking hostels. And yes, don't forget the Tiwanaku Ruins from La Paz for a daytrip!!!
Here's a list of my recommendations for all types of budget: Loki Backpackers Hostel, Wild Rover Backpackers Hostel, Stannum Boutique Hotel and Ritz Apart Hotel.
You can make a booking for this and more properties via our Booking.com Affiliate Link of Wonders! Same price for you and a small pocket money commission for this website of yours.
Sweet deal, uh?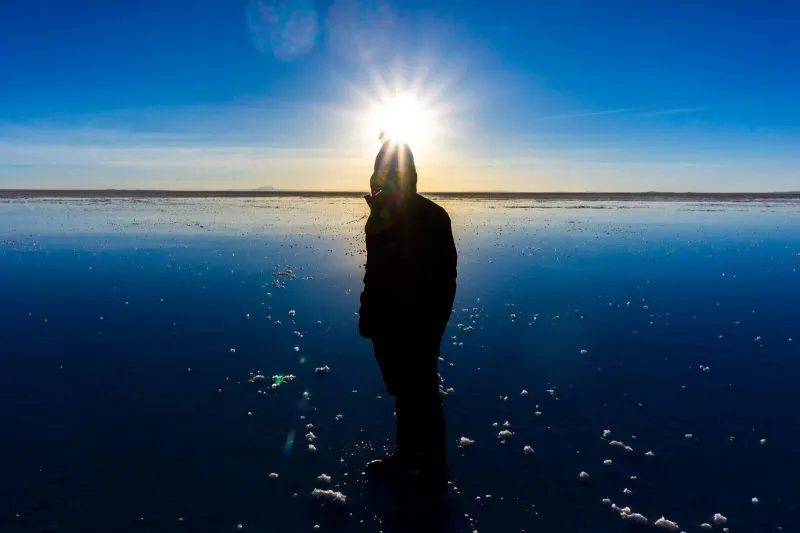 I hope you have enjoyed this article about Bolivia's Salar de Uyuni. Don't forget to subscribe in order to get more awesome updates and tips straight to your e-mail!
Have you ever been to the Salar de Uyuni? Would you like to? What was your experience like? Share your thoughts and let me know what you think!
Until next time, my friends!