Isla del Sol in Bolivia is the perfect day trip to take from Copacabana, the Bolivian town next to the Peruvian border. Read all about Isla del Sol here.
The Isla del Sol is probably the most visited island in the entire Titicaca Lake region thanks to its convenient location and natural beauty.
In this article you can read all about the Titicaca Lake, Isla del Sol, Copacabana (the Bolivian town, not the Brazilian beach) and much more.
Are you ready to visit the ancient Inca Sun-God? Here we go!!!
All about Isla del Sol, the Jewel of the Titicaca Lake
Isla del Sol was first inhabited in the third millennium BC (that is, more than 5000 years ago!!!) although the more than 80 Inca ruins found in the island are fairly recent from the 1500s.
In the times of the Inca, it was believed that the Sun God was born here on this island hence its name Isla del Sol (Island of the Sun).
In modern times, agriculture is the main source of income for the locals who inhabit this island with fishing and tourism being the only other two significant sources of income.
The Titicaca Lake is the highest navigable lake in the world so as you can imagine, the islands are all located at over 3500 meters above sea level (the highest point of the Isla del Sol is 4067 meters over sea level) so take some time to acclimatize before attempting any epic hikes my friends!
You don't wanna faint and be eaten alive by wild llamas with hats, right?
Things to do and see in Isla del Sol, Bolivia
Isla del Sol is a fairly small island (14 square kilometers) with plenty of things to and see and you can basically hike all of it in half a day (or even less if you're fitter than me).
Most boats will drop you off at the Western part of the Island from where you can begin a very beautiful hike towards the village of Yumani.
Alongside the way you will pass through Inca ruins (quite similar to the Tiwanaku Ruins), panoramic viewpoints, friendly llamas (with kids charging you money for a photo of course), agriculture terraces and a few more surprises.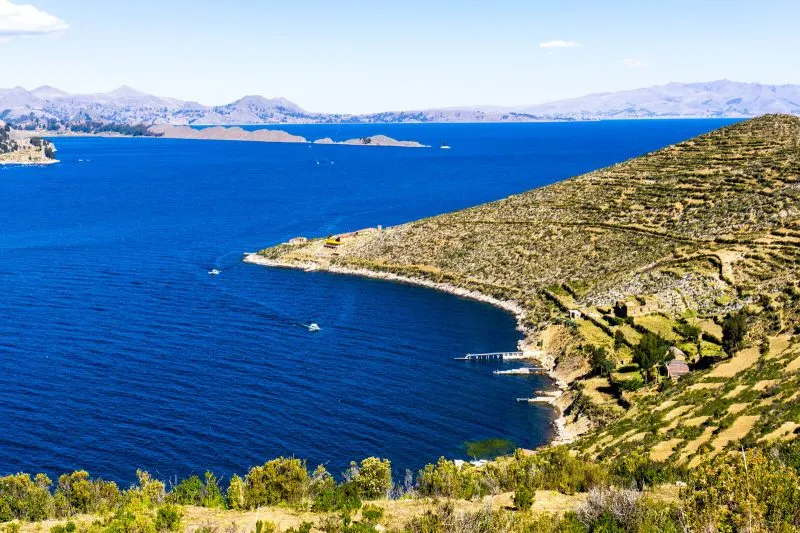 Eventually you will reach Yumani, a village famous for its Incan steps and for its pre-Columbine water source that was vital for the survival of the island.
Once you're ready to depart, you can go to the bottom of Yumani village to eat some hearty lunch, shop for souvenirs and yes, catch the boat back to the mainland.
If you want, you can also find a homestay here in Yumani in order to spend the night star gazing in the middle of the beautiful Titticaca Lake.
You can even hire a mule to carry your heavy bags up the stairs in case you're traveling with a suitcase instead of a backpack (check my RTW Packing List here).
How to Get to Isla del Sol from Copacabana
Copacabana is conveniently located right next to the Bolivian-Peru border and it's on the way between La Paz and Puno making it a perfect destination to break the journey.
Ideally, you should be arriving to Copacabana early in the morning (either from La Paz or from Puno) and then embarking on a boat trip (2 hours) to Isla del Sol itself.
During my most recent trip (May 2018) I traveled with Bolivia Hop, a sister company to Peru Hop, and I was super hooked by what they offer to their clients.
They offer a Hotel/Hostel pick-up-drop-off service from La Paz, bring you to Copacabana, keep your luggage safe for you, take you on a day trip to Isla del Sol (extra 10 USD), bring you to the Peru-Bolivia border and then drop you off at Puno (or if you want, you can continue with them the very same day to Lima or Cusco).
Alternatively, you can break your journey even more by staying overnight at Isla del Sol and/or Copacabana (they can arrange your accommodation if you ask them).
It's a long journey but definitely worth it!!!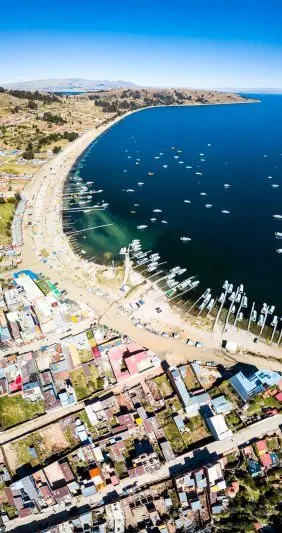 Sure, doing the entire La Paz to Puno journey on your own might end up being slightly cheaper (La Paz to Copacabana is 5 USD, Copacabana to Puno is 15 USD) but I definitely loved the vibe of meeting fellow backpackers on the Bolivia Hop bus.
It kind of reminded me of the good times I had traveling with Busabout in Europe so be sure to check it out if you love those type of adventures!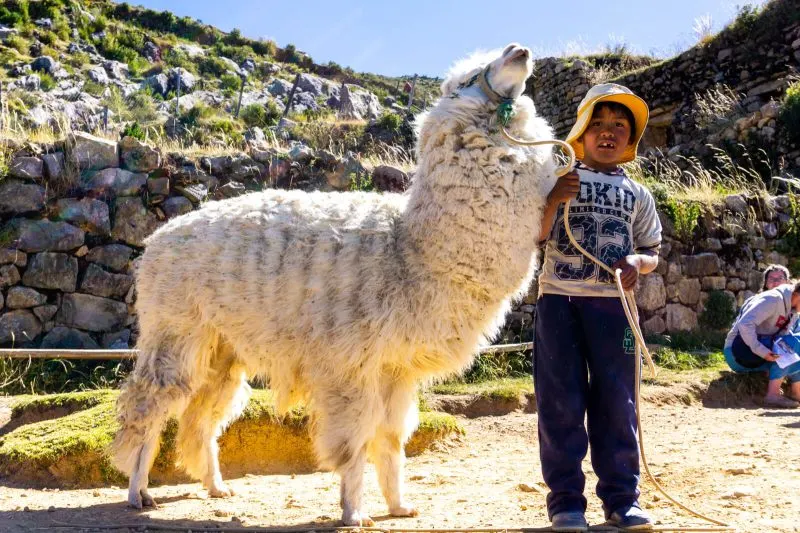 Where to stay in Copacabana, Bolivia
Copacabana is a very charming town that becomes virtually empty after all day trippers go to La Paz, Puno or to Isla del Sol.
So why not take advantage of it and stay overnight in Copacabana itself? From boutique hotels like Hotel Rosario Lago Titicaca to charming hostels like Hostal Piedra Andina, Copacabana will marvel you at every opportunity.
Alternatively, you can sleep in a homestay in Isla del Sol with a local Titicaca Lake family. If you're lucky you might even befriend some llamas!!!
You can make a booking for this and more properties via our Booking.com Affiliate Link of Wonders! Same price for you and a small pocket money commission for this website of yours. Sweet deal, uh?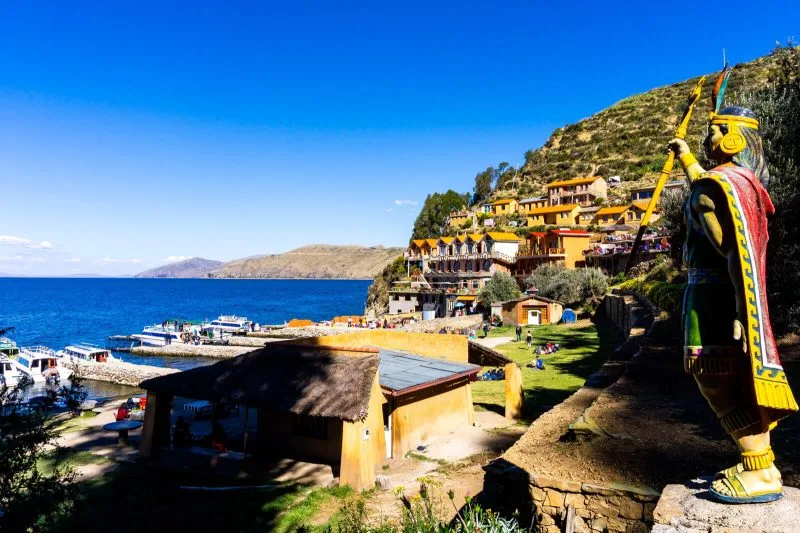 I hope you have enjoyed this article about the Isla del Sol in Copacabana, Bolivia. Don't forget to subscribe in order to get more awesome updates and tips straight to your e-mail!
Have you ever visited Isla del Sol? Would you like to? What are some of your favorite things to do and see in Isla del Sol? Share your thoughts and let me know what you think?
Until next time, my friends!!!