An article about Finland's Glass Igloos. Are the Kakslauttanen Glass Igloos worth the money? Read to find out.
If you're a fan of photography and travel, chances are that you have already seen the now-legendary photo of dozens of glass igloos lit up in the snowy landscape of Lapland. And hey, did you know these glass igloos are real and that you can actually sleep inside one of them?
This is the story of the day I slept in one of the legendary glass igloos of Kakslauttanen and the reason why I probably won't be coming back there. Are you ice, ice, ready?
Our adventure starts when my friend Marysia and I were invited to spend three nights at the Kakslauttanen Arctic Resort by one of the managers of the place including all sorts of winter related activities as we hunted for the Northern Lights in the region of Lapland.
And yet, despite the growing number of negative reviews about Kakslauttanen's customer service that I found on Trip Advisor, I went against my gut and decided to give it a chance.
"Come on, it cannot be that bad in person, right?". Oh boy, was I wrong.
An overview of the Kakslauttanen Arctic Resort
Kakslauttanen is located 10KM away from Saariselka and about 3 hours north of Rovaniemi, the central hub of Lapland (you can actually ask the bus driver to drop you off at the entrance of the East Village instead of going to Saariselka and then transferring).
The Arctic Resort is basically divided in two villages, the East (older one) and the West (newest one). Each one of them has their own glass igloos, wooden cabins, restaurant, reception and activities.
As soon as we arrived we were warmly greeted by the manager, got offered some hot drinks (later we found out that this is not the same treatment that regular customers get but more of that at the end of the article), and were then given a tour of the West Village as we were checked-in into the cabin where we would be spending our first two nights.
So far so good, right player?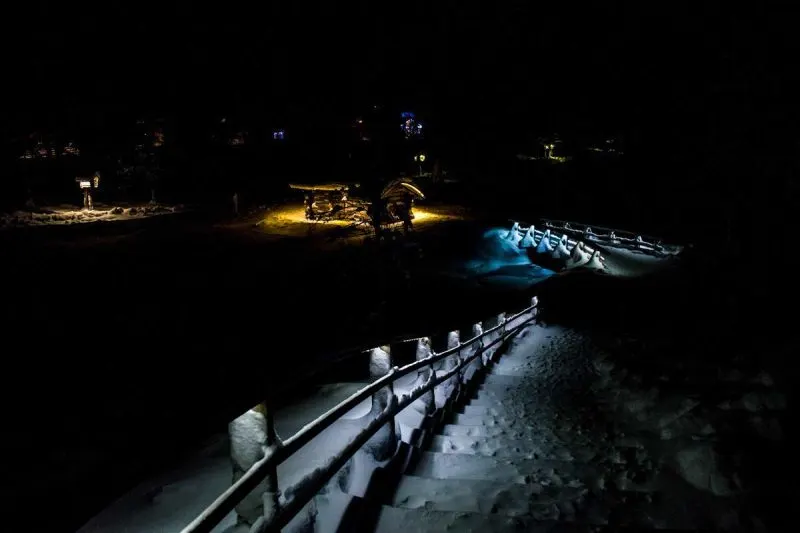 The Cabins are huge (they can easily fit six to ten people) and well-equipped with a kitchen, sauna, shower and toilet. The problem? The nearest supermarket is 10KM away and the only way to get there is to pay for a 50 euro taxi and that's probably why paying for dinner is mandatory for all guests of Kakslauttanen.
The dinner is a hit or miss depending on the chef in charge since the menu changes every day. Out of the three nights we stayed, two of them had a very lousy dinner while one was beyond amazing (Thai Chicken). They do, however, offer a great wine selection but more on that later.
So how about the activities themselves? I mean, people don't come all this far to just sit in their cabins doing nothing, right? Well…
Kakslauttanen works with many local companies which offer an incredible customer service when it comes to tours. During our stay, the manager arranged a Husky and a Reindeer tour with Husky & Co. and Joiku Kotsamo Safaris.
Tours often include a lunch in the wilderness (the reindeer stew with Joiku Kotsamo and the Sami people was awesome!) which is perfect since Kakslauttanen itself lacks any proper lunch menu (the only one they have is basically a soup with a little bit of meat inside).
Be warned, however, that the price of these two tours can be lower if you contact the suppliers directly (expect to pay a surplus of at least 10-20 euros when booking via Kakslauttanen). However, as it is written in the fine print, guests are encouraged NOT to arrange their own tours since companies are strictly forbidden from picking up clients at Kakslauttanen itself.
Kind of bad form, uh?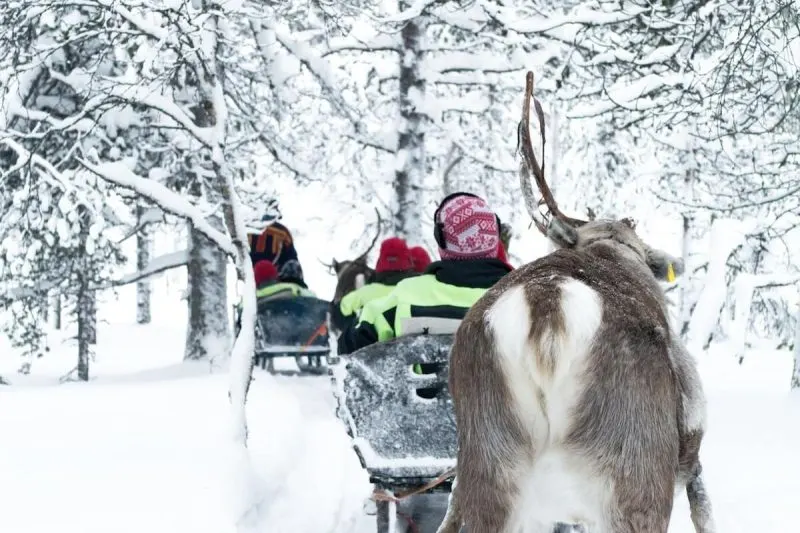 So how about the tours operated by Kakslauttanen itself? During our stay, I was invited to take part in a visit to Santa Claus' House (yes, please stop laughing, Santa is real yo!) and even though it is advertised as a 90 minutes visit, the time we all spent with Santa Claus himself was probably close to 30 minutes in which each one of the other 30 visitors took a photo with a paid actor who probably secretly hated us all.
Afterwards, an elf took us all to visit the Reindeer farm and forgot (or perhaps wasn't even instructed) to tell people to turn off their camera's flashes off. I mean, who cares about Reindeer's eyesight, right? Eventually we all headed to a small cabin where another elf explained how people burn paper in order to make a wish…or something.
Truth to be told, not even the children of the tour were happy with any of it. Priced at 90 euros per adult and 53 euros per children (plus an additional 6 euro transfer fee in case you're staying at the East Village), this is probably the most intelligent travel scam ever (yes, even more so than the infamous Moroccan scams).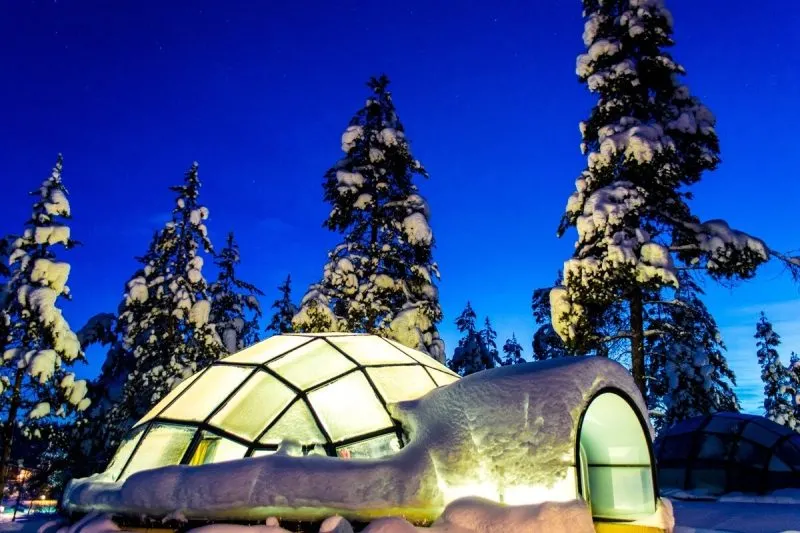 So how about the Kakslauttanen Glass Igloos? Are they worth the money?
For our third and last night, we were checked-in at our individual glass igloos (they're so small inside that sharing is hard for a non-couple!) in the East Village. These are the original ones and are located in elegant rows unlike the ones of the West Village which are just right next to each other.
The inside of the glass igloos is quite basic (toilet, bed, lamps, luggage table) and you actually need to walk about 10 minutes in the pitch black darkness in order to find the showers. Walking to and from the reception/restaurant will take you closer to 20 minutes if you take it slow in order to avoid falling into the frozen lake.
And yes, you better might make that closer to 30 minutes if you're carrying your luggage. Did I tell you that transfer from the reception to the glass igloos is not included?
Priced at 336 Euros single occupancy in the low season (if you're a couple, each one has to pay 203 euros), the glass igloos of Kakslauttanen presents such an unique scenario that will probably be the main subject of many future Marketing case studies:
*5 star price (a three night stay for two will set you back at least 1200 euros plus another 1000 euros worth of activities/transportation).
*5 star product quality (seriously, the architecture and interior design of the entire place is incredibly well detailed)
*1 star customer service (scroll down to read all about the wine incident plus a detailed account of what to expect as a paying customer, there's also no phone/wi-fi on the cabins/igloos in case of an emergency)
*1 star food quality (did I tell you about the fact that the buffet breakfast is poorer than those found in 10 euro hostels?)
My best advice? Stay in nearby Saariselka, go to the awesome expeditions of Husky & Co. and Joiku Kotsamo and then either rent a car or take a taxi to Kakslauttanen in order to take photos of the glass igloos at night. By the way, did I mention that reception closes off at 11pm and there's no security at the premises?
Otherwise, you can go to the Ski Town of Levi and stay at the Golden Crown Glass Igloos which are bigger and scarcer (12 Igloos vs. 100 Igloos. Which one would make you feel more VIP?) plus they enjoy a more dramatic location on top of a fell from which you can look down to incredible wintery landscapes.
Food for thought, uh?
The number one reason why I won't be coming back to Kakslauttanen
I come from a upbringing where a person's word matters. My family always taught me that a person who backs out on his/her word is a person who is simply not worthy and during my four years of traveling the world, it was here at Kakslauttanen where I faced one of the most unpleasant experiences in my life: The day someone treated me as a thief.
Before our first dinner, the manager of the place had told us that all food and drinks were included and to enjoy the good selection of wines that they have to offer. There was no written contract, only her word and I was foolish enough to believe it.
During our second night, Marysia and I befriended two other travelers and we joined them for dinner. Long story short, we ended up ordering a few bottles on two separate accounts (one for us and one for them) and upon departure to continue the night at our cabins, we were told that the entirety of the drinks of said night (as oppose as only the ones that we had ordered for take-away and we were perfectly willing to pay for) would not be sponsored.
Of course, this was told to us after we already ordered and consumed two bottles of wine.
The day of departure, I confronted the manager about it and she told me that she told a waitress to inform us of it before we even ordered the first bottle of the second night (spoiler alert: she didn't).
In the end, it was her word against ours so I decided to pay fully for all of the bottles of the second night since I understood that it was probably something out of the manager's hands and that her boss probably would charge her if I didn't pay.
After all, she gave me her word but in the world of business, it seems a person's word is not enough. I gotta admit that in the end she was kind of enough to propose that we only pay for half of the bill but to me it wasn't about the money, it was about honesty and the fact that she was both lying while also backing off her word.
So want to know the worst part? My card didn't work and we're out of cash. Oh. Oh. The nearest ATM? 10KM away in Saariselka. "Alright, so Marysia and I will go to Saariselka, get the money and come back here to pay for the wine." I told the manager. "How can I make sure you two will actually come back? Leave your computer here. You don't want this to get ugly." the manager coldly replied.
Is it just me or was the manager treating me as a common thief?
In order to avoid an argument, I left my computer behind as we hurried to the Saariselka to get the cash. Upon our return to pay, the manager tried her best to apologize but the veil was gone by then. Isn't it funny how people's fake smiles can easily disappear and their true personalities emerge when money is involved?
What to expect at the Kakslauttanen Arctic Resort if You're a Client
Granted, my experience was a little bit different since this was a sponsored experience (to future hotels: Please, do not treat us Bloggers as neither Rockstars nor as Beggars, we hate both of those situations, just treat us a paying customers) but even without the now infamous wine incident I would have still given a 1 star rating to the customer service of Kakslauttanen.
Here's a recap of what to expect if you're a paying customer. This is based on conversations I had with fellow travelers during my stay at Kakslauttanen and also on the documents that the manager sent me containing the prices of activities, accommodation and of course, the fine print of cancellation fees.
*No welcome hot drink. Want a cup of tea, coffee or hot chocolate? 2.5 euros per each one of them please. Want some teabags for your cabin's kettle? Sorry, we cannot sell them to you! (Note: Marysia and I got them plus some snacks for our cabin but later we found out that paying customers don't have access to this privilege).
*No help with heavy luggage. Come in, check-in, here's your key, a map and your sled. Good luck finding your cabin/igloo in the middle of the cold night!!! Of course, there is a 9 Euro per person baggage handling fee in case you want someone to help you. Of course there is one…Even in Mexico's dirtiest hostels you have someone helping with your luggage. For free. It's just basic human decency.
*Not kettle inside the glass igloos. Considering the fact that you'll probably be outside until late to take photos of the Northern Lights and that the reception/restaurant closes at 11pm, common sense would indicate that there would be a kettle inside the glass igloos to heat some water and keep you warm. But hey, common sense is not that common as it seems, homie.
*No Wi-Fi nor Phone in case of emergency. According to the manager, the owner has refused to install wi-fi inside the cabins and the glass igloos because he wants people to relax and disconnect from the outside world. But hey, how about emergencies? Not all travelers have a mobile phone with a valid SIM card, can you imagine if someone is having a heart attack and his companion has no means to contact anyone for help (which by the way should be done before 11pm because no one will help you afterwards anyways)? In this day and age, communication is essential even if only as an option.
*Isolation from places where you could spend your money more wisely. Installing a snack machine in each reception with ready to prepare food such as noodles is probably not hard (after all, there's a reason why the cabins have a fully equipped kitchen, don't you think?) but the mentality of the Arctic Resort is to squeeze every single penny from you so of course this is not an option. Want to shop for groceries to cook something? Take a 50 euro taxi! Want to book a cheaper tour with a local operator? Though luck since they are not allowed to pick you up from Kakslauttanen!
*Family emergency? Natural disaster? Sudden change of plans because of a motive out of your control? Then you're definitely out of luck since Kakslauttanen's cancellation policy is probably one of the most intelligent set-ups I have ever seen in my life. If you book and have to cancel more than 120 days in advance, you get only 70% of your money back. If you book and cancel within 61-120 days, you only get 50% of your money back. If you book and cancel within 60 days? You get nothing back. Sorry if your granny has passed away, bro. Business be business.
*Just general lack of interest in helping you if money is not involved. "Oh, did you forget your winter gloves at the ski changing room? Sorry, it's too late to open it and we cannot give you keys, come back tomorrow, maybe they will still be there, darling" (note: they were not there). And well, after talking to many other paying customers at Kakslauttanen, everyone agreed with the fact that it was a incredibly product that is unfortunately ruined by a poor customer service.
In this day and age, having a good product is simply not enough. People talk to each other. Word of Mouth is more powerful than any ad placed in a highly circulating magazine about travel. Yes, photos of the Kakslauttanen Glass Igloos will charm everyone who sees them. But people who already stayed there will undoubtedly break the spell until some real serious changes are made on the customer service department.
So there you have it, my friends, the truth behind the Kakslauttanen Glass Igloos. And remember folks, just because a brand is footing your bill, it doesn't means that it owns your opinion. People like me often get invited by Tourism Boards, Restaurants, Tours and Hotels to come and experience the services they offer and to write about them.
This allows me to bring new stories to you, my dear readers, and to share many new awesome photos of far-away places. To those brands, I owe the obligation of featuring them on my website. To you? To you, I owe you the obligation of always telling the truth.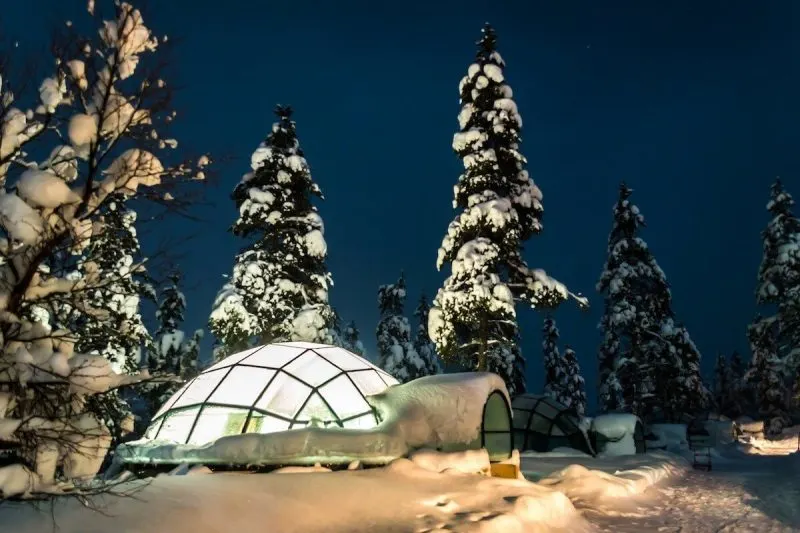 Last but not least, don't forget to use our Booking.com Affiliate Link of Wonders for making hotel reservations.
Same price for you and a small pocket money commission for this website of yours.
Sweet deal, uh?
Thoughts?