Visiting Tallinn during the Winter is like stepping back to medieval times of fairytale and wonder. Times where fair maidens walked the streets searching for their knight in shining armor. Times where wild boar was part of the menu for peasants and lords alike. Times of endless wonders…
Those medieval times are long gone by now but there's a special city in Europe where you can experience them again and again every single day. That city is Tallinn and here's the story of my Winter Fairytale there.
Are you ready for those snowflakes falling on your face?
Medieval Winter in Tallinn
It is said that Medieval Europe is the ultimate fantasy of all foreign visitors to the Old Continent and Tallinn is the city that allowed said fantasy to come true for me.
Walking inside the old city walls of Tallinn during winter was one of the most amazing experiences I have ever had during my time in Europe. You see, one thing you should know about me is that I absolutely love the snow (you can read more about it here), mainly since I never saw it during my first 20 years of life in hot tropical Mexico.
And while most Europeans travel outside of the Old Continent during Winter to avoid the cold, I chose to travel to Europe's coldest places in order to embrace it!
My favorite methods for keeping yourself warm during the winter months? Sauna, mulled wine and hot chestnuts. Extra points if you find a place to stay with a built-chimney since you can easily buy wood in the supermarkets of Tallinn.
And yes, having good sturdy boots is essential unless you want to break your chin after falling from one of Tallinn's many spectacular viewpoints, of which Toompea remains as my favorite one by far since up there you can see the contrast between modern and medieval Tallinn.
Can you guess which one I love the most?
The reason why you'll fall in love with Tallinn, Estonia
So what about Estonia in general? Well, Estonia is a place which shows a very unique mixture of architecture from Europe's West and the East while retaining its unique Medieval charm. Tallinn is known as the Pearl of the Baltics and it isn't hard to see why:
Red brick towers, old city walls, incredible food (here's a succulent Tallinn food guide for y'all) and yes, incredibly friendly and warm-hearted people.
In the words of a local Estonian: "Good old black bread, fresh, warm, simple and honest it's what we Estonians grow up with and what we dream about when away. It's what we are, really. Good bread is always made with soul".
There are many things that you will love about Estonia and few that you will hate. And in the end, I am eternally grateful for this winter fairytale. Next time you're in Helsinki, please consider jumping on a ferry to spend a few days in Tallinn.
Exploring Tallinn city center will probably take you less than a day if you're only focusing on photographing the exterior of its amazing buildings. But how about their interior?
Tallinn is a capital of culture and has many interesting museums that will entertain you for days if not weeks, including a museum dedicated solely to the drinking culture of Estonia.
Winter is not coming. Winter is here. And what better place to visit than charming Tallinn?
And then the snow melted…
As Nelly Furtado once said, all good things come to an end and during my last day in Tallinn, I saw how the snow melted to reveal a different type of city. The white rooftops became orange and the streets shone with the lights of the sun.
It was now a different type of fairytale and even though my first time in Tallinn was a short one, I cannot wait to get back to this wonderful city and experience a new fairytale again and again.
Thank you Tallinn, I love you.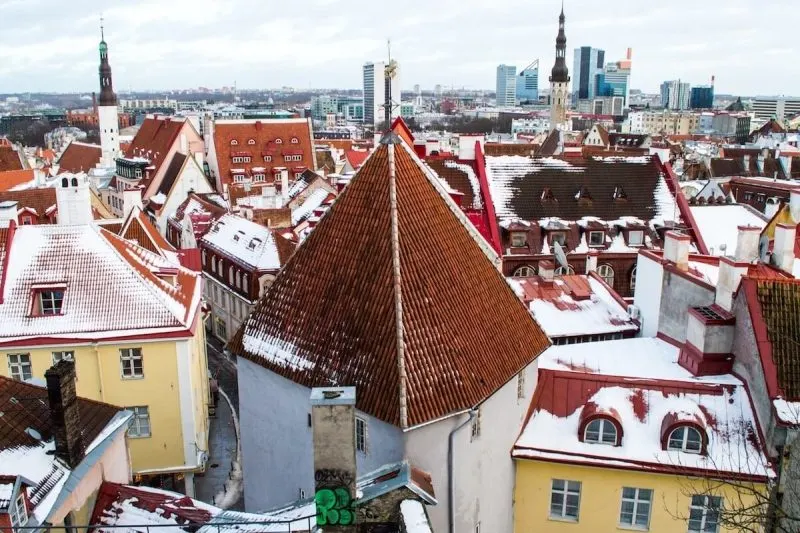 Things you should know before traveling to Tallinn, Estonia
From Helsinki, you can board the Tallink Silja Oy ferry to Tallinn for fares as low as 20 euros one way. The journey takes 2 hours and you can enjoy the many facilities of the ship such as the breakfast/lunch buffet (have you seen my Foodie Madness series about the best restaurants of Tallinn?).
Tallinn is a fairly small city which an efficient tramway system and most of the attractions are located within the city walls themselves so you don't have to venture outside of them. Walking from one edge of the old town to the other shouldn't take you more than 20 minutes even if it's snowing.
And trust me, snow can surely slow you down!
Where to stay in Tallinn, Estonia
Accommodation in Tallinn is fairly affordable inside the City Walls where you can find both luxury hotels and budget hostels.
Here's a list of my recommendations for all types of budgets: For luxury and boutique hotels, my best choices are Hotel Telegraaf and Schlossle Hotel. When it comes to budget hostels and guest houses, I recommend The Monk's Bunk Hostel and the Japanese Hostel Tabinova.
You can make a booking for this and more properties via our Booking.com Affiliate Link of Wonders!
Same price for you and a small pocket money commission for this website of yours.
Sweet deal, uh?
I hope you have enjoyed this travel guide to Tallinn's top attractions. Don't forget to subscribe in order to get more awesome updates and tips straight to your e-mail!
Have you ever been to Tallinn? Would you like to? Share your thoughts and let me know what you think!
Disclaimer: This article was brought to you in collaboration with Visit Tallinn. Next time you visit Tallinn, be sure to stop by at the Tourist Information office to know all about the current cultural events that you can enjoy in this wonderful city.
Until next time, my friends!