Read all about how to reach the Ouzoud Waterfalls of Morocco from Marrakesh and how to make the most out of your daytrip.
Waterfalls is the last thing that comes to mind whenever people think about Morocco so that's why other travelers were surprised when I told them you'll find some of the most amazing waterfalls in the small town of Ouzoud, located mere two hours away from Marrakech.
And trust me, they are beyond awesome. Ready to explore this wonder of nature? Enjoy!!!
The Wonderful Ouzoud Waterfalls: A Perfect Day Trip from Marrakesh
After spending a couple of days in the heat of Marrakech, it was time for a change of scenery so when I heard about this amazing secluded spot where you can actually swim and have a lovely day at this impressive waterfalls.
The journey started the day before as my media assistant and friend, the lovely Rafaela (seriously, that's her name!), and I began to approach tour agencies in Marrakech in order to arrange a one-day trip to the waterfalls since going by public transportation would require us to change buses in a town located further away from Ouzoud, effectively taking up to 5 hours each way!
Our problem? Finding a trustworthy tour agency in a city filled with scammers (check out the Top 7 Morocco Travel Scams here).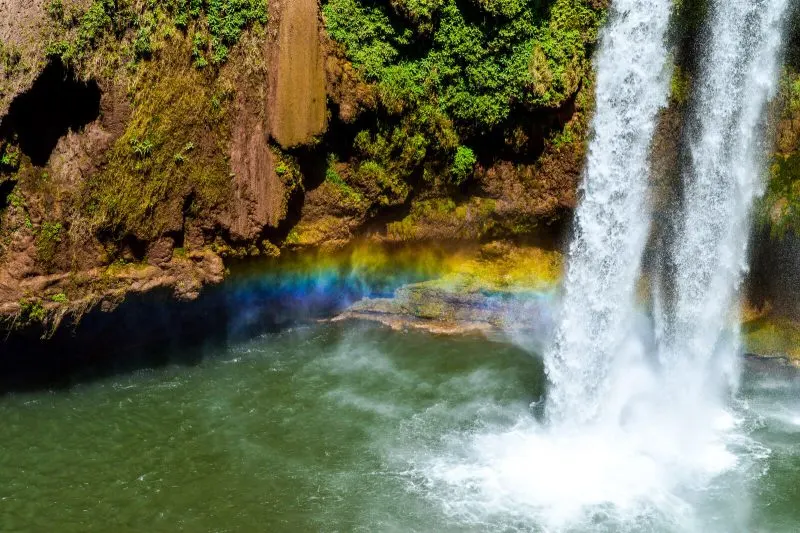 Honest tour agents in Morocco (and basically, every single other person involved in the tourism industry) are hard to find since all of them will often lie and make empty promises in order to earn your money.
In fact, obtaining a fair price is near to impossible since each one will try to rip you off and it is up to you to bargain the price down.
The normal asking price for a one day tour to the Ouzoud waterfalls is 350 DH (35 Euros) but you can most likely bring it down the the more reasonable price of 150DH. Be warned though that the lunch and the guide's fee (30 DH) are never included no matter what the agent/hotel might tell you.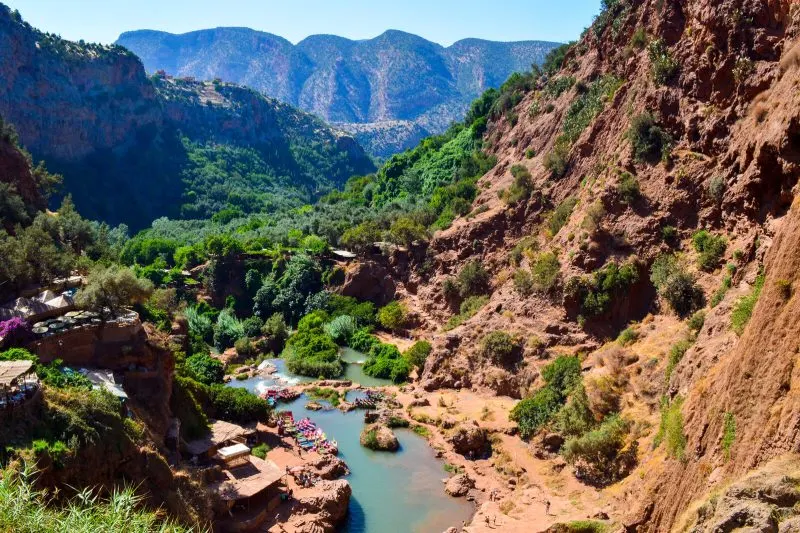 What to Do and See at the Ouzoud Waterfalls
As soon as you arrive to the parking area of Ouzoud, your group will be approached by a guide that will take you on a one-hour journey from the top to the bottom of the waterfalls. The trip is very scenic as you will see the waterfalls from many different angles. And of course, there is a mandatory stop at a gift shop where the guide will get a commission from every item you buy.
Inside the gift shop you can buy traditional Berber cosmetics (including a green lipstick!) as well as honey, massage oil, spices and many more stuff you can bring home.
You can also get free bread to taste the spice sauces in case you didn't get the chance to eat breakfast!
Minutes later, you will finally arrive to the bottom of the waterfalls where you can take a 10 DH boat ride directly underneath the mouth of the waterfall. Yes, you will get wet, very wet. If you have a camera or other non-waterproof items, I strongly suggest you to leave them with your guide since the roar of the waterfall is a very strong one!
Afterwards, you're free to swim in the water. I was pleasantly surprised to see that we foreigners were a minority since most of the visitors here were locals who came from different places of Morocco in order to escape the heat, although I really felt bad for the Muslim women who had to wait in the rocks as their husbands and sons enjoyed the water.
Religion, uh?
Rainbows and Monkeys at the Ouzoud Waterfalls
To me, the main draw of Ouzoud was the monkeys. You see, waterfalls and rainbows are awesome but monkeys? Monkeys are the funniest animals in the entire world. Can you believe how human their faces look?
While it is rare to see monkeys on the long trek down to the bottom of the Ouzoud waterfalls, you can always find them in the easy trek up AND while you eat lunch at the restaurants. Too bad for me that the owner was a very grumpy guy who seemed to hate monkeys as he chased them away with a broom. Don't you just love monkeys too?
The short trek up to the top of the waterfalls is a very easy one since you can do it in less than 10 minutes. I'm all for progress and accessibility for the less-capable people but a part of me wishes that the Moroccans hadn't built those ladders that kind of ruin the natural beauty of this paradise.
Nevertheless, you can take advantage of this artificially made viewpoints to admire the rainbow that forms underneath the waterfall. Sure, you can see way more of them at Iguazu Falls but come on, this one is as beautiful as any other.
Before you reach the top you will find way more monkeys that would love to befriend you (as long as you give them a piece of bread). If feeding monkeys is your thing, remember to fold some bread from the restaurant in order to give it to this hairy fellow over here.
I mean, look at his eyes. Can you really say no to him?
How to Get to the Ouzoud Waterfalls from Marrakech
As I mentioned before, the easiest and fastest way to reach Ouzoud is via an organized tour. I fully recommend you to book with an agency that is close to your hotel/hostels so you can easily track down the owner in the morning in case nobody comes to pick you up.
As I said before, Moroccans in the tourism industry will often lie in order to make a sell so be careful when booking.
Also, if you want to get the cheapest price available, it is best to book the night before since it's likely that the rest of the travelers already paid the full price so the cost of taking you to Ouzoud becomes an opportunity cost and not a real one to the tour agency.
When in doubt, use the walk-away technique and make the agent chase you to the street. I still cannot believe that a roundtrip to this place set me back only 15 euros. Awesome, uh?
Last but not least, don't forget to use our Booking.com Affiliate Link of Wonders for making hotel reservations.
Same price for you and a small pocket money commission for this website of yours.
Sweet deal, uh?
I hope you have enjoyed this article about the Ouzoud Waterfalls of Morocco. Don't forget to subscribe in order to get more awesome updates and tips straight to your e-mail!
Have you ever been to Morocco? Would you like to visit Ouzoud? What are some of your best haggling techniques? Share your thoughts and let me know what you think!
Until next time, my friends!