Imagine this: you're lounging on a powdery white beach, the sun is warming your skin, and the crystal-clear waters are inviting you for a refreshing swim. If you think such a scene only exists on postcards, think again.
Saona Island in the Dominican Republic is a slice of heaven on Earth, and it's calling out to all tourists. Still not convinced? Well, here are five compelling reasons why tourists from around the world should pack their bags and make a beeline for this spectacular destination.
The Postcard-Perfect Beaches
We've all seen those picture-perfect postcards featuring beaches that look too stunning to be real. But guess what? Saona Island is the real-life embodiment of those postcards. It's the kind of place that could make even the most die-hard workaholic contemplate early retirement.
The powdery white sands stretch as far as the eye can see, and the water is so transparent you can spot your own toes. It's the kind of place that makes you question the necessity of socks and shoes – flip-flops are the official footwear here!
Marine Life Extravaganza
If you're a fan of aquatic adventures, Saona Island is an absolute treasure trove. Snorkeling and diving enthusiasts take note! The waters surrounding the island are teeming with marine life. You can swim with vibrant tropical fish, discover intricate coral reefs, and even say hello to the resident sea turtles.
It's like a live-action Finding Nemo, only without the sharks and the forgetful blue tang. The best part? You don't even need to be a certified diver to experience this underwater wonderland. Saona Island offers options for snorkelers of all levels, ensuring everyone gets a piece of the aquatic action.
A Taste of the Dominican Republic
If your idea of Dominican cuisine starts and ends with plantains, you're in for a delectable surprise. The island's beachside restaurants serve up mouthwatering local dishes that will tantalize your taste buds.
Fresh seafood, traditional stews, and exotic fruits are just the beginning. Try a taste of "mofongo," a flavorful mashed plantain dish, or sip on some coconut water straight from the source.
Be warned: You may end up needing elastic waistbands on your vacation wardrobe with all the irresistible food that's bound to cross your path.
Tour companies like JackCana Tours offer a complete day tour to Saona Island including an exquisite Lunch with Dominican Food, what's not to love?
The Escape From the Ordinary
Saona Island isn't just a place; it's a state of mind. It's your escape hatch from the monotonous humdrum of daily life. Once you set foot on the island, your worries melt away like ice cream on a hot day. You can take a leisurely stroll on the beach, nap in the shade of a palm tree, or sip cocktails while lounging in the calm, turquoise waters.
Trust me, if you've ever needed a day off from adulting, Saona Island will provide it in spades. It's the kind of place where deadlines and conference calls are mere figments of your imagination.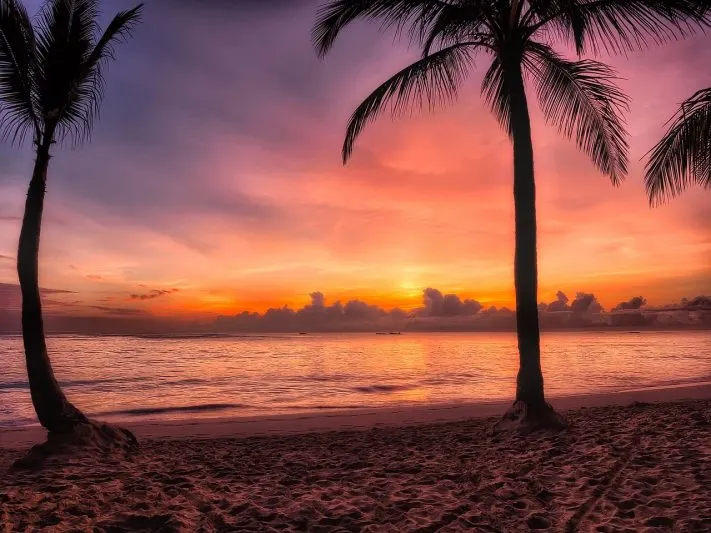 Unforgettable Wildlife Encounters
Sure, other destinations have their fair share of birds and marine life, but Saona Island has its own unique cast of characters. For starters, meet Speedy, the resident sloth, who is not one to be rushed. Speedy will make you reevaluate your entire life's timeline as you witness him taking his sweet time on the island. And let's not forget the resident iguana gang, casually lounging on branches like they own the place. It's a wildlife show that's both captivating and laugh-inducing.
But don't let Speedy and the iguanas hog the spotlight. Keep your eyes peeled, and you might spot hermit crabs scuttling along the beach or pelicans swooping down to catch a fishy lunch. Saona Island is a natural wonderland filled with surprises, making every moment you spend there feel like a scene from a David Attenborough documentary, with a few chuckles thrown in for good measure.
In conclusion, Saona Island isn't just a destination; it's an experience. It's a place where time slows down, your worries disappear, and nature showcases its breathtaking beauty. From its picture-perfect beaches to its diverse marine life and irresistible cuisine, Saona Island is the vacation you didn't know you needed. So, what are you waiting for? Start packing your bags and get ready to write your own Saona Island story – it's an adventure you won't want to miss!
With its stunning beaches, rich marine life, delectable cuisine, escape-from-reality ambiance, and unforgettable wildlife encounters, Saona Island is a tropical paradise that deserves a place on every traveler's bucket list. So, when it comes to planning your next getaway, remember these five irresistible reasons that make Saona Island an unforgettable destination.