An article about the Best Things to Do and See in Ljubljana including the best restaurants, the best views, and much more.
There are many things I could tell you about Ljubljana, a gorgeous European city whose name I still cannot pronounce or write correctly without the help of an Encyclopedia.
Grand avenues, quirky new architecture, amazing food, funky colorful neighborhoods and a castle with an unrivaled view to the snow-caped mountains are some of the many wonders you shall find here.
Come join me in this photo journey to Slovenia's capital city and be on the watch out for the dragons that loom over this charming place. Don't say I didn't warn you!
Are you ready for the unique funkyness of Ljubjlana?
Understanding Slovakia Slovenia, a country like no other in Europe
"Slovenia? Sure, I love it! Bratislava is such a cool city" a friend of mine once said. "Eh…that's actually Slovakia?" I said. "Wait, isn't it the same country? Let me Google it" he replied, still perplexed about the similarity of the names.
To make matter worse, a Google Image search showed him that the flags even share the same colors (White, Blue, Red) with only an emblem to tell them apart.
Did you know that both embassies meet each month to exchange wrongly addressed mail?
The number one reason for this confusion is that in the Slovak language, the name of their own country is Slovensko while in the Slovenian language, the name of their own country is Slovenija.
Can you imagine now the pain of a post-delivery guy? Read more about the differences between Slovakia and Slovenia here.
So what does Slovenia has? Well, funny you asked (or shall I say funky you asked?) because Slovenia is probably the best place in Europe to enjoy a mixture of incredibly funky street art with natural mountainous landscapes.
Slovenia also has great coastal destinations, mysterious caves, and medieval castles that look like something straight out of a Disney movie.
Each one of the four seasons will bring a different color to Slovenia and with it, a new array of activities that you can enjoy, from skiing in the Julian Alps to sunbathing in the Adriatic coast but no matter the season, a stop to Slovenia's capital Ljubljana is a must.
I mean, you really don't want to miss out visiting Europe's funkiest capital, do you?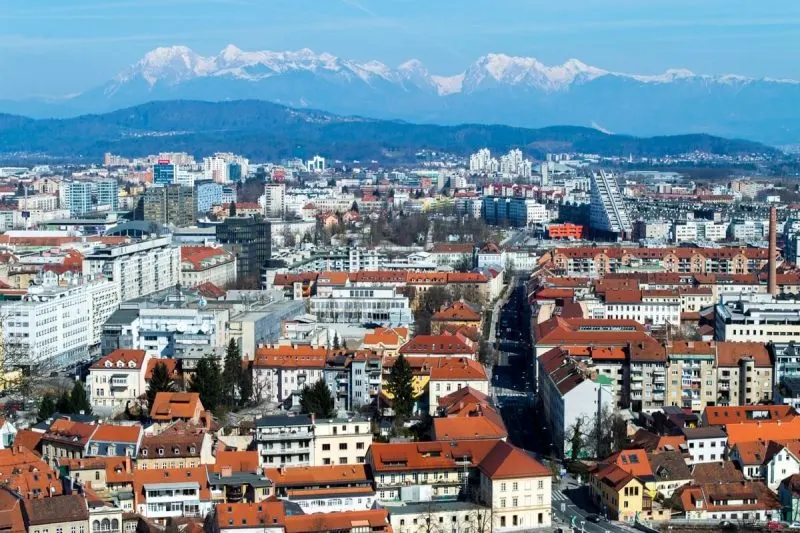 Metelkova, the place where the funkyness of Slovenia was born
Ljubljana has many different areas to explore, but none of them is as unique as Metelkova. What can I tell you about Metelkova? Well, Metelkova is funk personified. It is recognized as an autonomous social centre and the whole block used to be the barracks of a former military base.
Metelkova was squatted back in 1993 during the first years of Slovenian independence and ever since has been a beacon of hope for independent artists and social thinkers.
Today, you can find many bars inside of Metelkova itself as well as the best displays of street art this side of Europe (plus a very unique Hostel that used to be a prison but more on that later).
If funk was a place, Metelkova would definitely be it. I still wonder why Bruno Mars didn't film his latest music video here to be honest.
Things you should know before traveling to Ljubljana, Slovenia
Being the capital of Slovenia, Ljubljana is very well connected by bus and train to almost all European destinations with Venice, Vienna and Zagreb being the most popular ones.
The city itself has many museums and cultural attractions and is best explored with a Ljubljana Card (20 euros for 24 hours) which includes free entrance to all of them.
The Card also allows you to use the cable car up to the Castle and to take a guided boat tour in the river of the city. During the summer months you can also enjoy a touristy train that runs in the Old Town so be sure to plan your visit accordingly.
From Ljubljana, you can also take diverse day-trips to other destinations within the country itself such as Maribor, Lake Bohinj, Piran, and the unique Lake Bled (check out the best Lake Bled viewpoints here).
Lake Bled is a very picturesque place surrounded by snow-caped mountains whose main feature is an island in the middle of it. You can either rent a boat to paddle there or hire a professional to do the job for you.
A one-way ticket from Ljubljana to Lake Bled (2 hours) will set you back about 6 Euros with buses that run every hour or so. Alternatively, you can rent a car in Slovenia and drive to Lake Bled at your own pace.
Where to Stay in Ljubljana, Slovenia
The best accommodation of Ljubljana is mostly found in the Old Town and in the Metelkova zone. Here's a list of my recommendations for all types of budgets:
For budget hostels and guesthouses I recommend the Hostel Celica Art and the Hostel Zeppelin. When it comes to luxury and boutique hotels, my best choices are G Design Hotel and Florjanckov Hram Hotel.
You can make a booking for this and more properties via our Booking.com Affiliate Link of Wonders!
Same price for you and a small pocket money commission for this website of yours.
Sweet deal, uh?
I hope you have enjoyed this travel guide to Ljubljana's top attractions. Don't forget to subscribe in order to get more awesome updates and tips straight to your e-mail!
Have you ever explored the funk of Slovenia? Would you like to? Share your thoughts and let me know what you think!
Disclaimer: This article was brought to you in collaboration with Visit Ljubljana. Next time you visit Ljubljana, be sure to stop by at the Tourist Information office to know all about the current cultural events that you can enjoy in this wonderful city.