Do you hate slow and unreliable Wi-Fi? Here's the best solution to all of your connectivity problems. Enjoy this honest review of TEP Wireless my friends!!!
Do you hate slow and unreliable Wi-Fi? Here's the best solution to all of your connectivity problems. Enjoy this honest review of TEP Wireless my friends but first, let's take a look at the following scenario…
Picture this: You're at an airport trying to check in for your flight to Thailand and suddenly, you're told by the travel agent that "I'm taking the bus to Cambodia" is not enough and you need an onward flight out of Thailand before being allowed to check in.
Being a smart and savvy traveler, you open your laptop go to the ever reliable Fly Onward website to buy a 10 USD onward flight reservation that's going to be cancelled 48 hour later. "I got this" you say to your cocky self.
Everything's going according to plan except for one little problem: this airport doesn't have free Wi-Fi!!! Panicking, you start to ask strangers for them to share their phone data (since you were too lazy to buy a SIM Card for the 5 days you were in India).
Time is running out and everyone's too busy to lend you a helping hand. Not even the lonely Starbucks at the airport has Wi-Fi!!! Defeated, you end up buying an overpriced last minute onward flight at the counter cursing at the men and women that designed this Wi-Fi-Less airport.
Has this ever happened to you? Luckily, I know of a way to make sure that this will never happen again: TEP Wireless , your own personal Mobile Wi-Fi Hotspot.
Come and find out all about it my wonder friends!!!
What is a TEP Wireless and why should I get one?
TEP Wireless is a portable Wi-Fi Hotspots and the perfect companion for Digital Nomads, Instagram Stories' aficionados, business travelers and basically, everyone who wants to be always connected (or at least, those who want to be able to go online at any given moment of their choosing).
The way it basically works is that you either rent or purchase the TEP Wireless Hotspot (a small pocket size item) and you pay in advance for how many 24 hour periods (which we will refer as "days" in this article) you would like to buy.
Whenever you want to start a day, you just click start on your TEP Wireless and you will begin to enjoy your 24 hours of unlimited Wi-Fi on up to 5 devices (however, speed greatly decreases after the second one) making this an ideal companion for couples or group of friends.
The prices are very competitive for the industry (starting at 8 USD per day) and most of the times they are cheaper than buying a SIM card with mobile data depending on the country so it's wise to check the list of countries covered and analyzing how cheap/expensive is to get mobile data there.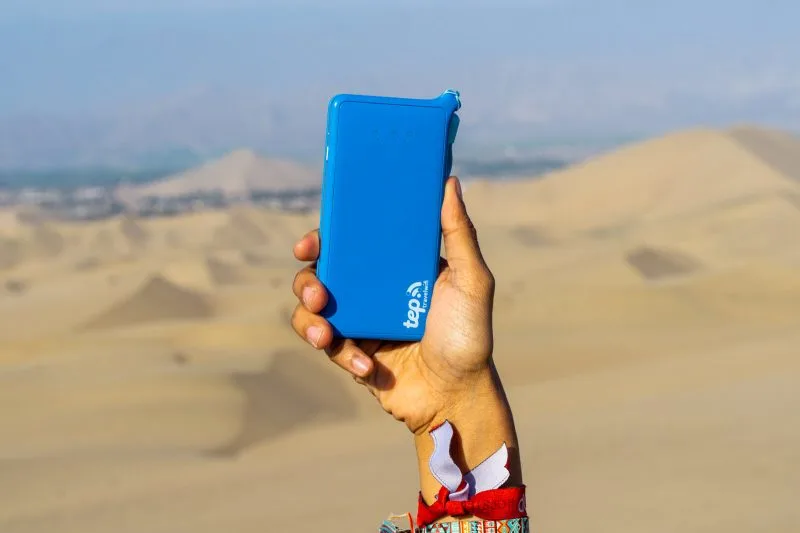 How fast are the download and upload speed of TEP Wireless?
What about the speed, Raphael? Is it good enough for uploading high resolution photos? How about downloading big files? Can I Netflix and chill using TEP Wireless?
Well, SOME countries offer way faster internet speeds by either Wi-Fi or Mobile Data but when it comes to the mobile Wi-Fi industry, the 5.8 Mbps upload and 7.2 Mbps download speed of TEP Wireless sure is impressive.
In fact, I was able to Netflix some episodes of Marvel's Iron Fist (check out some of the best travel movies here!!!) during a recent 5-hour bus ride in Mexico without any problem at all!!! How cool is that? If I wanted to do that using my mobile data, I would be broke by now.
UPDATE: Starting on Friday, April 7th, there is a 4G upgrade available in Europe. For 2.95 USD more per day, you can enjoy a download speed of 25 Mbps. Fast as a cheetah, right?
No, but seriously, is a Mobile Wi-Fi Hotspot worth the money?
When it comes to deciding whether or not to buy a Mobile Wi-Fi Hotspot, it is important to compare the price of one day of unlimited 3G Mobile Wi-Fi (8 USD if you buy the device as opposed to renting it) with the price of one day of unlimited 3G Mobile Data (or with the price of the Gigabytes that you normally use every day on your phone).
Sure, in some countries you can get unlimited Mobile Data for less than the 8 USD per day…but not in all. More importantly, one of the main advantages of TEP Wireless is that you can begin your 24-hour period in let's say, Germany, take a train through Switzerland and end the day in Italy without having to worry about roaming charges.
In the end, you have to create your own cost-benefit analysis and determine if purchasing a TEP Wireless is going to be worth it for your upcoming trip my friends.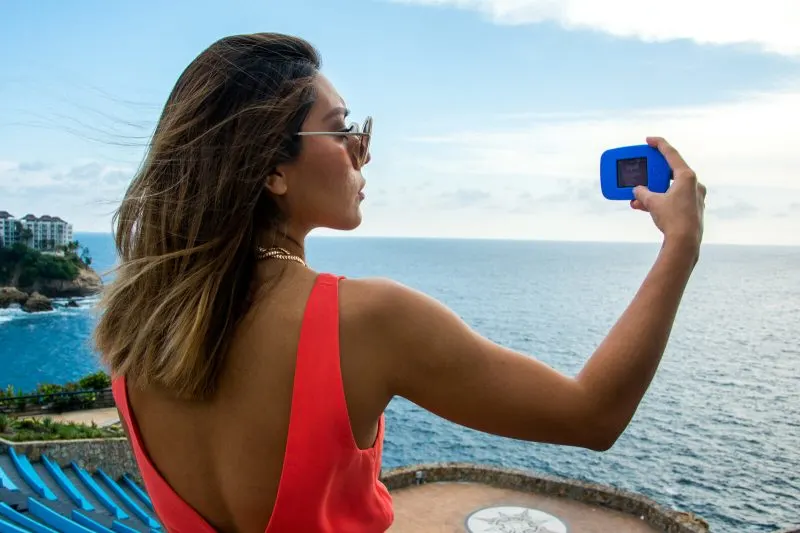 In which countries is TEP Wireless available?
Here is a list of the countries where TEP Wireless has coverage as of April 2017 (how I wish Cuba was one of them. I still have PTSD remembering how hard it was to find good Wi-Fi in the island!!!):
Africa: Egypt, Kenya, and South Africa.
Asia: Cambodia, China, Hong Kong, India, Indonesia, Japan, Kazakhstan, Kyrgyzstan, Laos, Macao, Malaysia, Philippines, Singapore, South Korea, Sri Lanka, Taiwan, Tajikistan, Thailand, Uzbekistan, and Vietnam.
Caribbean Islands: Antigua and Barbuda, Aruba, Barbados, Bermuda, Cayman Islands, Costa Rica, Curacao, Guadeloupe, Haiti, Jamaica, Martinique, Montserrat, Trinidad and Tobago, and Turks and Caicos Islands.
Central America: El Salvador, Guatemala, Honduras, Nicaragua, Panama, Puerto Rico, and The Caribbean Islands.
Europe: Albania, Austria, Belarus, Belgium, Bulgaria, Croatia, Czech Republic, Denmark, Estonia, Finland, France, Germany, Greece, Hungary, Iceland, Ireland, Italy, Latvia, Liechtenstein, Lithuania, Luxembourg, Malta, Monaco, Netherlands, Norway, Poland, Portugal, Romania, Russia, San Marino, Slovakia, Slovenia, Spain, Sweden, Switzerland, Ukraine, United Kingdom, and Vatican.
Middle East: Cyprus, Israel, Qatar, and Turkey.
North America: Canada, Mexico, and United States.
Oceania: Australia, Christmas Island, Fiji, Guam, New Zealand, and Saipan.
South America: Argentina, Bolivia, Brazil, Chile, Colombia, Paraguay, Peru, Uruguay, and Venezuela.
Pretty good, uh? You can check some of the most common frequently asked questions here my wonder friends!!!
And yes, in case you decide that TEP Wireless is the best option for you, feel free to use this discount code to get 15% off: Journeywonders.
UPDATE: In 2017, TEP Wireless added more features. Check out my follow up article here: 4 Reasons Why TEP Wireless Will Make Your Life Easier.
I hope you have enjoyed this honest review about the TEP Wireless Device. Don't forget to subscribe in order to get more awesome updates and tips straight to your e-mail!
Have you ever used a Mobile Wi-Fi Hotspot? Would you like to? What was your experience like? Share your thoughts and let me know what you think!
Until next time, my friends!
Disclaimer: This article was brought to you in collaboration with TEP Wireless. Some of the links in this article are affiliate links. All opinions are my own.