An article about the Best Things to Do and See in Bratislava including Bratislava Castle, the Old Town, best restaurants and much more.
Bratislava is, without any doubt, the least visited Central European capital of them all. "Raphael, why would anyone want to go to Bratislava? Don't you know that the Hostel movie took place there?" one of my friends infamously told me.
And well, Eli Roth's Hostel was actually filmed in the Czech Republic and even though it claims to take place in a remote town "outside Bratislava", Eli Roth never actually visited Slovakia in his life.
Did you know that the Tourism Board of Slovakia kindly offered to host him after the release of the movie in order to change his perceptions about the country?
The truth is that Bratislava is actually a very cultural and modern city filled with many spectacular sights and is a very nice addition to any European journey.
In fact, due to its convenient location (45 minutes away from Vienna), it sees hordes of day-trippers who come to enjoy the charm of this unique city.
Here are some of the top things to do and see in Bratislava, enjoy and be sure to include it in your European itinerary!
The 7 Best Things to Do and See in Bratislava
Visit the Bratislava Castle
The number stop of the list things to do and see in Bratislava is the castle located on a hill. There are many different ways to reach it so it's hard to get lost. From above you can enjoy great views of the old town and beyond, including the modern windmills on the other side of the Danube.
The castle has been burnt twice by human error so the interior is not impressive, however the outside façade is a real marvel to behold, especially when seen from Slavin or from the UFO Tower.
Wait, the what?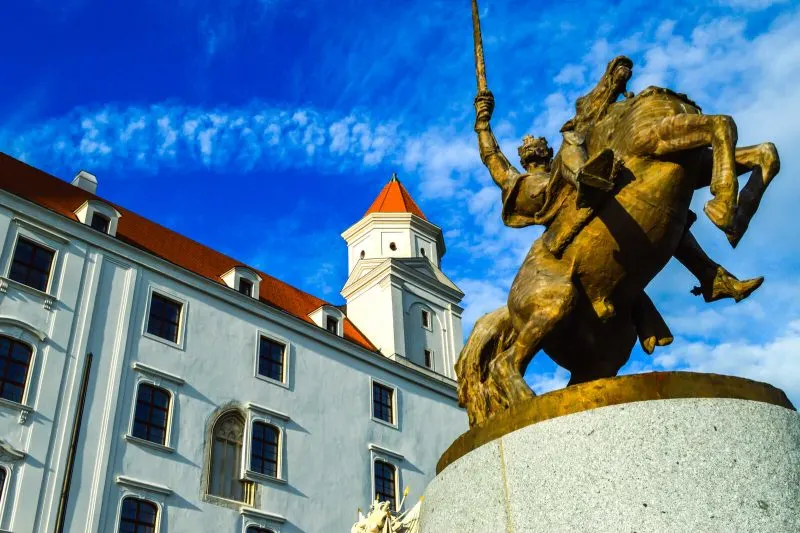 Behold the Mystery of the UFO Tower
This tower, located on one end of the Danube River, has a very unique story since the communist regime actually banned climbing to the top in order to prevent the Slovaks from thinking about escaping elsewhere.
Today you can climb to the top for a small fee and enjoy amazing views over the city. Alternatively, you can see this view of the UFO tower itself from Bratislava Castle.
The truth is out there!
Pose with the Quirky Statues of Bratislava
Bratislava is home to many quirky statues in the old town area, from bemused French soldiers of Napoleon time to writers with epic mustaches and pink scarfs.
My personal favorite? Peeping Tom over here who usually stares at women's skirts. Just be careful not to trip over him when it's dark!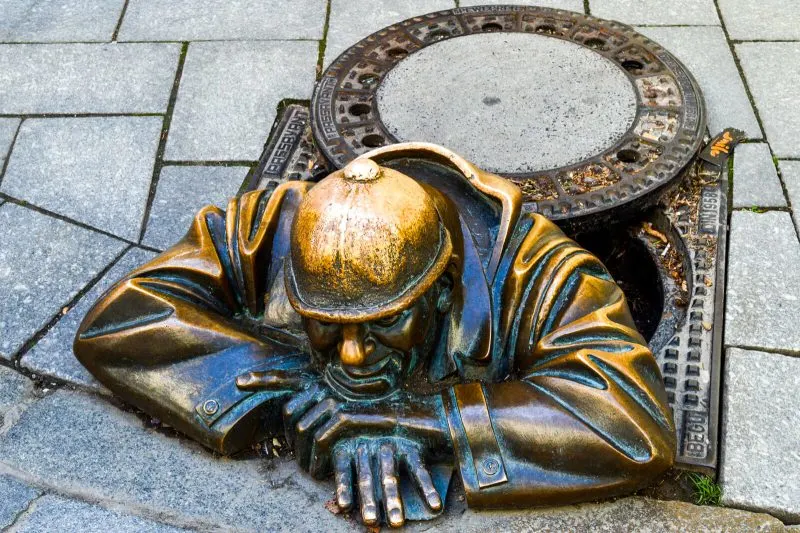 Attend a Concert at Bratislava's Opera House
The Opera House, based on the neoclassic French style was home to many concerts and today you can either take a guided tour inside or attend a performance in the evening.
Prices vary depending on what's going on that night but it's certainly a less expensive experience that going to the opera in Paris!
Hike to Slavin, a Soviet Era Graveyard
Back in World War 2, the Soviets liberated Slovakia from the occupation of Germany and the Slovaks built this huge graveyard to commemorate the Soviet soldiers that died in Slovakia.
From up here, you can marvel at the incredible views over the city, including Bratislava Castle and the infamous Inverse Pyramid from Communist times.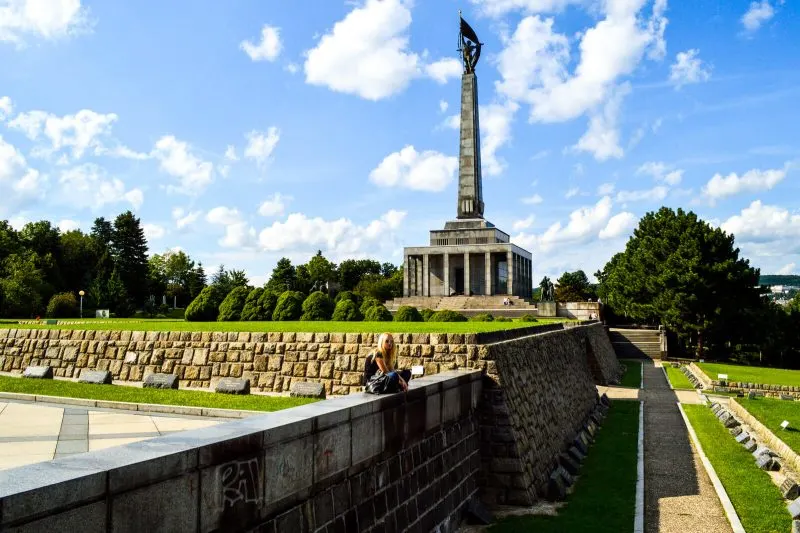 Watch a Medieval Fencing Show in Bratislva's Old Town
Last but certainly not least; you can enjoy a kitschy Medieval fencing show at courtyard of the Old Town Hall. Entrance is free of charge and if you're lucky you might even get invited to participate.
Ask your hotel/hostel for the specific days and time of the show and enjoy watching this piece of Medieval European culture.
Have Lunch at the Old Town Square of Bratislava
Normally, the main squares of European cities are tourist traps with inflated prices and bad quality food. However, the one of Bratislava is actually one of the best ones to try the local food at cheap prices!
Don't forget to also try the currant wine made in the nearby town of Devin. You can get a big bottle for as little as 3 euros. How awesome is that?
Where to Stay in Bratislava

, Slovakia
Bratislava offers options for all budgets. From the Radisson Blu Carlton Hotel where Napoleon infamously stayed to hostels that have nothing to do with the ones of the infamous movie made by Eli Roth (seriously, what's wrong with him?).
For my stay in Bratislava, I was hosted at the Hostel Blues, a boutique hostel where each room is named and decorated after a famous city in the world. Me? I stayed at the Moscow room and yes, I had a vodka shot while I was there. Nazdrovya, comrades!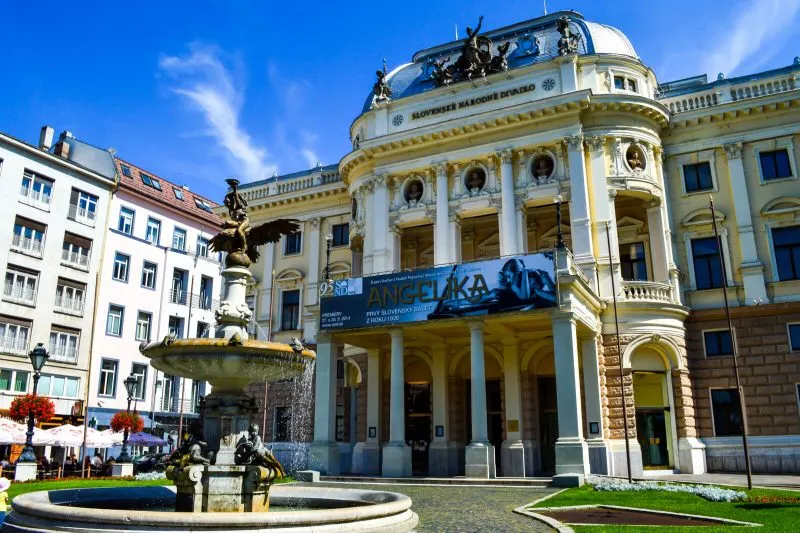 What Else to See and Do in Slovakia
One of the best ways to expand your visit to Bratislava is to visit Devin Castle, one of the most breath-taking fortifications in the country. It is strategically located at the meeting point of the Danube and Moravia rivers and is very unique in the sense that you can play with the sheep and goats that roam there.
To get there, you can take an inexpensive local bus from Bratislava and you'll reach Devin in less than 30 minutes. Stay tuned for an upcoming future article about this Medieval castle!
I hope you have enjoyed this article about the best things to do and see in Bratislava. Don't forget to subscribe in order to get more awesome updates and tips straight to your e-mail.
Have you ever been to Bratislava? Would you like to? What were some of your favorite things to do and see in San Bratislava? Share your thoughts and let me know what you think.
Until next time!