If you're a seasoned solo traveler like me you know that the best way to meet other travelers is to go to an hostel or to a pubcrawl but how about the best way of meeting the locals?
Believe or not, I have started to use this little amazing app called Tinder in order to go beyond the shady hook ups which normally take place between the users in order to actually form ever lasting bonds and friendships with the locals of each one of the places I visit.
Have you ever used Tinder during your travels? Here's some reasons why Tinder is the best travel app of all times and tips about how to use it to meet like-minded people like you.
How to use Tinder like a Travel App
Normally, Tinder is used by locals and foreigners alike in order to meet up and hook up. There, I said it, there's no denying that. In fact, back when I lived in Cancun I used it to meet new people during those boring Monday nights.
However, just like how Couchsurfing has now become Sexsurfing, Tinder can also be used for other purposes since there is a significant number of people who have started to use the GeoLocation aspect of the app to meet up with the sole purpose of creating friendships and bonds that break all cultural and racial barriers.
The first step to use Tinder as a Travel App that will go beyond the hook ups? Create an awesome profile that will separate you from the rest of the people that use Tinder. That means no shirtless photos, no blank descriptions and yes, even a link to one of your Social Media profiles (either Twitter, Facebook or Instagram) in order to prove you're not looking for the classic one nightstand.
Once your profile is set, you can go to the settings in order to select if you're interested in Men, Women, Both as well as the range of the Kilometers/Miles for the GeoLocation and the age range of potential matches. Now the only thing you need to do is swipe left for NO and right for YES and if the other person also swipes you right, then you can start chatting and discussing a possible meeting.
Easy as pie, right?
My experiences with Travel, Tinder and Locals
The first time I used Tinder as an app to meet and interact with locals during my travels was in Chefchaouen, Morocco during the times of Ramadan (holy celebration where alcohol, sex and eating before sundown is forbidden). It was low season and there was nothing much to do on a Friday night so I decided to give it a go.
Within minutes I got 17 positive matches and yet, it was one that really caught my eye since the message this girl sent me was completely different from the other 16 messages of "Hey, where do you want to meet up tonight?".
Instead, she wrote me: "I see you're a world traveler, I would dream of going to France one day. Would you mind spending some time together tomorrow morning? I can show you around my city if you want".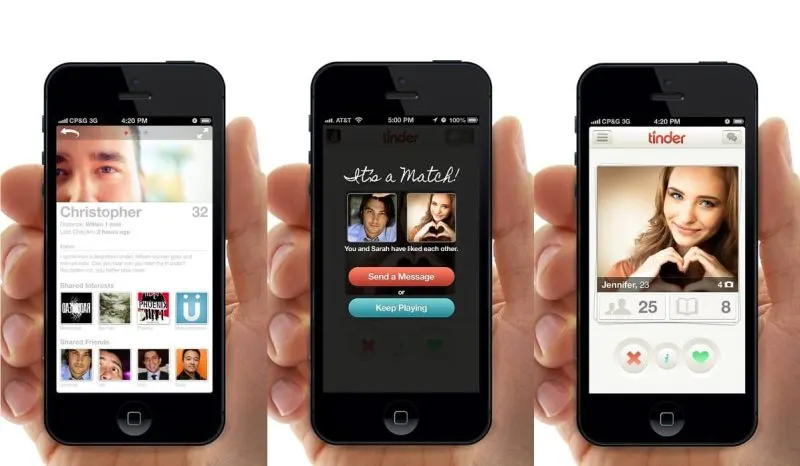 That, my friends, was the beginning of a beautiful friendship and ever since I had set out to make at least one local friend in every country I visit using the power of Tinder.
You see, hooking up on the road is easy, extremely easy. Forming everlasting bonds and friendships? That's a little bit harder. But far from impossible. Don't you just love traveling with locals?
If you like Tinder, you probably will also like Travel Apps such as Trip It (all-in-one personalized travel planner), Secret Escapes (a travel club offering discounts at hotels) and BlaBlaCar (ride sharing company to save money on road trips).
Have you ever used Tinder during your travels? How was your experience? Share your thoughts and let us know what you think!