An article of the 5 Best Things to Do and See in Asuncion, the Capital of Paraguay including information on how to get to Asuncion from Iguazu Falls.
When you start planning your South American journey of wonders, chances are that you are not really interested in visiting Paraguay, a landlocked country that borders Brazil, Argentina and Bolivia.
After all, you probably haven't met anyone that has been there while everyone and their grandmas flock to its neighboring countries.
Luckily for you, I took a small detour from Iguazu Falls (check out my guide to the Argentina Side of Iguazu Falls here) in order to visit the capital of this often forsaken South American country. I hope you're ready for the best things to do and see in Asuncion, the capital of Paraguay.
Enjoy my friends!
The 5 Best Things to Do and See in Asuncion
Eat Traditional Paraguayan Food
Surprisingly, Paraguayan cuisine has absolutely nothing to do with the cuisine of Brazil and Argentina. If you're tired of steaks and want to try something new, definitely come to Paraguay!
The first thing I did after taking the 5 hours long bus journey from Ciudad del Este (border with Foz do Iguacu, Brazil) to Asuncion? Try one of those funny looking treats that a lady was selling: the traditional chipa bread made with manioc, egg, and cheese.
My all-time favorite? The Paraguayan Soup which, ironically, isn't a soup at all but rather a huge spongy cake made with corn. Unmissable!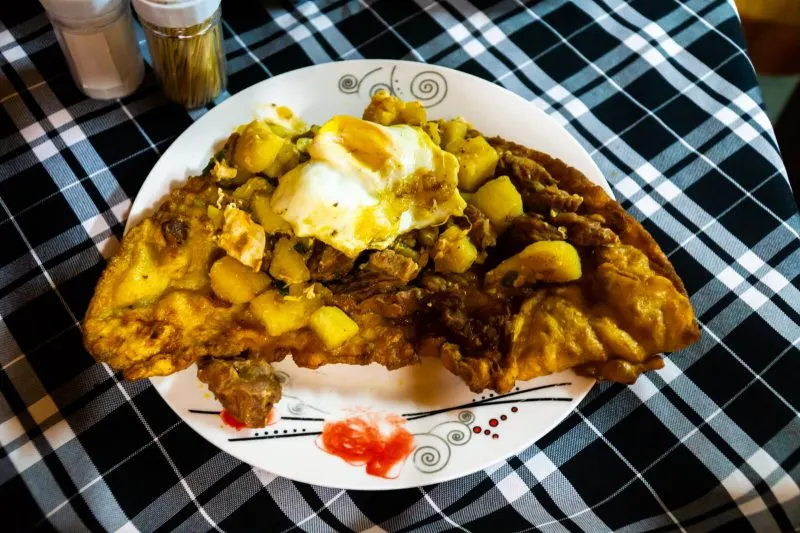 Learn a Few Words in Guarani Language
Paraguay is a unique country in the sense that it is one of the few completely bilingual countries: everyone speaks both Spanish and Guarani, the local indigenous language of Paraguay which is spoken by 87% of the population.
Hanging out with locals is a good way to improve your vocabulary and learn a few words in Guarani. Sure, you will never be fluent but you can definitely put a smile on the face of the Paraguayans you'll encounter.
A few useful phrases in Guarani include: mba'eichapa ndepyhareve? (good morning, how are you?), reñe'êkuaápa inglépe? (do you speak English?) and aguyje (thank you). You can learn more Guarani phrases here.
Explore the Historical Old Town of Asuncion
The historical center of Asuncion has many interesting monuments and museums in which you can learn more about the culture and history of Paraguay.
My favorite is probably the Cabildo Museum which is free for all public and contains some very interesting textiles of the indigenous people that still live in Paraguay to this day.
Be warned that Asuncion is not very touristy so you might have to wait a while until someone passes by to take a photo of you tho!
Drink Terere, the Cold Mate of Paraguay
Centuries ago, the Guarani people created a drink called mate which is an infusion made by mixing a powdery mix of yerba mate leaves with hot water. It is very rich in caffeine and gives you a big boost in the morning to start your day with the right foot.
My main issue with the mate? It is best consumed hot so you need to constantly have a big thermos of hot water to refill your cup. Luckily, in Paraguay, you can find the cold counterpart of the mate: the one and only terere.
The terere cups are longer but thinner which serves to keep the cold temperature in. Best thing? You can just refill it with cold water from the tap. Definitely buy a cup or two as a souvenir from Paraguay my friends!!!
Visit the Basilica of Caacupe near Asuncion
The number one most important religious site of Paraguay isn't located in Asuncion but rather in a small town called Caacupe located one hour away from Asuncion by bus (local buses leave every 30 minutes and have a price of 1 USD approximately).
Legend has it that the Virgin of Caacupe manifested itself to a local indigenous man who was tasked with spreading the Catholic religion to Paraguay (if you've been to Mexico City, you probably notice a few similarities with the Virgin of Guadalupe Legend).
Entrance to the Basilica is completely free of charge although if you want to hike to the top to see the view of the surrounding mountains you have to pay a small fee (1 USD).
How to Get to Asuncion from Iguazu Falls
If you're departing from Foz do Iguacu in Brazil, you can simply take a local bus (5 USD approximately) to the Paraguayan border city Ciudad del Este. The bus will stop and wait for you at the Brazilian border so you can get your exit stamp BUT it will NOT wait for you at the Paraguayan border crossing.
If you're departing from Puerto Iguazu in Argentina, the process is similar: take the local bus that goes to Ciudad del Este (5 USD approximately). The bus will stop and wait for you at the Argentina border so you can get your exit stamp. It will then pass through Foz do Iguacu in Brazil before reaching the Paraguayan border crossing. You do NOT have to get off at any of the Brazilian borders if you choose this option as long as you stay inside the bus at all times.
From the Ciudad del Este border crossing you will have to wait for the next local bus (keep the ticket) in order to reach the Ciudad del Este Bus Station. From the Ciudad del Este Bus Station, you can buy your ticket to Asuncion (10 USD, 6 hours, buses depart every hour or so).
Warning: there have been cases of travelers that completely forget to get off at the Paraguayan border to get their entry stamp and just continue straight to the Ciudad del Este Bus Terminal. While it is possible to get away with it, chances are that you WILL get fined since, for all intents and purposes, you did NOT enter Paraguay legally.
Where to Stay in Asuncion, Paraguay
Asuncion is still very up and coming when it comes to accommodation for luxury and budget travelers alike since most of the options are mid-range and quite lacking.
However, there are some hidden gems such as La Mision Hotel Boutique for those seeking some real luxury and the Nomada Hostel for those looking for a social backpacking vibe that will allow them to meet fellow travelers.
You can make a booking for these and more properties via our Booking.com Affiliate Link of Wonders! Same price for you and a small pocket money commission for this website of yours.
Sweet deal, uh?
I hope you have enjoyed this article about The Best Things to Do and See in Asuncion, Paraguay. Don't forget to subscribe in order to get more awesome updates and tips straight to your e-mail!
Have you ever visited Asuncion, Paraguay? How was your experience like? What are some of your best things to do and see in Asuncion? Share your thoughts and let me know what you think!
Until next time, my friends!!!