An article about all you need to know about the Sea to Sky Highway including things to do, how to get from Vancouver and more.
The Sea to Sky Highway is without a doubt one of the most beautiful and scenic routes you can find in Canada. Starting in Vancouver and ending in Whistler it is the perfect weekend getaway to go deep into the mountains.
With a length of 120 KM, you could easily go from point A to B in less than 2 hours but hey, why rush it when you could instead stop to see some natural wonders on the way?
Check out some of the best things to do and see in Sea to Sky Highway from Vancouver to Whistler and enjoy my wonderful friends!
The 10 Best Things to Do and See in the Sea to Sky Highway
Take the Sea to Sky Gondola
While the Sea to Sky Gondola is definitely not free (expect to pay around 42 CAD) for a roundtrip, you can hike from the base to the top and access all of its wonders for free if you're fit enough to hike 7 KM uphill.
Once you're at the top, definitely visit the amazing suspension bridge which is one of my all time favorites in all of Canada (so many trees around it!!!) and the Stawamus Chief lookout to see an amazing view of the Chief, the Sea to Sky Highway and Squamish.
Plus, if you're brave enough you can attempt to do the Via Ferrata but that's a story for another day my friends!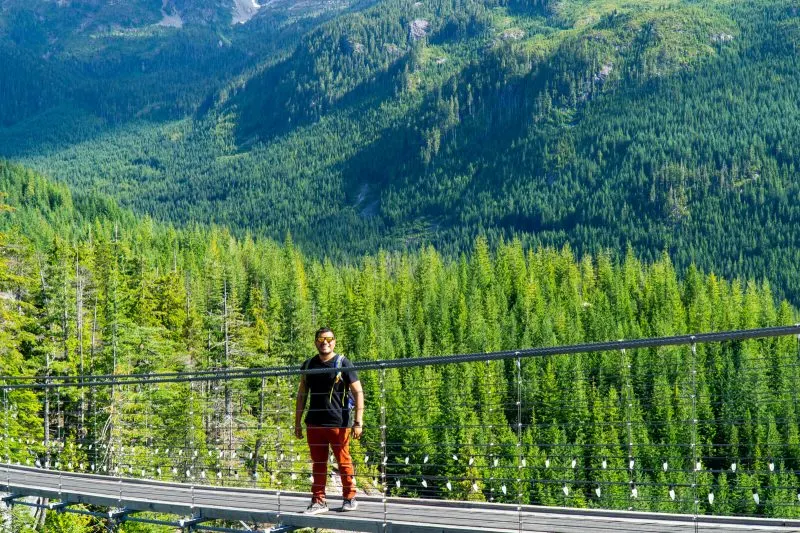 Hike the Stawamus Chief
Since my friend and I did the Sea to Sky Highway during Autumn, daylight hours were limited and even the relatively easy hikes required a whole new level of expertise due to the ice trails.
The hike to the Third Peak of the Stawamus Chief and back consists of 7KM roundtrip and you'll need at least 6 hours to finish it so you really need to plan to arrive early in the morning if you want to visit the rest of the Sea to Sky photo spots before it gets dark.
I'll definitely come back in the Summer to conquer it!!!
Go Rafting in Squamish
Squamish (whose name has nothing to do with Pumpkin Squash) is a lovely quiet small town that offers some interesting adventure activities such as river rafting and zip lining.
Personally, I recommend it as a midway stop from Vancouver to Whistler because of the fact that there's plenty of restaurants and cafes to recharge your energy for the drive.
I mean, when you're in Canada, going to Tim Horton's at least once a day is a must, right?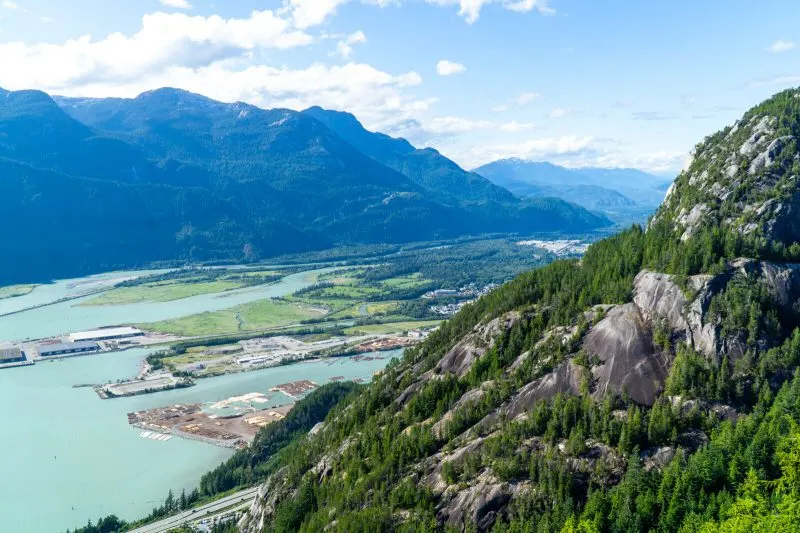 Be Amazed at Shannon Falls
Your first photo stop on the Sea to Sky Highway will have you chasing waterfalls my wonder friends. Shannon falls are 335 meters tall and will absolutely blow your mind away with their natural beauty.
From the parking lot (which by the way, is free and the same applies to every single parking lot in the Sea to Sky Highway), the bottom of the Shannon Falls can be reached after walking for less than 10 minutes.
To reach the mid-level viewpoint (from where this photo was taken) you will have to hike uphill for 5 minutes more.
It might seem quite steep but trust me, it is really doable!!!
Admire the Tantalus Range Lookout
Located almost at the middle of the Sea to Sky Highway just a few KM after Squamish, the Tantalus Range lookout will allow you to enjoy some magnificent views of the 3 snowy capped mountains to the West: Mount Tantalus, Pelion Mountain and Serratus Mountain.
The Tantalus Range Lookout has some chairs and a table making it a perfect picnic spot. Most people usually spend just 5 minutes here to take a photo and leave so you can usually have it all for yourself my friends!
This lookout is only reachable if you're traveling from Vancouver to Whistler since it is located on the right side of the road. If you're driving on the other side, I recommend either waiting for a U-Turn or visiting it on your way back.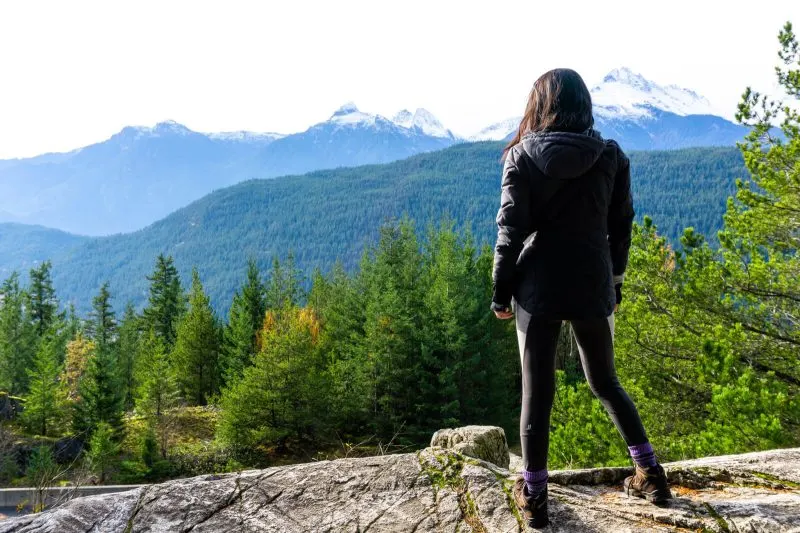 G

o Explore Paradise Valley
Located across the road from the Tantalus Range Lookout you shall find Paradise Valley to the South-West. This is the most popular lookout of the two and it isn't hard to see why.
After all, what's not to love about a beautiful valley that is surrounded by impressive snowy mountains and a river that cuts troughs the middle? One of my favorite sunset spots for sure (even though we arrived a little bit late)!!!
This lookout is only reachable if you're traveling from Whistler to Vancouver since it is located on the left side of the road. If you're driving on the other side, I recommend either waiting for a U-Turn or visiting it on your way back.
Hike the Black Tusk at Garibaldi Lake Provincial Park
Considered to be one of the hardest hikes in BC, you need to hike for 29 KM (in a circular loop) to reach the Black Tusk, a stratovolcano rock in the Garibaldi Lake Provincial Park and a sacred natural wonder of the Squamish people.
Legend has it that the Black Tusk is the ancestral home of the Thunderbird with its shape and black color being the result of the bird's lighting attack (think of it as Zapdos from Pokemon).
If you're totally unfit to hike close to 30 KM in a single day you can enjoy a panoramic view of the Black Tusk from the top of Whistlers' mountain too (which is what I did)!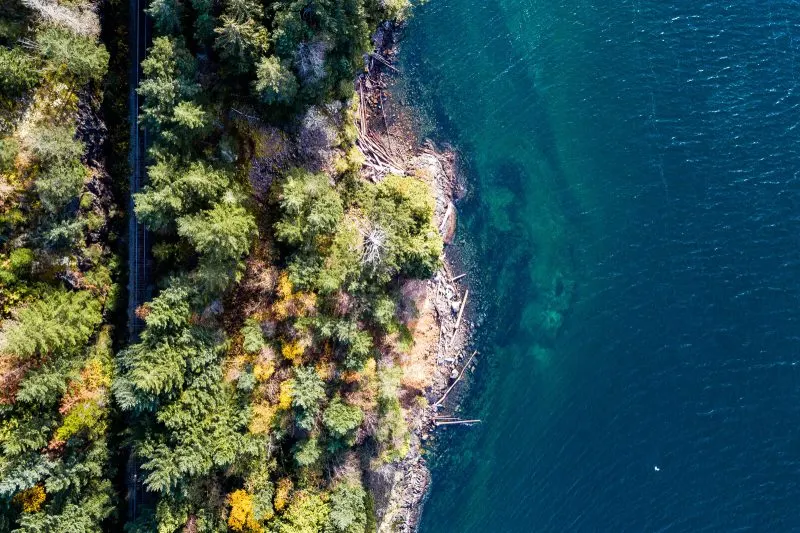 V

isit the Beautiful Brandywine Falls
Probably the most popular waterfalls on the Sea to Sky Highway (we had to park on the side of the highway and walk 10 minutes to the parking lot 'cause it was full already), the Brandywine Falls are simply breath-taking.
Walking from the parking lot to the first viewpoint shouldn't take you more than 10 minutes in a relatively flat terrain so this is really good for bringing kids, the elderly and those out of shape travelers (like I used to be at the time Hahaha).
That being said, if you wanna go down to the bottom of the waterfalls, I hope you won't mind getting dirty since the way down is as muddy as it is steep. If you're limited on time, however, best to just enjoy them from the lookout, you might even spot a rainbow!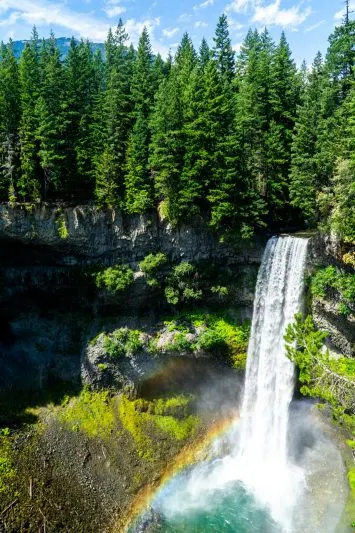 Go Skiing in Whistler
Whistler itself is probably the best place in British Columbia for those who love to ski. However, when we visited it (early November) there was no snow therefore no ski was going to take place anytime soon.
The town of Whistler is kind of small which makes it a very cozy Winter escape for those wanting to be away from the city. Check out some of the best things to do and see in Whistler during the Summer soon here at Journey Wonders my friends!!
I can't wait to be back during the deep Winter and stay in a nice and warm cabin drinking a hot cup of chocolate.
H

ike the Joffre Lakes
While technically speaking it isn't a part of the Sea to Sky Highway (which ends in Whistler), the 3 Joffre Lakes are located 60KM North-East of Whistler past the town of Pemberton.
Unless you have the full day (and some proper Winter shoes to walk on icy and snowy trails), you will most likely only be able to first Joffre Lake since it is 500 meters away from the parking lot.
Be really careful when walking and eventually you will reach a very beautiful frozen lake surrounded by pine trees covered in snow. What a wonderful Christmas image my friends!!!
Surprisingly, the most dangerous area to walk was the trail towards the toilets in which many people (including my friend) fell in a very tragic fashion but that's a story for another day…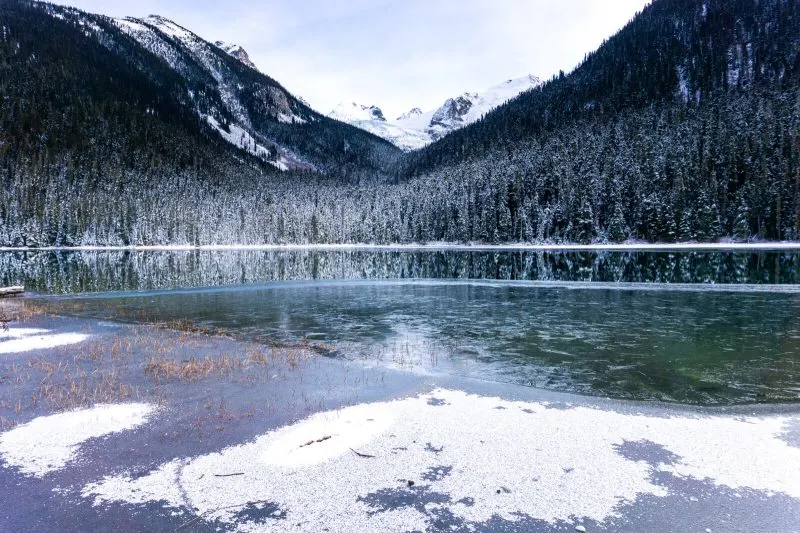 How to Get to the Sea to Sky Highway from Vancouver
When preparing to drive the Sea to Sky Highway, be sure to depart early from Vancouver (check out my best things to do and see in Vancouver here) to ensure the maximum natural sunlight for photos.
During weekends and holidays it will be extremely hard to find a parking spot for the stops but if you hang around a little while someone HAS to exit so patience is key my friends!!!
Provincial and National Parks are no-drone zones in Canada but it is totally allowed to do so on the Sea to Sky Highway itself (just remember the 90 meters maximum altitude rule that exists in Canada). Not bad uh?
During Autumn-Winter, temperatures can drop harshly the closer you get to Whistler so bring a warm jacket and a cozy Winter hat even if the day seems quite pleasant and sunny at the beginning.
By the time we made it to Joffre Lakes, I was totally shivering but the excitement of experiencing fresh white snow made me completely forget about it (although the cold I got made sure I never forgot about it in the coming days).
Last but not least, there's free toilets in all stops although I recommend you to bring your own toilet paper if needed. And no, please don't free Willy in the wilderness!!!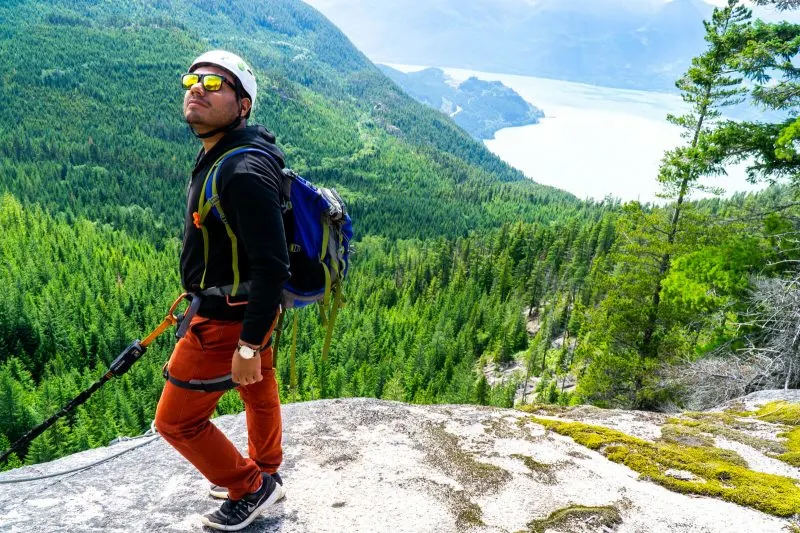 Where to stay in Vancouver, Canada
While the Vancouver Metropolitan area is huge, Downtown Vancouver is quite smallish and very walkable making it the perfect location for your accommodation of wonders.
You can find many budget hostels as well as premium hotels like the iconic Sheraton with its distinguishable design.
No matter which hotel or hostel you choose in Downtown Vancouver, you will be just a few minutes away from the impressive nature of this city. Let's go jogging to Stanley Park my friends!
You can make a booking for this and more properties via our Booking.com Affiliate Link of Wonders! Same price for you and a small pocket money commission for this website of yours. Sweet deal, uh?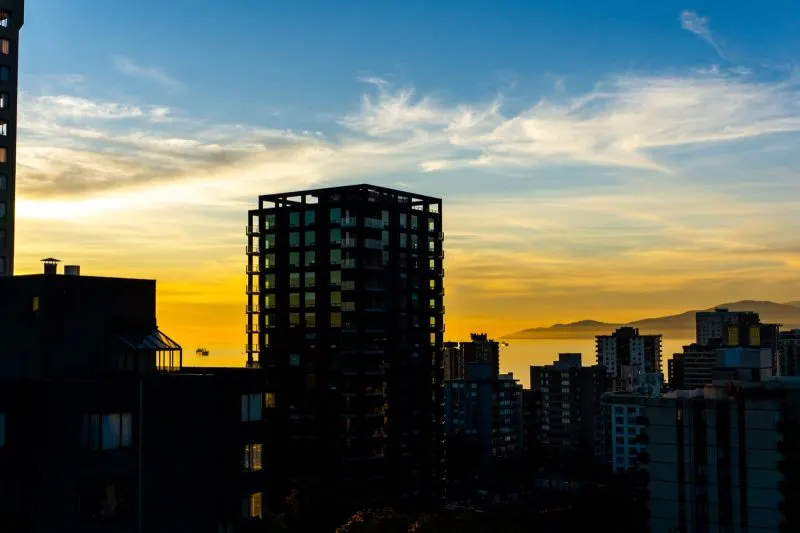 I hope you have enjoyed this article about the best photo stops on the Sea to Sky Highway. Don't forget to subscribe in order to get more awesome updates and tips straight to your e-mail!
Have you ever drove the Sea to Sky Highway? Would you like to? Share your thoughts and let me know what you think?
Until next time, my friends!!!