Experience the ultimate student journey through Vermont in autumn. Dive into our handpicked selection of must-visit attractions, from radiant foliage to quaint towns, and immerse yourself in the state's unparalleled seasonal splendor.
Vermont is famous for being a popular choice for people who want to witness the vibrant autumn colors and admire the beauty of fall foliage. If you are organizing a vacation or have no plans for your fall break, this is an ideal destination to visit for a few days and unwind before facing exams.
Indeed, if you desire a spontaneous break from studying in Vermont, you can engage the services of skilled essay writers and pay to write essay for you. Additionally, if you are seeking suggestions on exploring attractions, we have compiled a list of the best captivating sights and locations in the Green Mountain State.
Equinox Skyline Drive
Equinox Mountain provides breathtaking vistas year-round, but it is particularly recommended to visit during the autumn season. As you ascend, you can take a break and enjoy a picnic by the roadside. Once you reach the peak, visit the viewing center, where you can marvel at the surrounding mountains from every angle. The vibrant fall foliage only enhances the beauty of the landscape. Additionally, if you're interested in hiking the summit trails, you should also explore the lookout rock.
Great Vermont Maze
In this area, it is expected to find corn mazes maintained by farmers after they have harvested their crops. However, at the Great Vermont Maze, you can explore the most giant maze in Vermont and much more. During October, the owners allow visitors to experience a terrifying walk through a haunted maze filled with actors and special effects. It's a spine-chilling experience!
Jenne Farm
Jenne Farm, a family-run enterprise that has been in operation for over a century, is one of the most frequently captured landscapes in both the state and the broader New England region. It has even appeared in films such as Funny Farm and Forrest Gump. It may require some effort to locate in a rural area, but the picturesque view of vibrant red buildings nestled amidst hills adorned with a vibrant array of fall foliage makes the search entirely worthwhile.
Emily's Bridge
You might find visiting Emily's Bridge intriguing if you're not a covered bridge fan. It resembles the bridges often depicted in scary tales, where eerie and doubtful events occur. This particular bridge is infamous for its haunted reputation and reports of a peculiar voice emanating from within.
Sunset Ridge Trail
Take a hike on this trail to appreciate the stunning vistas of Mountain Mansfield and beyond. As you go along the trail, you will also get a glimpse of Champlain Valley. With a 360-degree view from the mountains, you can even spot Stowe. In essence, visiting this area means exploring multiple destinations in one go.
Smugglers' Notch
Regarded as one of the state's most breathtaking routes, this road is a magnificent mountain pass. It showcases towering cliffs and an abundance of trees that transform into various red, yellow, and orange hues during the autumn season. Along the way, numerous hiking trails are suitable for beginners and experienced adventurers, offering the opportunity to pause and discover the surrounding areas or embark on a biking expedition.
Lamoille Valley Rail Trail
If you visit Vermont with your dog(s), a trip to the trail is highly recommended. Not far from there is Dog Mountain, a park that your dog will undoubtedly adore. This park boasts many paths, ponds, and open spaces for you and your furry companion to relish.
Mad River Valley
The valley contains numerous bodies of water and is renowned for its covered bridges. Paddling enthusiasts can enjoy the beautiful autumn scenery while traversing the Mad River. If you're looking for a pause from outdoor activities, the Mad River Taste Place offers an ideal destination to sample local cuisine and beverages.
Jamaica State Park
In this place, you can appreciate the beautiful scenery of mountains, autumn leaves, and cascading waterfalls and engage in various activities.
fishing
hiking
camping
boating
mountain biking (rental is available)
Additionally, if you desire increased excitement and adventure, you can conveniently reach Mountain Snow's bike park within a half-hour.
Groton State Forest
You can engage in activities such as kayaking in Ricker Pond, enjoying a stroll, or hiking. Owl's Head is known for offering one of the most impressive views in the entire state.
The locals highly recommend visiting Owl's Head to experience a stunning panorama of hills, trees, and Kettle Pond. The round-trip hike to Owl's Head typically takes less than 2 hours. Additionally, if you enjoy long walks, visiting the Peacham Bog Loop Trail is worth considering.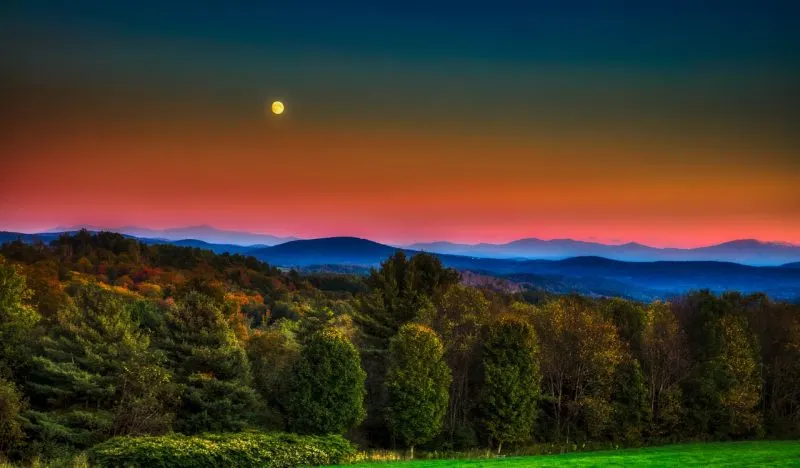 Burlington Bike Path
Burlington's waterfront presents 8 miles of stunning views, inviting beaches, and parks where you can take a break, witness breathtaking sunsets, or simply appreciate the beauty of Lake Champlain. It is not necessary to possess a bicycle as you have the option to rent one from the Local Motion store.
Additionally, while exploring, you will come across various food trucks and cafes where you can grab a quick bite or indulge in a complete meal.
Champlain Valley
The Champlain Valley is divided between the United States and Canada, New York and Vermont. It offers many hiking trails that lead to breathtaking viewpoints, making the journey well worth it.
Even from the valley floor, the scenery is awe-inspiring. For those interested in experiencing local cuisine, a visit to the Burlington Farmers Market is highly recommended.
Quechee Gorge/State Park
If you enjoy camping, then this is a destination you absolutely shouldn't miss. When you visit the park, you can partake in various activities such as having a picnic, going on a bike ride, hiking, fishing, and taking in the stunning sights of the Quechee Gorge dam. Additionally, there is a mesmerizing waterfall and a stunning view of the Ottauquechee River, which is beautifully surrounded by trees on either side.
Oktoberfest
Mount Snow Oktoberfest is a happening in Vermont that doesn't require any physical activity such as hiking or biking. All you need to do is sample the freshly made beer, engage in fun competitions like yodeling or keg throwing, unwind, and enjoy the lively Oom-pah music.
Elmore State Park
There is another location where you can partake in camping and hiking, along with an added activity of stand-up paddleboarding. This place also offers picnic pavilions, a beach area, and boats that can be rented.
The hiking trails will guide you to the summit of Elmore Mountain, allowing you to enjoy a breathtaking panoramic view of surrounding mountains, bodies of water, and the stunning colors and sights of the autumn foliage.
Woodstock
This location possesses a unique atmosphere. There are opportunities to experience various art exhibits, festivals, live music performances, cocktails, locally crafted beers, harvest celebrations, and exciting activities to explore.
Additionally, one can engage in horseback riding, fishing, biking, and golfing while visiting stores and cafes that offer products sourced from the local area.
Summing Up
This compilation is not exhaustive, yet it provides ample opportunities to fully enjoy a vacation in the state and create wonderful lasting memories. Consider the vast possibilities Vermont holds during the remaining seasons!