48 Hours in Chicago is the ideal time to explore the highlights of this wonderful city. Check out this 48 Hours in Chicago Itinerary about the best things to do and see in Chicago. Enjoy!
Hello, my wonder friends!!! As some of you know, I'm a very big fan of Musicals and Chicago remains one of my favorite ones to this day. While many travelers prefer a weekend in NYC or a romantic getaway in upstate NY, I'm the type who feels more at home in the wonderful city of Chicago.
In fact, ever since I watched it (who can forget All That Jazz?), I knew that I HAD to visit this wonderful city one day so when Expedia.com asked me what my dream 48 Hours in Chicago Itinerary would look like, I was more than happy to help.
Who here is ready to come to explore the best places to visit in Chicago? I hope you enjoy this list, my wonder friends, and let me know what are some of your best recommendations!!!
48 Hours in Chicago Itinerary
Willis Tower Skydeck
When you visit a new city it's always fun to take a look at the city from a higher perspective. This is why you should definitely add Willis Tower Skydeck on your Chicago bucket list.
Built in 1973, Willis Tower Skydeck offers some of the best views you can find in Chicago. The most interesting part of this tower is probably the epic ledge, which is basically a glass balcony, that allows you to see everything when looking down.
It's not the cheapest attraction out there. You can expect to pay $24 which allows you to reach the Skydeck and the ledge. It's worth it if you'd like to spend some time 1,353 feet over Chicago! Depending on how much of a photographer you are, you could easily spend up to a couple of hours out there.
Millenium Park
Why not spend some time at Millenium Park? Grab food on the go or a picnic and head there for a quick lunch in one of the coolest parks of Chicago!
Millennium Park is a huge park and is also one of the popular spots for free concerts, public art galleries, and festivals. Check out their website to be aware of what's going on while you're in Chicago, you could always enjoy a free show!
The great thing about going to a park is definitely the fact that it is free! It's the perfect spot to relax, take a quick nap or simply enjoy food with your friends.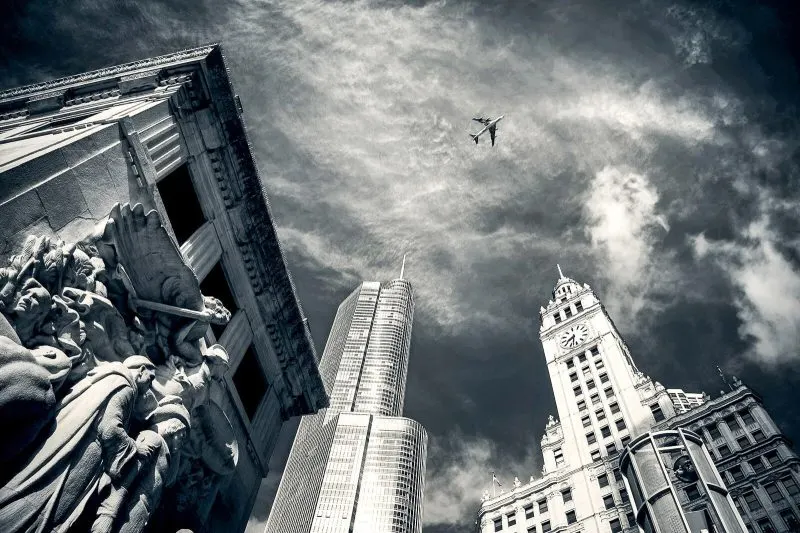 Art Institute of Chicago
The Art Institute of Chicago is one of the main attractions in Chicago. If you're into art and museums (check out my article about The Ethics of Museums), you will surely be pleased with this one!
Their permanent collection has more than 300,000 artworks. That is a lot of art pieces! You can find everything from classics to contemporary and modern forms of artwork. While you're there you might want to consider grabbing food at their restaurant and enjoy great views of Millennial Park.
Depending on how much time you have, you can take a few hours to walk around or even more if you're passionate about art! The ticket costs $25 to get in.
Lakefront Trail
Did you know that there is a lakefront in Chicago? Whether you're into jogging, cycling or simply walking, it's a great spot to enjoy the views!
The lakefront is actually a 18 mile long trail, it's a great alternative for those who want to stay fit on the road or simply relax on a beach. Yes, there are many beaches accessible on this waterfront although the water is quite freezing!
Of course, this suggestion is at no cost to you as being outside is alway free! You can go there to enjoy the views quickly or to relax a bit longer if your body needs resting!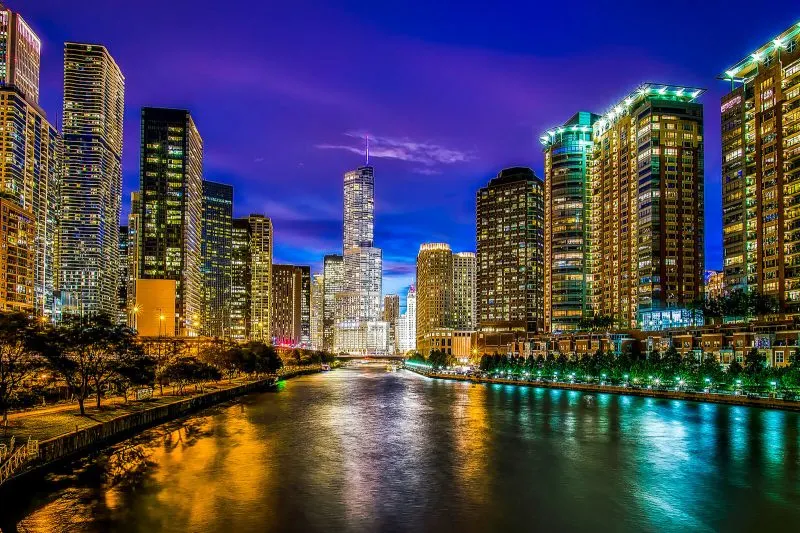 The Navy Pier
If you're already heading towards the lakefront you must check out the Navy Pier while you're in the area. It's basically a big playground for adults and kids (and man-childs of course)!
It's one one of the biggest attractions in Chicago. Enjoy the rides, theater, dining cruise or a boat tour! There will be enough to entertain you in the 50 acres of parks, shops and restaurants! There are also many public events and festivals organized over there so check out their website to know what's going to happen during your stay.
You can easily spend a few hours around the historic Navy Pier as there's a lot going on!
Montrose Point
Montrose Point is actually a bird watching spot but it's also one of the most beautiful spot to look at the Chicago skyline, which means you should add it to your itinerary!
Of course, if you're bird lover, you will be pleased to know that there are over 300 different bird species (you can also spot butterflies) in this spot! It's a good idea if you want to go for a walk while enjoying the views and the peaceful nature.
From a photographer perspective (check out some of my Best Travel Photography Tips here) you will surely enjoy the epic views of the city! You can walk around for a couple of hours or so!
Eat a Hot Dog. Yes, Really
Yes, you read that right, you cannot travel to Chicago without trying one of their famous Chicago style hot dogs!
There are many restaurants and hot dog stands that are worth trying! You'll never try such creative hot dogs than the ones found in Chicago. Chicago's Dog House is probably one of the most popular options, but you will have many other places to pick from too!
Perfect for a quick snack or lunch, you should definitely try it at least once!
Where to Stay in Chicago, USA
First things first, you're going to need a place to stay while in Chicago. Since Chicago is such a big city, it can be quite difficult for first timers to find the best hotels and hostels in any specific area.
Luckily, Expedia.com has many Chicago hotels options in their handy Travel Guide that helped me find the best places to stay in Chicago.
If you're looking for luxury hotels, look no further than The Peninsula Chicago and the Waldorf Astoria in order to feel like a walking celebrity during your next visit to the wind city.
When it comes to budget hostels, Freehand Chicago and Holiday Jones are your best options for having an epic time of wonders in the big city.
I hope you have enjoyed this article about the Ultimate 48 Hours in Chicago Itinerary of Wonders. Don't forget to subscribe in order to get more awesome updates and tips straight to your e-mail!
Have you ever been to Chicago? Would you like to? What are some of your best things to do and see in Chicago? Share your thoughts and let me know what you think!
Until next time, my friends!