Wanna know how to avoid the crowds at Angkor Wat? Click here to know how to do so and to learn whether Angkor Wat is worth visiting after all considering the high price tag. Enjoy everybody!
If you're planning on visiting Cambodia, Angkor Wat is probably the number one reason for your trip. It is also the main reason for more than 6000 visitors every single day.
And yes, I know what you're thinking: "Raphael, how can I enjoy Angkor Wat with so many people around it? Is there a way to avoid the crowds in Angkor Wat?".
Lucky for you, I have the perfect solution for your problems my dear wonder friends!!! Ready to bring out your inner Tomb Raider? Come and explore Angkor Wat with me!
A brief introduction to Angkor Wat, the Biggest Temple in the World
Located in the small South Asian country of Cambodia, Angkor Wat has captivated the minds of the Western world ever since Henri Mouhot "found" it.
His words, a mix of poetry and archeology, are interesting to say the least.
"One of these temples—a rival to that of Solomon, and erected by some ancient Michelangelo—might take an honorable place beside our most beautiful buildings.
It is grander than anything left to us by Greece or Rome, and presents a sad contrast to the state of barbarism in which the nation is now plunged."
While he was wrong about many facts (like doubting that the Khmer people could have built such magnificent temple all by themselves) it was because of him that the Western world became aware of the existence of Angkor Wat.
This new re-discovery has led to extensive efforts of conservation as well as boosting the Cambodian economy.
Today, it can be argued that the town of Siem Reap has lost a little bit of its authenticity by catering to Western tourists although some argue that this is good since it has improved the local economy of the people.
A good call or a bad one? Only time will tell but here's an interesting article about Cambodia and its orpahange business and be aware that even though elephant riding might seem exotic, it is a VERY cruel activity to do.
DON'T DO IT.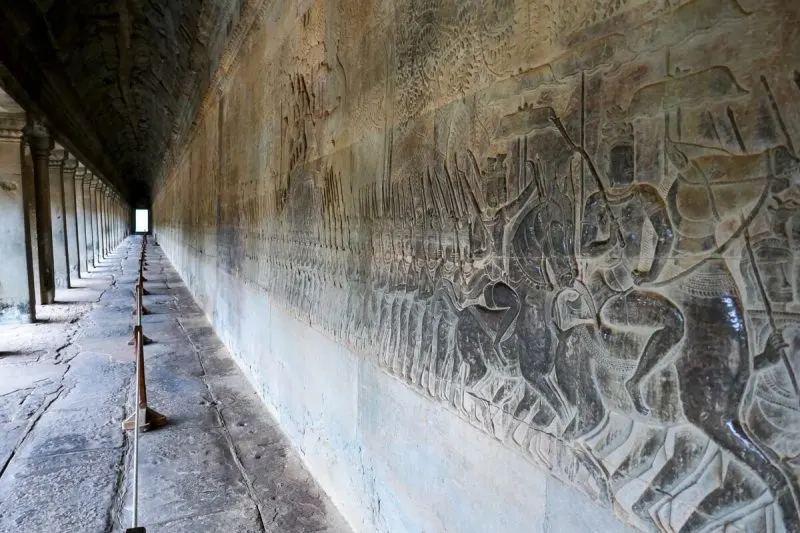 Angkor Wat: What to Expect and What to Avoid
There are many ways of reaching Siem Reap, Cambodia's most visited city and gateway to the temples of Angkor. The most common ways consist of flying directly to the Siem Reap International Airport from any southeast Asian country or crossing the land border from Thailand.
The cost for a visa on arrival to Cambodia is 30 USD as of 2016 although there have been many reports of border officials asking for 35 USD and pocketing the difference. Did I forget to mention that Cambodia is the most corrupt country of South East Asia?
From the town of Siem Reap itself, the main Angkor temples are 15-20 minutes away by taxi or tuk-tuk. A one day pass will set you back 20 USD, three days for 40 USD and seven days for 60 USD.
While I believe that the seven days pass is a little bit excessive and should be bought only for true archeologists and hardcore history-buffs, the three-day pass offers the best value for your money since it allows you to explore the ruins at your own pace without rushing through them.
A one day pass is only good for those with a tight schedule and while it is possible to visit all of Angkor's must-see temples in one extensive day, I wouldn't recommend it.
PS. If you arrive late to Siem Reap, you can go to the ticket booth at 17:00 and buy a pass starting the next day, doing this will allow you to see the sunset from Angkor Wat on that day without counting towards the number of days you have.
And while the sunset from Angkor Wat itself is not that impressive, the sunrise surely makes up for it!!!
Angkor Wat: How Overcrowded is it, Really?
Sure, in recent times, Angkor Wat has become a sort of Disneyland for tourists and now it is not uncommon to see thousands of people waiting anxiously at 05:00 and searching for the perfect spot from where to take photos with their top-notch cameras.
Is Angkor Wat an overcrowded tourist trap? No, not all. In fact, it is still possible to find peace and gain that sense of wonder even in the busiest temples of the complex if you go searching for it.
And yes, Angkor Wat is extremely busy during the early morning and noon but if you visit it in the late afternoon you'll be avoiding most of the crowds and you'll be able to (finally) takes photos of it without any soul in the background.
If this is your first time visiting the Angkor Temples, it is important to remember that Angkor Wat is only one temple of the immense Angkor Park Archaeological Zone and exploring every corner of them all will take you weeks if not months.
From Siem Reap, there are two main tours or circuits that you can do: the short circuit and the big circuit. The short circuit visits the main three temples (Angkor Wat, Angkor Thom/Bayon and Ta Phrom) while the big circuit goes to the secondary temples in which you'll experience less crowds.
An average price for a private Tuk Tuk is 15 USD for the short circuit and 18 USD for the big circuit. Add 5 USD for sunrise and another 5 USD for sunset. A Tuk Tuk can carry a maximum of 4 passengers so you can easily share the cost between all of you.
And no, don't let unscrupulous drivers scam you!!! Click here to read some of the Top 5 Scams of South East Asia!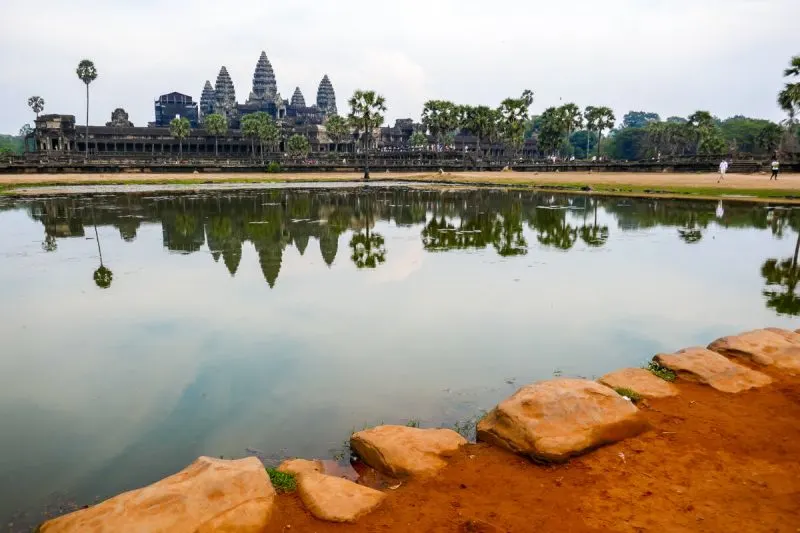 From Angkor Wat to Angkor Thom and Ta Phrom
The first stop for everybody in the Angkor Park is Angkor Wat with its magnificent five towers, each representing a peak of the mythical Mount Meru of Hindu Mythology.
A few decades after its construction, the official religion shifted from Hinduism to Buddhism so you can expect to find Buddha statues and orange robbed monks praying and taking photos of themselves with their iPads.
Yes, that's not a typo. Between praying and meditating, monks somehow have the time to play Candy Crush and Flapping Bird!
Man, I sure love Cambodia.
The next stop in your tour is Angkor Thom. Its name literally means the City of Angkor and it isn't hard to see why: the area is HUGE and there's a lot of temples inside of it the most famous of which is the Bayon Temple with its big Buddha heads.
Even tough Angkor Wat is the main attraction for many, the most interesting temple is the Bayon in my own personal opinion. We visited the Bayon at a very busy time so it was kind of difficult to obtain photos in which no other people were in sight but you could still be amazed at the complexity of it.
There were even queues of tourists lining up to take the same photograph of themselves kissing/pinching/touching one of the giant heads. How crazy is that?
Last but not least is Ta Phrom, known to many as the "Tomb Raider Temple". True, Angelina Jolie filmed the Tomb Raider movie in this temple and yes, the fig trees growing out of the buildings are impressive but the most impressive aspect of Ta Phrom are carvings found in this unique temple complex.
Nowhere in Cambodia you will find carvings as exquisite and detailed as the ones of Ta Phrom, including an alleged dinosaur (yes, a dinosaur!!!) and the iconic Apsara dancers that are a national symbol of the country.
Once you're done exploring the short circuit, it's time to go back to your hostel and take a long cold shower. Congratulations, you've just explored the three main temples of Cambodia. Time to celebrate with a cold Angkor Beer my friends!!!
Looking for more about Siem Reap and Angkor Wat? Read all about the best alternative things to do in Siem Reap here and also check out this article regarding Cambodia's Ethical NGO's my friends!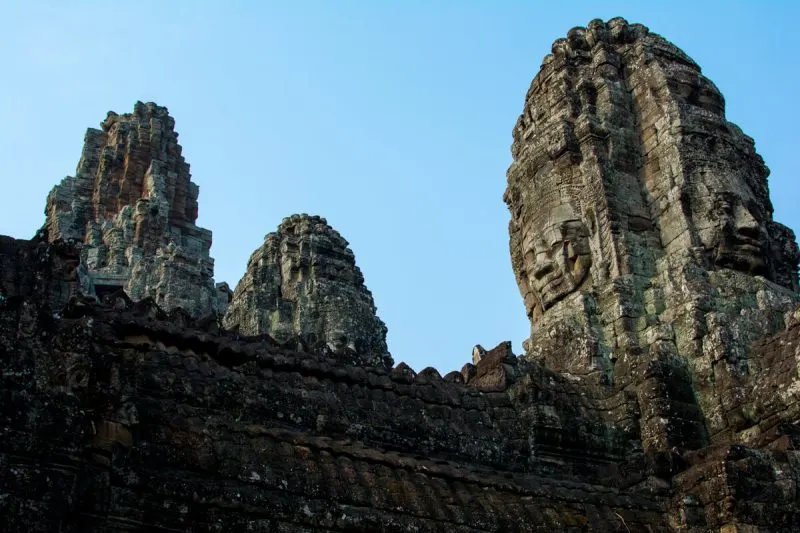 Where to stay in Siem Reap, Cambodia
The best accommodation in Siem Reap is often found a few minutes outside of the touristy Pub Street and Night Market and yes, you should totally try to find an accommodation with a pool.
Trust me, you'll need it after hours of exploring the Angkor temples!!! Some of my recommendations for Siem Reap include: Viroth's Hotel, The Living Quarters Hostel 543, Resort The Privilege Floor and Hostel Funky Flashpacker.
You can make a booking for this and more properties via our Booking.com Affiliate Link of Wonders!
Same price for you and a small pocket money commission for this website of yours.
Sweet deal, uh?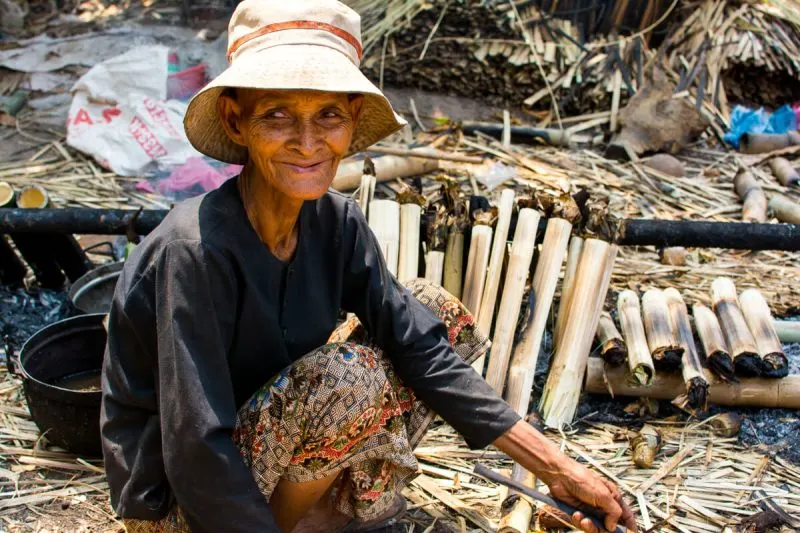 I hope you have enjoyed this article about Angkor Wat, the most important landmark of Cambodia. Don't forget to subscribe in order to get more awesome updates and tips straight to your e-mail!
Have you ever been to Angkor Wat? Would you like to? How crowded was it? Share your thoughts and let me know what you think!
Until next time, my friends!