Learn all about How to take a Day Trip to Taxco from Mexico City here including the best tips to maximize your time in Taxco!
Taxco was my first encounter with the colonial era of Mexico. I remember visiting in my childhood and being fascinated by the architecture, the slow pace of life, the silver handicraft, the white color of all the buildings, and of course, the many colorful piñatas that adorn the streets of this magical town (Pueblo Mágico).
Recently, I had the opportunity to re-discover the magic of Taxco, and trust me, it made me fall in love again with it thanks to the many things to do and see in Taxco.
Interested in learning what to do in 24 hours in Taxco? Read all about it here!
24 Hour Taxco Itinerary: Silver Mines and Cable Cars
The first thing you'll notice after arriving at the bus terminal, it's a tour offering you a free taxi ride to a silver shop. Of course, having traveled to many touristy places before, I knew that this was some kind of scam so I proceeded to ignore him. It wasn't until he gave me a free map and showed me his Government-approved tour credential that I started to believe him.
Turns out that one of the silver shops offers free taxi rides to the north-east part of the city, where you have the moral obligation to look around the silver workshop and take a look at overpriced silver items.
I recommend you to stay there for a couple of minutes before leaving, trust me, you can find better prices in the city center. The reason why I accepted to go to this part of the city (about 20 minutes away from downtown) is because of its proximity to the silver mines and the cable car.
Outside of this silver shop, ask around for shop that has the silver mines. As a point of reference, the store is located in front of a bench that contains a fake skeleton.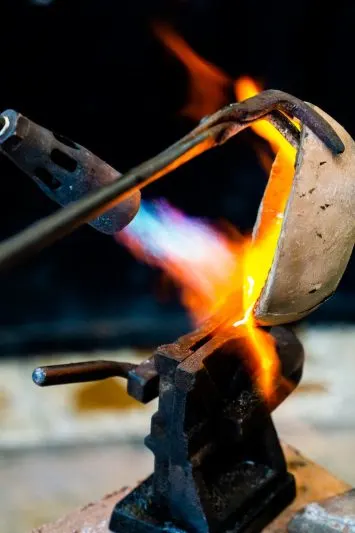 This store built a replica of the silver mines of Taxco and offers free tours (as long as you feign interest in buying some silver products afterwards). It's a nice 5-minute stop before going to the main attraction of this part of the city: The cable car.
For a small fee, you can go all the way up to the Monte Taxco Hotel (the owners of the cable car), where you can enjoy some of the best views of the city. The ride is very bumpy so it's not really recommended for people who might be nauseous.
If you're hungry, you can get some very good (although very expensive) food here. Otherwise, it's time to go down and explore the historical center, my favorite part of the city!
Exploring the Historical Center of Taxco
From the base of the cable car, it's a 40 minutes walk to the historical center. If you're only here for one day, my best suggestion is to take a taxi (2 USD to 3 USD) to get there faster.
Before entering the Santa Prisca Church, the highlight of the city by far, I decided to grab a bite at one of the panoramic restaurants located in high-rise buildings of the main plaza. Look at the view from up there! Amazing, right?
The Church of Santa Prisca is without any doubt the highlight of Taxco. It was built in 1750 in the New Spanish Baroque style.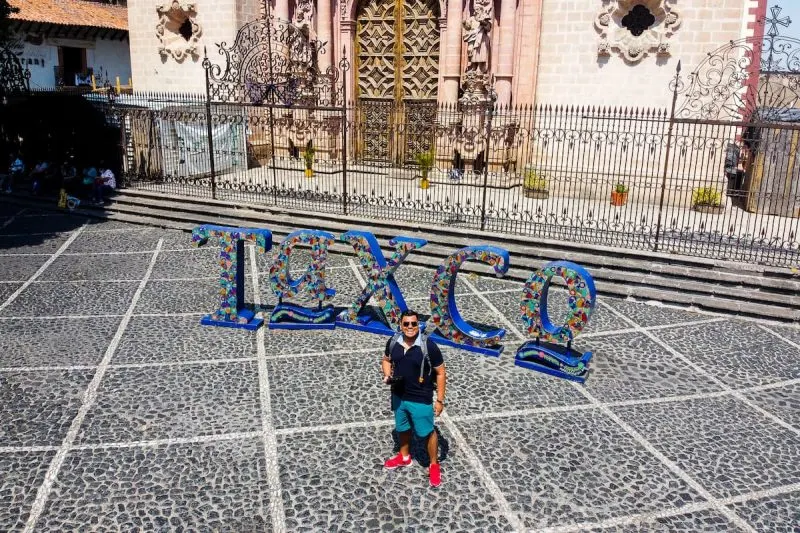 Take some minutes to contemplate the detailed engravings of the main façade and enjoy the peace and quietness of the church itself…at least until a tour guide offers to give you an explanation of the church. Yes, for some reason, the church allows touts to be inside of it offering their services. It's not about the money, right?
Once you're ready you can embark on the last leg of this journey and trek the steepy strets of Taxco in order to reach the viewpoint of Guadalupe. It's only 15 minutes away from the historical center but trust me, the way up is extremely hard for some people.
I really need to hit the gym more often.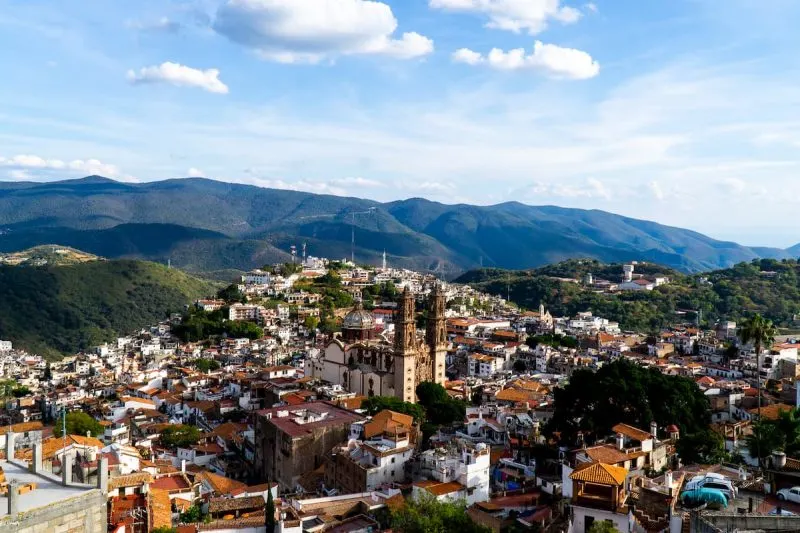 The Folklore and Tradition of Taxco
I was lucky enough to visit Taxco on the 6th of January, the Dia de Reyes (Day of the three wise men). In Mexico, we have this tradition of eating Rosca de Reyes, a traditional bread with sugar and dry fruit on top of it.
Inside there's quite a number of small figurines of baby Jesus, whoever gets it has to buy Tamales for the whole neighborhood/school/family in February the 2nd (Dia de la Calendaria aka Groundhog day). When I was a kid, sometimes I swallowed the figurine in order to avoid spending money.
The most amazing tradition of Mexico, whoever, takes place in Easter (Semana Santa). Each year, to commemorate Jesus' sacrifice, people parade the streets of Taxco dressed as Animas Penitentes (repentant souls) wearing hoods and either carrying big wooden crosses or doing self-flagellation with a whip.
The whole spectacle is extremely gory and bloody and yet, one can find the emotional and spiritual sacrifice of the people who choose to partake on it.
Would you dare to watch it?
How to Plan a Day Trip to Taxco
If you're visiting Acapulco or Mexico City (check out my Mexico City Best Day Trips here), a one day-trip to Taxco is definitely a must, especially since it is very well-connected by bus and the journey takes 4 hours from Acapulco (20 USD) and 3 hours from Mexico City (15 USD).
If you're driving from Mexico City, I recommend you to visit the Grutas de Cacahuamilpa and Mil Cascadas before arriving to Taxco since these two natures of wonders are located North of Taxco.
No matter what route you chose to take, I'm sure you will enjoy a day trip to this wonderful Mexican destination my friends!
You can check Mexico City-Taxco-Acapulco bus schedules here.
Where to Stay in Taxco, Mexico
During my most recent stay in Taxco (April 2021) I was kindly hosted by the Hotel Boutique de Cantera y Plata.
This boutique hotel is located on a majestic hill that overlooks the entire city of Taxco and it has an on-site restaurant (which you can visit even if you're not a guest of the hotel), a pool, and half a dozen suites some of them with an outdoor jacuzzi.
Watching the sunrise and the sunset from your private balcony is going to become the best experience of your Taxco journey. You'll love it!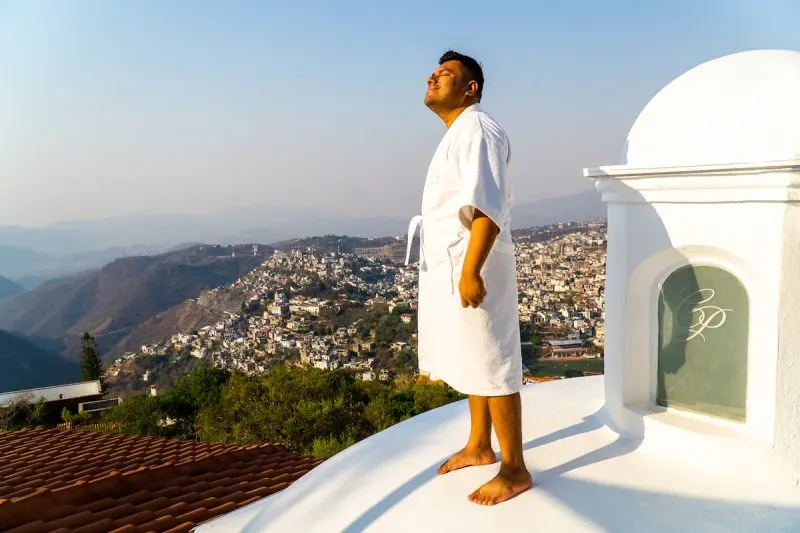 I hope you have enjoyed this article about taking a day trip to Taxco. Don't forget to subscribe in order to get more awesome updates and tips straight to your e-mail!
Have you ever been to Taxco? Would you like to? What were some of your favorite things to do and see in Taxco? Share your thoughts and let me know what you think!
Until next time, my friends!