Read all About The Best Things to Do and see in Taxco including waterfalls, caves, historical sights, pink mole, and more.
Taxco is one of those magical destinations that will forever be ingrained into your mind and heart.
Located near both Mexico City and Acapulco, a day trip to Taxco is ideal if you want to explore a magical town like no other.
But if you decide to spend a couple of nights here, Taxco has many things to do and see that will keep you busy for days.
Here are some of my best recommendations my wonder friends!
The 7 Best Things to Do and See in Taxco
Explore the Historical Town of Taxco Pueblo Mágico
Taxco is one of Mexico's many Pueblos Mágicos (Magical Towns), a special designation given to towns that have a beautiful historical center with the intact charm of olden times.
With this denomination, there are many new regulations when it comes to construction, however, which results in a net positive gain for those interested in traveling back in time to a simpler era.
Even the banks and convenience stores (such as OXXO) are all painted white to fit in with the beautiful aesthetic of Taxco.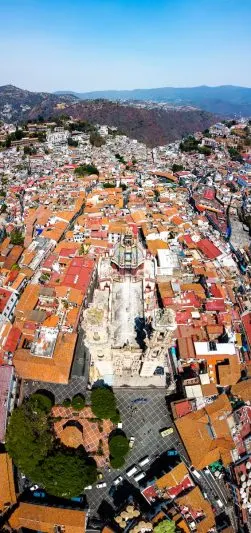 Buy Some Silver Jewelry from the Artisans
Taxco is filled with silver workshops and buying some local made bling bling is the best way to support the local artisans that call Taxco their home.
Prices are very accessible (10 USD for a pair of basic silver coated earrings) and the quality is extremely good.
My friend Trisha even went so far as to buy a wedding ring for her upcoming solo travel journey to Turkey (read: how a deterrent wedding ring works to avoid unwanted approaches while solo traveling).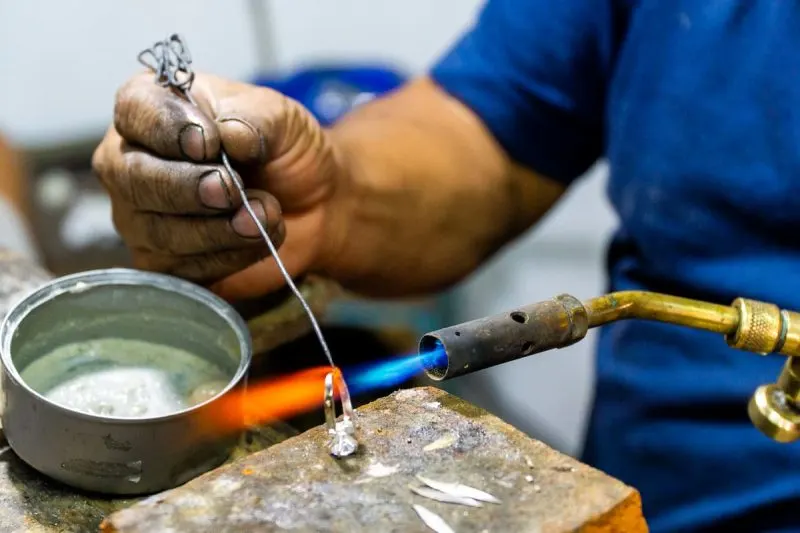 Try Local Dishes such as Mole Rosado (Pink Mole Sauce)
The state of Guerrero has many traditional dishes such as Pozole (and if you ever go to Acapulco, be sure to enjoy the many musical and cultural shows every Thursday).
And while Taxco has Pozole too, the number one specialty is the pink mole sauce. Unlike the black mole sauce, this one is not so spicy but it has an unique taste derived from beetroots and rose petals.
Definitely try it out my wonder friends!
Explore the Grutas de Cacahuamilpa
If exploring caves is your thing, a visit to the Grutas (Caves) of Cacahuamilpa is a must. Located one hour away from Taxco by car, these caves are truly epic!
You can either drive or take an organized tour from Taxco to reach the entrance of the caves where local guides will help you descend while they tell you all about the geological wonders that you'll witness.
Also, you can even spend the night and camp at the Grutas de Cacahuamilpa National Park to be in touch with the nature that surrounds Taxco.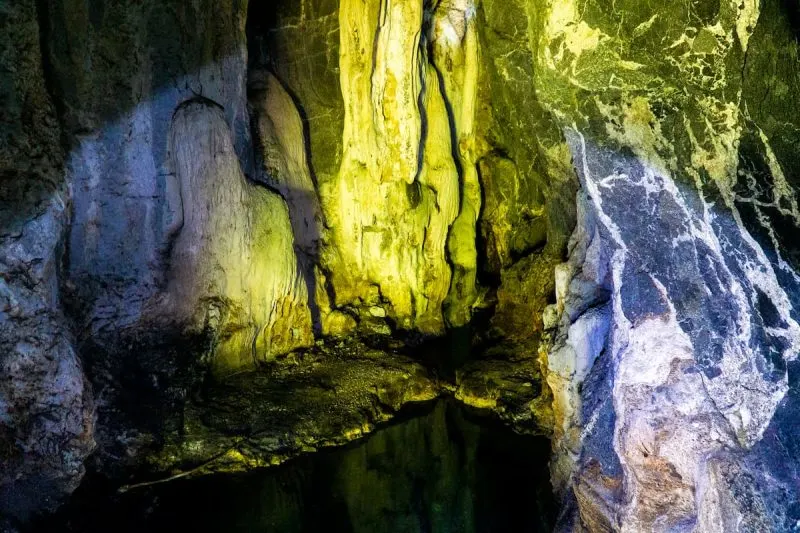 Enjoy the Many Picturesque Viewpoints of Taxco
Thanks to the many hills that are part of the city, Taxco has an endless number of panoramic viewpoints you can enjoy.
The most famous one is the Christ the Redeemer Statue which, similar to its Rio de Janeiro cousin, overlooks the entire city from one of the highest points. The second most popular one is the view from the cable car that goes to the Monte Taxco Hotel.
However, my all-time favorite viewpoint is the one located next to the Parroquia de Guadalupe (10 minutes hike uphill from the city center) from which you can see the view of the photo below. It was one of my favorite things to do and see in Taxco for sure.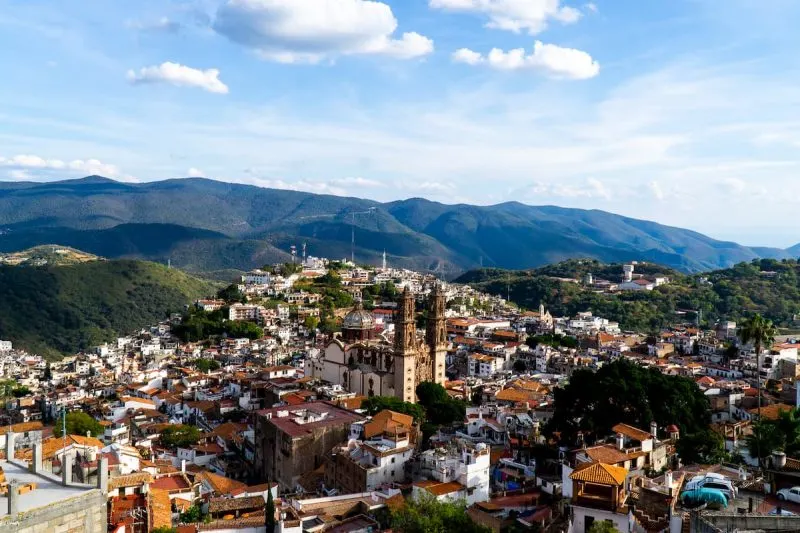 Visit the Pozas Azules and the Mil Cascadas
If the heat is getting too extreme for you, how about jumping into some refreshing pools of water? Taxco is close to not just one but two amazing natural wonders that you simply cannot miss.
In one direction you have Pozas Azules, home to multiple pools of water plus a couple of waterfalls that will kickstart your morning into full gear. In the other direction, you have Mil Cascadas (One Thousand Waterfalls) in which you'll hike downhill to chase waterfalls non-stop.
No matter which one you choose (why not both?), you'll enjoy every second of it. Stay tuned for an upcoming article on Journey Wonders with more details my friends!
Note: Pozas Azules is located 40 minutes south of Taxco while Mil Cascadas is located 70 minutes North of Taxco. Going from one to the other will take you close to 2 hours driving so plan accordingly.
Get Lost Wandering the Cobblestone Streets of Taxco
And last but not least, my favorite thing to do and see in Taxco is to simply walk, get lost and find the many wonders that this town has.
Sometimes, a hunt for churros can turn into an awesome adventure in which you'll find vintage postcards, colorful flags, Aztec dance, and friendly dogs that follow you non-stop. Definitely one of the best things to do and see in Taxco.
Each day in Taxco is a new adventure and you'll love every second of it my wonder friends!
How to Get to Taxco from Mexico City
Taxco is located 178KM South of Mexico City and it will take you close to 3 hours by bus to get there.
Buses from Mexico City to Taxco usually leave from the Southern Bus Terminal Taxqueña and they are priced at about 15 USD one-way.
Intercity bus travel in Mexico is extremely comfortable (A/C, reclinable seats, music/video) although be warned that the movies are dubbed in Spanish and they are usually not the best so be sure to download some Netflix shows in advance.
You can check Mexico City-Taxco and Taxco-Mexico City bus schedules here.
How to Get to Taxco from Acapulco
On the other hand, Taxco is located 245KM North of Acapulco and it will take you close to 4 hours by bus to get there.
Buses from Acapulco to Taxco leave from the Estrella de Oro bus station as well as from the Futura/Costa Line bus station. Both are within walking distance of each other but make sure to double-check your ticket first. A ticket will cost you about 20 USD one-way.
You can check Acapulco-Taxco and Taxco-Acapulco bus schedules here.
Where to Stay in Taxco, Mexico
During my most recent stay in Taxco (April 2021) I was kindly hosted by the Hotel Boutique de Cantera y Plata.
This boutique hotel is located on a majestic hill that overlooks the entire city of Taxco and it has an on-site restaurant (which you can visit even if you're not a guest of the hotel), a pool, and half a dozen suites some of them with an outdoor jacuzzi.
Watching the sunrise and the sunset from your private balcony is going to become the best experience of your Taxco journey. You'll love it!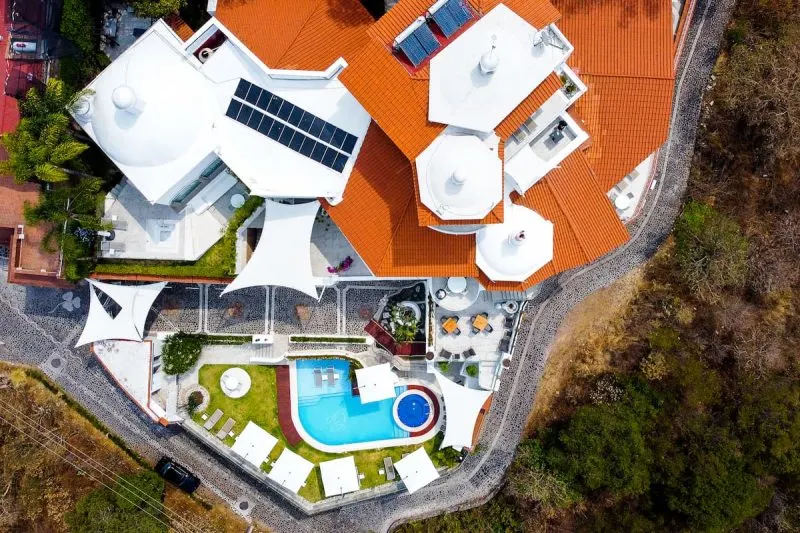 I hope you have enjoyed this article about the best things to do and see in Taxco. Don't forget to subscribe in order to get more awesome updates and tips straight to your e-mail!
Have you ever been to Taxco? Would you like to? What were some of your favorite things to do and see in Taxco? Share your thoughts and let me know what you think!
Until next time, my friends!