Travel to Hampi can be quite overwhelming since there are way too many temples to visit and here's a selection of the best things to do and see in Hampi.
Hampi has hundreds of temples, each one both different and similar from the previous one so choosing which ones to prioritize is a very hard task if you're short in time.
While many of the best places to visit in Hampi can be done in one extensive full day, I really recommend spreading out your visit to Hampi and dedicating at least a couple of days to explore them all at your own pace.
I hope you enjoy this curated selection of what to do and see in Hampi, Karnataka and remember to bring a lot of water, a hat for the sun plus some bananas for the monkeys.
Are you ready to become an Indian Indiana Jones? Come and explore the Best Things to Do and See in Hampi with me!
The 5 Best Things to Do and See in Hampi
The Lotus Mahal and the Royal Complex
Before focusing full-stop on the many temples of Hampi, our local expert recommended for us to start with an overview of the rich history of Hampi by exploring the Royal Complex where Hampi's ancient rulers, the Rayas (equivalent to the Maharajas), used to live.
With a total area of 16 square miles, Hampi was, in the year 1500, the second biggest Medieval Era city of the entire world second only to Beijing.
Today, only the ruins remain but they're really well preserved as you can see in this photo of the splendid Lotus Mahal (Lotus Palace). Who wouldn't love to live here?
After traveling for one week in India on a luxury train (read here all about the Deccan Odyssey Luxury Train), a visit to a Royal Palace was more than fitting for my friend Mel and I. Bonus points if you bring a scarf to help you pose for those Instagram photos!
After spending a few minutes exploring the Lotus Mahal and the Royal Complex it is now time to go full on Temple Hopping my friends.
Who's ready to experience some the best sunset of the entire Karnataka state? This is definitely one of the best things to do and see in Hampi my friends.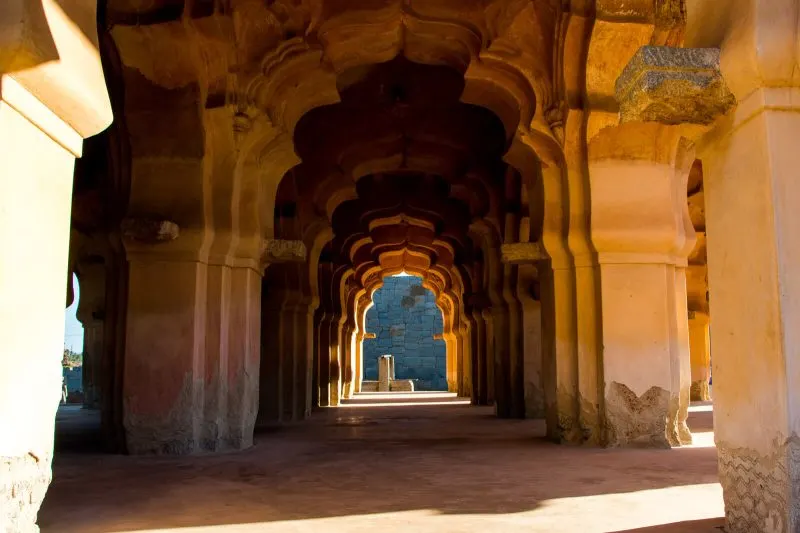 Sunset of Wonders from the Hill in front of Virupaksha Temple
One of the best things to do and see in Hampi is to visit the Virupaksha Temple since this is the only one out of the hundreds of temples of Hampi that is still used as a place of worship.
Daily, thousands of believers visit it with their offerings, and inside you can find monkeys, cows, and yes, even an elephant (more on that later).
For me, however, the main attractive of the Virupaksha Temple is the hill located West of its main entrance. From here, not only can you appreciate a panoramic view of Virupaksha itself but also you can explore the many temples that were built on the hill.
It is also a perfect photo spot although in the afternoon it is REALLY crowded so I recommend you to visit it twice: once in the early morning and then again for sunset.
The reason why the Virupaksha Hill is so crowded? Because it is THE perfect sunset spot of the entire Hampi area: temples, rocks, monkeys and a view of the green landscapes of the Karnataka state. What's not to love?
Be sure to use your bananas wisely in order to reward the monkeys for their collaboration for your photos and don't be afraid of posing right next to them: despite their pickpocket tendencies they're actually harmless and very friendly.
Photographing those cheeky monkeys during Golden Hour is a photographer's dream made true!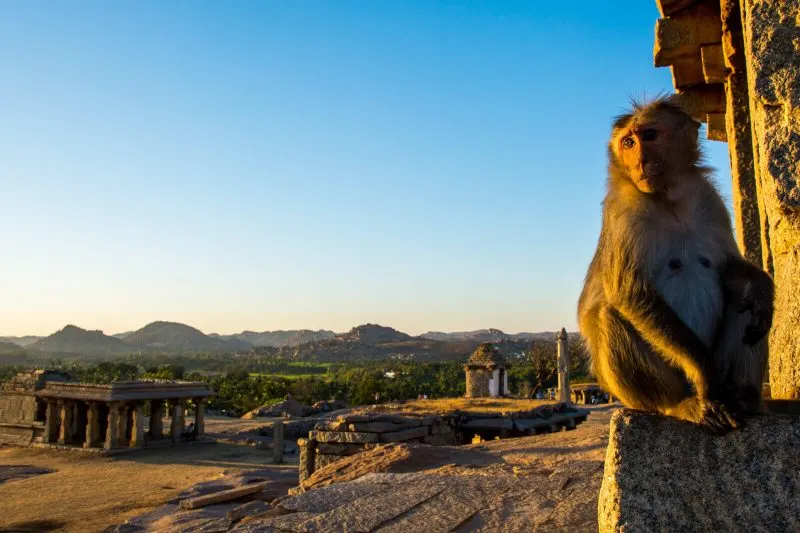 The Stone Chariot Temple, Jewel of India
The Stone Chariot is the most famous symbol of Hampi and quite possibly of the entire state of Karnataka. It is so famous that the 6000 USD Golden Chariot, one of the Best Luxury Trains of India is named after it.
The original chariot was made of wood and was used for ceremonies before it burnt down and was replaced by a stone one that has now been preserved for centuries. And no, you cannot move the Stone Chariot no matter how hard you try my friends.
Those sweaty days at the gym didn't pay out in the end it seems!
The walk to the Vitthala Temple, where the Stone Chariot is located, is a very interesting one since it will take you through the puras (suburbs) of ancient Hampi which were self-sufficient settlements made for worship and commerce (so basically religious capitalism).
Inside Vitthala itself you will also find many intriguing attractions such as the musical stone pillars. Be ready to bring out your inner drummer and start a concert of wonders my friends!
Who else wants to play Queen's Bohemian Rhapsody Hampi-style?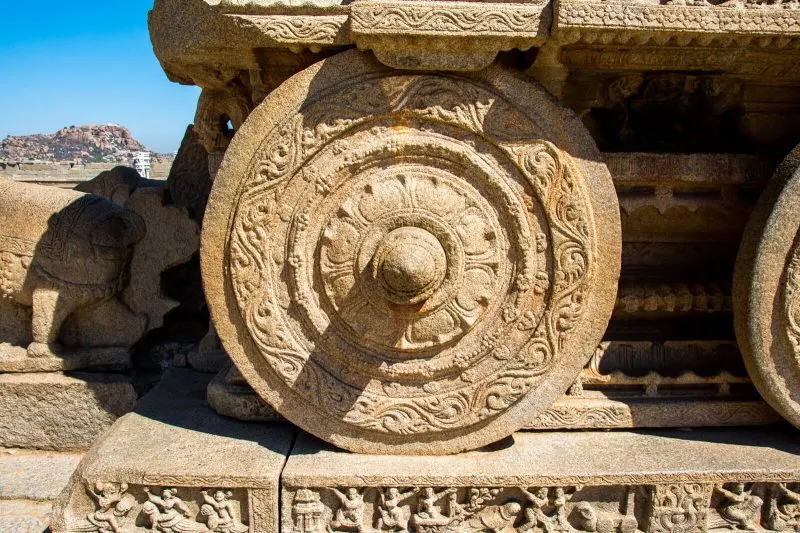 The Many Off The Beaten Path Temples of Hampi
Now that you've experienced the most iconic (and busy) places to visit in Hampi, how about dedicating some time to some of its best off the beaten path jewels?
After all, who doesn't love a photo of themselves without anyone else photo-bombing you in the background?
Too many people at Vittahala Temple? How about going to Krishna Temple instead?
Wanna behold the largest statue in all of Hampi? Look no further than the monolith of Narasimha, a half-lion half-man statue to one of the ten avatars of Lord Vishnu. Am I the only creeped out by the multi-headed cobra behind the statue?
Last but not least, how about taking a walk near the river to find the temples that overlook it? If you're lucky (or unlucky depending on your point of view) you might even spot a crocodile.
And yes, many monkeys sightings are guaranteed everywhere you'll go so be careful with your sunglasses! One of my favorite things to do and see in Hampi for sure.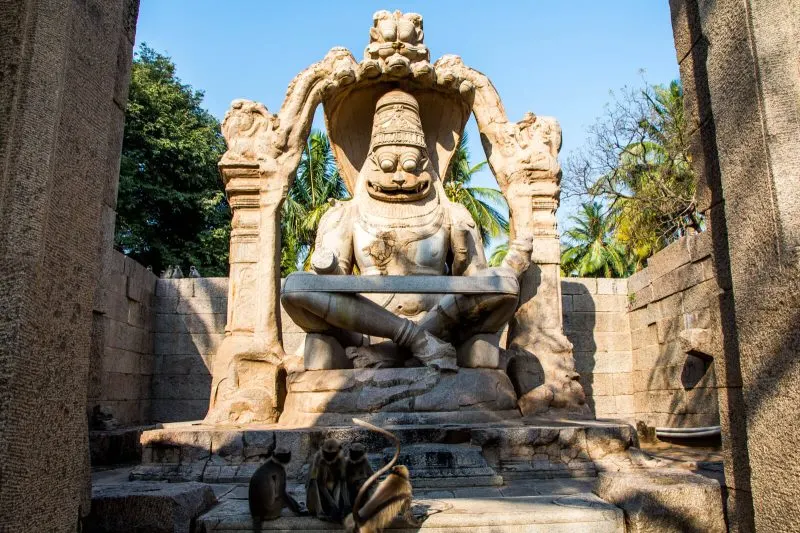 The Breath-taking Nature of the Karnataka State
In the words of my friend Mel, "Hampi feels like the Australian Outback only that with palm trees". And well, I have not been to Australia yet but I can definitely see her point: the contrast of the arid rocks with the green lush plants really make Hampi one of the most unique places in the world.
And yes, stopping in the middle of the road to hike a nearby rock in order to appreciate your surroundings is already one of the best things to do in Hampi don't you agree?
Being one with nature sure pays off!!!
And how about the many animals that you can befriend in Hampi? Well, other than the cheeky monkeys you shall find plenty of colorful small lizards, hungry crocodiles by the river, cows crossing the street, goats roaming in the countryside and yes, even a lonely elephant inside the Virupaksha Temple.
While the ethics of having a domestic elephants have already been discussed here (Things to Avoid in Chiang Mai: Unmasking Animal Abuse), India finds itself in a very complex situation since not only is one of their Gods an elephant (Ganesha) but these temple elephants are actually used for ceremonial purposes only and not for riding.
Is it still unethical? Stay tuned for upcoming articles in Journey Wonders in which we'll examine the many complex issues that you need to be aware of before and during your visit to India.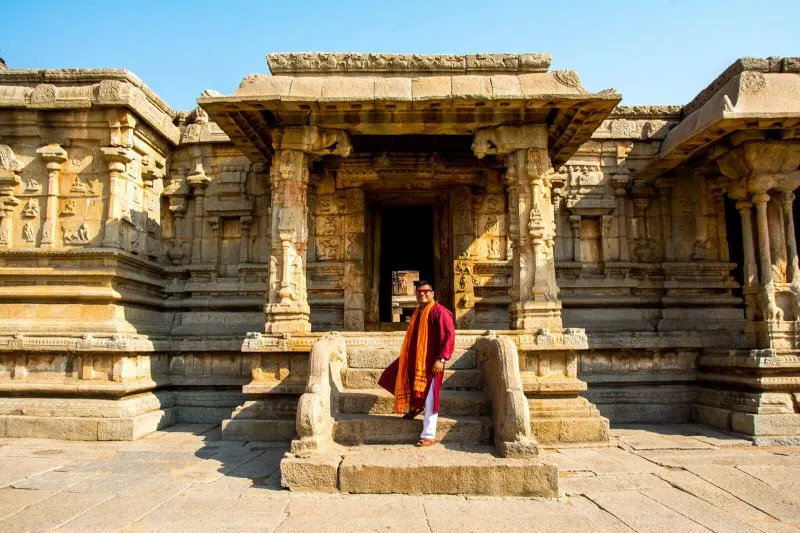 The Best Luxury Hotel and Resort in Hampi, Karnataka: Where to Stay
During my most recent visit to Hampi, Karnataka, I was kindly hosted by the super duper awesome Evolve Back Kamalapura Palace which is located in an exclusive secluded location a few KM away from Hampi itself.
This all-inclusive resort has both villas (with a private pool of wonders each) and spacious luxury suites. The best part? They have their own fleet of jeeps and local experts to help you explore the best places of Hampi like an Indian Indiana Jones learning all of the hidden secrets behind these temples of wonders.
Plus, the food at the resort's restaurant is to die for! Naan bread for life my brothers and sisters!
You can make a booking for this and more properties via our Booking.com Affiliate Link of Wonders!
Same price for you and a small pocket money commission for this website of yours.
Sweet deal, uh?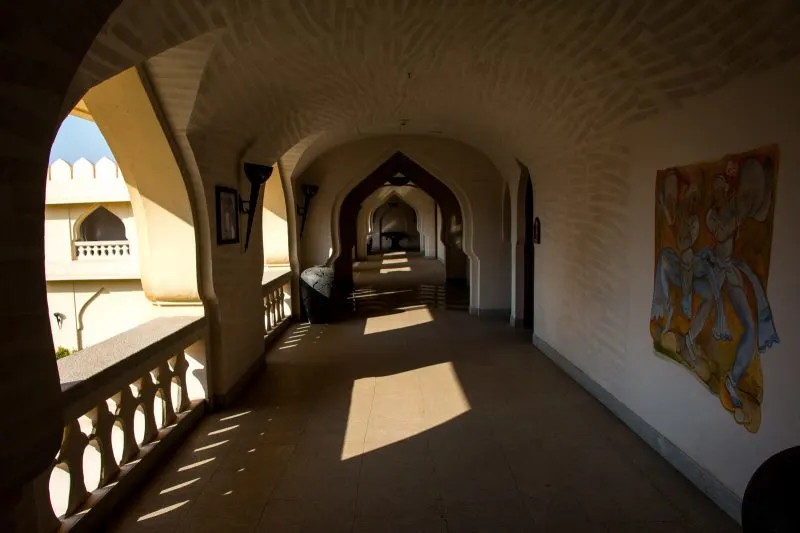 How to Get to Hampi from Mumbai
The train station closest to Hampi is located in the town of Hospet and it is well-connected to the big cities of Bangalore, Hyderabad, and Mumbai.
However, my best recommendation in order to save both time and money (plus gain a little bit of comfort) is to travel by sleeping bus which you can book in person or via Red Bus. There are many daily departures to/from Mumbai for a reasonable price (around 24 USD one-way).
The journey from Mumbai to Hampi will take you 13 hours with some buses stopping at Hampi itself while others will stop at Hospet from which you will have to take either a Tuk Tuk (5 USD, 15 minutes) or a local bus to reach Hampi.
Be sure to haggle (read my best 5 Haggling Abroad Tips) for those Tuk Tuk prices yo!!!
I hope you have enjoyed this article about the best things to do and see in Hampi, Karnataka. Don't forget to subscribe in order to get more awesome updates and tips straight to your e-mail!
Have you ever been to Hampi? What are some of your favorite things to do and see in Hampi? Have you ever experienced an Indian Night Bus? Share your thoughts and let me know what you think!
Until next time, my friends!