Want to travel like a Boss in India? Read all about the Deccan Odyssey Train here and see what Luxury Train Travel in India looks like including information about Deccan Odyssey Prices and Itinerary! Enjoy!!!
When you think of train travel in India, the first thing that comes to mind is probably Slumdog Millionaire's iconic scene of Jamal and Salim traveling on the roof of extremely crowded third-class trains to the tune of M.I.A's Paperplanes (BEST. SONG. EVER right?).
But…would you believe me if I told you that there is a VERY luxurious train in India similar to the iconic Orient Express?
This February 2018 I was among the chosen few to be invited to experience this 6,100 USD experience in India: the one and only Deccan Odyssey Train, one of the 4 Best Luxury Trains of India.
Interesting in finding out how the privileged few travel in India? Read all about it here my wonder friends!
Day 0: Majestic Mumbai, a Peaceful Introduction to India
The departing city of the Deccan Odyssey Train is the city of Mumbai, home to Bollywood (basically, India's answer to Hollywood) and some of the best party spots in all of India. Granted, party was the last thing on my mind after flying from 30 hours from Mexico to India.
If this is your first time to India (in my case, this was my third visit after being to Rajasthan and Ladakh), I really recommend landing in Mumbai as opposed to landing in Delhi: way cleaner, less vehicular noise and no scam artists at all (Tuk Tuks and Taxis will always turn on the meter).
In the words of the locals "Mumbai is the only place in India where the culture shock will be minimal".
However, not everything is perfect and traffic can be REALLY bad in rush hour and sometimes getting to your hotel from the airport will take 2 to 3 hours. Thank Vishnu that my flight arrived at 5am and the traffic was zero!!!
Mumbai is extremely big and there's a clear divide between the North and the South with the South being more posh and exclusive (no Tuk Tuks are allowed in the South for example) with fancy shopping malls, bars and hotels.
Speaking about hotels, our wonderful hotel for the trip, the Trident Mumbai Nariman Point was a worthy introduction to what luxury in India looks like. It is located in Nariman Point in the South of Mumbai and has some of the best sunsets ever overlooking Marina Drive.
Be sure to ask for a room with a view facing West!
Mumbai has a very clear Victorian influence in its architecture (specially in the South of the City) and at some times you will probably think you're actually in Europe. No, seriously!!!
Some of the best known touristy sights of Mumbai include the Marina Drive (specially during sunsets), The Victoria-Looking Train Station where the ending song of Slumdog Millionaire takes place, the UNESCO Heritage Site Elephant Caves, the Gateway of India Monument and Dobi Ghat, the biggest washing place in the entire world.
Not a bad start right my wonder friends?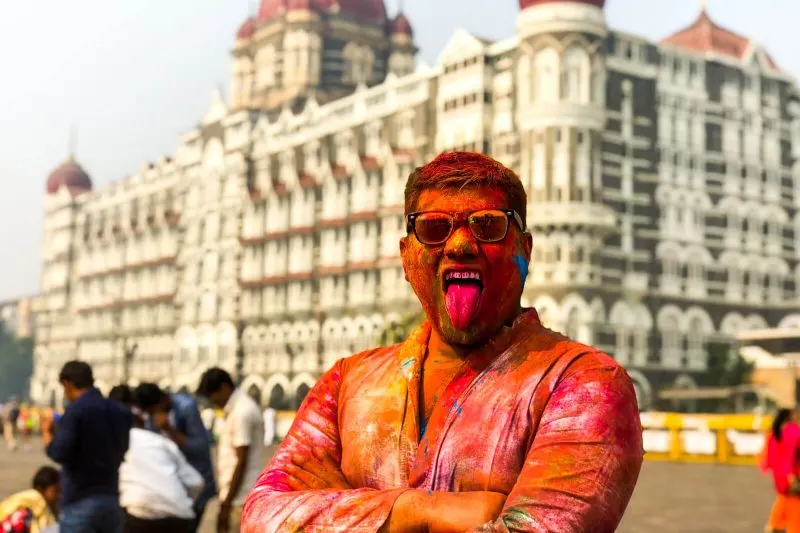 Day 1: All Aboard the Luxury Train of Wonders
The Deccan Odyssey Train has a few different routes with long (7 Nights, 8 Days) and short (4 Nights, 5 Days) journeys. The one that our group did was the "Splendors of Maharashtra" which focuses on some of the best off the beaten path destinations of the Indian State of Maharashtra (plus a very long day exploring Goa's Portuguese Heritage).
"So, Raphael, why is the Deccan Odyssey Train so expensive? I mean, 6,100 USD, really?" well, before we proceed, it would be important to clarify what is included and what is not in the price of the Deccan Odyssey Train:
The price of 6,100 is for a Deluxe Cabin in Single Occupancy.
If you're a couple, the final price is 8,750 USD for the both of you.
There is also the option of choosing a Presidential Suite for 13,210 USD which can host either 3 Adults or 2 Adults an 2 Children.
And no, sleeping on the roof of the train is not permitted my friends so don't try it, alright?
So…what IS included in the price of the Deccan Odyssey Train? Well, for starters…
ALL meals (including all-time snacks) are included in the price and trust me, they are WONDERFUL offering a choice of Western (well, mostly Italian) and Indian cuisine over the three or four courses.
Also, all non-alcoholic drinks are included at all times BUT you have to pay extra if you want something with booze in it. All excursions (including entrance fees and camera permits) are included as well so you don't even need to go to the ATM to get some rupees.
The only two noticeable things that are NOT included in the Deccan Odyssey Train price are tips and alcohol beverages (average price of 8 USD per wine glass).
The price also includes a special surprise on the last day but more on that later….
And well, let me just say that the very first moment I step on the train I immediately fell in love with how amazing the customer service was. Can you believe that each cabin gets their own private butler whose only job is to make sure you have THE best time of your life?
For one week, I learned how it was to be part of the one percent. Did it changed me? Well, not really, but I would say that my presence kind of changed the way of living of the paying passengers (specially since my friends and I are the opposite of quiet and peaceful).
In fact, the paying costumers certainly were very confused and concerned for our mental health after the rest of the Bloggers and I kept on taking photo after photo of the same place.
Sorry for the delays on every single excursion everybody but the 'Gram always comes first yo!!!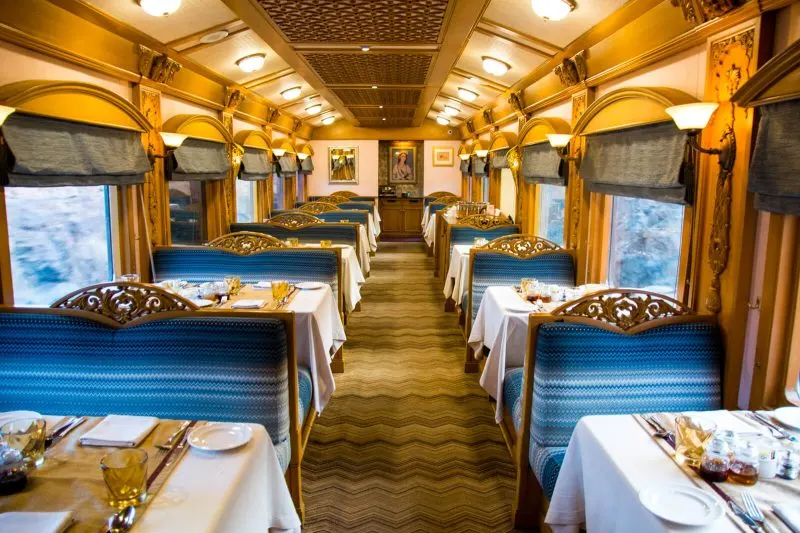 Day 2: Nashik, the Holy City Where Gods Dwell
After spending the first night onboard the Deccan Odyssey Train inside my very comfy private cabin (it has its own ensuite toilet, closet, HDTV with pre-loaded movies and a desk) we reached the first stop in our itinerary: the Holy City of Nashik.
My first impression was that Nashik looked a lot like Varanasi: burning ghats (for dead bodies), a river where the faithful take a daily shower and at least one temple in every corner.
The main difference? Unlike Varanasi, Nashik is very off the beaten path and we were the only foreigners to visit it that day.
Nashik is also an EXTREMELY clean city (not only by Indian standards) and traffic was non-existent which allowed us explore all of it by foot in the middle of the roads without risking being run over by a Tuk Tuk.
In many ways, Nashik was our first glimpse to the real Maharashtra State: friendly locals always willing to share an honest smile, colorful clothes and buildings, many interesting temples and yes, roaming cows!!!
After spending a few days in the cosmopolitan city of Mumbai, Nashik was definitely a perfect choice for our first stop with the Deccan Odyssey Train.
After taking endless photos with the locals and holding dozens of Indian babies doing our best impression of Lion King's Rafiki (don't ask, it's a long story…), we then proceeded to the happiest place on Earth.
No, not Disney you innocent ones…we headed to a local winery for some epic Wine O' Clock tasting in the middle of the day. Who ever said that you cannot mix business with pleasure?
Suffice to say, that day we slept like babies on the train as we slowly made our way to our next destination: The UNESCO World Heritage Caves of Ellora, a Buddhist wonder from more than 2000 years ago.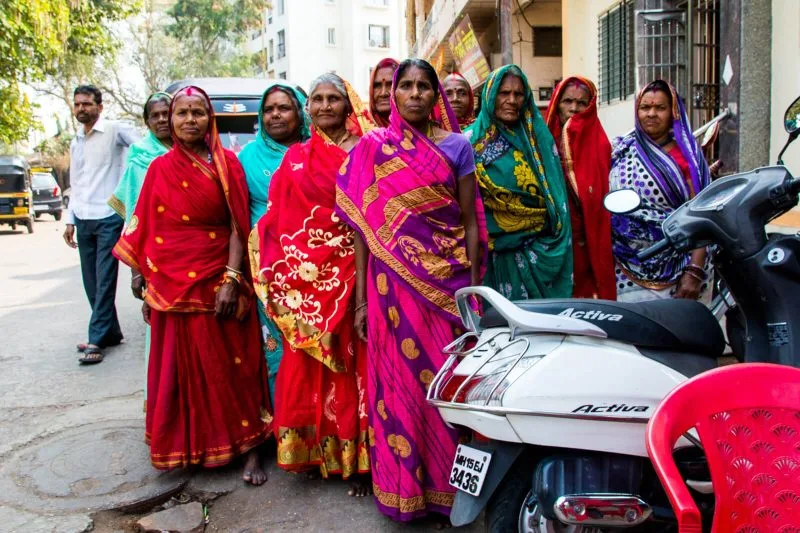 Day 3: Ellora Caves, India's Best Kept Secret Wonder
The second stop of our Deccan Odyssey Train Itinerary was probably the most beautiful one of them all but at this point I would like to clarify something: if you're not a fan of being inside a vehicle all the time, then this trip is probably not for you.
On this third day, we went from being inside a train for endless hours to being inside a bus for 3 hours (roundtrip from train station to Ellora Caves) to being outside breathing fresh air for just 90 minutes before it was time to head back inside a vehicle.
But trust me, the Ellora Caves made all this vehicle claustrophobia very well worth it! I mean, look at this view!!!
Upon arriving to the Ellora Caves, we were giving a choice: follow the guide to hear an explanation of some of the most significant monuments or explore on your own to your heart's desire. As you can imagine, I chose the latter alongside some of my fellow Rebels of Wonders.
The first thing we did? Climb the rocks in order to get a panoramic view of the entire Cave Complex. The details are truly mindblowing and it's incredible to think that they date back to over 2000 years ago!!!
Even better, knowing that it is still an active site of pilgrimage for Buddhist and Hindus alike (in Hindu religion, Buddha is considered to be one of the many re-incarnations of the God Vishnu so Buddhism fits perfectly with Hindus' beliefs).
PS. If you wanna know more about the specifics of Buddhist Caves, check out my article about the Dambulla Cave Temple of Sri Lanka my friends.
If you're short on time like we were, you probably won't be able to go inside all of the Ellora Caves so I recommend you to prioritize the most detailed one in terms of art: Cave X (Ten) located to the right of the main entrance (instead of going up the hill, just keep going to the right).
Finally, don't forget to ask to take photos with some of the friendly locals that visit the Ellora Caves as a pilgrimage. This site doesn't see a lot of foreign tourism because of its off the beaten path status so chances are that you will probably be the only foreigners on any given day.
Just say cheese and smile!!!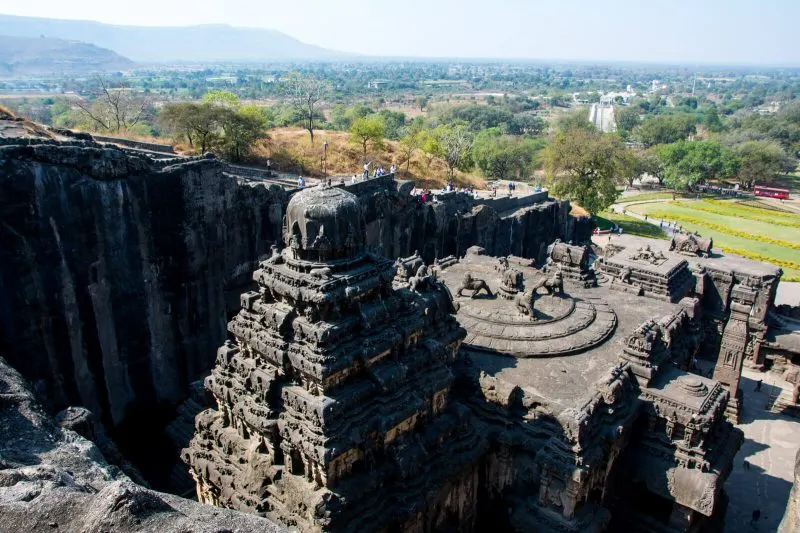 Day 4: Caves, Caves and More Caves of Wonders at Ajanta
The reason why I recommend prioritizing the exterior of the Ellora Caves rather than the interior is because the next stop on the Deccan Odyssey Train itinerary is all about the interior beauty: The Ajanta Caves of Wonders!!!
With superb carvings and a killer artificial lighting, the Ajanta Caves are some of the best examples of Buddhist art and you can easily spend countless of hours admiring them.
Recommendation of Wonders? The very first moment you arrive, run to the last cave and make your way down from there. This way you will beat the crowds and take interior photos without anyone in them.
Getting to the Ajanta Caves from the train stop will take you close to 2 hours on your tour bus (the Deccan Odyssey Bus has A/C, cold water and snacks plus you will have 2 seats for yourself most of the time) after which you'll have to change to a local bus for the last 5 KM or so.
Ajanta is easily triple the size of Ellora so wear comfy shoes and be ready to walk uphill a lot (if you're physically unable, you can hire a "Royal Chair" and be carried uphill by 4 Indians although this isn't included in the price).
And speaking of Indians, be ready to take hundreds of photos with them, especially if you're…let's say, unique looking. They sure love taking photos with foreigners!!!
The time you'll have to explore the Ajanta Caves is close to 2 hours and a half which might seem enough but actually isn't if you want to see them all so you really want to prioritize the very last one (pictured below). Trust me, it's the coolest one.
As a final advice, be ready to sweat a lot and bring plenty of water since it is easy to get dehydrated in India. In case you need to refill your water bottle, there is a station to do so inside the Ajanta Cave Complex (or you can just get a new one at the exit).
Oh, and be aware that sweat is very hard to Photoshop out of your photos so plan accordingly.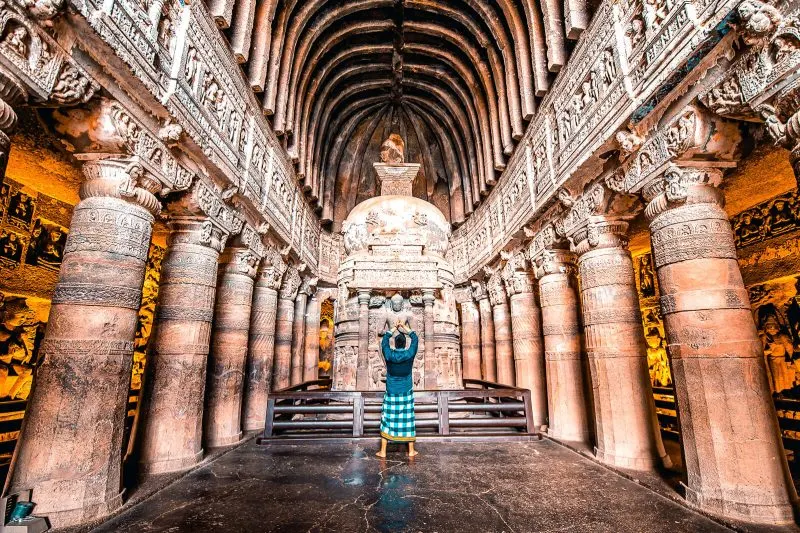 Day 5: Kolkaphur, a Shopping City of Wonders
Our fifth day of the Deccan Odyssey Train took place on Valentine's Day and surprisingly (or perhaps not THAT surprisingly), it isn't celebrated as much in India much less in the small town of Kolkaphur.
That being said, I decided to perform my role as an Instagram Husband to my new friends Anna and Hanna (which I kept pronouncing as Juana thanks to my Latino accent) so we split from the group for a few hours to do the least favorite activity of the average male human: shopping.
Luckily for everyone, I'm everything except average so I had a really good time exploring the markets of India searching for souvenirs, trinkets and of course, sarees (Indian traditional female dresses) for the Girls of Wonders!
After a big shopping spree in which each one of us got a saree (in my case, I bought it for my mom), we took a Tuk-Tuk and re-joined the group for an epic cultural performance, this time showcasing the music of Maharashtra after which we proceeded to the main square of the city.
Here, they gave us some free time to explore on our own before returning for the second cultural performance of the day so of course we went on to take hundreds of similar yet different shots of the Saree of Wonders after we finally found the most photogenic back alley for the Golden Hour.
Being an Instagram Husband ain't easy!!!
In the end, we made our way back to the main square to watch an impressive demonstration of sword fighting, extreme yoga, fire breathing and other skills that are known to the people of India after which we all went back to the Deccan Odyssey Train for our non-Valentine dinner.
When it comes to Valentine's Days abroad, this one sure ended up being a rather memorable one uh? I mean, it's not every year that you get to spend it on a 6,100 USD Luxury Train in the company of some of your best travel friends right?
PS. Fun Fact of Wonders: did you know that in India, male friends can hold hands in public as if they were a couple but without actually being a couple? It's cute!!!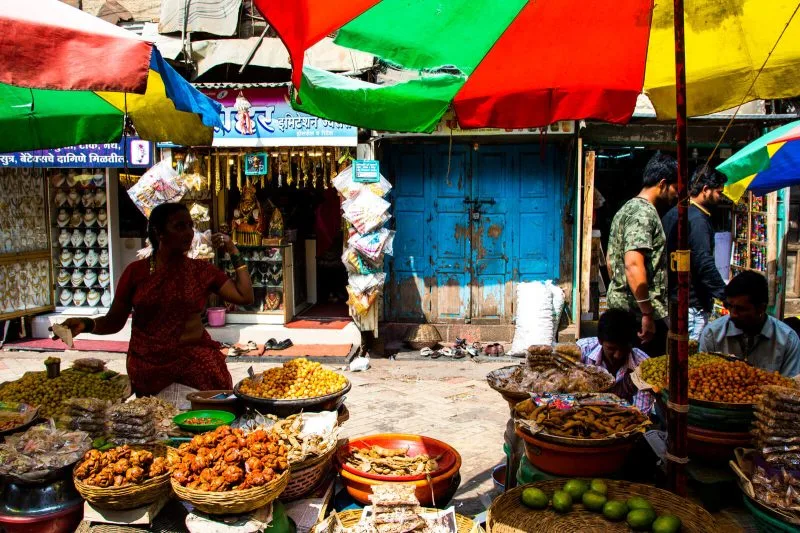 Day 6: Exploring the Churches and Beaches of Goa
The next morning, we arrived to the Indian State of Goa, a beautiful destination known for its beaches and hippie way of life. Unfortunately, our Deccan Odyssey Train Itinerary didn't include any beach or party time but instead we ended up exploring Portuguese churches and buildings.
Now, don't get me wrong: Goa's Portuguese churches and buildings are EXTREMELY beautiful…but would you consider going to the Riviera Maya to explore Spanish churches and buildings? Or would you prefer some beach time?
That being said, exploring some of Goa's off the beaten path attractions sure was rewarding such as this beautiful rice plantation we found on the way to a colonial Portuguese mansion. Rice rice baby indeed!!!
After visiting the Portuguese Churches of Goa, we headed to a spice plantation for lunch from which my Rebels of Wonders (Anna, Hanna, Jones, Pedro) and I hatched an escape plan: let's hire a taxi and go to the beach, each let's go get away!!!
Granted, it wasn't the best beach in Goa (our driver told us it was the 7th best…in Goa, not even in all of India) but we sure had a lot of fun eating pineapple slices, waiting for the sunset and of course, taking photos of me wearing a flower crown.
Because when in Goa…
After a few minutes in which none of us actually went inside the water, we re-joined the main group on a very interesting tour throughout the Portuguese district of Panaji in which we tried some delicious snacks and got to know how the local people of Goa live like.
Then, we proceeded back to the Deccan Odyssey Train while running against the clock because, as usual, our group took its sweet time taking endless photos (sorry, paying costumers, some of us Travel Bloggers actually do have a diagnosed selfie addiction).
It was the end of a very long yet peaceful day at Goa. I LOVED it!!!
Day 7: Sindhudurg, a Peaceful Last Stop and a Bollywood Party
Our last stop in our Deccan Odyssey Train was THE most off the beaten path place of all of Maharashtra: Sindhudurg (yes, I double dare you to try to pronounce THAT): a beautiful region with pristine lakes, ancient fortresses and amazing food!!!
Also, since laundry onboard the train was kind of expensive for my budget, I used this opportunity to try and shop for a shirt (100% pure cotton shirt for 5 USD? AWESOME!!!) and to get a 1 USD haircut.
Walking by this peaceful lake on my own sure was an amazing experience: no cars, no people, no cows, just me and nature.
Among the highlights of the day was the puppet show based on the Hindu epic story of Ramayana which is extremely confusing to explain here thanks to its endless number of characters that makes Game of Thrones' huge cast look small by comparison but let's just say that it was quite good.
And speaking of Game of Thrones, the lunch we had in the huge dining hall of an ancient Portuguese influenced fortress sure brought back some flashbacks to Westeros, specially since we were joined by the local Queen and King of Sindhudurg.
No, I'm not making any of this up, pinky-promise!!!
In any case, once we returned to the Deccan Odyssey Train, I realized that my quest to buy a new shirt was completely in vain: remember the surprise that was included in the price of the train that I mentioned a few thousand words ago?
YES!!! They gifted us some epic Indian traditional clothing (kurtas for men, sarees for women) for an unforgettable Bollywood Night onboard the train in which EVERYONE, including the waiters, butlers and staff joined to show off their best dance moves.
What an epic ending to a week of luxury onboard the Deccan Odyssey. BEST. TRAIN. EVER!!! JAI HO !!!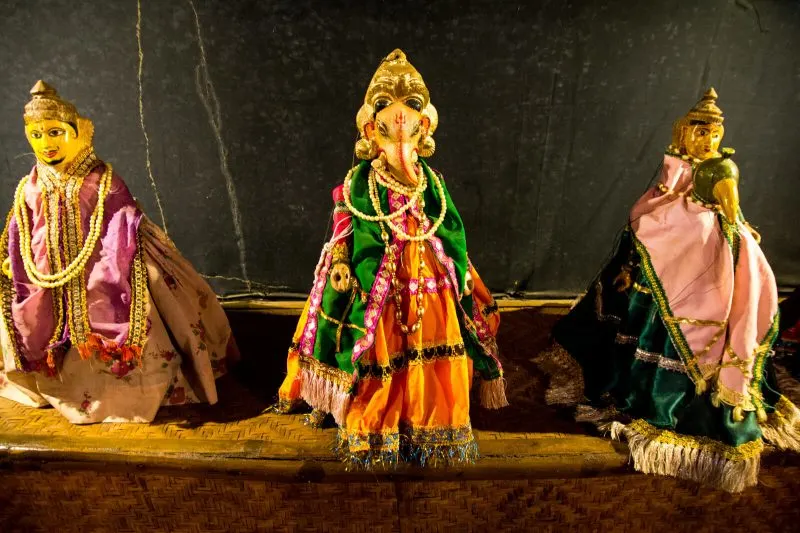 Is the Deccan Odyssey Worth the Price?
So, after spending one amazing week exploring the Splendors of Maharashtra onboard the Deccan Odyssey, the million dollar (well, 6,100 USD) question remains: is it worth the hefty price tag?
And before I try to answer it, I would like to make some clear points which will help you make an informed decision:
Out of the 4 Luxury Trains of India (Maharajah Express, Palace on Wheels, Golden Chariot, Deccan Odyssey), the Deccan Odyssey is the only one that goes to EXTREMELY off the beaten path destinations.
Going on your own to Varanasi, Jaipur, Hampi or the Taj Mahal (just to name a few examples) is super easy, cheap and hassle free. Going on your own to Ajanta or Ellora is not exactly hard or expensive but it IS very tedious (local train + local buses + more local buses and trains).
The Deccan Odyssey's Splendors of Maharashtra Itinerary is aimed at people that have already been to India's main sights before and are looking for a hassle-free (and luxurious) way of seeing some of the off the beaten path gems.
The main target audience is people aged 65+ and families with kids who like to travel in a tour group and who have enough disposable income to splurge close to 8,000 to 10,000 USD in one week.
Honestly, none of us Travel Bloggers invited to the Deccan Odyssey Train would have been able to afford it on our own and yet, we really do appreciate the value and the differential advantage of the product as well as its magnificent costumer service.
So…is the Deccan Odyssey Train worth the price? Definitely!!! It is one of those once in a lifetime experiences that you need to do at least once in your lifetime my wonder friends!
You will NOT regret it!!!
And yes, the train journey of wonders might be over but the Indian adventures continues my wonder friends!!! You see, once the train journey was completed, I embarked on a individual travel trip to the South of India with my parter in crime Melissa from A Broken Backpack.
For two weeks we explored the best sights of Kerala and Karnataka including the charming fish town of Kochi, the Backwaters of Kerala at Alappuzha, the tea plantations at Munnar, the hustle and bustle of Bangalore and finally, the monkey abundant ruins of Hampi (sunset monkey for the win yo!!!).
Stay tuned for further adventures of wonders in this humble website of yours in the upcoming weeks and I wish you all a very wonderful day!!!
Last but not least, don't forget to use our Booking.com Affiliate Link of Wonders for making hotel reservations. Same price for you and a small pocket money commission for this website of yours. Sweet deal, uh?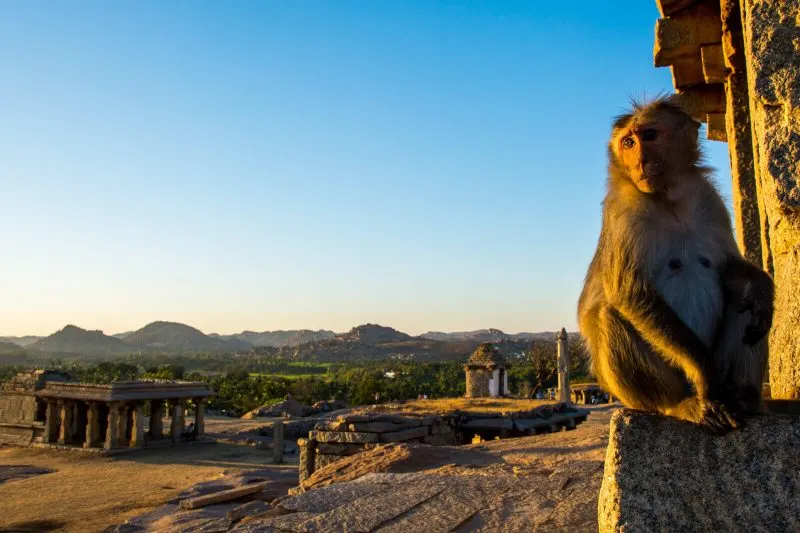 I hope you have enjoyed this article about the Deccan Odyssey Train in India. Don't forget to subscribe in order to get more awesome updates and tips straight to your e-mail!
Have you ever been to India? Would you like to experience one week onboard a luxury train? What other places in India do you recommend? Share your thoughts and let me know what you think!
Until next time, my friends!

Disclaimer: This article was brought to you in collaboration with the Ministry of Tourism of India. All opinions are my own.