Interested in knowing what happens behind the scenes during Christmas in Switzerland? Read all about it here my wonder friends!
Ho-Ho-Ho, my Wonder Friends! Miss me?
This December has been the best one of my life yet and enjoying Christmas in Switzerland was the highlight of a wonderful month filled with endless adventures plus a steady supply of hot mulled wine.
Interested in knowing what happens behind the scenes during Christmas time in Switzerland? Read all about it here my wonder friends!
5 Interesting Things About Christmas in Switzerland
A White Christmas is Not Common
Having celebrated most of my Christmases in Acapulco, Mexico (plus two in Glasgow, Scotland), I never really had the chance to enjoy a White Snowy Christmas so I was hoping that this year would be different.
The problem? Even though snow can be seen and enjoyed high in the mountains, it is rare to find it in the lower altitudes places where most people live.
That being said, there's nothing wrong with a Green Christmas when you have beautiful landscapes like this one, right?
Christmas Markets are Wonderful
Christmas Markets originated in Europe during the Middle Ages and have been a staple of Christmas ever since. Feeling hungry? How about a culinary delight of grilled sausages with rösti (hash brown potatoes). Feeling cold and thirsty? Have a sip of hot mulled wine (Glühwein) and forget all your problems!
Some of the best ones in Switzerland include the Christmas Market at Montreux Riviera (including Santa Claus flying over Lake Geneve), the indoor Christmas Market at Zurich train station (perfect for those cold rainy days) and the massive Christmas Market at Basel (it's so big that exploring every single stall will take you hours).
In Switzerland, Christmas Markets usually start in November and go on until the 24th of December (although in smaller towns, Christmas Markets only take place for a limited number of days). Who's ready for another round of mulled wine?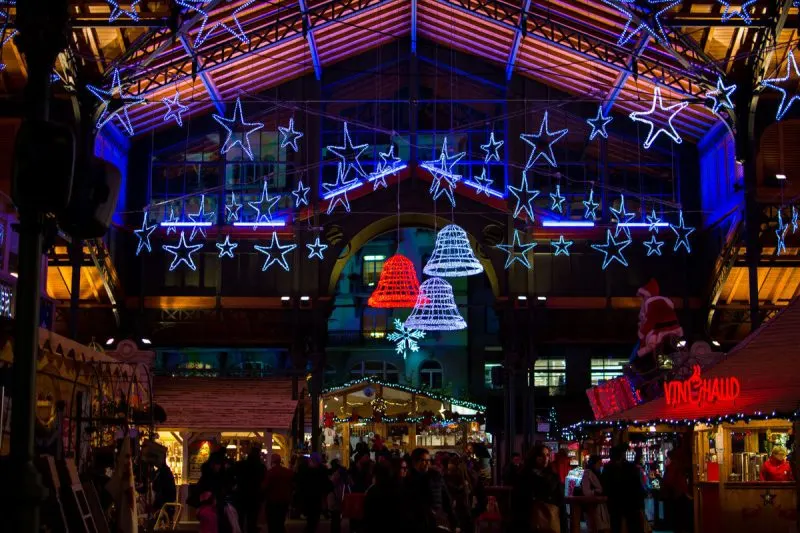 Days are Shorter but Sunsets are Nicer
Starting in Autumn and going all the way until Winter, days in Switzerland become shorter and it is not uncommon for small towns to never get any sunlight at all for a few weeks thanks to the shadows cast by the great mountains of the Alps.
However, the silver lining of the situation is that the sunsets are more magnificent than during the Summer (click here to read all about Summer in Interlaken) and you can enjoy a wonderful palette of orange, red and pink shades as the last rays of the sun illuminate the Alps.
Can you imagine enjoying the perfect Christmas dinner right next to a view like this one? And speaking about dinner…
The Swiss Eat Fondue Daily
Fondue (melted cheese in a communal pot) is the number one favorite dish for Swiss during Christmas and tradition has it that the host should include the acronym "FIGUGEGL" (fondue is good and gives a good mood) in the dinner invitations.
Other traditional Christmas Eve meals include ham with scalloped potatoes as well as a walnut cake for dessert. Please do take note that the main Christmas dinner occurs on the 24th (as opposed to the UK in which the dinner is had on the 25th).
Finally, a hot cup of mulled wine (Glühwein) and good music ("Believe" by Josh Groban is my all-time favorite Christmas song) are always must. By the way, did you know that you can buy an entire liter of mulled wine at the supermarket in Switzerland for less than 2 Swiss Francs?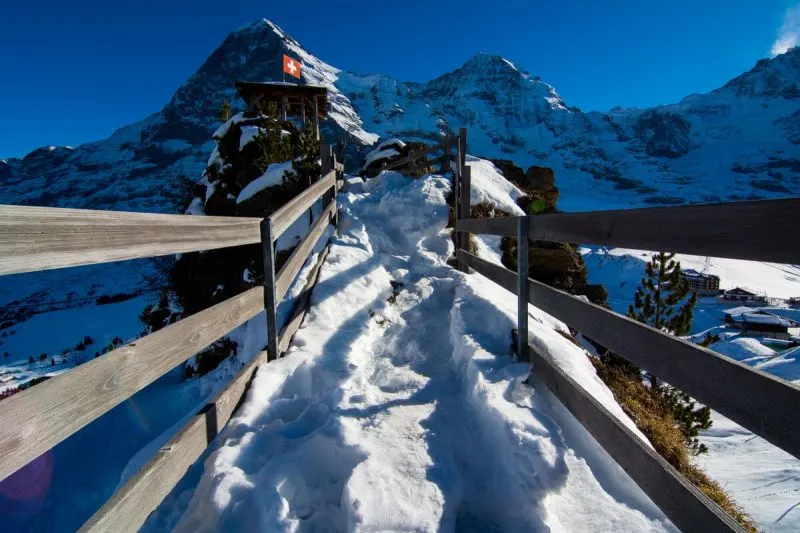 Santa Claus has an Evil Sidekick
Each year, Santa Claus (called Samichlaus here) gives presents to the kids not once but twice: first on December 6th (St. Niklaus Day) and again on Christmas Eve to reward the good children all around the country.
However, Santa Claus is not alone in Switzerland and will always be seen with his nasty evil companion called Schmutzli (think of him as a mix of Chewbacca and the fat guy from Lost) who will take care of the naughty kids who have misbehaved.
To make matters weirder, you'll be surprised that Santa Claus will be seen without his reindeers, and in their place, he will have llamas and donkeys to carry the presents.
Yes, llamas in Switzerland. How cute is that?
Christimas in Switzerland's Traditions
Other than the Christmas' Eve dinner and the visit from Santa Claus, there are more cultural traditions that take place in Switzerland during the last month of the year such as the advent calendars (some towns actually use real houses' windows) and the processions of villagers with masks and cowbells banishing the evil spirits away.
And yes, even if you're a grown-up who doesn't believe in Santa Claus anymore, let me assure you that the magic of Christmas in Switzerland might probably make you change your mind yo!
Last but not least, don't forget to use our Booking.com Affiliate Link of Wonders for making hotel reservations.
Same price for you and a small pocket money commission for this website of yours.
Sweet deal, uh?
I hope you have enjoyed these 5 fun facts about Christmas in Switzerland. Don't forget to subscribe in order to get more awesome updates and tips straight to your e-mail!
Have you ever celebrated Christmas in Switzerland? Would you like to? Share your thoughts and let me know what you think!
Until next time, my friends!