Every destination of wonders has its human side and now it is time to explore the human side of Kerala, God's Own Country.
The State of Kerala, located in the South of India, is one of the most wonderful destinations you can find in the entire Indian Sub-Continent.
One could easily spend hours describing the amazing natural landscapes you can find there, from the jungle-like backwaters of Alappuzha to the beautiful tea plantations of Munnar.
But how about the people of Kerala? Well, I hope you will enjoy this article about the Human Side of Kerala my wonder friends! Here we go!
Kerala, Human by Nature: The People of Kerala
Upon arriving to Kochi's International Airport (which is actually outside of Kochi City proper, but that's a story for another day), my friend Mel and I were already blown away by how different the people of Kerala are when compared to the ones in Delhi or Mumbai.
Friendly faces that are always happy to engage with you in conversation but without any hidden intention behind said interactions. It was almost as if we had just arrived in a completely different country.
And once we arrived to Kochi itself after a surprisingly pleasant Tuk Tuk ride, we saw a completely different way of living, dressing and eating (Dosa Team Forever!!!).
Women were wearing beautiful silk sarees while men were wearing dress shirts and something that looked like a male skirt. Suffice to say, after wearing a kilt in Scotland I was more than happy to be like a local and purchase a longgy, that awesome male skirt that everyone in Kerala uses.
They're really comfy for everything except for riding a scooter!!!
But enough about me, this is, after all, an article about the wonderful humans of Kerala so it's time to switch back to them and their big heart. If there's one word that can best describe the humans of Kerala is family.
Men work countless hours under the harsh sunlight to provide for their family while women devout their life to make sure that their kids and husband are never wanting of anything.
Seeing our boatman greet his wife and kids by the river's village in the middle of the Kerala Backwaters was an amazing display of deep love and I really wish that everyone could experience said warm feeling at least once in their lifetime.
Love is the number one solution to all of life's problems and it really shows when you see how happy the people of Kerala are, you can even feel their own inner peace just by talking a few minutes with them.
Because, after all, when you live in such a wonder of nature with your family, what's not to love? Kerala was blessed by Nature and then made great by the humans that inhabit it.
During our short week of exploring Kerala, my friend Mel and I experienced some of the best human treatment we've ever seen in our month of traveling in India.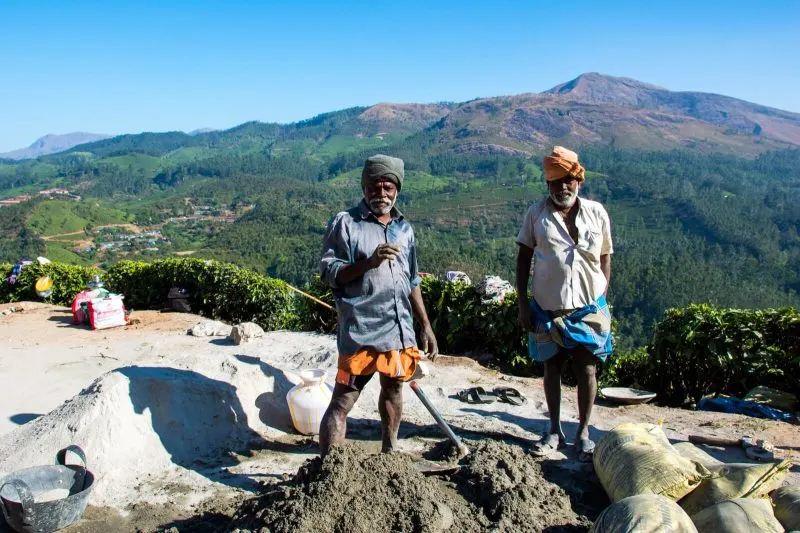 From the Tuk Tuk driver that drove us around the tea plantations to the friendly workers that we encountered during our hikes, every person was a new smile and a new story.
And I mean, after Delhi one is usually ready to write off the entire country but trust me, Kerala is its own separate country, if not politically at least spiritually. There's a reason why people call it God's Own Country, you know?
If you're on the fence about visiting India as a whole, why not focus on visiting Kerala first? The human, cultural and adventure experiences you'll have in this beautiful region of the world will change your mind for sure!
Thank you Kerala for the amazing good times. Thank you humans of Kerala for your wonderful spirit. Thank you India for the unforgettable experiences.
Thangalkku nanni, Kerala. Thangalkku nanni…
I hope you have enjoyed this article about the Human Side of Kerala. Don't forget to subscribe in order to get more awesome updates and tips straight to your e-mail!
Have you ever been to Kerala, India? Would you like to? What were some of your best Kerala experiences? Share your thoughts and let me know what you think!
Until next time, my friends!
Disclaimer: This article was brought to you in collaboration with Kerala Tourism. All opinions are my own.