Hello my wonder friends, how have you been?
With travel re-starting this year, Greece is becoming one of the best destinations for all travelers looking for a week filled with wonderful sights!
And what better way to explore the Wonders of Greece than doing so aboard your own private luxury yacht.
Here are my Best Easy Steps to Plan Your Yacht Week in Greece! Enjoy!
Plan Your Yacht Week in Greece #01: Determine Your Budget
I won't sugarcoat it: luxury yachts, as the name implies, are luxury products and therefore they aren't exactly cheap.
However, there are different price ranges that fit all budgets. They can start as little as 20,000 euros per week and go up to 200,000 euros per week and beyond.
If you ask me, it is totally worth it if you split the cost between your friends since the more the merrier!
Plan Your Yacht Week in Greece #02: Check How Many Cabins You'll Need
The size of your party is one of the most crucial things to consider when booking a luxury yacht for your Greece journey. You obviously want to have a fun team but consider the number of cabins before booking.
Some yachts have a maximum number of passengers due to the number of cabins available so bear this in mind when booking your yacht of wonders.
Ideally, you don't want more than two passengers per cabin so plan accordingly. After all, sharing is caring but not at the cost of your privacy if you know what I mean!
Plan Your Yacht Week in Greece #03: Choose Your Greek Itinerary
Greece has 227 islands each with its own charm and interesting sights to visit so trimming down your itinerary to just a few to visit in one week sure is a gargantuan task so here are my best recommendations.
Ideally, you want to spend two weeks in Greece in which you'll visit inland attractions such as Athens and Meteora during your first week and the Greek islands during your second week.
Some of the best Greek islands include Santorini, Zakynthos, and Mykonos. Their close proximity to each other makes it so you can include at least 3 or 4 islands in your one-week luxury yacht itinerary.
Whichever islands you choose, your trip will definitely be an unforgettable one, my wonder friends.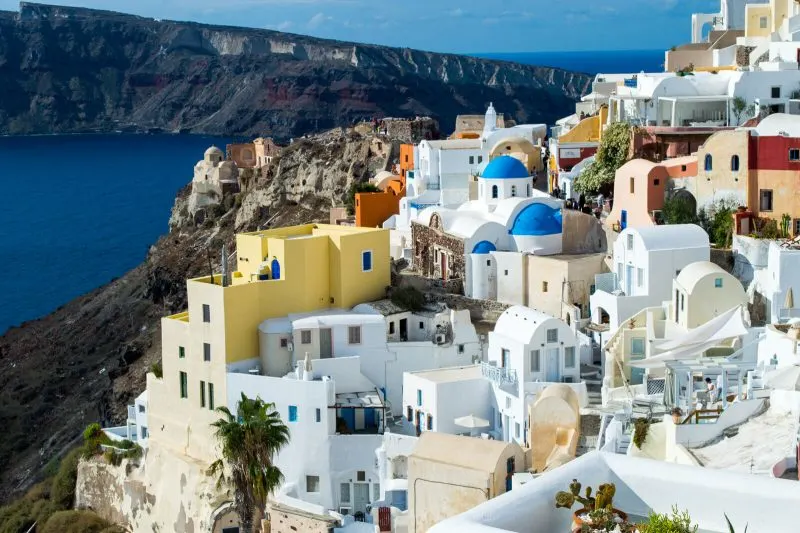 Plan Your Yacht Week in Greece #04: Pack the Essentials for Your Trip
While the Greek mainland can be quite cold at some points (did I tell you how I had to wear a scarf and a jacket in the middle of Autumn?), the temperature in the Greek islands is always pleasantly warm so be ready for an unforgettable hot summer in which everything can (and will) happen.
Definitely bring sun tanning lotion, sunscreen, sunglasses, sun hats, swimming suits and some easy to light fabric shirts and dresses to make your time a really pleasant one.
Don't forget a fancy cocktail dress and/or tuxedo for those romantic dinners aboard the luxury cruise as well my wonder friends!
Plan Your Yacht Week in Greece #05: Have Fun!
The most important thing? Have fun! A luxury yacht week in Greece is a once-in-a-lifetime opportunity that you shouldn't miss.
And once you're there, all worries should be gone from your mind and your only objective should be to have fun 24/7.
Make that wonderful yacht week happen today my wonder friend and have the best summer of a lifetime!
How to Book a Luxury Yacht in Greece
My best advice? Book with the International Yacht Company, the best company for luxury yacht rentals operating in many destinations in the Caribbean and the Mediterranean.
They have an amazing fleet of luxury yachts and offer the best customer service to answer all of your questions in order to make your luxury yacht week an unforgettable one.
What are you waiting for? Just book with one click and get ready to enjoy the journey of a lifetime my friends!
2022 Greece Entry Requirements
Due to the current global situation, you need to either have a negative COVID test; proof of vaccination or proof of testing positive for COVID in the last 30 to 180 days in order to enter Greece as a tourist.
Acceptable vaccines are: Pfizer BioNtech, Moderna, Astra Zeneca/Oxford, Novavax, Johnson + Johnson/Janssen, Sinovac Biotech, Gamaleya (Sputnik), Cansino Biologics, Sinopharm among others.
Non-EU citizens are advised to book direct flights to Greece to avoid having layovers in countries that might have different requirements.
You can check the updated Greece Entry Requirements here.
I hope you have enjoyed this article about how to book a Luxury Yacht in Greece. Don't forget to subscribe in order to get more awesome updates and tips straight to your email!
Have you ever boarded a Luxury Yacht in Greece? Would you like to? What was your luxury yacht experience like? Share your thoughts and let me know what you think!
Until next time, my friends!