Queretaro City is one of the best cities in Mexico that you can visit. Here are 18 of the Best Things to Do and See in Queretaro City. Enjoy!
To me, the perfect city break usually involves a combination of both nature and culture. Luckily, you can find both of them in amazing quantities at Queretaro City, one of my favorite destinations in Mexico.
Ready to explore some of the best things to do and see in Queretaro City and its surrounding areas? I hope you're ready to be amazed by this underrated Mexican gem my friends!
Here we go!
The 18 Best Things to Do and See in Queretaro
Go to Church and Marvel at the Architecture of Queretaro
The Historical Center of Queretaro City has way too many churches to list and literally you can find one in every corner or street.
If you're short on time, I recommend you to prioritize the Templo de San Francisco and the Convento de la Santa Cruz for their historical value and beautiful internal decoration.
However, no matter which ones you choose to visit, I'm sure you'll be left amazed by their beauty!
Take a Photo with the Aztec Dancer Statue
In the Historical Center of Queretaro you will find many statues of historical figures such as the Corregidora, however, my favorite statue of them all is the one of the Aztec Dancer.
Located right next to the Templo de San Francisco, this dude, known as El Conchero, is actually not an Aztec but rather part of the Chichimeca Tribe.
Calling him an Aztec would be the same as confusing a Scottish with an Irishman!!!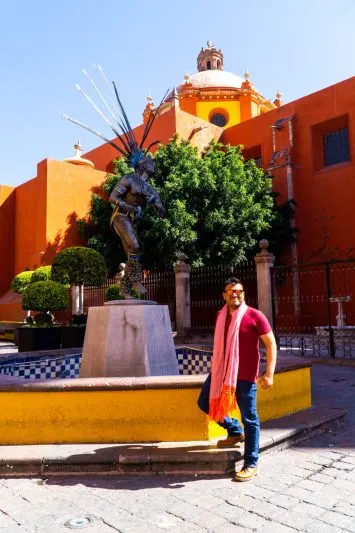 Walk to Queretaro Zona Diamante to Enjoy a Panoramic Sunset
Unlike other Mexican cities such as Guanajuato City or San Miguel de Allende, Queretaro City lacks a Mirador (Lookout) from where you can enjoy a complete panoramic view of the entire city.
The closest it has to a Mirador is the Zona Diamante area which is located at a high elevation. From here you can enjoy an entire view of the historical center as well as some unforgettable sunsets.
Watching how the sun is setting behind the mountains sure is wonderful!
Visit the Many Museums of Queretaro City
Queretaro City is rich with culture and its many museums are a real testament to that. From Art to History to Religion, Queretaro has a little bit of something for everyone.
Some of the highlights in terms of museums are: Museo Regional de Queretaro, Museo Casa de la Zacatecana, Museo de los Conspiradores (really good if you wanna learn more about the Mexican Independence) and the recently inaugurated Museo de Arte Contemporeneo (think of it as the Mexican MOMA).
Who's ready for some cultural overdose ?
Relax at the Cerro de las Campanas
El Carro de las Campanas (Hill of the Bells) is a very relaxing public park located on a pictoresque hill a few KM away from the Historical Center of Queretaro.
It is also a very important historical site itself since it was here that Emperor Maximilian of Habsburg and his minions were executed under orders of President Benito Juarez. Did you know that Mexico once had an Austrian Emperor as its illegitimate ruler?
Mexican history sure is a weird one my wonder friends!!! Learning more about Mexico is definitely one of the best things to do and see in Queretaro City.
Buy Souvenirs of Wonders to Take Home
When it comes to traditional Mexican handcraft, Queretaro isn't as high on the list as Oaxaca City or San Cristobal de las Casas in Chiapas but you can still find some very unique and detailed works of art.
Most souvenirs that you can find in Queretaro are inspired by the Otomi culture and they're extremely colorful and pretty to look at.
Be on the lookout for the traditional Otomi Doll but we'll talk about her further on the list my friends! Read all about how to haggle for prices here.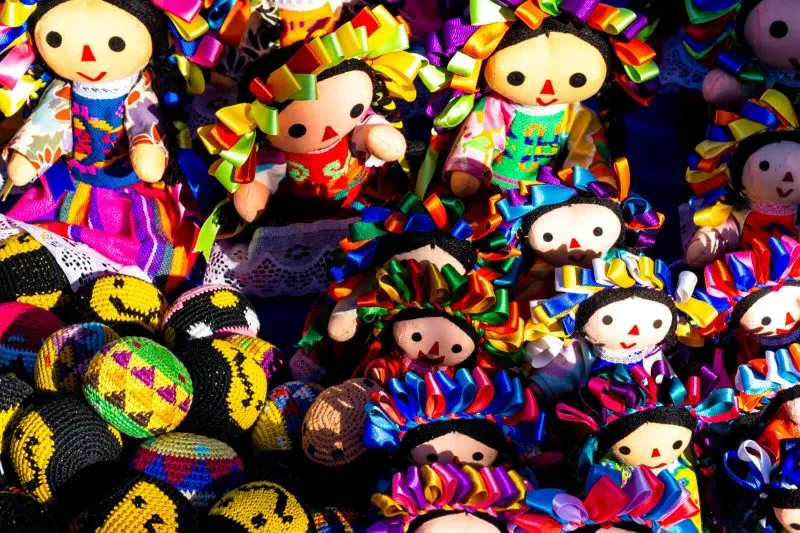 Eat Traditional Mexican Food in Queretaro
The Mexican cuisine that you can find in Queretaro City has a lot of variety and yes, even a gluten-free vegan option for those picky eaters.
Some of the unmissable traditional dishes include the Enchiladas Queretana (tortilla bathed in salsa filled with chicken, potato and carrot), Chivito Tapeado (goat seasoned with spices, chili and alcohol), Nopal en Penca (cactus filled with onions, garlic and oregano served with salsa, cheese and avocado).
Finish it off with a nieve de mantecado (vanilla ice cream with cinnamon, raisins and dry fruit) and you'll have an amazing hungerlust of wonders! One of the most calorific things to do and see in Queretaro City my friends.
Visit el Cerrito, Mexico's Smallest Pyramid
Located about 10KM away from the Historical Center of Queretaro City (a fast 20 minute Uber drive), El Cerrito is Mexico's smallest archeological site. Founded in the year 300 by the Chichimecas, this small pyramid is definitely worth a visit if you're a history nerd like me.
El Cerrito is open from Thursday to Sunday and entrance is free for everyone. Be warned that it closes at 14:30 from Thursday to Fridays while on Saturdays and Sundays it closes at 16:30.
And yes, you can fly your drone from outside and still get some good photos without actually flying over the Pyramid itself!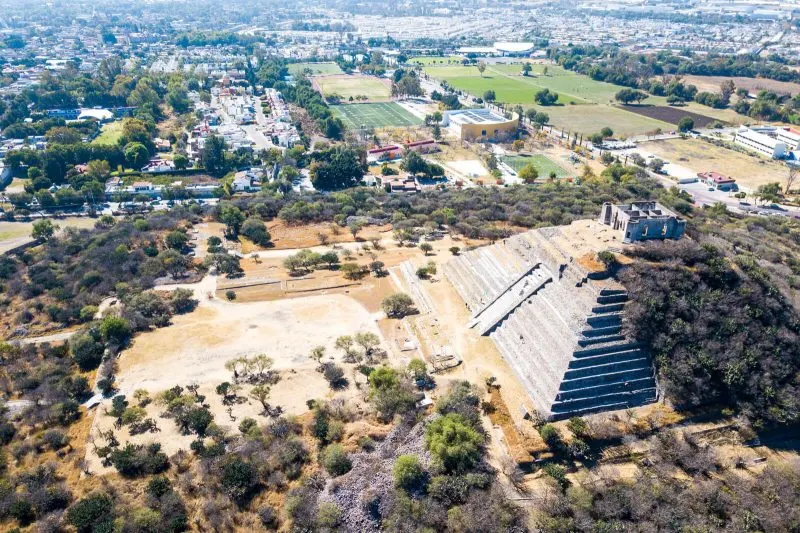 Go Crazy Shopping at the Local Markets
Even if you don't actually plan on buying anything, a visit to the local markets of Queretaro City (my favorite is the Mercado Escobedo) is a must in order to do some people watching and more.
Whether you're craving for fresh fruit or some traditional cheap food, the Mexican markets are an interesting showcase of the day to day life of thousands of people all around the country.
And yes, those piñatas aren't just decorations! People actually buy them to destroy them at birthday parties!
Take a Photo in Front of the Doors of Instagram
The Historical Center of Queretaro City has its fair share of picturesque doors that are ready to be featured on your Instagram account my wonder friends.
In general, all of Mexico is very colorful but the Center (Queretaro, Guanajuato, Aguascalientes, Michoacan, Jalisco) are definitely THE most colorful states in my own personal experience.
Isn't it funny how the buildings that we once considered old and unkempt are now vintage and Instagrammable? One of my favorite things to do and see in Queretaro City for sure.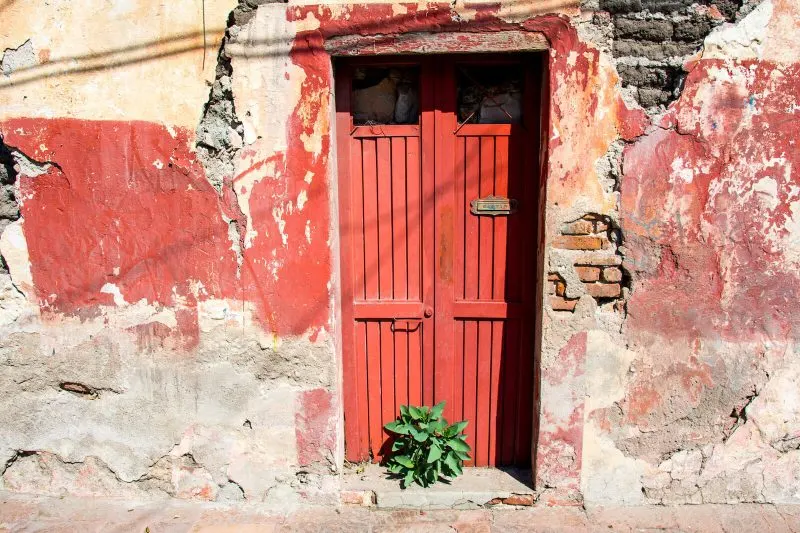 Travel to Tequisquiapan and do the Ruta del Queso y Vino
And now that we've exhausted all the things that you can do and see in Queretaro City, it is time to go outside of the city itself for some day trips of wonders.
Your number one stop? Tequisquiapan, a magical town located 60KM away from Queretaro City and where you can embark on the famous Ruta de Queso y Vino (literally, the Route of the Cheese and Wine).
There's many wineries and cheese factories located around Tequisquiapan so choose a designated driver and have an unforgettable day of wine and cheese!
Explore the Pueblo Magico of Cadereyta de Montes
This Pueblo Magico (Queretaro has a grand total of 6: Tequisquiapan, Cadereyta, Bernal, Amealco, San Joaquin and Jalpan) is located 70KM away from Queretaro City and 30KM from Tequisquiapan in case you wanna visit both in the same day.
Granted, there aren't many things to do in Cadereyta de Montes itself but there's plenty of good quality wineries around it for those wine lovers over there.
That being said, the main plaza of Cadereyta is visually impressive with its two yellow churches from where you can get some very epic views of the surrounding areas.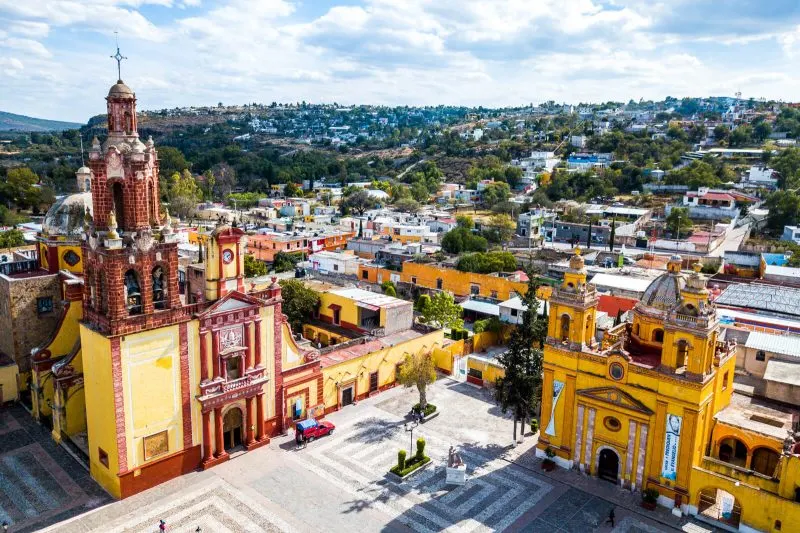 Go Wine Tasting at Finca Sala Vive by Freixenet
And speaking about wine, just 9KM away from Cadereyta de Montes you can find the Finca Sala Vive by Freixenet.
This Spanish wine company started to produce some of their wines a few decades ago in Queretaro and today they have a strong presence in Mexico.
My best advise? Skip the tour (unless this is your first time at a winery) and instead just buy a couple of bottles of sparkling wine from the shop (prices begin at 8 USD per bottle) and just enjoy the chill vibe of the Finca Sala Vive.
Climb the Peña de Bernal
After you finish your wonderful wine tasting session, why not do some exercise to burn off those calories? 60KM from Queretaro City you shall find the Pueblo Magico of Bernal and its wonderful natural attraction: the Peña de Bernal.
This is actually the world's third largest stone monolith (after the Rock of Gilbratar and the Sugarloaf Mountain in Rio de Janeiro) and yes, you can actually hike and climb all the way to the top although for the last 45 meters you DO need some proper climbing gear.
Alternatively, if you're not too much into outdoor adventure you could just walk around this charming town taking photos and trying some wonderful street food such as the black corn gorditas.
Visit Amealco and Buy an Otomi Doll.
Amealco is another one of Queretaro's Pueblos Magicos and is located one hour away (75KM) from Queretaro City and it is the newest Pueblo Magico to be added to the official list.
This beautiful place is the birthplace of the Otomi Doll (Muñeca Otomi or Muñeca Queretana) that you can often see being sold in baskets by the indigenous women of Queretaro.
In Amealco there's even an entire museum dedicated to the Otomi Doll. How cool is that?
Watch the Sunrise at El Mirador de Cuatro Palos.
Are you a big fan of waking up early to catch the sunrise? Well, if you don't mind waking up at 2 am and driving uphill in the dark then El Mirador de Cuatro Palos in the Sierra Gorda de Queretaro is just for you.
From Queretaro City, the town of Cuatro Palos is 145KM away and once you get there, you will have to hike 1.5 KM to El Mirador de Cuatro Palos in order to enjoy THE best sunrise you'll ever see in the Mexican mountains.
You can read all about Ecotourism in the Sierra Gorda de Queretaro here my wonder friends and best of luck!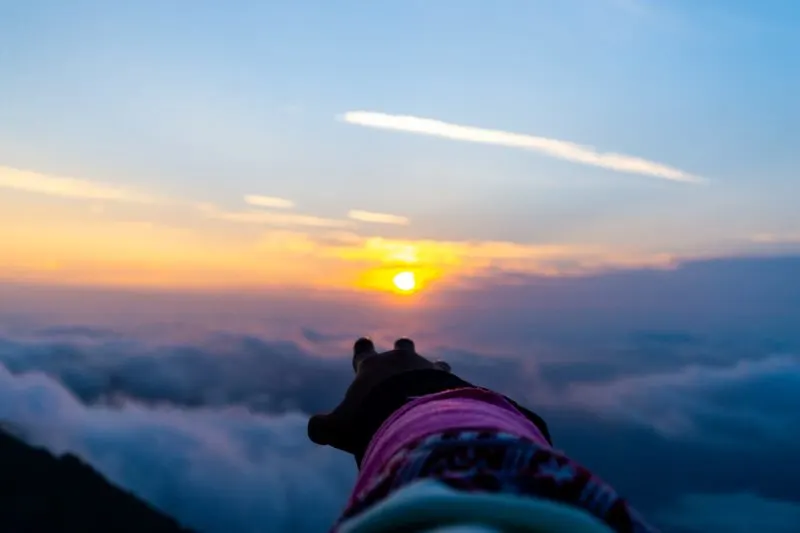 Explore the Chuveje Waterfalls in the Sierra Gorda de Queretaro.
And once you're already at El Mirador de Cuatro Palos, how about exploring some more of the Sierra Gorda de Queretaro before turning back to Queretaro City?
From Cuatro Palos you can continue your Sierra Gorda journey to Pinal de Amoles for a hearty breakfast and then embark drive towards Jalpan de Serra (one of the Pueblo Magicos of Queretaro) stopping at the Chuveje Waterfalls and Puente de Dios (Bridge of God) along the way.
What a beautiful city break in the arms of Mother Nature my wonder friends! One of the things to do and see in Queretaro City that you shouldn't miss at all costs.
Take a Roadtrip to the Neighboring State of Guanajuato.
Last but not least, Queretaro City is very well connected to many beautiful destinations in Mexico thanks to its centric geographical location with the state of Guanajuato being the most popular one.
Did you know that both San Miguel de Allende and Mineral de Pozos are just one hour away from Queretaro City? If you have a car, you can definitely embark on some of the best Mexico road trips ever!
Alternatively, you can go to Mexico City for some more museums (2 hours and a half away) or even to the Monarch Butterfly Sanctuary El Rosario in Michoacan (3 hours away). The possibilities are truly endless!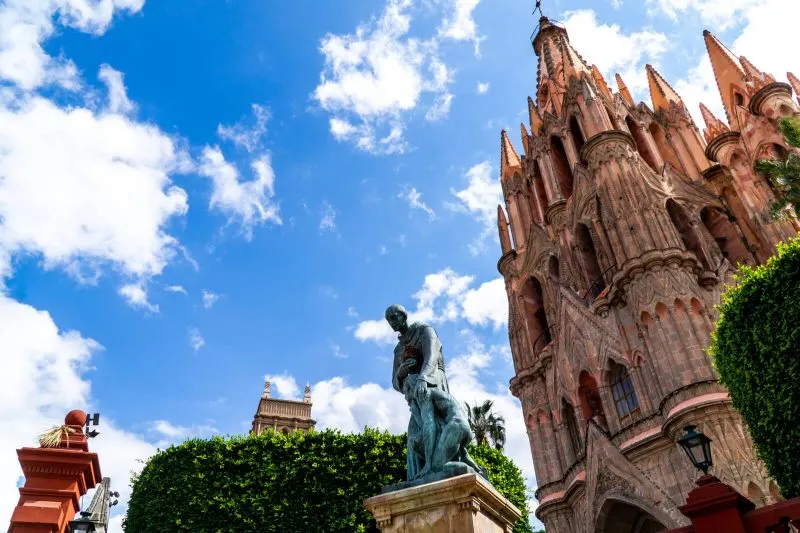 Where to Stay in Queretaro City, Mexico.
When it comes to accommodation in Queretaro City you basically have two options: stay at the charming Historical Center (Centro Historico) or stay at the up and coming Zona Diamante located on a picturesque hill that overlooks the city.
During my most recent stay (January 2019) in Queretaro City, I was kindly hosted by the Holiday Inn Queretaro Zona Diamante and I absolutely loved my stay there since you could easily walk down to the Historical Center in less than 30 minutes.
This luxury hotel offers super comfortable rooms with an amazing view of the entire city and a pool for you to cool down after a long day of walking in the city. Definitely give it a visit next time you're in Queretaro my friends!
You can make a booking for this and more properties via our Booking.com Affiliate Link of Wonders! Same price for you and a small pocket money commission for this website of yours. Sweet deal, uh?
I hope you have enjoyed this article about the Best Things to Do and See in Queretaro City. Don't forget to subscribe in order to get more awesome updates and tips straight to your e-mail!
Have you ever been to Queretaro City? Would you like to? What are your favorite things to do and see in Queretaro City? Share your thoughts and let me know what you think!
Until next time, my friends!