An article about the best things to do and see in Jordan including Petra, the Red Sea, the Dead Sea, and more.
"Welcome to Jordan" the Jordanian kids on board the bus told me with a smile on their faces.
Welcome to Jordan, the land of the nomadic Bedouins of the desert, the land where the Red Sea meets the Dead Sea, the land of Ancient Wonders.
Come and enjoy the best things to do in Jordan and get ready to close your eyes to get immersed in those Arabian nights of olden times!
The 7 Best Things to Do and See in Jordan
Explore the Lost City of Petra
The number one reason why Jordan is on the map of travellers all around the world is because of Petra, the legendary red rose city as old as time itself. Built by the Nabateans 2000 years ago, Petra is the living proof of the wonders that mankind can achieve.
The entire archeological site is huge so you're better off by staying at least two nights in oder to see most of the highlights at your own pace (read my Petra Travel Guide here).
Don't forget to take a camel selfie!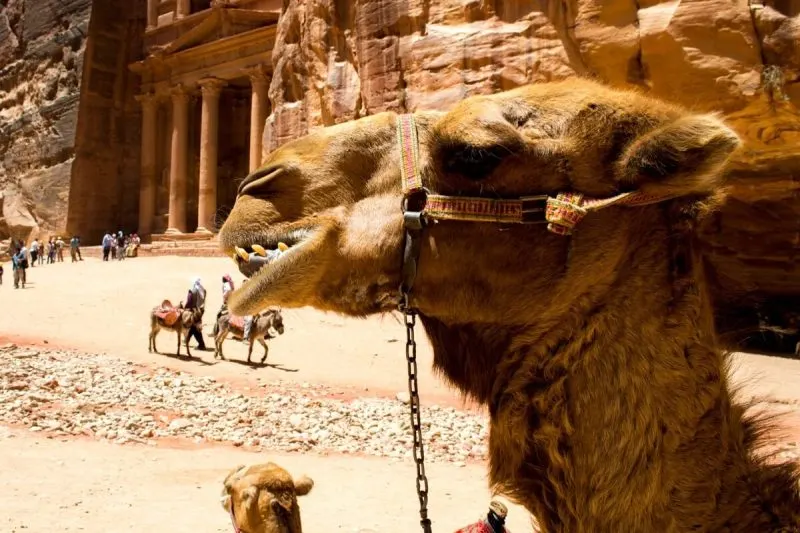 Float like a Mermaid at the Dead Sea
The Dead Sea (actually a Lake) is a peculiar body of water where the salt levels are so high that marine life cannot live in it (PS. don't even think of shaving before swimming in it or you'll feel the burn!).
When in Jordan, you can take a dip in the Dead Sea in order to enjoy the therapeutic properties of its waters, including a traditional mud bath. The salinity of the Dead Sea is so high that everyone can easily float on their backs.
What better way to read the morning news, players? Definitely one of the best things to do and see in Jordan my friends.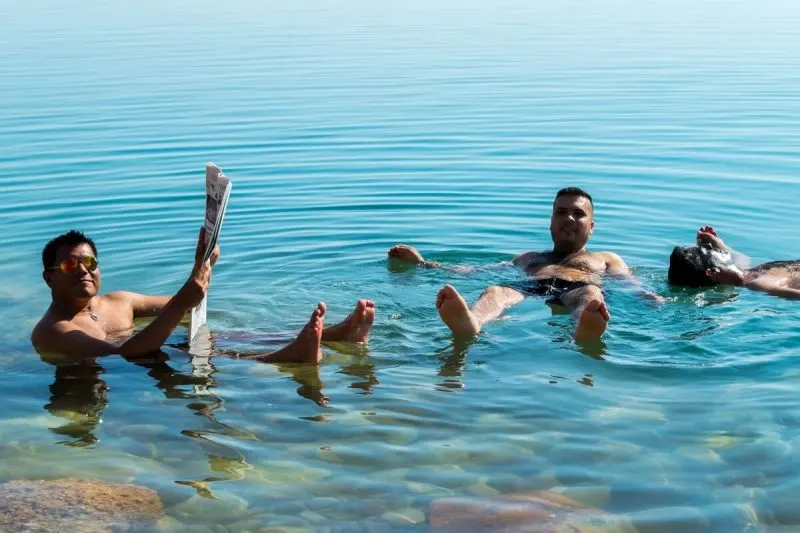 Relax at the Red Sea in the City of Aqaba
In the south of Jordan, you shall find Nemo in the city of Aqaba. And trust me, scuba diving at the Red Sea is going to be one of your favorite things to do and see in Jordan.
Aqaba is a very picturesque city where you can see the contrast of the arid Jordanian desert with the lush vegetation of the Red Sea coast.
Aqaba has a little bit of something for everyone, from water sports and diving for the adventurous ones to spas and all-inclusive resorts for those who want to spend a good quality family time relaxing at the Red Sea.
Unfortunately there are no camel rides at the beach but hey, you cannot have everything in life can you? One of my favorite things to do and see in Jordan for sure.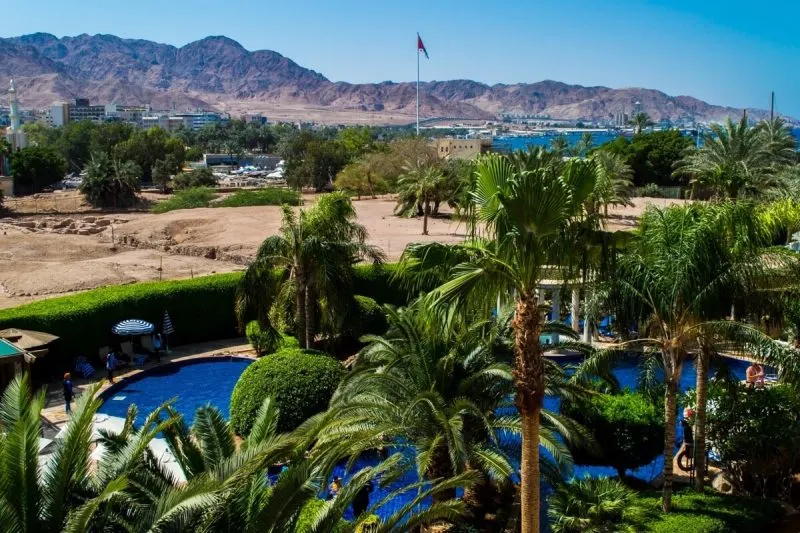 Enjoy Epic Sunsets at Tala Bay
Tala Bay is a special zone located a few minutes outside of Aqaba and close to the Saudi Arabian border. Here you can find all-inclusive resorts and private beaches plus incredible views of the Red Sea and the mountainous landscape.
One of my favourite memories of Jordan is the day I took a sunset cruise from Aqaba to Tala Bay. Good music, local encounters and a good company sure made the journey a very pleasant one. Did I mention how epic the sunset was?
Also, be sure to try the Jordanian-made wine. You're in for a very good surprise! These Middle Eastern sunsets are one of the best things to do and see in Jordan by far!
Befriend the Bedouin People of the Desert
The nomadic Bedouins of Jordan are the direct descendants of the Nabateans that built Petra centuries ago. They are also some of the kindest folks you'll ever meet and they'll always be ready to offer you a cup of tea in exchange for a nice conversation.
No visit to Jordan is complete without enjoying the incredible Bedouin hospitality as they enchant all of your senses with stories of their ancestors and take you off-the-beaten-path to discover the best hidden wonders that their country has to offer.
And trust me, when it comes to befriending the local Bedouins, no place is better than Wadi Rum so make sure to book your visit with a reputable tour operator.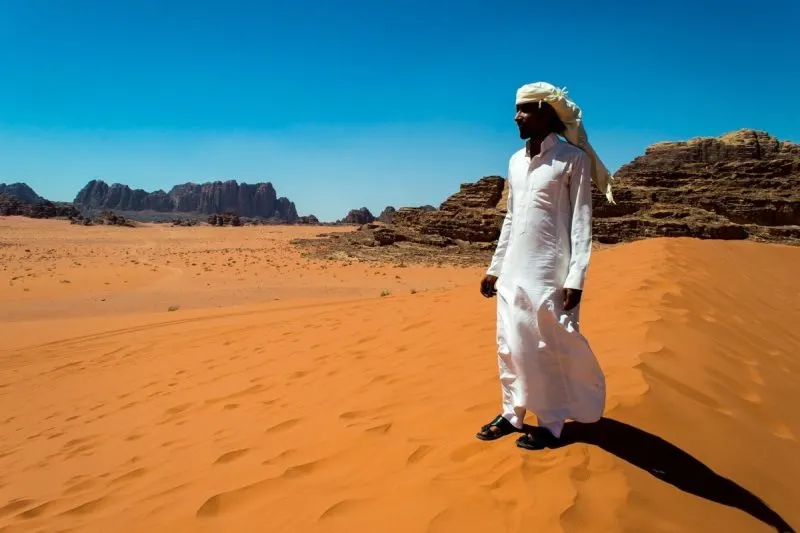 Get Lost in the Desert of Wadi Rum
Wadi Rum (Valley of the Moon) is one of those places that seem to unreal to be truth and you'll be constantly pinching yourself after seeing how the colour of the sand changes in just a couple of minutes from red to yellow and then to white.
Enigmatic sand dunes, breath-taking cliffs, tents for camping underneath the stars and funny rocks that look like animals are just some of the features that you will encounter in Wadi Rum
Follow the footsteps of Lawrence of Arabia and let yourself get lost in the immense beauty of Wadi Rum!
Experience the Magical Culture of the Middle East
If you're a fan of Disney's Aladdin (and well, who isn't?), you're probably fascinated by the Middle-Eastern charm that is featured in the movie and trust me when I say that you will find all of that and more in Jordan.
From exotic belly dancers to hummus-filled dinners and fruit-flavoured water pipes, Jordan is the best place to enjoy the best that the Middle-East has to offer in terms of cuisine and cultural performances. Who knows? You might even be invited to dance too!
Visit Jordan now and enjoy its Arabian nights and moons!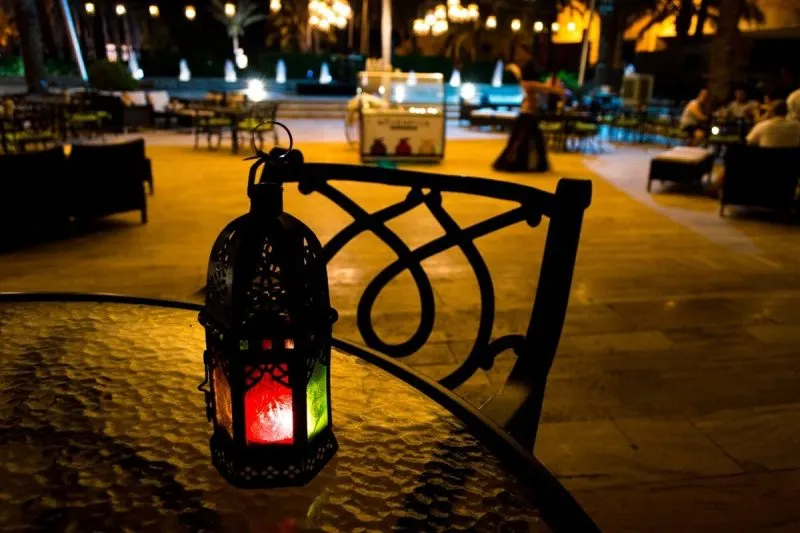 Is Jordan Safe for Travelers?
Jordan probably has the worst neighbours of them all in terms of terrorist threats and political unrest and sadly, tourism to Jordan has dropped significantly ever since ISIS appeared in neighbouring Iraq and Syria.
But Jordan itself? Jordan itself is a very safe place for both locals and travellers and there hasn't been a terrorist attack in Jordanian soil in decades since the military forces of the country are very efficient.
That being said, you should expect to see many military checkpoints in the main highways (specially the Aqaba-Amman route) but again, they are for your own safety.
Jordan is a the closest thing you shall find to a Westernized country in the Middle East (other than Israel) and many things that are forbidden in fundamental Islamic countries are more than allowed in Jordan (be sure to try out the local Petra beer!).
Jordanians are also fairly liberal and progressive in terms of values and even though many women still wear the hijab (head-scarf), there are many local women that don't do so and no one disrespects them because of it.
If you're a female solo traveler, you have absolutely nothing to fear while in Jordan and trust me, you'll have the time of your life!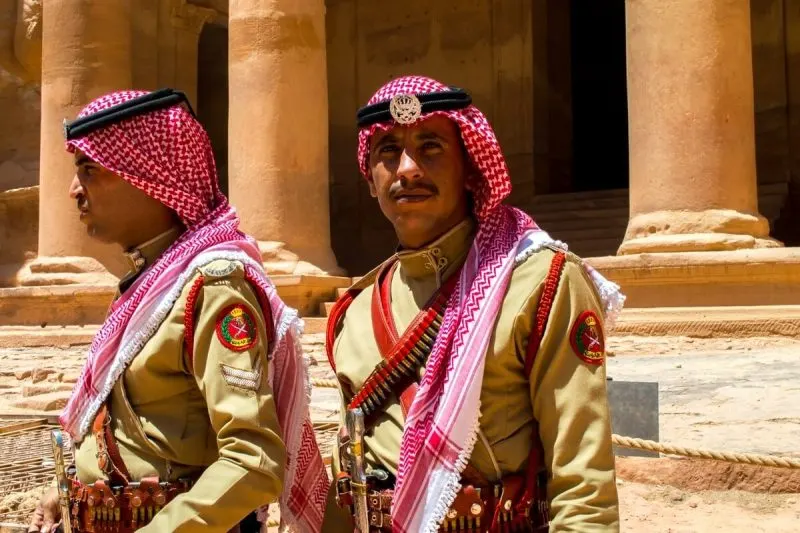 How to Get Around in Jordan
Jordan is a fairly small country in terms of size and its best explored from South to North (or vice-versa). If you're coming by air, your entry point will be most likely Amman (if you're coming by land/sea to Aqaba, you can ask for the ASEZA visa which is free of charge).
From Jordan's capital you can go directly to the Dead Sea which is less than one hour away (one-way taxi should cost you between 10 to 20 JD). In order to swim at the Dead Sea you can either go to the public Amman beach (20 JD entry fee) or stay at one of the resorts such as the Mövenpick Resort & Spa Dead Sea.
Aqaba to Amman are connected by the King's Highway and the journey time is close to 5 hours (bus ticket is 8 JD). In theory, you can go directly from the Dead Sea to Aqaba via the Dead Sea Highway and vice-versa but be aware that there's no public transportation so you have to take a taxi (average cost 50-80 JD one-way).
Petra is best reached from Amman and you can take a minivan to to get there for 5 JD. Finally, Wadi Rum is less than one hour away from Aqaba and you can take either a private taxi (one way 10-20 JD) or any minibus going north of Aqaba (price 1 JD) until the Ar-Rashidiyya crossroad (40 minutes from Aqaba, 20 minutes from Wadi Rum) from where your Wadi Rum guide can pick you up.
Alternatively, you can just wing it and hitchhike. Come on, it's fun!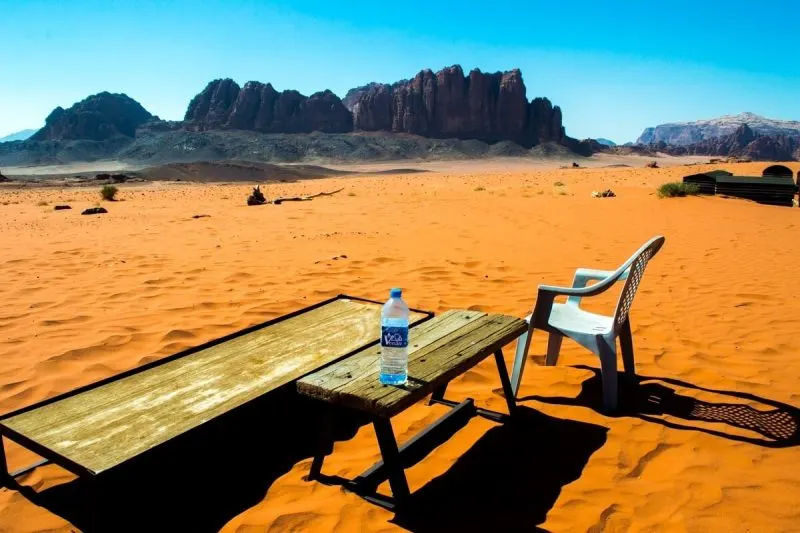 During this recent journey of mine, I teamed up with the luxury Mövenpick Hotels Jordan and I visited four of their properties in the country: Petra, Dead Sea, Aqaba and Tala Bay (the last three all have their own private beach).
Each one of the Mövenpick Hotels of Jordan is highly committed to improving the local economy of the cities in which they operate and that's why they try their best to always hire local talent to work in their hotels.
Plus, the culinary delicacies of each night are a wonder of their own and a special mention goes to Tala Bay with their Asian night!
I hope you have enjoyed this article about the best things to do and see in Jordan. Don't forget to subscribe in order to get more awesome updates and tips straight to your e-mail.
Have you ever been to Jordan? Would you like to? What were some of your favorite things to do and see in Jordan? Share your thoughts and let me know what you think.
Until next time!