The red rose city as old as time itself…Petra. Few places have captivated my mind and wanderlust such as this enigmatic wonder of the Middle-East.
Built by the Nabateans more than 2000 years ago, the stone carved city of Petra has survived the sands of time and is now the most visited sight of the Hashemite Kingdom of Jordan.
Are you ready to explore the highlights of Petra with me?
Petra, the red rose city as half as old as time
Today, Petra is a magical place where Bedouin tribesmen share their ancient secrets while camels roam the arid lands with a big smile on their faces.
And trust me when I say that your life isn't complete until you have taken at least one camel selfie.
Or half a dozen like me.
In short words, Petra is a wonder of the world where the best of nature mixes with the best of mankind in an unique sight that will surely captivate you as well, my dear friends.
There are many more things I could tell you to convince you to visit Petra but I think that photos speak louder than words.
Let yourself be charmed by the magic of the Middle-East and take the leap to visit this magical land of wonders.
Enjoy this Ultimate Petra Travel Guide and get immersed in the natural and cultural sights of this unique place!
The highlights of Petra, the Red Rose City
There is only one entrance to Petra which is the visitor's centre. Here you must buy your ticket to enter the archaeological site, price varies depending on the number of days you want it valid for.
As of June 2015, prices are 90 JD for day-trippers to Jordan (that is, travelers who will leave the same day they arrive), 50 JD for one day passes with an overnight stay in Jordan, 55 JD for two day passes and 60 JD for three day passes (the fourth day is free).
Many people come on organized tours all the way from Israel and try to explore all of Petra in half a day. My recommendation? Stay at least one night at Wadi Rum and visit Petra the next day early in the morning.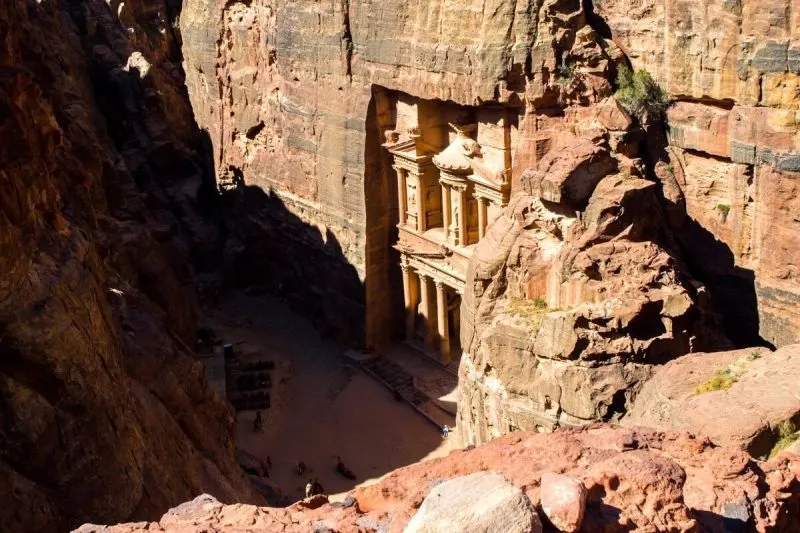 Realistically, you are going to need at least two full days to see the highlights of Petra since there are many interesting trekking trails that lead you to the best viewpoints over such as the one above the Treasury (more on that later).
From the visitor's centre it is a 10-minute walk to the Siq, the narrow gorge that leads to the Treasury, the first highlight of Petra.
If you're a nerd like me you will recognize the Treasury as the monument seen in Indiana Jones: The Last Crusade.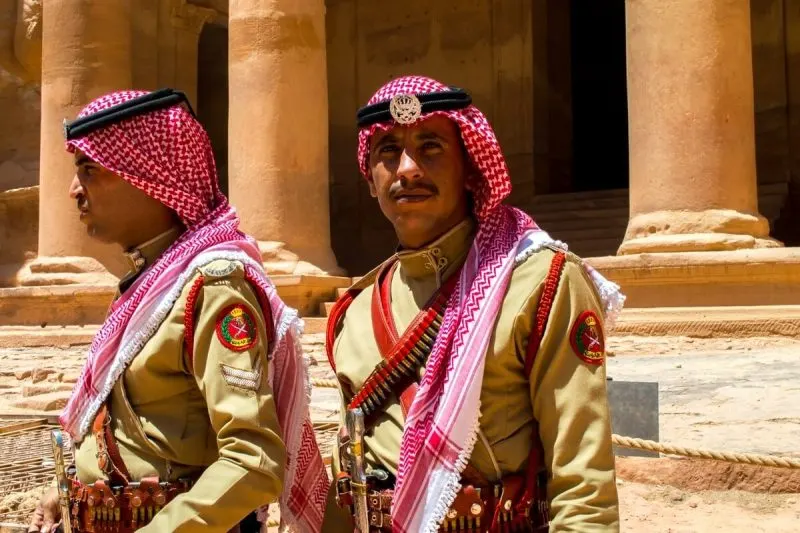 The Petra Archaeological site is open shortly after sunrise and closes shortly before sunset (in summer this means 06:00 to 18:00) and it is best explored during the early morning since you can practically have the site all to yourself.
My best recommendation is to arrive at 07:00 and start hiking the trail that will lead you to the top of the rock directly facing the Treasury (it will take you from 30 to 60 minutes depending on your physical condition).
At this early hour of the day, the sun rays will slowly begin to illuminate the Treasury itself and you will enjoy an amazing spectacle of shadows (you can click here to learn how to take better travel photos).
At noon, the opposite effect will take place as the shadows will completely take over the Treasury and you won't be able to fully appreciate its unique shade of colors.
The Monastery of Petra will start to be illuminated by the sun at around 13:00 during the summer so take your time before you head there.
Once you're mentally ready, you can start the walk to the beginning of the 822 steps leading to the Monastery.
On the way to the Monastery, there are many interesting things to see including colourful caves, breathtaking viewpoints, interesting stone carvings and at least five dozen people trying to offer you a camel/donkey ride (prices range from 2 to 10 JD but you're better off by walking).
After a few minutes (or hours depending on how many stops you make to take photos) you shall reach the most impressive highlight of all Petra: The Monastery.
At the base of the Monastery you can find a cafe to buy some water to regain your energies and a road leading to the highest point of Petra from where you can get an eagle-view of the Monastery.
Once you're done with the Monastery, you can start the long way back and explore the sights that you might have missed (and yes, DO bring a lot of water).
Alternatively, you can go to your Hotel/Hostel and leave the rest of Petra for your second or third days.
Reaching Petra is an important ordeal and it can be as cheap or as expensive as you want it to be.
How to get to Petra, Jordan from Amman and Aqaba
From Amman, your best option is to take a shared minibus to Petra (also known as Wadi Musa) for 5 JD at the South Bus Station.
The minibuses leave once they're full and the drivers have a tendency of charging you for luggage if it's big enough to guarantee an extra seat.
If you're arriving to Jordan from the Eilat-Aqaba border, don't fall for the over-priced taxi mafia (they charge 55 JD for a taxi to Petra as of 2015 and they will forbid you from sharing a taxi with travelers outside of your "group") and instead take a taxi to downtown Aqaba.
From Aqaba, you can get to Petra by direct public minibus for 2 JD. If you arrive too late for the direct minibuses, you can take one to Ma'an and from there another one to Wadi Musa.
If you want to hire a private taxi to reach Petra, bear in mind that in Jordan it is common to haggle for prices and walking away from the driver will often prompt him to lower his price to an acceptable level (read my 5 Top Travel Tips for Haggling here).
A fair price for a taxi is 40-60 JD from Amman to Petra and 20-35 JD from Aqaba to Petra. You can also get to Petra from Tel Aviv, Israel from a different border if you're not feeling like heading south to Eilat-Aqaba.
Practical information about Petra, Jordan
When it comes to accommodation, there are many budget and luxury hotels as well as few guest houses and hostels in the hills of the town of Wadi Musa.
Exploring all of Petra's highlights in just a couple of days is a very strenuous experience and you're probably better off booking a property located as close to the visitor's centre.
During my most recent visit to Petra, I partnered up with Mövenpick Hotels Jordan and was invited to stay at the Mövenpick Resort Petra, a luxury property located two minutes away from the visitor's center.
Besides a great interior design and a super friendly staff, the Mövenpick Resort Petra also has a sunset terrace and many restaurants for you to enjoy an incredible culinary taste of the wonders of Jordan.
The hummus is so addictive, yo!
You can make a booking for this and more properties via our Booking.com Affiliate Link of Wonders!
Same price for you and a small pocket money commission for this website of yours.
Sweet deal, uh?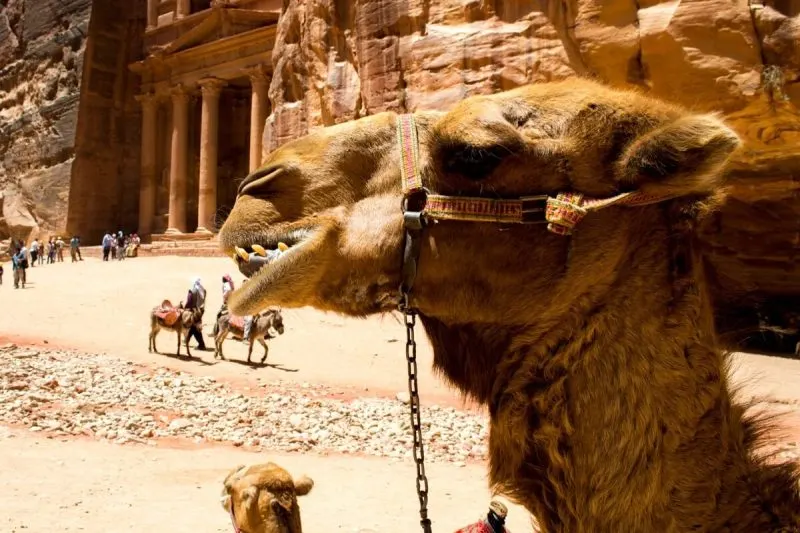 Have you ever visited Petra? Would you like to? What was your favorite highlight? Share your thoughts and let me know what you think!
Until next time, my friends!