An article about how to apply for a USA Tourist Visa including useful tips to make the process smooth and easy.
Hello, my wonder friends! How have you been? Thinking about visiting the USA in the near future? If you do, you might need a USA Tourist Visa.
And while the process is very straightforward, the historical denial rates make some people nervous about it so here are some of my 5 Best Tips for Applying for a USA Tourist Visa, my wonder friends.
I hope this article will help you to get your USA Visa application approved my wonder friends! Enjoy and remember to share if you found this article useful!
How Many Tourist Visas Applications Get Denied? How to Avoid it?
The denial rates for USA Tourist Visa applications have fluctuated based on different factors.
Denial rates could be influenced by concerns related to the applicant's intent to return to their home country after the temporary visit, insufficient documentation, or suspicions of potential immigration violations.
Denial rates were historically lower than approval rates, but they could still be substantial for certain countries or specific cases. More often than not, hiring the right agency will help you improve the odds of getting approved for a USA visa.
On average, the denial rate for B-2 visas was estimated to be around 30-35% globally, again with significant variations depending on various factors.
USA Tourist Visa Tips #1: Thoroughly Understand the Visa Types
There are multiple Visas to the USA that you can apply to. However, for tourism purposes, the one that you want is the B-2 Visa. The B-2 Visa allows you to visit the USA for tourism purposes as well as visiting for medical treatment.
Please do note that certain countries are part of the Visa Waiver Program (VWP). If you are from any of the following 40 countries, you do not need to apply for a B-2 Visa for the USA:
Andorra, Australia, Belgium, Brunei, Chile, Croatia, Czech Republic, Denmark, Estonia, Finland, France, Germany, Greece, Hungary, Iceland, Ireland, Italy, Japan, Latvia, Liechtenstein, Lithuania, Luxembourg, Malta, Monaco, Netherlands, New Zealand, Norway, Poland, Portugal, San Marino, Singapore, Slovakia, Slovenia, South Korea, Spain, Sweden, Switzerland, Taiwan, United Kingdom.
If you are from any other country, you need to apply for a B-2 Visa to visit the USA as a tourist.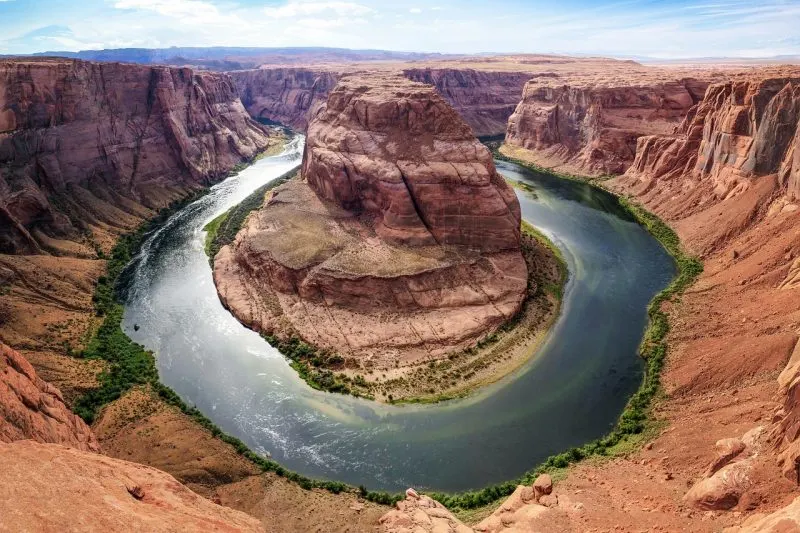 USA Tourist Visa Tips #2: Organize Your Documentation
A well-organized and comprehensive set of documents can significantly strengthen your visa application. Some essential documents to include are:
* Valid Passport: Ensure your passport has a validity that exceeds your intended stay in the USA.
* DS-160 Form: This is the online nonimmigrant visa application form, which you must complete and submit.
* Visa Application Fee Receipt: Payment of the application fee is a mandatory step.
* Passport-sized Photograph: Follow the specified guidelines for the photograph's dimensions and appearance.
* Proof of Ties to Your Home Country: To demonstrate your intent to return after your visit, provide evidence of employment, property ownership, family ties, or other strong connections to your home country.
* Travel Itinerary: Present a detailed plan of your trip, including accommodation reservations, flight bookings, and planned activities.
Having organized and authentic documentation shows your commitment to complying with the visa regulations and strengthens your case.
USA Tourist Visa Tips #3: Be Honest and Transparent
Honesty is paramount throughout the application process. Provide accurate and truthful information in your application, and during the interview if applicable. Any false information can lead to visa denial and might even result in future travel restrictions.
During the visa interview, answer questions confidently and succinctly. Be prepared to discuss your travel plans, the purpose of your visit, and your ties to your home country. Consular officers are experienced in identifying inconsistencies, so maintaining a consistent narrative is crucial.
USA Tourist Visa Tips #4: Demonstrate Strong Ties to Your Home Country
One of the main concerns of consular officers is whether applicants intend to return to their home countries after their visit to the USA. To address this concern, highlight your connections and commitments back home. This could include:
* Employment: Provide a letter from your employer stating your job position, tenure, and approval for leave during your travel period.
* Family Ties: If you have family members in your home country, emphasize your relationship and responsibilities toward them.
* Property Ownership: If you own property, provide documentation as evidence of your financial and emotional investment in your home country.
* Community Involvement: Highlight any involvement in community organizations, clubs, or social activities that demonstrate your rootedness.
By showcasing your strong ties, you assure the consular officer that you have genuine reasons to return home after your visit.
USA Tourist Visa Tips #5: Prepare for the Visa Interview
For B-2 visa applicants, an in-person interview is usually required at the U.S. embassy or consulate in your home country. This interview is a critical part of the process, where the consular officer assesses your eligibility and intent.
To prepare effectively:
* Practice Interview Etiquette: Dress appropriately, be punctual, and maintain a respectful demeanor.
* Familiarize Yourself: Review your application and supporting documents to answer any questions confidently.
* Speak Clearly: Communication is key. Speak clearly and directly, addressing the consular officer's questions without providing unnecessary information.
* Stay Calm: Nervousness is natural, but maintaining composure demonstrates your seriousness about the application.
Remember that the visa interview is an opportunity to provide a human touch to your application, showcasing your genuine enthusiasm for visiting the USA.
Conclusion
Securing a USA tourist visa is a rewarding experience that opens the door to exploring the country's rich cultural tapestry, breathtaking landscapes and wonderful cities like New York City and Chicago (check out my 48 Hours in Chicago Itinerary).
By following these five tips – understanding visa types, organizing documentation, being honest, demonstrating ties to your home country, and preparing for the interview – you can increase your chances of a successful application.
Remember, while the process may seem intricate, it's a step toward realizing your travel aspirations and creating lasting memories in the United States. You can also add Mexico (related: Mexico Visa Requirements) in the same trip and enjoy these two wonderful countries back to back.
I hope this article about 5 Tips for Applying for a USA Tourist Visa helps you out, my wonder friends! I hope you have a wonderful stay in the USA and have tons of moments of wonder!