An article about the must-see things to do in Chiapas including Mayan Ruins, Waterfalls, Magical Towns, and more.
I don't know about you, but when most people think of Mexico, they think of its sunny beaches like the Riviera Maya or Puerto Vallarta. What you should be picturing is the jungle, ancient Mayan ruins, monkeys, and the rich landscape that is found in the state of Chiapas. In this article, I will take you to another world where we dive into the top must-see things in Chiapas.
Chiapas is a special place. It's a place that many travelers are discovering and itching to get to.
Why? Chiapas is the southernmost state in Mexico that has almost every landscape you can imagine: from the beach to a volcano nestled in the mountains bordering Guatemala, Chiapas truly allows you to experience a state that hasn't been completely spoiled by tourism yet. Even better than that? It is much cheaper than the more well-known tourist areas.
Many people don't know that Chiapas is located about 10 hours south of the Yucatan, which can be an easy bus ride or even a quick flight. Chiapas is so unique because it is one of the few places you can drive from a historic colonial town where the indigenous culture is still thriving, visit several waterfalls, and experience ancient Mayan ruins in one day. If you enjoy the outdoors, nature and engulf yourself in Mexican culture then you'll be sure to fall in love with Chiapas just as my wife and I did.
My wife and I lived in Chiapas for a month and spent a lot of time adventuring around so that we could put together the best activities. We were shocked to find out that so many travelers skip out on Chiapas. My goal is to share all the best things to see and do so you can fall in love and plan your next trip to this beautiful state!
How to Get to Chiapas
Most travelers fly into the Tuxtla Gutierrez Airport (TGZ). There are plenty of options for travel around Chiapas including shuttles, taxis or even renting a car. We chose not to rent a car because it was a pricier option.
Keep in mind that if your flight arrives in the afternoon you may have to find other travelers with whom you can share a shuttle or taxi to your first destination in Chiapas (companies ran out of shuttles when we arrived around 5 pm so we had to share a taxi).
Know that roads are easy to navigate in Chiapas, and overall Chiapas is very safe. Some roads are tricky and you shouldn't navigate on your own. Many people love to visit the town of Palenque, keep in mind that sometimes there are independent political groups that will stop cars on the highway for money. Know that you will probably be fine but this could happen. This could be a tour that you would be better off taking with an agency.
The 10 Top Must-See Things in Chiapas
Finally, we've made it to the exciting part, all the fun stuff! Keep in mind, Chiapas is FULL of exciting things to see and do and the longer you can spend here the better. We suggest 3 weeks, but if you have less time you will still be able to see a ton of stuff as most of the tour companies offer 1-day tours, fair warning they are long days (18 hours).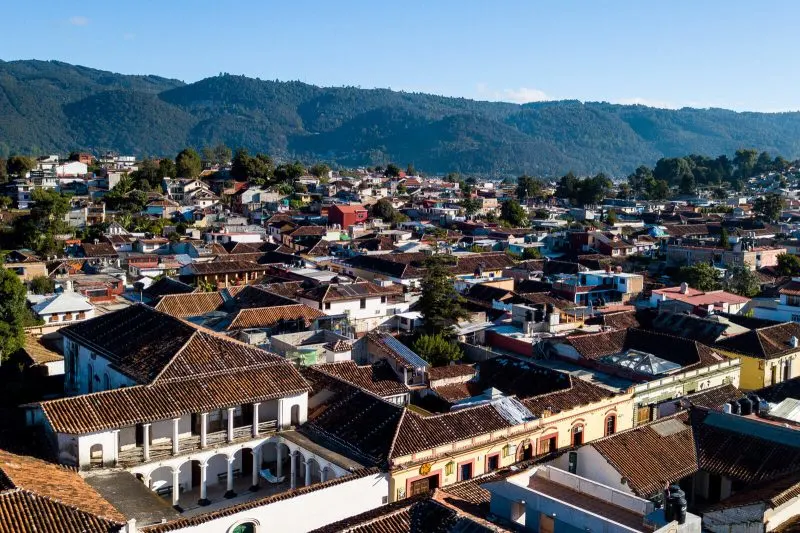 Explore the Charming Town San Cristobal de Las Casas
This beautiful town is located about an hour away from the TGZ airport surrounded by mountains and is the base for most travelers while staying in Chiapas. San Cristobal de Las Casas is a town you cannot miss while in Chiapas. The colorful streets are bustling with a mix of travelers, Mexicans, and several indigenous populations. You'll find endless tour companies to help you book all the tours you want, massive markets, and enjoy the local restaurants and nightlife.
The main street is The Real Guadalupe, from here you can find local coffee shops, walk to the markets, meet other travelers and even see the (many) beautiful churches scattered throughout the city.
If you plan on staying at each location you travel to, then I suggest spending at least 2-3 days exploring all this city has to offer!
Hike Cascadas El Chiflón
Chiapas has SO many waterfalls, but El Chiflon was our absolute favorite. Located about 2.5 hours from San Cristobal with a 50 peso entrance fee it's easy to do a day trip or spend the night at one of the cabins on site. What makes El Chiflón so special? It has FIVE different waterfalls! Not to mention the river and mineral pools have a beautiful bright blue color.
You can either hike the trail on the left side or the right side. We took the left side and missed out on being able to zipline back down. If you want the best view, however, definitely take the trail to the left where you'll find yourself almost at the very top where you are face to face with the massive waterfall and all its force landing in a bright blue pool in front of you.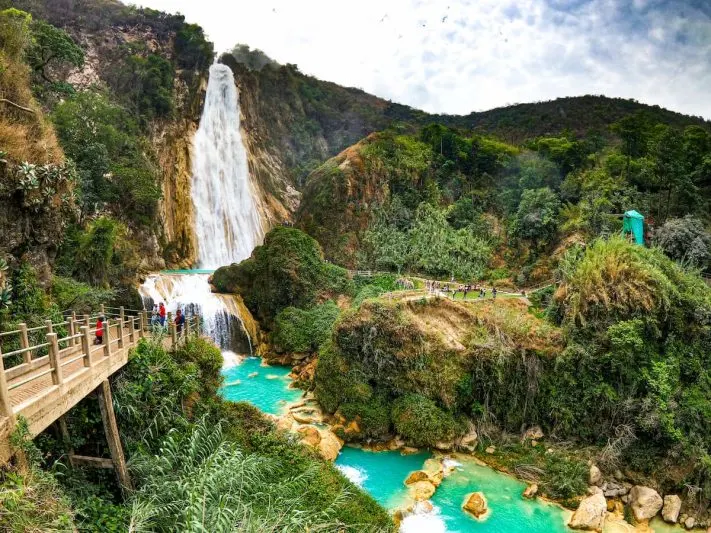 Dive into More Waterfalls: Agua Azul, Roberto Barrios & Misol-Ha
That's right, more waterfalls! If you take a tour from San Cristobal to Palenque these three waterfalls are usually visited together while heading to or returning from Palenque. All three waterfalls have a completely different vibe. Agua Azul is at the top of a long steep curvy mountain (if you get motion sickness bring medicine) and it is the most popular of the three which means it's usually quite crowded. It also has the most touristy set up as countless restaurants and small shops are lining the waterfall.
Misol-Ha is an easy 3-minute walk from the parking lot and it is a beautiful waterfall with a refreshing pool waiting for you to take a dip! YOu can even explore the cave behind the pool for 10 pesos! Did I mention that it's surrounded by mountains and jungle? Roberto Barrios is quickly becoming more and more popular amongst tourists, so hurry and add it to the top of your list!
Experience the Palenque Ruins
The Palenque Mayan Ruins are a special place, hidden in the jungle, and is known as one of the most famous Mayan archaeological sites in Mexico.
When you arrive you immediately get Indiana Jones vibes. We were glad to pay for a tour guide while visiting Palenque because there is so much to learn about this site that makes it stand out from the other big-name sites in Mexico. Palenque at its peak was one of the most powerful and influential Mayan cities around. Before, you could climb the structures in Palenque but as of April 2021, you are not allowed to.
Palenque is a tiny town, and it is very hot (like 105 outside hot). You definitely will want accommodations with AC. Palenque is quite a drive from San Cristobal so it's best to spend a couple of days here so you can visit the waterfalls and the jungle as well. You'll find a ton of tour companies in San Cristobal advertising tours for Palenque.
Hike Volcan Tacana
Yes, you can hike an active volcano that borders Guatemala and Mexico!
This hike has been considered one of the best hikes in Central America. Volcan Vacana has one of the highest peaks in Central American and while you hike you will experience the jungle, forests, small villages, and incredible views.
If you're into hiking then this is something you should do while in Chiapas.
Boat through the Sumidero Canyon
The Sumidero Canyon reminds you just how incredible nature can be. Located about an hour away from San Cristobal is one of the most popular activities in Chiapas and the best part is that it's super affordable.
Take a tour through the canyon by boat and enjoy spotting crocodiles, birds, and even a couple of monkeys. Boat tours depart daily from Chiapa de Corzo, another beautiful little town you should explore while you're in the area.
Note: It is very hot here, bring a hat, sunscreen, and water (I did not and I got super sunburnt).
Visit the Ancient Murals at Bonampak
Bonampak is another ancient Mayan site that is only an hour away from Yaxchilan (which is why they are often visited together).
This site boasts colorful painted murals that weren't even discovered until the mid-20th-century! These murals reveal a history of battles between other Mayas and are found inside the Temple of the Murals. Take advantage of both Yaxchilan and Bonampak before they too become super popular!
Note: It was also around 100 degrees here, so bring sunscreen, a hat, and lots of water!
Templo de San Juan in Chamula: Worship and Sacrifice?
Located in the town of San Juan Chamula there is a 16th-century church where both Mayan and Catholicism meet. This town is a perfect way to experience how indigenous people are living in the modern day.
They have a unique language, architecture, and clothing. Walking through this church will give you an experience you will never forget. From melted candles to sacrificing chickens you'll see how locals practice their faith through chanting prayers and drinking a mixture to help them release evil spirits.
You will want to take so many pictures, but it is strictly prohibited inside the church.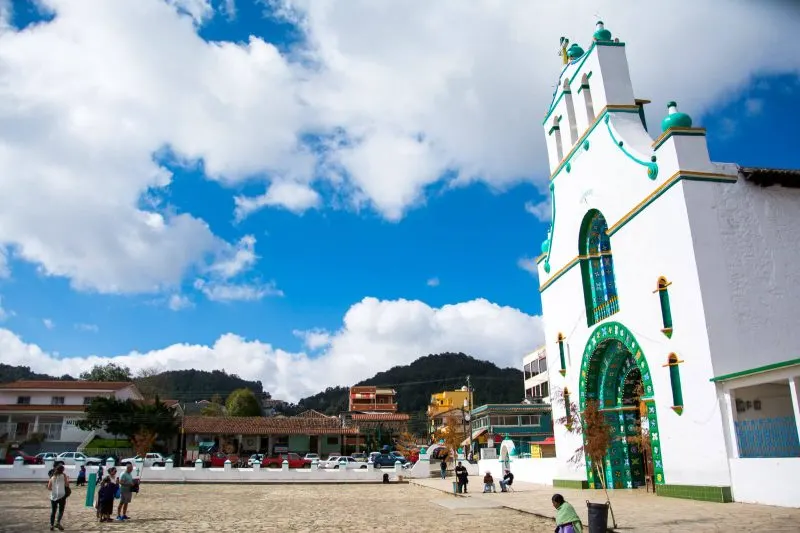 Visit Lagos de Montebello
Montebello Lakes National Park sits near Guatemala that has 59 lakes! If you visit during the dry season (November to May) the colors of these lakes will be bright blue and sometimes even a dark red color due to the mineral contents. Once you arrive you can pay a fee to visit different lakes where you can swim and kayak.
You'll also find more Mayan ruins here! You can stand at the top of the main pyramid to catch a breathtaking view of the lakes.
If you want to visit more beautiful lakes check out the significantly less crowded Lagos de Colon where you'll be able to swim, kayak, and even explore a cenote!
Navigate the Jungle at Yaxchilan Ruins
Do you want to feel like you have gotten lost in time? Then you have to check out Yaxchilan. Located in the Lacandon jungle bordering Guatemala it is one of the least visited archaeological sites in Mexico.
Mainly because it's a bit out of reach as you have to take a boat ride to reach it because the jungle is so dense and untouched, but once you arrive you'll almost have the entire place to yourself.
The ruins are in amazing condition, with some structures standing in their original positions and buildings still holding their original colors.
We hired a tour guide who spoke both Spanish and Mayan, that's right Mayan! This was one of my favorite activities in Chiapas because this place is still so hidden by the jungle.
I hope you have enjoyed this article about the Must-See Things to Do in Chiapas. Don't forget to subscribe in order to get more awesome updates and tips straight to your e-mail!
Have you ever been to Chiapas? Would you like to? What are your favorite things to see and do in Chiapas? Share your thoughts and let me know what you think!
Until next time, my friends!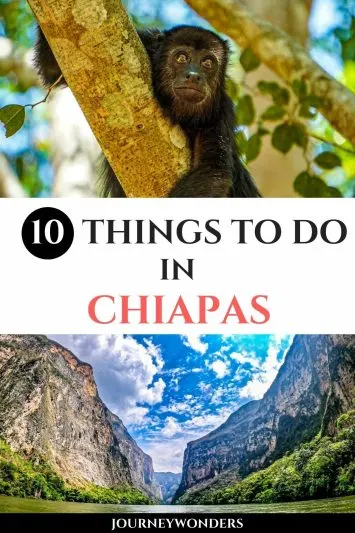 Sam is short, sassy, and has always dreamed of stepping outside the 9-5 life. She feeds every street animal she comes across. during her travels. She and her wife are currently saving for a campervan so they can hit the road with their three furry friends and travel across North America. You can follow her on Instagram and Facebook.