Looking for a destination of wonders to travel to in these unprecedented times? Look no further than San Miguel de Allende, Mexico's Most Beautiful City!
Ever since I first visited San Miguel de Allende as a kid, the city immediately stole my heart with its vibrant colors and charming little shops.
A few years later, the city remains the same to me, forever clasped in time in an era best characterized by hope and happiness.
San Miguel de Allende is one of those destinations that I keep coming back to time after time and here's an article about 5 Reasons to Visit San Miguel de Allende.
Enjoy my friends!
5 Reasons to Visit San Miguel de Allende
It is Mexico's Best-Voted Destination Ever
When it comes to choosing the best Mexican destination, competition can be REALLY tough. I mean, when you have the likes of Oaxaca, Queretaro and San Cristobal de las Casas as your main competitors, it is almost an uphill battle.
And yet, San Miguel de Allende has constantly been chosen as the number one destination in Mexico by plenty of magazines such as Travel and Leisure (in fact, it was chosen as the best city in the entire world twice in a row).
When it comes to choosing where to go this 2020, you can never go wrong with choosing San Miguel de Allende my friends!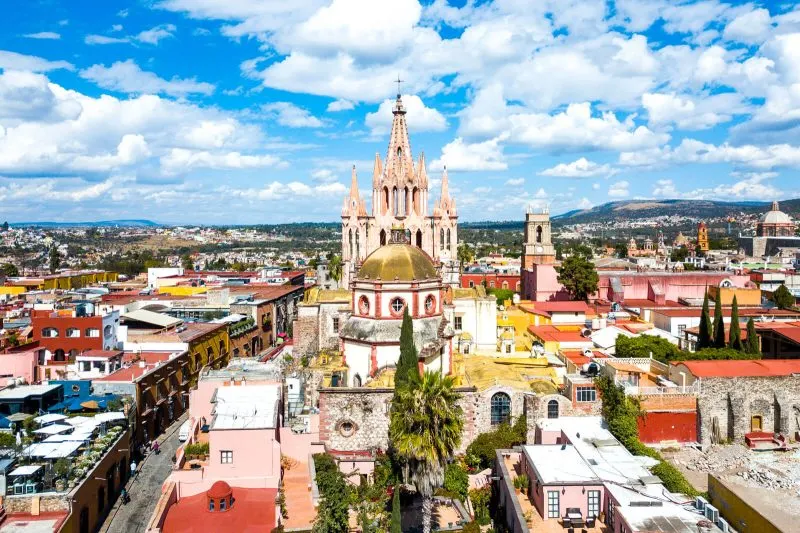 Love is in the Air in Every Corner
When it comes to romance, San Miguel de Allende is the second most sought after destination wedding destination in Mexico just after Tulum (because come on, nothing can beat a wedding at the beach!) making this the perfect destination for couples.
And hey, even if you're single and ready to mingle (AKA forever alone like me), you will have plenty of opportunities for finding that special someone here.
Tip of Wonders: asking another solo traveler to take a photo of you in front of one of the many Doors of Instagram in San Miguel de Allende is the perfect ice breaker! Trust me, I know!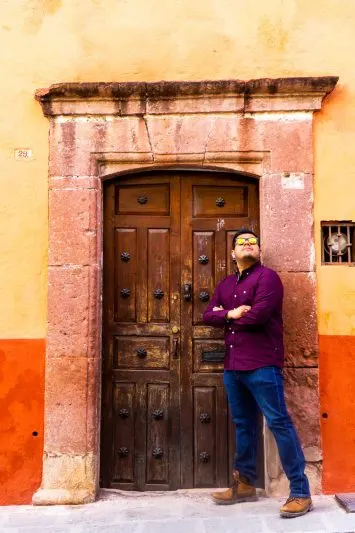 Cute Cafes and Restaurants With Amazing Views of the City
If you're a foodie, I can guarantee that you will leave San Miguel de Allende with an average weight gain of at least 1 kilo per day. If not more!
Seriously, the food in San Miguel de Allende is beyond amazing featuring the highest quality ingredients and it is a true testament to Mexico's creativity when it comes to diverse flavors.
Have you ever tried a mole? A unique Mexican thick sauce made up of over 100 different ingredients including spicy chocolate? It might sound strange but it is so addictive my friends!!!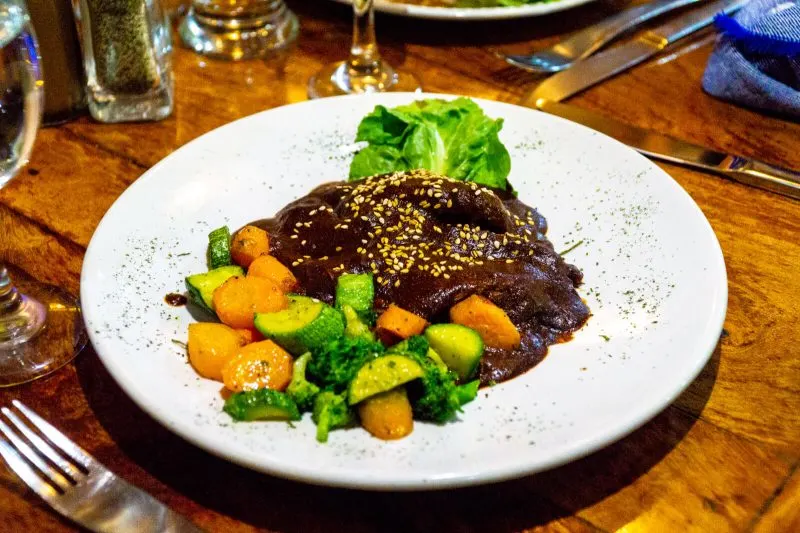 Plenty of Things to See and Do That You Will Always Come Back for More
As of 2020, I have visited San Miguel de Allende three times and I'm already looking forwards to my fourth visit later this year.
There are very few cities in the world that, literally, have it all and San Miguel de Allende is one of them: museums, churches, natural reserves, art workshops, international and national cuisine and some of the prettiest Doors of Instagram you will ever encounter.
Want more details? Check out this article I wrote about the 13 Best Things to Do and See in San Miguel de Allende and start planning your trip today my wonder friends!
Top Safety & Health Measures for Post-Lockdown Travel
Look, I get it. We are living in unprecedented times (as cliched and tired as that phrase sounds) and traveling after the lockdowns have been lifted requires some serious risk assessment.
However, San Miguel de Allende went really above and beyond when it comes to safety & health measures to ensure that every visitor will be safe and that attractions will be open to marvel everyone.
This July 2020, San Miguel de Allende received the WTTC Safe Travel Stamp because of its many efforts to ensure the health & safety of its visitors this 2020.
What are you waiting for? You'll love it here!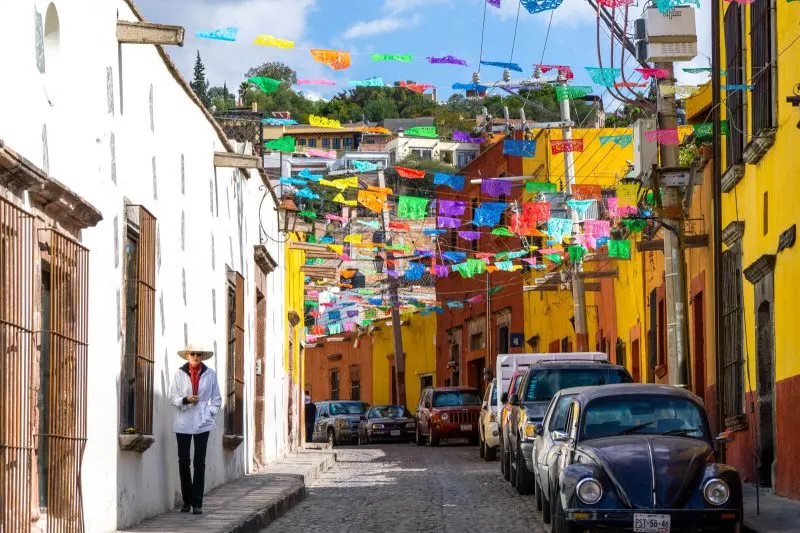 Where To Stay in San Miguel de Allende, Mexico
San Miguel de Allende has its fair share of luxury and boutique hotels although recently there are some budget options located outside of the historical center proper. However, in my opinion, the best accommodation in San Miguel de Allende can be found on the hills that surround the city thanks to the panoramic view one can have from up there.
During my most recent stay in San Miguel de Allende, I was kindly hosted at Casa Angelitos, the best boutique hotel in San Miguel de Allende. Located on a panoramic hill, this hotel will delight you with its views of the city, its charming decoration, and yes, the amazing hospitality of the owners and the staff.
You can make a booking for this and more properties via our Booking.com Affiliate Link of Wonders ! Same price for you and a small commission for this website of yours. Sweet deal, right?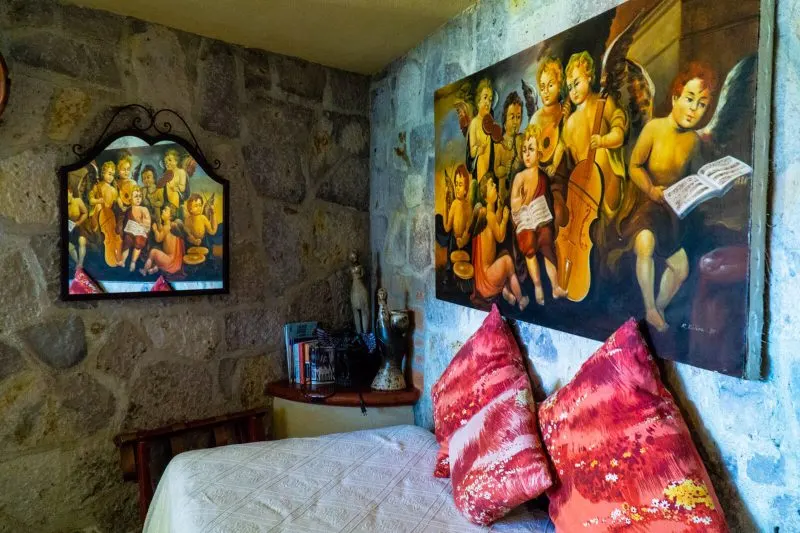 I hope you have enjoyed this article about the 5 Reasons Why You Should Visit San Miguel de Allende. Don't forget to subscribe in order to get more awesome updates and tips straight to your e-mail!
Have you ever visited San Miguel de Allende? Would you like to? What were some of your best experiences in San Miguel de Allende? Share your thoughts and let me know what you think!
Until next time, my friends!