This is a Yucatan Travel guide that highlights the best things to do and see in Yucatan that remain open even during the COVID pandemic in 2021 including Pyramids, Cenotes, and more.
Traveling these days might result in a bit of a controversial activity; however, Mexico is one of the few countries in the world allowing travel and there are still a few states in which you can move freely and visit the main hotspots.
Here is a Yucatan Travel Guide I made to help you explore the many things to do and see in Yucatan this 2021.
I hope you enjoy it!
What Things Are Open in Yucatan in 2021?
Everything is pretty much open now in 2021 in the Yucatan State. From ancient Mayan ruins and cenotes, to many hotels, bars and restaurants.
Depending on the city you are, you will find there is a curfew at the moment, but that is not stopping daily life from happening and businesses to keep working throughout the day.
City-to-city buses do not have limited capacity so, in my opinion, the best way to move around the Yucatan State is with your own car or a rental car.
Nowadays, this is one of the safest and less complicated road trips you can undertake in Mexico. There are signs indicating the way at all times and roads are mostly well taken care of.
Always be sure to check the Semaforo Epidemiológico of Mexico before making any travel decision. Green means total restrictions and Red means lockdown.
Most states as of today February 1 are in Orange or Yellow including Yucatan.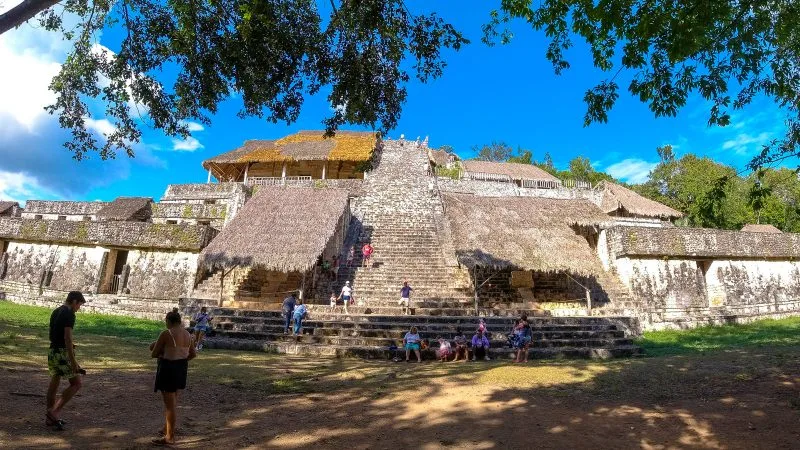 The 5 Best Things to Do and See in Yucatan
Visit the City of Valladolid
Valladolid is one of Yucatan's bigger cities and is the closest city to Chichen Itza. Some of the activities you can do are:
Discovering the city center and 'people watch' at the main square
Eating at one of the 'Loncherias' in food market located beside the main square
Walking along 'Calzada de los Frailes' towards the Convent of 'San Bernardino de Siena'
Visiting the neighbor of 'Candelaria' known to be one of the most important areas in terms of the history of the city
Swimming in the 'Zaci' cenote, located right in the center of the city. This is one of the most inexpensive cenotes in the area and it is one of the nicest too.
Visiting 'La Casa de los Venados', a private house and art gallery with a collection of popular Mexican artifacts.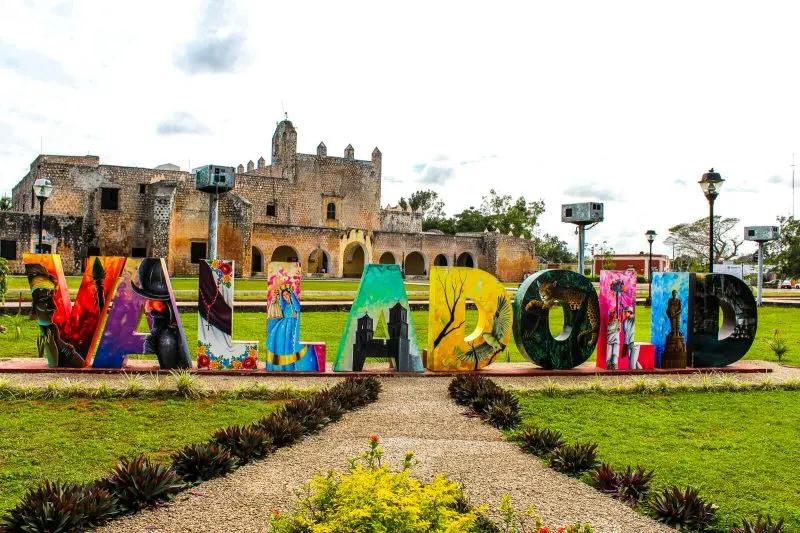 Explore Merida, the Capital of Yucatan
This is a major city and the capital of the state. Merida is a combination of many cultures and architectures and that's what makes it so special. Here we would recommend:
Visiting the main square (Plaza Grande) and its beautiful monuments at the sides of the square: San Ildefonso Cathedral and the city Town Hall
Wandering around the colorful streets in the city center, where a mix of architectural styles merges.
Having lunch at the Lucas Galvez Market, it is open every day and you will mostly find anything you need here, from old fashion magazines to spices, from key and shoemakers to some of the tastiest tacos in town, etc.
Walking along 'Paseo de Montejo', this street is the most famous of all; its architecture style was inspired by the French 'Champs Élysées'.
Visiting the Mayan History Museum (if open) this was the only thing closed during the trip due to Covid, so if this remains closed when you are visiting, we recommend visiting the City Museum, you will learn loads about Merida but also about the Yucatan State and Peninsula.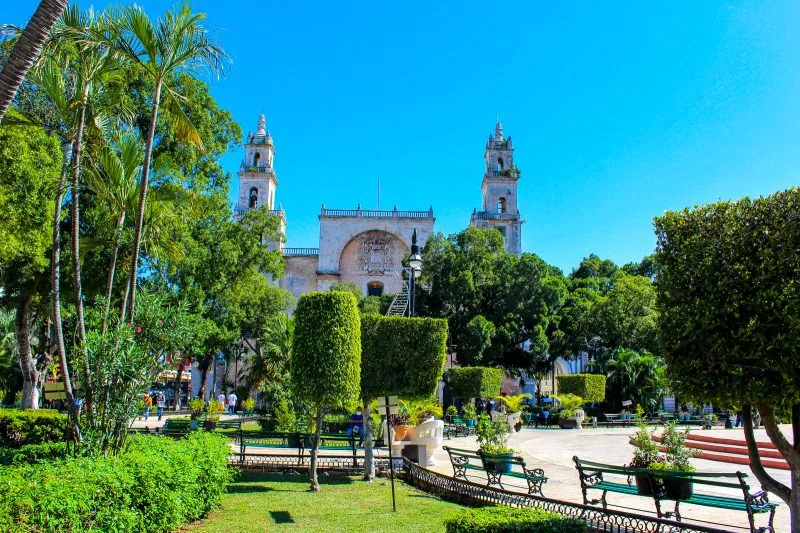 Go Cenote Hopping
The Yucatan State is perfect for visiting a great number of cenotes all in the same week or even on the same day!
Cenote Suytun, probably the most famous of all in this area. Many people come here to take a photo, as it has a rounded platform where you can normally stand for the shot and has become very famous since.
Cenotes Dzitnup or Samula & Xkeken, these two cenotes are both in the same area and they are normally less packed than Suytun.
Cenote Xcanche, beside the ruins of Ek Balam. This Cenote offers the possibility to do a Zip-line over it and you can also do some rappel down to the water.
Cenote Ik Kil, near Chichen Itzá, this cenote has also been restored and although the entrance is not 100% a natural formation, it looks gorgeous and flows perfectly with the atmosphere of the original cenote. One of my best things to do and see in Yucatan for sure!
Visit Chichen Itza and the Mayan Pyramids
3 of the best Mexican Pyramids are found in Yucatan. You can clearly choose between a few more, but I would suggest you visit at least:
Ek Balam, known to be one of the only Mayan cities inhabited. This is still one of the few cities you can explore 100%, also being able to climb to the top of the main pyramid. It is located near Valladolid.
Chichen Itzá, 'the crown jewel'. It is definitely the most well-known, being as well part of the Unesco World Heritage and considered one of the new World Wonders. Despite many people thinking this site might be overrated and way too touristy, I absolutely recommend the visit during this 2021, it is less crowded and the ruins will not disappoint. It is easily accessible from either Merida or Valladolid.
Uxmal, these ruins are magical. The pyramid is different from everything you've probably seen before. Also, there is a perfect viewpoint to gaze at the main pyramid and many of the ruins surrounding it. The level of detail in Uxmal is insane. Certainly, one to check out. You can take a bus from Merida to get there.
Spend Half Day in Izamal, the Yellow City
Izamal is definitely one of the best things to do and see in Yucatan. Izamal is a beautiful yellow town located in between Valladolid and Merida.
This is just the perfect stopover to contemplate the charming yellow houses, visit the convent of 'San Antonio de Padua' and hang out in the main square where the sign of Izamal is located, as this is one of the many Pueblos Mágicos in Mexico.
Moreover, Izamal has a pyramid you can climb, in clear days, you can see a considerable amount of land surrounding the archeological site and the city.
2021 Covid Precautions in Yucatan, Mexico
The Yucatan State is currently in Orange alert, meaning that it is possible to move around the state, but taking precautions. Restaurants, bars and hotels are limited to capacity, as well as many of the monuments you will visit during your trip.
Take into account that in the bigger cities wearing your mask is mandatory and social distancing is recommended at all times.
All shops, hotels, and bars keep being very strict in terms of the policy to enter each establishment and most of them will check your temperature and provide you with hand sanitizer at your arrival.
I would recommend before you travel to this area, to check beforehand what's the situation covid wise, so you are better prepared for your visit.
I hope you have enjoyed this article about the best things to do and see in Yucatan. Don't forget to subscribe in order to get more awesome updates and tips straight to your e-mail.
Have you ever been to Yucatan? Would you like to? What were some of your favorite things to do and see in Yucatan? Share your thoughts and let me know what you think.
Until next time!
Luna Rodriguez is a Spanish travel blogger discovering the world through adventure and cultural travels, sharing experiences to inspire others to wander the world more responsibly. She started her journey of wonders in 2020 although she has been traveling my her life. You can check her travel website here Moon Traveler Blog and follow her on Instagram or Facebook.